20-in. automotive touchscreens enabled by new controllers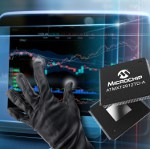 With cars like the Tesla Model S featuring 17-in. touchscreens, the trend in automotive displays is to go bigger and bigger. But unlike handheld mobile devices, screens in automobiles need to meet stringent head impact and vibration tests, so they have thicker cover lenses that potentially affect the touch interface performance. As screens get larger, they are also more likely to interfere with other frequencies and car access systems. These factors pose a major challenge in the design of modern automotive capacitive touch systems, but a new family of single-chip maXTouch touchscreen controllers from Microchip Technology was designed to address these issues.
Learn more.
---
Electric high-force linear actuator choices: Ball vs. roller screw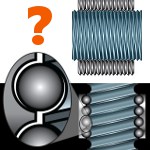 Many applications require high-force linear actuators -- from moving equipment in a foundry to powering a press in metal forming to guiding heavy logs in a sawmill. Whatever the application, a machine designer is faced with a choice: whether to specify a ball or roller screw in the electric high-force linear actuator. Learn how to make the best decision for your application.
Read the Tolomatic blog.
---
Big additions to miniature LED product line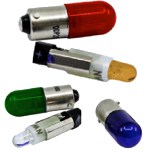 Thanks to the recent acquisition of Display Products, Inc. (DPP), VCC is offering LEDs that drive energy-saving solutions for a range of applications. In mid-October, VCC announced the first wave of available replacement LED products, including the bi-pin model of the T-2 Slide Based LED Lamp. Now, the innovative company is making additional models available to provide several benefits for manufacturers, designers, and even end users seeking ways to improve efficiency and reduce maintenance costs. This next wave of rollouts includes T-2 Slide Based LED lamps in voltages ranging from 12V to 120VAC, as well as the new and noteworthy T-3 1/4 Miniature LEDs.
Learn more.
---
Flexible circuit design guide

Tech-Etch uses advanced techniques to manufacture flex and rigid-flex circuits to exacting customer specifications. Special processes include selective plating a single circuit with two different finishes, contoured circuits with variable metal thickness, semi-additive and subtractive techniques, open window or cantilevered contact leads, plus SMT for component assembly. Tech-Etch specializes in flexible circuits for medical device, medical implant, diagnostic ultrasound, and patient monitoring applications, in addition to telecommunications, aerospace, semiconductor, and other high-reliability electronic applications.
Learn about flex circuits and download the guide (no registration required).
---
Power supply for servos with power factor correction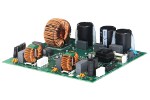 ADVANCED Motion Controls has introduced the PFC2400W375, a regulated DC power supply designed to feed 400-V series servo drives with a low-noise 375-VDC bus. Universal single-phase AC input 100-240 VAC/50-60 Hz with power factor correction and low harmonic distortion along with soft starting circuitry guarantees global high-performance, reliable operation. This new power supply is designed to achieve power factor improvement, improve performance, and ensure consistent operation regardless of the local power company's voltage levels and quality.
Learn more.
---
World's smallest safety laser scanner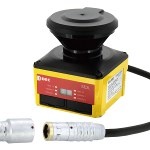 A laser scanner is a safety device that uses the reflection of laser beams to detect the presence of objects or people. The SE2L Safety Laser Scanner from IDEC is the world's smallest unit of its kind -- and the world's first with master/slave functionality and dual protection zones. This scanner is certified for use in safety applications including AGVs, forklifts, robots, and other items of moving equipment found in industrial facilities.
Learn more.
---
See further at higher sensitivity: Advanced, lightweight infrared camera core for imaging gimbals
Sierra-Olympic Technologies, a supplier of infrared (IR) and thermal imaging components, cameras, and systems solutions, has just introduced the Ventus 275, a midwave-infrared imaging engine with a continuous zoom (CZ) optic. Advanced image enhancements include electronic image stabilization, automatic/manual gain control, adaptive contrast control, and optional target tracking/detection. This compact, lightweight MWIR thermal camera core is specially designed for OEM integrators of surveillance system enclosures and other imaging gimbals.
Learn more.
---
1000Base-T1 automotive Ethernet common mode choke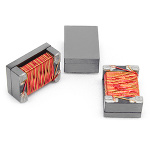 Pulse Electronics' Networking Business Unit has introduced the 1000Base-T1 Ethernet Common Mode Choke for automotive applications. Designed to deliver high reliability and performance, the AE5002 1000Base-T1 series is ideal for applications such as Infotainment, Advanced Driver Assist Systems (ADAS) Body Control, Camera/Radar, Gateways, and Backbone Diagnostics.
Learn more.
---
Cool Tools: Minimally invasive video borescope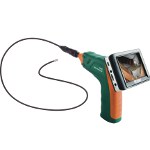 Extech Instruments has launched the BR250-4, an affordable and versatile wireless inspection borescope designed to get into openings as small as 4.5 mm while providing bright clear images on its detachable, wireless 3.5-in. color display. When you need to get into walls, ducts, furnaces, boiler tubes, air handlers, exchangers, coils, plenums, and other concealed or hard-to-access areas, this is your hero. And when there's no existing opening and drilling is required, making a much smaller hole leaves minimal damage.
Learn more.
---
Drop-in solution makes your machine ready for Industry 4.0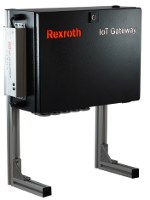 Bosch Rexroth's IoT Gateway Rack is an IP65-rated enclosure containing Rexroth's award-winning IoT Gateway. It includes all the necessary wiring and connections to connect PLCs, I/O, and other data sources for collection, processing, and forwarding of plant floor data to upper-level data systems, making it ideal for retrofitting older machines with Industry 4.0 data-transfer capabilities. The plug-and-play design allows OEMs to use the IoT Gateway Rack as an optional addition to their existing machines. Uses standard 110-V plug.
Learn more.
---
New family of EC fans for AC applications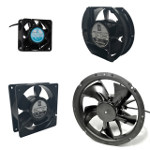 Orion Fans has launched a family of electronically commutated (EC) fans that offer low-power, energy-saving cooling solutions for AC applications. The AC-input fans -- available in a range of sizes (60 mm, 120 mm, 172 mm, and 250 mm) -- utilize a brushless DC motor and incorporate voltage transformation within the motor for significantly lower power consumption. This equates to power savings of up to 50 percent, enabling customers to meet energy-consumption requirements from agencies like ENERGY STAR. These fans are ideal for a broad range of applications including appliances, commercial and process control, refrigeration, HVAC, and electronic enclosures and cabinets.
Learn more.
---
Industry's first 100-W and 200-W USB Type-C controllers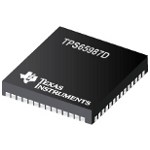 Texas Instruments has introduced two new USB Type-C and USB Power Delivery (PD) controllers, with fully integrated power paths to simplify designs, minimize solution size, and speed time to market. The TPS65987D and TPS65988 offer system designers the industry's highest level of integration to reduce design complexity and overall cost. The devices are the industry's first USB PD controllers to source 100 W and 200 W of power, respectively, to support computing applications and enable the benefits of USB Type-C in additional applications such as cordless power tools, gaming, and virtual reality headsets.
Learn more.
---
First explosion-proof stackable multi-turn encoder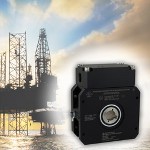 Sensata Technologies has introduced the first explosion-proof stackable multi-turn encoder, an ideal position sensing solution for oil and gas applications such as drawworks, top drives, and pipe-handling equipment where working conditions are extreme. The new encoder, BEI Sensors' model MAAX, is ATEX and IECEx certified to operate in explosive environments and features a Profibus output in a unique, stackable package. CANopen and SSI outputs are also available. The MAAX provides up to 16 bits of resolution as well as up to 16 bits of turns by mechanical counting. This workhorse product operates directly in Zone 1 environments without the need for an accompanying Intrinsic Safety barrier.
Learn more.
---
DuPont announces newest in-mold electronics inks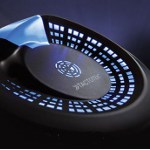 DuPont Electronics and Imaging is launching its second generation of In-Mold Electronic (IME) materials with key advancements in its electrically conductive adhesive, protection encapsulant, and crossover dielectric. IME technology enables functions such as touch controls and lighting to be directly embedded inside plastic parts by printing circuits onto plastic sheets, which are then thermoformed and injection molded. This allows product engineers to reduce weight and cost while increasing design aesthetics and functionality in everything from car dashboards to home appliances, using fewer parts and manufacturing steps.
Learn more about the latest materials.
Go to the DuPont In-Mold Electronic Technology website.
---
Through-beam object-detecting fork sensors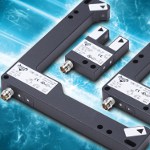 Fork sensors (slot sensors) from Automation-Direct are U- or L-shaped through-beam object-detecting sensors that have the transmitter and receiver built into the opposing "fork" arms of the sensor housing. New PS series fork sensor additions include harsh-duty U-frame sensors for food applications, L-frame or angled fork sensors for unique mounting situations, and fork sensors for liquid detection. Depending on the model, PS series fork sensors are available in visible red, infrared, and laser lighting and in sensing ranges from 5 mm to 220 mm.
Learn more.
---
New way to do solar power: Researchers boost efficiency and stability of optical rectennas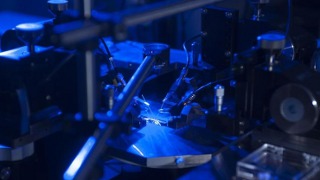 Georgia Tech researchers have developed a new higher efficiency rectenna design. Here, the device's ability to convert blue light to electricity is tested. [Credit: Christopher Moore, Georgia Tech]
By John Toon, Georgia Tech
The research team that announced the first optical rectenna in 2015 is now reporting a two-fold efficiency improvement in the devices -- and a switch to air-stable diode materials. The improvements could allow the rectennas, which convert electromagnetic fields at optical frequencies directly to electrical current, to operate low-power devices such as temperature sensors.
Ultimately, the researchers believe their device design, which is a combination of a carbon nanotube antenna and diode rectifier, could compete with conventional photovoltaic technologies for producing electricity from sunlight and other sources. The same technology used in the rectennas could also directly convert thermal energy to electricity.
"This work takes a significant leap forward in both fundamental understanding and practical efficiency for the optical rectenna device," said Baratunde Cola, an associate professor in the George W. Woodruff School of Mechanical Engineering at the Georgia Institute of Technology. "It opens up this technology to many more researchers who can join forces with us to advance the optical rectenna technology to help power a range of applications, including space flight."
The research was reported January 26 in the journal Advanced Electronic Materials. The work has been supported by the U.S. Army Research Office under the Young Investigator Program, and by the National Science Foundation.
Optical rectennas operate by coupling the light's electromagnetic field to an antenna, in this case an array of multiwall carbon nanotubes whose ends have been opened. The electromagnetic field creates an oscillation in the antenna, producing an alternating flow of electrons. When the electron flow reaches a peak at one end of the antenna, the diode closes, trapping the electrons, then re-opens to capture the next oscillation, creating a current flow.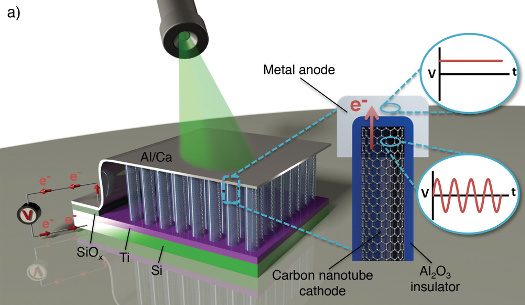 Optical rectenna schematic: This schematic shows the components of the optical rectenna developed at the Georgia Institute of Technology. [Credit: Thomas Bougher, Georgia Tech]
The switching must occur at terahertz frequencies to match the light. The junction between the antenna and diode must provide minimal resistance to electrons flowing through it while open, yet prevent leakage while closed.
"The name of the game is maximizing the number of electrons that get excited in the carbon nanotube, and then having a switch that is fast enough to capture them at their peak," Cola explained. "The faster you switch, the more electrons you can catch on one side of the oscillation."
To provide a low work function (ease of electron flow), the researchers initially used calcium as the metal in their oxide insulator/metal diode junction. But calcium breaks down rapidly in air, meaning the device had to be encapsulated during operation -- and fabricated in a glovebox. That made the optical rectenna both impractical for most applications and difficult to fabricate.
So Cola, NSF Graduate Research Fellow Erik Anderson, and Research Engineer Thomas Bougher replaced the calcium with aluminum and tried a variety of oxide materials on the carbon nanotubes before settling on a bilayer material composed of alumina (Al2O3) and hafnium dioxide (HfO2). The combination coating for the carbon nanotube junction, created through an atomic deposition process, provides the quantum mechanical electron tunneling properties required by engineering the oxide electronic properties instead of the metals, which allows air stable metals with higher work functions than calcium to be used.
Rectennas fabricated with the new combination have remained functional for as long as a year. Other metal oxides could also be used, Cola said.
The researchers also engineered the slope of the hill down which the electrons fall in the tunneling process. That also helped increase the efficiency, and allows the use of a variety of oxide materials. The new design also increased the asymmetry of the diodes, which boosted efficiency.
"By working with the oxide electron affinity, we were able to increase the asymmetry by more than ten-fold, making this diode design more attractive," said Cola. "That's really where we got the efficiency gain in this new version of the device."
Optical rectennas could theoretically compete with photovoltaic materials for converting sunlight into electricity. PV materials operate using a different principle, in which photons knock electrons from the atoms of certain materials. The electrons are collected into electrical current.
In September 2015 in the journal Nature Nanotechnology, Cola and Bougher reported the first optical rectenna -- a device that had been proposed theoretically for more than 40 years, but never demonstrated.
The early version reported in the journal produced power at microvolt levels. The rectenna now produces power in the millivolt range, and conversion efficiency has gone from 10-5 to 10-3 -- still very low, but a significant gain.
"Though there still is room for significant improvement, this puts the voltage in the range where you could see optical rectennas operating low-power sensors," Cola said. "There are a lot of device geometry steps you could take to do something useful with the optical rectenna today in voltage-driven devices that don't require significant current."
Cola believes the rectennas could be useful for powering internet of things devices, especially if they can be used to produce electricity from scavenged thermal energy. For converting heat to electricity, the principle is the same as for light-capturing oscillations in a field with the broadband carbon nanotube antenna.
"People have been excited about thermoelectric generators, but there are many limitations on getting a system that works effectively," he said. "We believe that the rectenna technology will be the best approach for harvesting heat economically."
In future work, the research team hopes to optimize the antenna operation and improve their theoretical understanding of how the rectenna works, allowing further optimization. One day, Cola hopes the devices will help accelerate space travel, producing power for electric thrusters that will boost spacecraft.
"Our end game is to see carbon nanotube optical rectennas working on Mars and in the spacecraft that takes us to Mars," he said.
This work was supported by the Army Research Office under the Young Investigator Program agreement W911NF-13-1-0491 and the National Science Foundation Graduate Research Fellowship program under grant DGE-1650044.
Published March 2018
Rate this article