Vandal-resistant sealed switches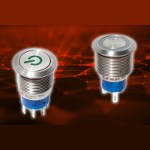 C&K has just launched its ATP19 and ATP22 series anti-vandal sealed pushbutton switches. The new high-strength, lightweight switches are IP67/IK10 rated, ensuring their suitability for operation in harsh conditions and ability to withstand potential malicious damage. The switches are also corrosion resistant and offer the industry-standard ring-illuminated version in 19-mm and 22-mm diameters.
Learn more.
---
New inductive-technology position sensors
Novotechnik's TF1 Series touchless linear position sensors overcome issues with legacy magnetostrictive technology. They are unaffected by strong magnetic fields and metal flakes or filings present in a user's environment. The TF1 Series consists of an inductively coupled position marker attached to a moving rod/piece of the user's application that requires a position measurement and the sensor with operational and programming status LEDs. While operating, LEDs indicate whether the sensor is operating and the marker within measuring range or out of range, as well as indicating results of internal diagnostics for valid output from the sensor. Can also measure speed and temperature.
Learn more.
---
Sensor development kit for power-optimized IoT applications
The RSL10 Sensor Development Kit from ON Semiconductor is designed to provide engineering teams with a comprehensive platform for developing IoT applications with cutting-edge smart sensor technology, enabled by the industry's lowest power Bluetooth Low Energy radio. The kit brings together the highly integrated RSL10 System-in-Package (RSL10 SIP) with a range of advanced low-power sensors from Bosch Sensortec. The development platform provides nine degrees of freedom (DoF) detection and environmental monitoring, including ambient light, volatile organic compounds (VOC), pressure, relative humidity, and temperature. An ultra-low noise digital microphone is also included, along with a user-programmable RGB LED, three programmable push-button switches, and 64 kb of EEPROM. Using the RSL10 Sense and Control mobile application, developers can connect to the RSL10 Sensor Development Kit to monitor sensors and to evaluate the kit's features. The app also supports multiple commercial cloud platforms for uploading sensor data.
Learn more.
---
EC fans offer spark-proof IP68-ATEX protection for harsh AC applications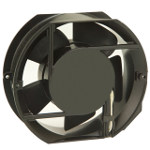 Orion Fans has expanded its family of Electronically Commutated (EC) fans to include spark-proof IP68-ATEX-rated versions for applications involving explosive atmospheres or flammable gases. Implementing IP68-ATEX fans into a design decreases the possibility of an explosion or fire. Available in a range of sizes including 60 mm, 120 mm, and 172 mm, the EC IP68-ATEX fans are ideal for a broad range of applications including appliances, commercial and process control, refrigeration, HVAC, electronic enclosures, and cabinets. By maintaining the same interface between the fan and equipment, EC fans can be used as drop-in replacements for equivalent-sized AC fans. The AC input fans utilize a brushless DC motor and incorporate voltage transformation within the motor for significantly lower power consumption. This equates to power savings of up to 50 percent.
Learn more.
---
Cable assemblies for demanding microwave and RF applications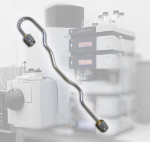 Intelliconnect has expanded its cable assembly offering for high-frequency and mission-critical applications. Comprised of high-quality cables, connectors, and terminations, the highly reliable RF cable assembly product offering now includes Low Loss, Semi-Rigid, Semi-Flex, and Conformable versions. The microwave and RF cable assembly line is designed for a wide range of applications including marine, medical, mil/aero, microwave communications, oil and gas, rail traction, test and measurement, and more. Available in a variety of sizes and performance specs, these assemblies operate up to 70 GHz and beyond and can be armored internally or externally. Phase matching is also available. Assemblies can be specified as matched sets or built to a specified phase length.
Learn more.
---
How electronic flow sensors help spread road salt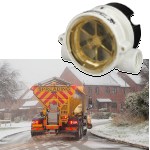 Salt spreading trucks use a pre-wetting system when ice needs to be removed from roads and the temperatures are too low for direct salt spreading to work. The system sprays salt water onto the road salt as it is being spread to "jump start" the melting process. But how do you monitor the amount of pre-wet salt used?
Read this short, informative blog from Gems Sensors & Controls.
---
Bend the rules of lighting design: Cut and form LED sheets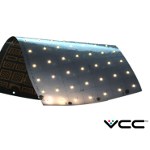 VCC is bending the rules of lighting design with its new VentoFlex tiles. The VentoFlex modular lighting system opens up countless ways for architects and lighting designers to make an impact. Available in 12-in. x 12-in. sheets, these innovative LED tiles can be cut and formed around any design element, including rounded corners and tight spaces, without taking up much room at all -- just 0.15 in. (3.81 mm). A pair of scissors is the only tool required to cut VentoFlex tiles to the size and shape you desire. Ten or 15 tiles can be linked together to one driver and dimmer to create thousands of square inches of versatile lighting power!
Learn more about this new and exciting lighting technology.
---
Slip rings improve Ethernet transmission
The Kuebler Group offers contact and contactless slip rings for reliable Ethernet transmission, achieving higher data rates and greater cycle synchronicity in demanding industrial environments. Application examples include industrial automation, bottling plants, labeling machines, rotary tables, and other processes requiring high transmission rates. The standard Slip Ring SR120 features an innovative three-chamber system and shield to enable parallel, interference-free Ethernet transmission up to 100 Mbps. It boasts a long service life up to 500 million revolutions and a rugged, modular structure that can be expanded up to 20 channels. Another model, the Slip Ring SR160 with integrated Sendix Encoder, provides position information in addition to contactless Ethernet transmission -- either two channels at 100 Mbps multiplexed or one channel at 1 Gbps.
Learn more.
---
How to convert from hydraulic to electric high-force linear actuators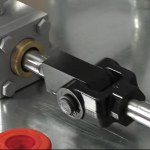 Machine designers are converting existing linear motion systems from hydraulic to electric due to the technology's many benefits, but the process involves considering the actual force output of the cylinder, the duty cycle, and the motion profile. Specialists at Tolomatic tackle these points. Includes a very informative video.
Read the Tolomatic blog.
---
Integrate Alexa and more into your product or project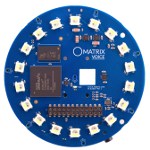 The MATRIX Voice Development Kit from MATRIX Labs aims to lower the barriers to entry for the creation and deployment of Internet of Things (IoT) voice applications. This platform enables users to develop voice recognition and detection projects that utilize Google Assistant or Amazon Alexa -- or any other voice recognition API. This open-source platform for the Raspberry Pi consists of a 3.14-in.-diameter development board, a radial array of 7 MEMS microphones, a Xilinx Spartan6 FPGA with 64 Mbit SDRAM, 18 RGBW LEDs, and 64 GPIO pins. It can also be used as a standalone device with the ESP32. Available from Newark element14.
Learn more from MATRIX Labs.
See purchase options from Newark element14.
---
Cool Tools: New Raspberry Pi Compute Module 3+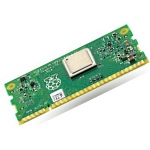 Newark element14 is now shipping the new Raspberry Pi Compute Module 3+ for same-day dispatch. Raspberry Pi Compute Module 3+ delivers the enhanced thermal performance and ease of use of Raspberry Pi 3 Model B+ in a smaller form factor, with a choice of memory variants suitable for a broad range of embedded applications including IoT devices and industrial automation, monitoring, and control systems. Compute Module 3+ simplifies the design process engineers need to undertake when developing a System on Module (SoM) solution into their final product. Engineers do not need to concern themselves with the complexities of interfacing with the BCM2837B0 processer directly and instead can concentrate on designing the interfaces to their own IO board and their application software -- simplicity that fosters rapid development.
Learn more.
---
360-degree static eliminator is CE, UL, and RoHS certified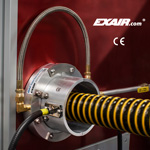 EXAIR's new Gen4 Super Ion Air Wipe provides a uniform 360-degree ionized airstream that clamps around a continuously moving part to eliminate static electricity and contaminants. It is ideal for removing dust, particulates, and personnel shocks on pipe, cable, extruded shapes, hose, wire, and more. This engineered product has undergone independent lab tests to certify it meets the rigorous safety, health, and environmental standards to attain the CE and UL marks. It is also RoHS compliant. New design features include a metal armored high-voltage cable to protect against abrasion and cuts, a replaceable emitter point, integrated ground connection, and electromagnetic shielding.
Learn more.
---
20-in. automotive touchscreens enabled by new controllers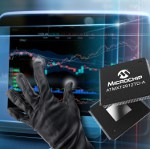 With cars like the Tesla Model S featuring 17-in. touchscreens, the trend in automotive displays is to go bigger and bigger. But unlike handheld mobile devices, screens in automobiles need to meet stringent head impact and vibration tests, so they have thicker cover lenses that potentially affect the touch interface performance. As screens get larger, they are also more likely to interfere with other frequencies and car access systems. These factors pose a major challenge in the design of modern automotive capacitive touch systems, but a new family of single-chip maXTouch touchscreen controllers from Microchip Technology was designed to address these issues.
Learn more.
---
Electric high-force linear actuator choices: Ball vs. roller screw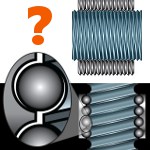 Many applications require high-force linear actuators -- from moving equipment in a foundry to powering a press in metal forming to guiding heavy logs in a sawmill. Whatever the application, a machine designer is faced with a choice: whether to specify a ball or roller screw in the electric high-force linear actuator. Learn how to make the best decision for your application.
Read the Tolomatic blog.
---
Big additions to miniature LED product line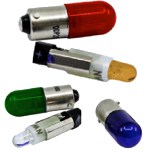 Thanks to the recent acquisition of Display Products, Inc. (DPP), VCC is offering LEDs that drive energy-saving solutions for a range of applications. In mid-October, VCC announced the first wave of available replacement LED products, including the bi-pin model of the T-2 Slide Based LED Lamp. Now, the innovative company is making additional models available to provide several benefits for manufacturers, designers, and even end users seeking ways to improve efficiency and reduce maintenance costs. This next wave of rollouts includes T-2 Slide Based LED lamps in voltages ranging from 12V to 120VAC, as well as the new and noteworthy T-3 1/4 Miniature LEDs.
Learn more.
---
New way to do solar power: Researchers boost efficiency and stability of optical rectennas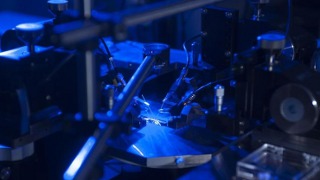 Georgia Tech researchers have developed a new higher efficiency rectenna design. Here, the device's ability to convert blue light to electricity is tested. [Credit: Christopher Moore, Georgia Tech]
By John Toon, Georgia Tech
The research team that announced the first optical rectenna in 2015 is now reporting a two-fold efficiency improvement in the devices -- and a switch to air-stable diode materials. The improvements could allow the rectennas, which convert electromagnetic fields at optical frequencies directly to electrical current, to operate low-power devices such as temperature sensors.
Ultimately, the researchers believe their device design, which is a combination of a carbon nanotube antenna and diode rectifier, could compete with conventional photovoltaic technologies for producing electricity from sunlight and other sources. The same technology used in the rectennas could also directly convert thermal energy to electricity.
"This work takes a significant leap forward in both fundamental understanding and practical efficiency for the optical rectenna device," said Baratunde Cola, an associate professor in the George W. Woodruff School of Mechanical Engineering at the Georgia Institute of Technology. "It opens up this technology to many more researchers who can join forces with us to advance the optical rectenna technology to help power a range of applications, including space flight."
The research was reported January 26 in the journal Advanced Electronic Materials. The work has been supported by the U.S. Army Research Office under the Young Investigator Program, and by the National Science Foundation.
Optical rectennas operate by coupling the light's electromagnetic field to an antenna, in this case an array of multiwall carbon nanotubes whose ends have been opened. The electromagnetic field creates an oscillation in the antenna, producing an alternating flow of electrons. When the electron flow reaches a peak at one end of the antenna, the diode closes, trapping the electrons, then re-opens to capture the next oscillation, creating a current flow.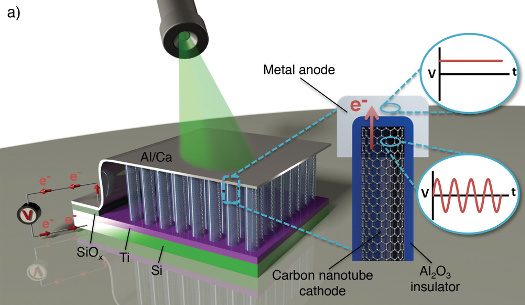 Optical rectenna schematic: This schematic shows the components of the optical rectenna developed at the Georgia Institute of Technology. [Credit: Thomas Bougher, Georgia Tech]
The switching must occur at terahertz frequencies to match the light. The junction between the antenna and diode must provide minimal resistance to electrons flowing through it while open, yet prevent leakage while closed.
"The name of the game is maximizing the number of electrons that get excited in the carbon nanotube, and then having a switch that is fast enough to capture them at their peak," Cola explained. "The faster you switch, the more electrons you can catch on one side of the oscillation."
To provide a low work function (ease of electron flow), the researchers initially used calcium as the metal in their oxide insulator/metal diode junction. But calcium breaks down rapidly in air, meaning the device had to be encapsulated during operation -- and fabricated in a glovebox. That made the optical rectenna both impractical for most applications and difficult to fabricate.
So Cola, NSF Graduate Research Fellow Erik Anderson, and Research Engineer Thomas Bougher replaced the calcium with aluminum and tried a variety of oxide materials on the carbon nanotubes before settling on a bilayer material composed of alumina (Al2O3) and hafnium dioxide (HfO2). The combination coating for the carbon nanotube junction, created through an atomic deposition process, provides the quantum mechanical electron tunneling properties required by engineering the oxide electronic properties instead of the metals, which allows air stable metals with higher work functions than calcium to be used.
Rectennas fabricated with the new combination have remained functional for as long as a year. Other metal oxides could also be used, Cola said.
The researchers also engineered the slope of the hill down which the electrons fall in the tunneling process. That also helped increase the efficiency, and allows the use of a variety of oxide materials. The new design also increased the asymmetry of the diodes, which boosted efficiency.
"By working with the oxide electron affinity, we were able to increase the asymmetry by more than ten-fold, making this diode design more attractive," said Cola. "That's really where we got the efficiency gain in this new version of the device."
Optical rectennas could theoretically compete with photovoltaic materials for converting sunlight into electricity. PV materials operate using a different principle, in which photons knock electrons from the atoms of certain materials. The electrons are collected into electrical current.
In September 2015 in the journal Nature Nanotechnology, Cola and Bougher reported the first optical rectenna -- a device that had been proposed theoretically for more than 40 years, but never demonstrated.
The early version reported in the journal produced power at microvolt levels. The rectenna now produces power in the millivolt range, and conversion efficiency has gone from 10-5 to 10-3 -- still very low, but a significant gain.
"Though there still is room for significant improvement, this puts the voltage in the range where you could see optical rectennas operating low-power sensors," Cola said. "There are a lot of device geometry steps you could take to do something useful with the optical rectenna today in voltage-driven devices that don't require significant current."
Cola believes the rectennas could be useful for powering internet of things devices, especially if they can be used to produce electricity from scavenged thermal energy. For converting heat to electricity, the principle is the same as for light-capturing oscillations in a field with the broadband carbon nanotube antenna.
"People have been excited about thermoelectric generators, but there are many limitations on getting a system that works effectively," he said. "We believe that the rectenna technology will be the best approach for harvesting heat economically."
In future work, the research team hopes to optimize the antenna operation and improve their theoretical understanding of how the rectenna works, allowing further optimization. One day, Cola hopes the devices will help accelerate space travel, producing power for electric thrusters that will boost spacecraft.
"Our end game is to see carbon nanotube optical rectennas working on Mars and in the spacecraft that takes us to Mars," he said.
This work was supported by the Army Research Office under the Young Investigator Program agreement W911NF-13-1-0491 and the National Science Foundation Graduate Research Fellowship program under grant DGE-1650044.
Published March 2018
Rate this article