Top Product: Allite Super Magnesium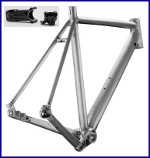 Weighing 33 percent less than aluminum, while also being stiffer and stronger pound for pound, the new Allite Super Magnesium alloy has shown its mettle in classified defense and aerospace applications. Now it's available for wider use. This material is less expensive than carbon fiber and has the lowest carbon footprint of any structural material throughout the value chain. Industry applications include home improvement, sporting goods, aerospace, automotive, biking, and beyond. Three alloy variants available to suit welding, forming/forging, or casting. These alloys feature excellent shock-absorption properties, good electromagnetic shielding performance, good heat dissipation, and recyclability. Allite is based in Dayton, OH.
Learn more.
---
Replace metals with hard materials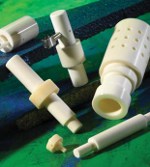 The use of sapphire, ceramics, and other hard materials has significant advantages over metal, depending on the application. The materials machined at Insaco are harder and stronger in compression than most metals. They can be electrically or thermally insulating or conducting, and in the case of sapphire, can be polished optically clear to a surface finish less than 1 micro inch. This allows for selecting a material based on the most important material property required and allows for versatility in selecting the material that makes the most sense. When a low-cost part must be frequently replaced because of a harsh environment, looking to hard materials may be the key to lowering overall cost. Learn more about metal replacement materials in this informative Insaco article.
Read the full article.
---
Desktop Metal launches 316L stainless steel for 3D printing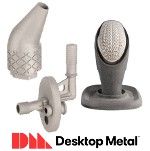 Desktop Metal, a 3D-printer maker, has just announced the launch of 316L stainless steel for the company's Studio System, the world's first and only office-friendly metal 3D-printing system. This machine is great for prototyping and low-volume production. A fully austenitic steel known for its corrosion resistance and excellent mechanical properties at extreme temperatures, 316L is well suited for applications in the most demanding industrial environments, including salt water in marine applications, caustic cleaners found in food processing environments, and chemicals in pharmaceutical manufacturing.
Learn more.
---
Selecting the best option for coloring plastics products

Designers of plastic products know the importance of choosing a dynamic color in order for a product to stand out from the competition. Not surprisingly, many are not as familiar with the fundamentals of color matching in plastic and the challenges certain resins can pose. Unfortunately, often this isn't discovered until deep into the product development cycle and after considerable time and money are invested in the project.
Read the full article.
---
Photo etching thin titanium components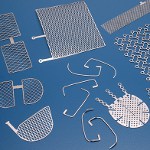 Tech-Etch specializes in the photo chemical etching of titanium. Because of its low weight, strength, and corrosion resistance, titanium is used in everything from jet engines to eyeglass frames. And because titanium is inert and completely biocompatible, it is also used in many medical implantation applications, as well as anode and cathode battery current collectors and telemetry antennas found in implanted medical devices.
Get the Tech-Etch Precision Engineered Parts capabilities brochure (no registration required).
---
Cool Tools: World's darkest spray paint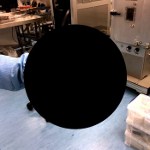 A whole range of products can now take advantage of the world's blackest coating, Vantablack, thanks to the development of a new spray version called Vantablack S-VIS. It is easily applied at large scale to virtually any surface. Vantablack's carbon nanotube matrix structure absorbs virtually all (99.8 percent) incident light, enabling precision optical systems to be optimized. The material's developer, UK-based Surrey NanoSystems, has mimicked the performance of its original Vantablack with this new version that can be sprayed onto objects, rather than deposited using a chemical vapor deposition (CVD) process.
Click here to learn more.
---
Expanded TPE portfolio for soft-touch surfaces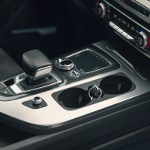 The new FG/SF THERMOLAST K series compounds from KRAIBURG TPE provide design flexibility, cost-effective processability, and flawless surface quality. They comply with all established automotive standards set by OEMs with regard to emission and odor, and they also provide permanent UV stability. The flexible materials are available in hardness grades ranging between 50 and 80 Shore A. They offer excellent adhesion to polypropylene in two-component applications and provide attractive, satin-finished surfaces with a pleasant soft-touch feel and permanent abrasion resistance.
Learn more.
---
Know your materials: Nylon 12CF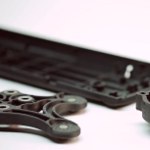 FDM Nylon 12CF is a chopped carbon fiber-filled polyamide 12 material that is available for 3D printing on compatible Stratasys Fortus production systems. The material is 35 percent carbon fiber by weight and has a high strength-to-weight ratio with a tensile strength on par with high-performance FDM material. The 3D design and rapid prototyping specialists at TriMech run through what you need to know about this exciting and versatile material.
Read the TriMech blog.
---
Cool Tools: Desktop full-color 3D printer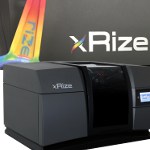 The all-new XRIZE desktop industrial 3D printer enables users to manufacture functional polymer and composite parts in full color. And since RIZE's intelligent and innovative solutions focus on the user as much as the machine, XRIZE is easy to use, safe, and enables markup to provide much-desired IP security, traceability, and branding. This machine requires minimal pre-processing, post-processing, and material management. It uses a patented Augmented Deposition process by extruding an engineering-grade thermoplastic and simultaneously jetting C-M-Y-K inks through industrial printheads to achieve the full-color part. Build volume is 12 x 8 x 8 in. (310 x 200 x 200 mm). New carbon fiber materials also available.
Learn more.
---
New food-grade high-performance PEEK polymers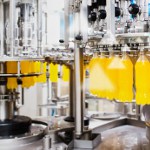 To help OEMs meet the stringent regulatory and quality demands affecting the food equipment industry, Victrex is introducing a dedicated PEEK food-grade portfolio. Compared to metal components, the new VICTREX FG family of high-performing thermoplastics offers additional benefits in terms of cost effectiveness, productivity, and performance for OEMs -- and the neutral taste expected by consumers. In addition, with the adoption of Industry 4.0 technology, VICTREX PEEK can offer food and beverage manufacturers the opportunity to optimize efficiency and reduce production costs, when compared to the use of metals.
Learn more.
---
How specialized coatings can make mechanical parts harder for extreme industrial applications
Although bearings, gears, rollers, and other precision components are generally made of hardened steel or metal alloys, those used in high-load applications still can fail due to excessive wear, surface fatigue, pitting, galling, and corrosion. To address this problem, product engineers and component manufacturers often turn to specialized PVD (physical vapor deposition) coatings that can further harden the surface of these parts. Oerlikon Balzers provides solid solutions.
Read the full article.
---
New carbon fiber material for SAAM additive systems from Cincinnati Inc.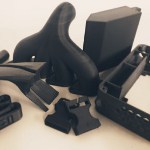 Cincinnati Inc. (CI) has released a new carbon fiber resin material for its SAAM (Small Area Additive Manufacturing) fused filament fabrication 3D-printing system. The new material is impact resistant, lightweight, and has a very high strength-to-weight ratio. Carbon fiber reinforcement makes the material stiff, durable, and very low warping -- and advanced inter-layer adhesion results in accurate, quality parts with good dimensions. The material's superior surface finish makes it perfect for custom tooling applications, as well as assembly, CMM, welding, and CNC fixtures.
Learn more about the carbon fiber material.
Learn more about Small Area Additive Manufacturing system.
---
World's first particle foam based on polyethersulfone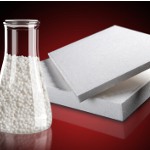 After two years of intensive research, BASF is now able to present prototypes of the world's first particle foam based on polyethersulfone (PESU). The foam is characterized by its unique combination of properties: high-temperature resistance, inherent flame retardancy, and extreme light weight coupled with great stiffness and strength. It is therefore particularly well suited for complex-shaped components in cars, airplanes, and trains.
Learn more.
---
New hybrid nylon TPEs are tough, flexible, and more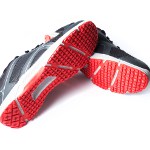 Nylon Corporation of America has launched an extended product family of nylon (polyamide) -based thermoplastic elastomers (TPEs), also known as polyether-block-amides (PEBA), for a range of applications in the automotive, sporting goods, personal electronics, composite, and specialty films markets. These materials are block copolymers of nylon segments and polyether segments. The nylon block is the hard segment and the polyether block is the soft, flexible segment. NY-FLEX grades are thus hybrid materials, offering a unique combination of rubber-like elastomeric properties and thermoplastic-like processing capabilities. By varying the type and the ratio of these two blocks, a wide range of NY-FLEX grades can be offered.
Learn more.
---
High-hardness 3D-printing materials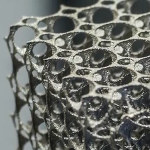 If your vision of the future is 3D printing your own high-hardness steel bearings right at your location on demand, your wish has been granted. A new development from the NanoSteel Company supports the market need for on-demand, on-site wear parts while addressing the current challenges in 3D printing of high-hardness parts. NanoSteel's powder alloy overcomes one of the major hurdles to achieving a high-hardness metallic part through additive manufacturing: the tendency to develop cracks during part builds. The company worked with a global process development partner to optimize processing of a proprietary NanoSteel alloy with a high-volume fraction of borocarbide phases. This successfully produced a fully dense (99.9 percent) crack-free part with hardness values over 1000 HV, wear resistance comparable to conventionally manufactured M2 tool steels, and a uniform microstructure.
Click here to learn more.
---
Stanford scientists advance new way to store wind and solar electricity on a large scale, affordably, and at room temp
A new combination of materials developed by Stanford researchers may aid in developing a rechargeable battery able to store the large amounts of renewable power created through wind or solar sources. With further development, the new technology could deliver energy to the electric grid quickly, cost effectively, and at normal ambient temperatures.
The technology -- a type of battery known as a flow battery -- has long been considered as a likely candidate for storing intermittent renewable energy. However, until now the kinds of liquids that could produce the electrical current have either been limited by the amount of energy they could deliver or have required extremely high temperatures or used very toxic or expensive chemicals.
Stanford assistant professor of materials science and engineering William Chueh, along with his PhD student Antonio Baclig and Jason Rugolo, now a technology prospector at Alphabet's research subsidiary X Development, decided to try sodium and potassium, which when mixed form a liquid metal at room temperature, as the fluid for the electron donor -- or negative -- side of the battery. Theoretically, this liquid metal has at least 10 times the available energy per gram as other candidates for the negative-side fluid of a flow battery.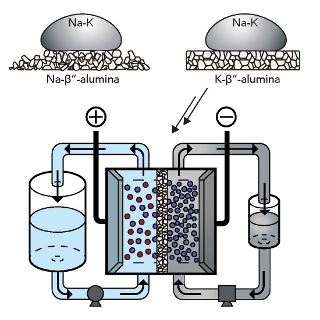 Sodium-potassium alloy is a room-temperature liquid metal that could unlock a high-voltage flow battery. [Image credit: Antonio Baclig]
"We still have a lot of work to do," said Baclig, "but this is a new type of flow battery that could affordably enable much higher use of solar and wind power using Earth-abundant materials." The group published their work in the July 18 issue of Joule.
Separating sides
In order to use the liquid metal negative end of the battery, the group found a suitable ceramic membrane made of potassium and aluminum oxide to keep the negative and positive materials separate while allowing current to flow.
The two advances together more than doubled the maximum voltage of conventional flow batteries, and the prototype remained stable for thousands of hours of operation. This higher voltage means the battery can store more energy for its size, which also brings down the cost of producing the battery.
"A new battery technology has so many different performance metrics to meet: cost, efficiency, size, lifetime, safety, etc.," said Baclig. "We think this sort of technology has the possibility, with more work, to meet them all, which is why we are excited about it."
Improvements ahead
The team of Stanford PhD students, which in addition to Baclig includes Geoff McConohy and Andrey Poletayev, found that the ceramic membrane very selectively prevents sodium from migrating to the positive side of the cell -- critical if the membrane is going to be successful. However, this type of membrane is most effective at temperatures higher than 200 deg C (392 F). In pursuit of a room-temperature battery, the group experimented with a thinner membrane. This boosted the device's power output and showed that refining the membrane's design is a promising path.
They also experimented with four different liquids for the positive side of the battery. The water-based liquids quickly degraded the membrane, but they think a non-water-based option will improve the battery's performance.
This project was funded by Stanford's TomKat Center for Sustainable Energy, the Anthropocene Institute, the State Grid Corporation of China through Stanford's Energy 3.0 corporate affiliate program, the National Research Foundation of Korea, the U.S. National Science Foundation, and Stanford Graduate Fellowships.
Source: Stanford University
Published August 2018
Rate this article