DURANEX PBT grade for high-voltage automotive applications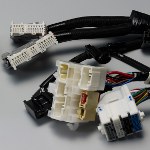 The Polyplastics Group is now offering an improved polybutylene terephthalate (PBT) grade that provides improved tracking resistance for a range of high-voltage automotive components. DURANEX PBT CG7030 is a 30 percent glass-filled material that also delivers strong dimensional stability and highly stable electrical resistance and dielectric breakdown properties. After extensive testing, Polyplastics determined that PBTs are more suitable than PA66 for use in high-voltage applications when it comes to moisture absorption, dimensional change rates, and dielectric breakdown strength in high-heat and humid environments.
Learn more.
---
New fast-cure urethane adhesive speeds assembly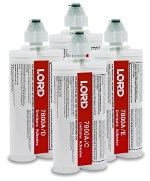 Designed for engineered thermoplastics, e-coated metals, powder painted surfaces, coated metals, composites, and SMC, the LORD 7800 family of fast-cure urethane adhesives will help manufacturers reduce bond and assembly time in the transportation sector. Traditional urethanes cure and build up strength slowly, forcing manufacturers to wait 3 to 12 hours to reach the necessary state to drill, cut, machine, and/or add other components to the assembly. In contrast, the LORD 7800 family cures quickly, reaching those usable strengths often within an hour or less -- with no odor or flammability issues like competing acrylics.
Learn more.
---
21 metals, ceramics, and composites for 3D printing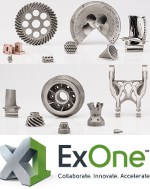 The ExOne Co. has just announced that 15 new metal, ceramic, and composite materials have been qualified by the company and its customers for 3D printing on ExOne's family of high-speed metal 3D printers. With these additions, owners of ExOne metal 3D printers can now print 21 qualified materials: 10 single-alloy metals, six ceramics, and five composite materials. More than 24 additional powders have been qualified for 3D printing in controlled R&D environments, including aluminum and Inconel 718. Newly qualified materials include M2 Tool Steel, widely used for cutting tools, and silicon carbide, a customer-qualified ceramic that is often used in aerospace.
Learn more.
---
Copper is newest material available for 3D printing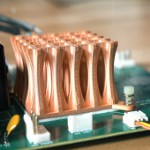 With the Markforged Metal X 3D printer, you can now easily manufacture electrically and thermally conductive complex copper parts -- and replace a conventional manufacturing process that's often difficult and expensive. From heat sinks to bus bars to custom welding arms, Markforged customers are reinventing the way they manufacture copper components.
Read the full article.
---
Plastic alternative to metal: Delrin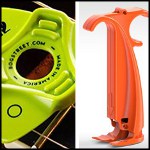 One of the more popular plastic material choices Proto Labs offers for injection molding and machining is Delrin acetal homopolymer (Polyoxymethylene POM). Delrin works as an excellent replacement for metal because of its high tensile strength, low friction and high wear resistance, creep and warp resistance, and overall durability and toughness. Ideal for industrial applications, Delrin exhibits low moisture absorption and is chemically resistant to hydrocarbons, solvents, and neutral chemicals.
Read this informative Proto Labs blog.
---
Perovskites: Ideal for optoelectronic applications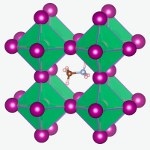 Goodfellow has just announced the availability of their new range of Perovskites, a group of materials that demonstrate great potential for optoelectronic applications. Perovskites have a unique and versatile crystal lattice structure that is characterized by special properties like superconductivity, magnetoresistance, piezoelectricity, and dielectric and pyroelectric behavior. Therefore, Perovskites are excellent candidates for multilayer capacitors like fuel cells, solar cells, sensors, and electric batteries, or even next-generation display screens, LEDs, memory devices (RAM), and high-temperature superconductors.
Learn more.
---
End-use plastic parts without tooling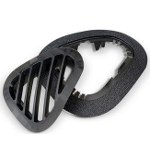 Figure 4 Production Black 10 (PRO-BLK 10), a revolutionary new production material for additive manufacturing applications from 3D Systems, enables manufacturers to directly produce end-use plastic parts without tooling. This results in parts produced the same day versus the weeks required with conventional tool-based approaches. Figure 4 PRO-BLK 10 is 3D Systems' first photopolymer for additive manufacturing that exhibits thermoplastic behaviors, providing a combination of speed, accuracy, strength, and durability previously only associated with injection molding output. In customer testing of a variety of parts, using the Figure 4 system and the new material delivered a part in hand on average up to 4X faster compared to customers' existing 3D production systems.
Learn more.
---
New advanced materials for production-grade 3D printing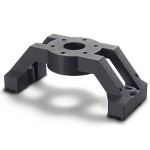 Stratasys recently unveiled several new durable temperature- and chemical-resistant FDM thermoplastics aimed at addressing the growing demands of engineers and designers to deliver production-grade, custom 3D-printed tooling and parts. Suited for aerospace and industrial applications, the new Antero 840CN03 PEKK-based polymer with ESD properties can create strong yet lightweight parts used in frames, panels, and components. Built for highly durable tooling applications, Diran is a new nylon-based FDM thermoplastic that provides manufacturers with extreme toughness and low friction, combined with resistance to hydrocarbon-based chemicals and a smooth surface to offer low sliding resistance. Diran's toughness is able to withstand the rough handling of tools often common in a manufacturing setting.
Learn more.
---
How to calculate plastic injection molding shrinkage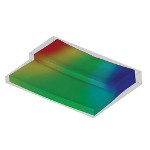 Do you know how to calculate the shrinkage of your part ahead of time? Plastic injection molding shrinkage is the contraction of a plastic molded part as it cools after injection. Most of the part shrinkage occurs in the mold while cooling, but a small amount of shrinkage occurs after ejection, as the part continues to cool (especially for Delrin or POM). After that, the part may continue to shrink very slightly for several hours or even days until the temperature and moisture contents stabilize.
Read the ICOMold blog.
---
Allite Super Magnesium is now award winner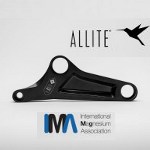 Weighing 33 percent less than aluminum, while also being stiffer and stronger pound for pound, the new Allite Super Magnesium alloy has shown its mettle in classified defense and aerospace applications. Now it's available for wider use. Less expensive than carbon fiber, its applications include home improvement, sporting goods, aerospace, automotive, biking, and more. Three alloy variants are available to suit welding, forming/forging, or casting. These alloys feature excellent shock-absorption properties, good electromagnetic shielding performance, good heat dissipation, and recyclability. Allite received the Award of Excellence under the Process category by the International Magnesium Association in May 2019.
Learn more.
---
New electrically conductive flame-retardant plastic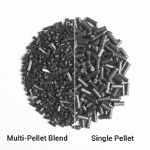 Electrically conductive plastics continue to provide reliable EMI shielding in a wide variety of applications. Thermoplastics provide a good alternative to bulky metal enclosures due to their superior weight, EMI shielding capabilities, and simpler manufacturing process. However, before purchasing any thermoplastic, it is important to consider performance capabilities. Paige Ludl from the Chomerics Division at Parker runs through the basics of what you need to know about these materials.
Read this informative Parker blog.
---
How specialized coatings make mechanical parts harder
Although bearings, gears, rollers, and other precision components are generally made of hardened steel or metal alloys, those used in high-load applications still can fail due to excessive wear, surface fatigue, pitting, galling, and corrosion. To address this problem, product engineers and component manufacturers often turn to specialized PVD (physical vapor deposition) coatings that can further harden the surface of these parts. Oerlikon Balzers provides solid solutions.
Read the full article.
---
How to choose the best online CNC machine shop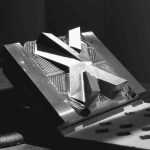 Sourcing professionals, engineers, and designers alike need to have parts produced through technologies like CNC machining, turning, and milling. In development, the requirements may be loose to get a product validated. And in production, the expectation is that parts are made consistently, on time, and to specifications. But it is sometimes difficult to navigate through all the Internet searches and buzzwords to determine the best fit for your needs. Greg Paulsen from Xometry provides a useful guide on what to look for when selecting a machine shop.
Read the Xometry blog.
---
First semi-transparent polyamide good for car interior lighting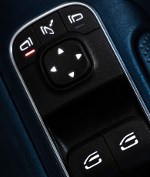 The BASF product Ultramid Vision has been used in a car interior for the first time. The semi-crystalline polyamide is employed in the window regulator module of a German automobile manufacturer. Compared to opaque standard polyamides, Ultramid Vision displays very high light transmission with low light scattering, which makes it a perfect choice for use with the illuminated symbols on the window regulators and for setting the exterior mirrors. The requirement was to allow as much light to pass through as possible, with high color fidelity.
Learn more.
---
3D Printing: Breakaway support material for complex FDM parts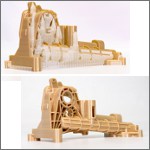 SABIC's AMS31F is a breakaway support filament for use with ULTEM AM9085F filament. The material maintains rigidity during printing and provides exceptional pliability during post processing to enable easier removal of structural supports at room temperature, which can reduce the time required to produce finished parts. Both AMS31F and ULTEM AM9085F filaments are compatible with Stratasys Fortus Classic printers and other industrial printers.
Learn more.
---
Stanford scientists advance new way to store wind and solar electricity on a large scale, affordably, and at room temp
A new combination of materials developed by Stanford researchers may aid in developing a rechargeable battery able to store the large amounts of renewable power created through wind or solar sources. With further development, the new technology could deliver energy to the electric grid quickly, cost effectively, and at normal ambient temperatures.
The technology -- a type of battery known as a flow battery -- has long been considered as a likely candidate for storing intermittent renewable energy. However, until now the kinds of liquids that could produce the electrical current have either been limited by the amount of energy they could deliver or have required extremely high temperatures or used very toxic or expensive chemicals.
Stanford assistant professor of materials science and engineering William Chueh, along with his PhD student Antonio Baclig and Jason Rugolo, now a technology prospector at Alphabet's research subsidiary X Development, decided to try sodium and potassium, which when mixed form a liquid metal at room temperature, as the fluid for the electron donor -- or negative -- side of the battery. Theoretically, this liquid metal has at least 10 times the available energy per gram as other candidates for the negative-side fluid of a flow battery.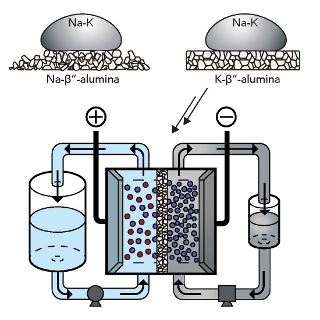 Sodium-potassium alloy is a room-temperature liquid metal that could unlock a high-voltage flow battery. [Image credit: Antonio Baclig]
"We still have a lot of work to do," said Baclig, "but this is a new type of flow battery that could affordably enable much higher use of solar and wind power using Earth-abundant materials." The group published their work in the July 18 issue of Joule.
Separating sides
In order to use the liquid metal negative end of the battery, the group found a suitable ceramic membrane made of potassium and aluminum oxide to keep the negative and positive materials separate while allowing current to flow.
The two advances together more than doubled the maximum voltage of conventional flow batteries, and the prototype remained stable for thousands of hours of operation. This higher voltage means the battery can store more energy for its size, which also brings down the cost of producing the battery.
"A new battery technology has so many different performance metrics to meet: cost, efficiency, size, lifetime, safety, etc.," said Baclig. "We think this sort of technology has the possibility, with more work, to meet them all, which is why we are excited about it."
Improvements ahead
The team of Stanford PhD students, which in addition to Baclig includes Geoff McConohy and Andrey Poletayev, found that the ceramic membrane very selectively prevents sodium from migrating to the positive side of the cell -- critical if the membrane is going to be successful. However, this type of membrane is most effective at temperatures higher than 200 deg C (392 F). In pursuit of a room-temperature battery, the group experimented with a thinner membrane. This boosted the device's power output and showed that refining the membrane's design is a promising path.
They also experimented with four different liquids for the positive side of the battery. The water-based liquids quickly degraded the membrane, but they think a non-water-based option will improve the battery's performance.
This project was funded by Stanford's TomKat Center for Sustainable Energy, the Anthropocene Institute, the State Grid Corporation of China through Stanford's Energy 3.0 corporate affiliate program, the National Research Foundation of Korea, the U.S. National Science Foundation, and Stanford Graduate Fellowships.
Source: Stanford University
Published August 2018
Rate this article