High-torque synchronous drive/timing belts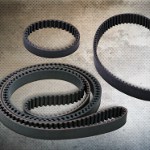 Automation-Direct SureMotion 5M and 8M (5-mm and 8-mm pitch) high-torque synchronous drive/timing belts are an excellent choice for many industrial applications. They have a curvilinear HTD (High Torque Drive) tooth profile that allows the belts to have a much larger pulley contact area for improved performance. The chloroprene belt body is heat and ozone resistant and features a high tooth-shear resistance. Widths from 9 mm to 30 mm and circumferences from 180 mm to 4,400 mm are available. Pitch sizes and widths match SureMotion pulleys to cover a wide range of power transmission requirements.
Learn more.
---
Tech Tips: Guide to vibration-proof fasteners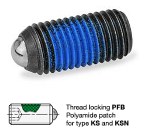 How do you ensure the fasteners you're using won't loosen in an application that is prone to vibration? Engineers frequently debate that question. The experts at JW Winco run through the common solutions, including threadlockers, pre-installed nylon patches, and more.
Read this short, informative engineering tip.
---
Application Note: Disc springs in mechanical braking system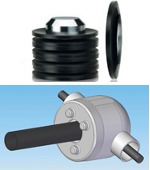 Braking systems for off-highway equipment are commonly designed to be hydraulically actuated, but without an additional fail-safe system, this design alone has limited reliability. If a hydraulic seal is compromised, or the hydraulic cylinder loses pressure for any reason, the brakes fail. One solid mechanical back-up design uses SPIROL disc springs.
Read the full article.
---
No hard tooling required: Photo Etching Precision Parts Guide

This Tech-Etch guide describes how photo etching produces prototype quantities and large production runs of precision parts for many mechanical and electrical applications -- without the high cost and long lead times of hard tooling. Custom metal parts from .0005" thick and up are produced with intricate patterns, precise tolerances, and burr-free edges, in addition to exact repeatability. By combining photo etching for blanking with inexpensive or universal tooling for forming, Tech-Etch produces complex designs and shapes with complete in-house finishing.
Download the Parts Guide (no registration required).
---
Folded or extruded steel rail -- what's the difference?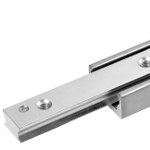 When it comes to adding linear motion to a fixture, designers have to take a close look at the motion system's rail construction. Linear guides and telescopic linear guides are typically made from two types of rail: folded rail (often called formed rail) and extruded rail. Some applications call for an extruded rail system, while others are better suited for folded rail. But how do you choose the right rail for the job?
Learn more from Rollon.
---
Rings and springs for ventilators
As a leading supplier to the medical industry, Smalley's Wave Springs and Retaining Rings are the trusted choice for medical devices from ventilators/respirators to robotic surgical instruments and more. Choose from 12 product types, 400 sizes, and 10,000+ standard parts stocked in carbon and stainless steel.
Learn more.
---
Tech Tip: How colorants affect plastic characteristics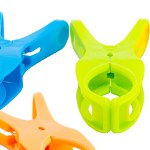 If you're starting a custom plastic injection molding project, you'll want to select a material with the properties most suitable for the function of your parts. One aspect of polymer characteristics that doesn't always get the consideration it deserves is the addition of colorant. Believe it or not, there is a whole scientific body of knowledge about the ways in which adding color to plastic can affect the behavioral properties of the plastic. This short article by Denny Scher of ICOMold takes a high-level look at some of the different, and surprising, ways colorants can have an effect on plastics.
Read the full article.
---
Smalley offers Web Store and Live Chat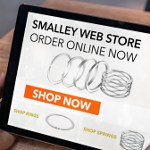 Smalley takes great pride in not only providing the best possible retaining rings and wave springs, but also in its legendary customer support. The Lake Zurich, Illinois-based company is pleased to announce the launch of the Smalley Web Store and Live Chat (during regular business hours). Online ordering of wave springs, retaining rings, and constant section rings is now available on their site 24/7. More than 9,000 of Smalley's most popular parts are available at the Web Store, complete with real-time pricing. A part comparison tool, wish lists, and easy reordering are also available for registered users.
Learn more.
---
Linear guides slide and absorb shocks in speed boat seats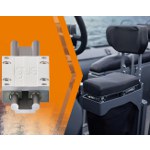 Developers of high-speed boats such as Kaj Naval from Poland use lubrication-free and maintenance-free drylin linear bearing technology from igus made of high-performance plastics. Designers are using drylin W linear guides for the spring-mounted shock absorbers in boat seats, ensuring the seats slide about gently even at high speeds, absorbing the vibrations of the waves. The guide carriage has no lateral clearance due to the use of sliding elements made of a tribo-polymer. Even after a long operating time, the carriage does not show any signs of wear. In addition, the corrosion-free solution is considerably lighter than metallic alternatives such as recirculating ball bearing guides.
Learn more about drylin W linear rails and carriages.
---
Application Stories: Specifying metal inserts for molded plastics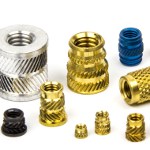 Teaming with insert manufacturers that offer engineering expertise throughout the design and manufacturing process can be worth its weight in gold. Learn how two OEMs overcame their metal insert challenges by using advice and products from Tri-Star Industries, including specialty stainless steel parts and modifying the knurling on some inserts.
Read the full article.
---
Indexing plungers with position signal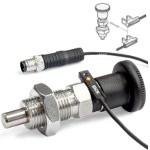 Indexing plungers often fulfill safety functions, but this isn't the only time when it is important to obtain feedback about their position. A new stainless steel unit from JW Winco allows automated status checks. The GN 817.6 offers the familiar basic functionality of a proven indexing plunger but with the key addition of an integrated sensor. This reports the position of the plunger pin by means of an electrical signal over a cable connection terminating with an M8 standard connector. Very useful.
Learn more.
---
DURANEX PBT grade for high-voltage automotive applications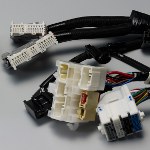 The Polyplastics Group is now offering an improved polybutylene terephthalate (PBT) grade that provides improved tracking resistance for a range of high-voltage automotive components. DURANEX PBT CG7030 is a 30 percent glass-filled material that also delivers strong dimensional stability and highly stable electrical resistance and dielectric breakdown properties. After extensive testing, Polyplastics determined that PBTs are more suitable than PA66 for use in high-voltage applications when it comes to moisture absorption, dimensional change rates, and dielectric breakdown strength in high-heat and humid environments.
Learn more.
---
New fast-cure urethane adhesive speeds assembly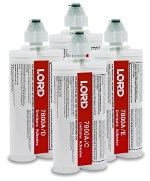 Designed for engineered thermoplastics, e-coated metals, powder painted surfaces, coated metals, composites, and SMC, the LORD 7800 family of fast-cure urethane adhesives will help manufacturers reduce bond and assembly time in the transportation sector. Traditional urethanes cure and build up strength slowly, forcing manufacturers to wait 3 to 12 hours to reach the necessary state to drill, cut, machine, and/or add other components to the assembly. In contrast, the LORD 7800 family cures quickly, reaching those usable strengths often within an hour or less -- with no odor or flammability issues like competing acrylics.
Learn more.
---
Basics of crossed roller bearings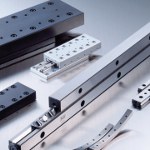 Crossed roller bearings provide more accuracy, rigidity, and weight-bearing capacity for linear motion than other commonly used friction-reducing devices such as ball bearings. And unlike ball bearings, they can support moment loads, radial forces, or tilting loads. This lets one crossed roller bearing replace more than one ball bearing, thus saving the space required by ball bearings, lowering the associated material costs.
Learn the basics in this Nippon Bearing article.
---
Cable management kit pairs with any cobot arm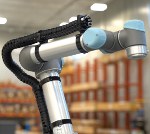 igus, a global manufacturer of engineered plastic components, has released a new collaborative robot cable management kit with universally designed hook-and-loop mounting brackets and more than 100 links of the company's innovative triflex R cable carrier. This solution offers superior cable protection compared to corrugated tubes. triflex R is a multi-axis energy chain designed for use in a wide variety of robotic applications. It's designed with ball-and-socket links that enable individual pieces of the system to be replaced if one of them is damaged.
Learn more.
---
Hydrogen power in a bottle for on-the-go use: Army plans to license nanogalvanic aluminum powder discovery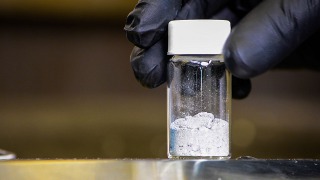 The U.S. Army Research Laboratory's nanogalvanic aluminum powder for hydrogen generation. [U.S. Army photo by David McNally]
The U.S. Army Research Laboratory plans to license its discovery of a nanogalvanic aluminum powder for hydrogen generation.
Army researchers at Aberdeen Proving Ground in Maryland have developed a novel, structurally stable, aluminum-based nanogalvanic alloy powder that, when combined with water or any water-based liquid, reacts to produce on-demand hydrogen for power generation without a catalyst.
"This powder-based alloy includes material that disrupts the formation of an encapsulating aluminum oxide layer, allowing for the continuous production of hydrogen that can be used at the point of need to power a wide range of devices via fuel cells and internal combustion," said Dr. Anit Giri, a scientist with the lab's Weapons and Materials Research Directorate. "The powder can be easily manufactured to scale, and can be conveniently and safely transported via tablets or vacuum pouches, thus eliminating reliance on high-pressure hydrogen cylinders."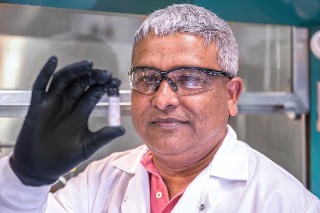 Dr. Anit Giri, a scientist with the U.S. Army Research Laboratory, observes a sample of a unique aluminum nanomaterial powder that reacts with water to produce hydrogen. [U.S. Army photo by David McNally]
ARL will be posting a Federal Register Notice and launching a supporting website inviting companies to submit their ideas on how best to commercialize this technology. The laboratory will then select the most appropriate partners and collaborators. Officials said license exclusivity will then be determined.
Researchers said the powders has many advantages, including:
Energy and Power Source
Stable Alloy Powder
Non-Toxic
Environmentally Friendly
Hydrogen Emitting
Manufacture to Scale
Easily Transportable
Army researchers discovered the unique properties of the nanopowder while investigating aluminum alloy compositions for other purposes. The researchers, from the lab's Lightweight and Specialty Metals Branch, made the serendipitous discovery that at least one of these compositions can, in the presence of water, spontaneously generate hydrogen -- rapidly and efficiently.
"The researchers have since demonstrated rapid hydrogen generation rates using powder and tablet forms of the alloy," said Branch Chief Robert Dowding. "The hydrogen has been shown to be useful for powering fuel cells and is expected to power internal combustion engines." The researchers are currently taking advantage of the innovation by characterizing the hydrogen generation rates and purity of the gas generated, Dowding said.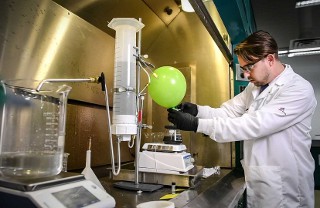 Army researcher Anthony J. Roberts inflates a balloon with hydrogen produced from a chemical reaction between water and an aluminum nanomaterial powder discovered at the U.S. Army Research Laboratory at Aberdeen Proving Ground, Maryland. [U.S. Army photo by David McNally]
"They are also examining the effects of compositional changes to the alloy and systematic changes in the microstructure of the powders," he said.
Giri said the discovery has many benefits and applications, such as simple manufacturing.
"The powder can be made using current manufacturing techniques from either pure or alloyed aluminum," he said. "The manufacturing process is easily scalable and it is also very fast -- with a 75-percent theoretical hydrogen yield in one minute at standard temperature and pressure, and 100-percent theoretical yield in three minutes."
The nanopowder is also extremely efficient. Giri said 1 kg of powder can generate 4.4 kWh of energy -- enough to power 10 60-W incandescent light bulbs for more than seven hours or the equivalent LED bulbs for over 50 hours.
The material can be in powder or tablet form and be combined with any available water-based liquid to provide hydrogen on demand, at the point of need.
The discovery eliminates reliance on high-pressure cylinders, Giri said.
"It's easy to transport and store via tablets or vacuum-sealed pouches with no inherent inhalation risk," he said. "The powder is also environmentally friendly. Its by-products are stable and non-toxic. Finally, it's a versatile hydrogen source with direct combustion for vehicular power, to use in fuel cells to power any electronic device, and could potentially be used in 3D printing/additive manufacturing to create self-cannibalizing robots/drones."
In order to support a better understanding of the material, the laboratory established a website to showcase details on the technology and a review the process that will culminate in the granting of a patent license(s) around September 2018.
On this website, visitors can register their interest to be contacted about further developments, post general questions, and download background technical information, as well as templates for all the required documents that will be used throughout the process.
For further information, click here.
"The Federal Register announcement is a significant step forward in the transition of power to the Soldier in the field, where it will become available on demand at the point of need," Dowding said.
Source: U.S. Army Research Laboratory
Published July 2018
Rate this article