50,000 lb of force: Tolomatic expands hydraulic-class electric actuator range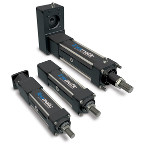 Tolomatic's expanded extreme-force electric actuator family now includes the RSX128 actuator, rated up to 50,000 lb of force (222.4 kN). Ideal for replacing hydraulic cylinders and designed for 100 percent duty cycle, the RSX actuator features Tolomatic's precision-ground planetary roller screws for long, consistent operating life in challenging environments. Applications include assembly, metal fabrication (pressing, punching, clamping), automotive manufacturing, timber processing, motion simulators, and more.
Learn more.
---
Depend on FAULHABER drives for critical medical applications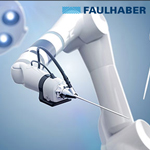 Surgical robotics systems offer an overwhelming advantage over traditional methods: improved precision and speed, faster patient healing, and a reduced margin of error. For minimally invasive procedures requiring this level of precision, performance and quality, the engineers of surgical robotics systems rely on FAULHABER brushless dc motors.
Learn more.
---
Brakes for automated guided vehicles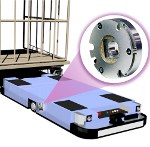 Today's latest automated guided vehicles (AGVs) require highly responsive braking and holding power while minimizing battery usage. The Miki Pulley BXR-LE brake is a power-off engaged brake that will hold the AGV in place when not in use. When the AGV must navigate the production floor, the brake is energized, which disengages the rotor disc and allows free rotation of the AGV drive wheels. The BXR-LE brake uses 24 VDC for a split second to overcome compression spring inertia to open the brake, then consumes only 7 VDC by utilizing the BEM power control module. This saves battery power and minimizes the number of battery recharging operations needed to keep the AGV in continuous operation.
Learn more.
---
Tolomatic develops open-source, low-cost ventilator actuation prototypes for COVID-19 patients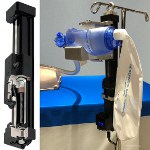 Tolomatic has applied its linear motion expertise to develop prototypes of a new type of ventilator that uses an electric linear actuator to automate a non-invasive, positive-pressure resuscitator known as an Ambu bag. The company is looking for partners to develop this equipment to help fight COVID-19.
Learn more and see how the Tolomatic designs work.
---
New motion platform offers four degrees of freedom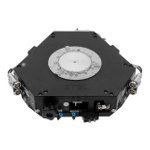 The new Z3TM from ETEL is a compact motion platform that provides a surface with four degrees of freedom into a stacked architecture and is an alternative to piezoelectric solutions. It was designed in response to the needs of advanced wafer positioning in the semiconductor industry, but can also be used in a variety of industries such as medical, pharmaceutical, and general inspection. The Z3TM platform uses a combination of three flexures and a rotary module to provide rotary, Z-axis, and two oblique axis motions to a plate that can be anchored to a supporting table for multiaxial motion solutions.
Learn more.
---
High-force linear actuator makes muscle car simulation possible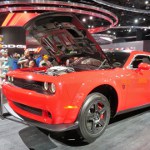 Tolomatic linear actuators are used worldwide in a myriad of industries for automation tasks like conveying, sorting, and filling, but they are also used in demanding, non-industrial applications such as simulators for flight, driving, testing, and entertainment. Learn how electric high-force linear actuators helped simulate the experience of popping a wheelie in a true muscle car.
Read this informative Tolomatic blog post.
---
New low-cost high-speed robot from DENSO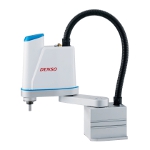 DENSO Robotics developed the entry-level LPH to meet the demand for precision robots needed for light-duty manufacturing applications. Equipment manufacturers who are new to automation, companies reinventing their product lines, and entrepreneurs launching new devices are among those who make up the growing market for high-quality robots that don't break the bank. Compact and lightweight, the LPH is a 4-axis selective compliance assembly robot arm (SCARA) built to handle a maximum payload of no more than 6.6 lb (3 kg) with a maximum arm reach of 1.3 ft (400 mm). When operated routinely at the highest rated payload, the LPH has a life cycle of up to five years. For lighter loads, the LPH has a longer life cycle.
Learn more.
---
High-power-density outer-rotor brushless motor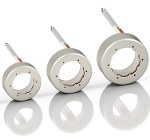 Allied Motion Technologies has released the new KinetiMax High Power Density (HPD) motor series. This outer-rotor brushless motor is designed for high-torque, low-cogging applications like robotics, AGVs, and handheld power tools. With an efficiency rating of over 85 percent and a high power-to-weight ratio, it's an ideal motor choice for any application where weight and battery life are critical. They are available in six frame sizes, with three stack lengths per size and three windings per stack length.
Learn more.
---
Maximize automation efforts for machine tending applications with OnRobot's 3FG15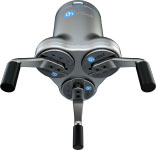 See how the three-finger gripper is ideal for gripping a wide range of cylindrical objects in machine-tending applications such as CNC lathe machines. Its design automatically centers workpieces, resulting in fast deployment with a strong, stable grip and precise placement. The 3FG15 offers seamless integration with the robots of your choice.
Learn more and see it in action.
---
Cart, adapter, top module for new MiR250 Mobile Robot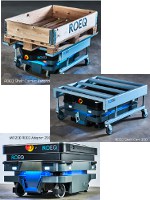 Denmark-based robotics company ROEQ has just launched three new products simultaneously with the reveal of Mobile Industrial Robots' new MiR250 mobile robot. The Shelf-Cart 300 is a vehicle for carrying up to 300 kg (661 lb) that the MiR250 can pick up and deliver anywhere in the workplace, even without a docking station. The new Adapter Module 250 enables the use of three of the existing ROEQ top modules on the new MiR250 robot. The Shelf Carrier 300 Extended is an extended top module specifically designed for the MiR250 robot, making it long enough to carry Euro pallets without compromising safety.
Learn more about these and other ROEQ products.
---
Self-contained electro-hydraulic cylinders improve power density and shock load resistance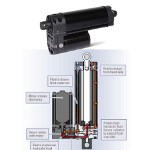 For motion control applications such as snow plows and utility vehicle dump beds, designers have traditionally chosen between hydraulic and electromechanical technologies but have had to accept some tradeoffs for each. However, there is now a hybrid solution from Thomson Industries that offers the best features of both technologies without the drawbacks.
Read the full article.
---
Magnetic encoder system with Drive-Cliq interface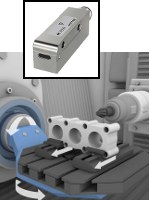 Balluff's BML absolute magnetic encoder in the SGA series stands out in any application where high accuracy of position and end-of-travel is required. Comprehensive diagnostic functions ensure reliable operation and more efficient maintenance. It also has plug-and-play installation. With its Drive-Cliq interface, the Balluff measuring system can be integrated easily into Siemens controller environments. Perfect for demanding applications in the field of automation as well as machine tool building, especially specialty machines.
Learn more.
---
New BLDC motor is alternative to AC servos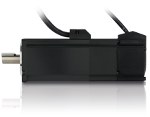 With a rated power up to 400 W, the brushless DC motors of the APBA60 series from Nanotec offer a high-performance alternative to AC servos motors with the same flange size. The new DC motors are rated IP65 and come standard with integrated encoder or with encoder and brake. They are available in two lengths and have a rated speed of 3,000 rpm and a rated voltage of 48 V. They are ideally suited for battery-powered applications, such as AGVs or service robots. They are also safe for use in medical or other environments where standard AC servos would require additional insulation and safety measures. The APBA60 is mechanically compatible with 60-mm AC motors and can be combined with a variety of gearboxes and motor controllers from Nanotec.
Learn more.
---
New single-pad no-mark adhesive Gecko Gripper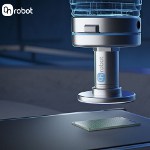 OnRobot has launched a compact, single-pad version of its innovative Gecko no-mark adhesive gripper. The new Gecko Single Pad (SP) gripper brings the same capability to new automation applications with small footprints and lower payload (1 to 5 kilos, three sizes available). The award-winning Gecko gripper technology uses millions of micro-scaled fibrillar stalks that adhere to a surface using powerful van der Waals forces -- the same way that geckos climb. The technology requires no compressed air or external power, saving costs and maintenance, and can be implemented quickly and easily through OnRobot's One-System Solution platform on any major collaborative or light industrial robot arm. And like its larger sibling, the Gecko SP can even grip perforated workpieces such as printed circuit boards, aluminum mesh, or head gaskets.
Learn more.
---
Totally matched motion system
Kollmorgen announces the 2G Motion System, a servo solution designed specifically to harness the performance capabilities of Kollmorgen's AKD2G servo drive and AKM2G servo motor. Motor and drive are precisely matched in every element (e.g., drive switching frequency, commutation algorithms, motor magnetics), avoiding micro-incompatibilities that can occur when engineers select components from various manufacturers. The result is a system that delivers maximum performance, efficiency, and effectiveness in even the most demanding applications, including: industrial printing, laser cutting, packaging, robotics, inspection and measurement, machine tools, winding machines, and food processing. The AKM2G can also be dropped into existing machines to increase performance, compared to competing motors, without increasing the size of the motor.
Learn more.
---
All-new Ford Police Interceptor Utility Pursuit-Rated Hybrid offers improved performance, lower gas costs
Ford recently gave a sneak peek of the all-new Police Interceptor Utility, the industry's first pursuit-rated hybrid SUV.
The all-new hybrid is a response to calls from law enforcement agencies for improved performance with lower operating costs. Its hybrid batteries are specially placed inside the vehicle so they do not compromise passenger or cargo space.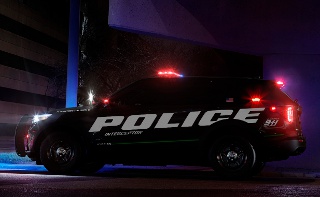 The all-new Police Interceptor Utility also reflects Ford's plan to offer hybrid, plug-in hybrid, or both versions for every new utility in North America.
"We're committed to electrifying vehicles for all customers, including law enforcement who need the high performance and low operating costs that Ford's next-generation hybrids will excel at providing," said Hau Thai-Tang, executive vice president of Product Development and Purchasing at Ford. "Standard all-wheel drive is important, because crooks don't stop when it rains."
While fuel economy certification isn't complete, the Police Interceptor Utility hybrid is expected to have a projected EPA-estimated combined label of at least 24 mpg -- an approximately 40 percent improvement over the current 3.7-liter V6.
Anticipated fuel economy gains, combined with expected fuel savings from reduced engine idling time, are expected to help save law-enforcement customers an estimated $3,200 per vehicle in yearly fuel bills versus the current Police Interceptor Utility.
If you applied these savings to every Ford Police Interceptor Utility sold in 2017, it would equate to more than $126 million at $2.93 a gallon, or more than 43 million gallons of fuel.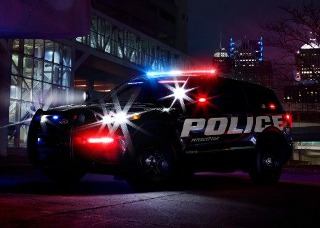 Sales of Ford Police Interceptor Utility rose 5 percent in 2018, building on five straight years of sales growth and capturing 65 percent of the total U.S. police vehicle market.
The all-new Ford Police Interceptor Utility hybrid is projected to accelerate faster, achieve a higher top speed, and have at least 40 percent better fuel economy than the previous V6-powered model, helping catch suspected lawbreakers and reduce costs.
The new hybrid-powered Police Interceptor Utility also reduces engine idling time to save fuel when the vehicle is stationary. They hybrid can power demanding electrical loads from lights, computers, radios, and other equipment using its lithium-ion hybrid battery, allowing the gasoline engine to shut off and intermittently run to charge the battery.
The Police Interceptor Utility hybrid is calibrated for law enforcement's unique duty cycle. The utility automatically switches to maximum performance -- with the engine and battery working at peak acceleration levels -- when needed.
In addition to improved performance and no tradeoffs in utility, cargo, and passenger space, the Police Interceptor Utility features exclusive 75-mph rear impact protection for safety.
Technology upgrades
The new Police Interceptor Utility also offers the following features:
Standard Ford modem and two-year complimentary Ford Telematics service -- a powerful, simple-to-use tool that provides vehicle data regarding fuel use, CO2 emissions reduction, and vehicle health;
Available all-new Police Perimeter Alert enhances previous Surveillance Mode by using the vehicle's Blind Spot Information System that can monitor approximately 270 degrees of movement outside the vehicle and analyze motion to determine potentially threatening behavior. It features a visual display in the instrument cluster that shows moving objects, the motion trail, and threat level. When suspicious behavior is detected, the vehicle automatically sounds a chime, rolls up the windows, and locks the doors;
Available Rear Camera on Demand that allows officers to see what's happening behind the vehicle; and
Available Class III trailer tow package that enables Police Interceptor Utility to tow up to 5,000 lb.
"With Ford Telematics, we're helping our police customers unlock the data from their vehicles to provide them with more effective ways to manage their fleets and improve operations," said Stephen Tyler, Ford Police Brand Marketing Manager.
The all-new Ford Police Interceptor hybrid will be built at Ford Chicago Assembly plant and up-fitted at Ford's Chicago Modification Center. It goes on sale next summer.
Source: Ford Motor Co.
Published July 2018
Rate this article