New Hot Tap Digital Flowmeters simplify installation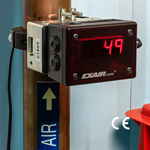 EXAIR's new Hot Tap Digital Flowmeters allow installation when compressed air piping is under pressure. By eliminating the need to isolate and remove pressure from the pipe, these compressed air flowmeters reduce installation time while maintaining safety. Hot Tap Digital Flowmeters incorporate two valves that the measuring probes pass through. A sound muffler that also collects chips from the drilling process eliminates installation debris from entering the airstream and minimizes noise exposure. Measuring compressed air is the first step toward identifying high compressed air use areas, compressed air leaks and optimizing air use.
Learn more.
---
Just out! Most powerful Raspberry Pi ever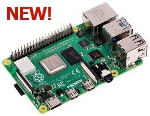 The new Raspberry Pi 4 Model B Computer is the most powerful Raspberry Pi model ever. It offers significant enhancements in processor speed, multimedia performance, memory, and connectivity that will make it attractive to general desktop computer users, hobbyist and makers, and professional developers working with compute-intensive embedded applications such as computer vision and Artificial Intelligence (AI). Available in 1-GB, 2-GB, and 4-GB models.
Read the full article.
---
Angle sensors retain position -- even without power!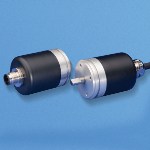 The RSB 3600 Series of absolute single-turn angle sensors from Novotechnik U.S. are EGMR (enhanced giant magnetic resistance) devices that retain their angular position even when power is removed. The sensors retain that angle information for years without power, so there is no need for batteries. Operating speed is up to 12,000 RPM. These non-contact sensors feature a galvanized steel housing and stainless steel shaft with up to 100 N working shaft load for the HD version. They are sealed up to IP 69K, depending on version. They count to 16 turns, angular position 0 to 360 deg. MTTF of more than 105 years.
Learn more.
---
Overvoltage protection for motors, white goods, more
The RV from Stackpole is a radial leaded metal oxide varistor available in a wide range of disk sizes (5 mm to 20 mm) and working voltages (from 14 VDC to 1,465 VDC) designed for general-purpose overvoltage protection. Peak current ratings up to 18,000 amps. Applications include low-voltage board-level circuitry, data and voice communications, network equipment, distribution panels, AC line protection for white goods, entertainment electronics, lighting ballasts, power supplies, electric motors and motor controls, and surge protection devices.
Learn more.
---
Extreme-force electric actuator for press and punch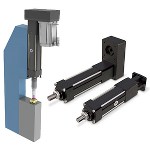 Tolomatic's RSX extreme force electric actuator family has been expanded -- this time with more options capable of replacing hydraulic cylinders. The new RSX096P Press Model is designed for pressing, punching, clinching, joining, and other applications requiring extreme force. This hydraulic-class actuator is capable of forces up to 40,000 lbf (178 kN). It features Tolomatic planetary roller screw technology for long life and consistent performance.
Learn more.
---
New optical joysticks for medical and military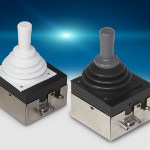 CTI Electronics (an affiliate of Electro Switch Corp.) has launched a new line of optical joystick motion controllers and mouse pointing devices. Made in the USA, LightStick Series controllers exceed medical and military performance standards for electromagnetic and RF disturbance in applications to 200 V/m -- without additional shielding. The LightStick's patented noncontact optical sensor technology ensures highly repeatable operator feedback for the life of the controller -- up to 10 million cycles and a MTBF greater than 10 years of operation.
Learn more.
---
UV-protected and waterproof panel mount indicators
Visual Communi-cations Company (VCC) recently announced the addition of its new PML50 Series Waterproof LED panel mount indicator (PMI). The new semi-dome indicator offers the same great features as the other PMIs in the PML50 family, with the added bonus of UV protection. This PMI has a white diffused lens for optimal side distance viewing and UV-resistant lens for superior performance in outdoor harsh environments -- and it will not discolor or fade. It achieves full brightness in microseconds, even in daylight viewing conditions. Ideal for a range of industries where outdoor status indication is crucial, including maritime, oil, gas, transportation, and industrial.
Learn more.
---
Dual-mode automotive image sensor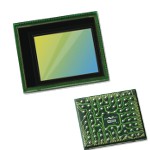 The OV2312 automotive image sensor from OmniVision Technologies enables multiple functions in one camera, reducing the total system cost, space, and power budget for driver state monitoring (DSM) and viewing applications like video conferencing. The ability to capture both RGB and IR images with one global shutter (GS) sensor reduces the number of cameras needed. It provides dual-mode cameras with motion-artifact-free images at high resolutions of 1,600 x 1,300 at 60 fps and 1,280 x 720 at 90 fps. Because this is the smallest 2MP GS sensor in its class, cameras can be placed out of sight from drivers and passengers.
Learn more.
---
High-deflection thermal gap filler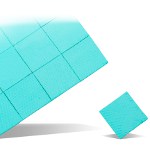 Laird Performance Materials has developed Tflex HD80000, a high-deflection thermal gap filler combining 6 W/mK thermal conductivity with superior pressure versus deflection characteristics. The combination allows minimal stress on sensitive components while also yielding low thermal resistance. As a result, less mechanical and thermal stresses are experienced in devices designed for telecom, information technology, consumer, industrial, aerospace, and military markets. Gap fillers bridge the interface between hot components and a chassis or heat sink assembly to increase the overall heat transfer from the system.
Learn more.
---
Why convert hydraulics to electric high-force linear actuators?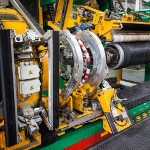 Got a high-force linear motion application? If you do, chances are the first product solution to come to mind is hydraulic cylinders. They're relatively inexpensive (if you already have a hydraulic power unit in place), compact (if the HPU is somewhere else), and power-dense. But what about the disadvantages -- leaks, operation and maintenance costs, and more? It's possible to convert an application from hydraulic to electric linear motion easily, and Tolomatic even gives you step-by-step instructions.
Read the Tolomatic blog. Really useful!
---
Cool heat-sensitive CMOS sensors with thermoelectric modules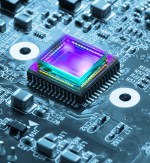 Laird Thermal Systems has expanded its Peltier thermoelectric module product family with the HiTemp ET Series, designed to protect critical electronic devices like CMOS sensors in high-temp applications. Recent advances in CMOS sensor tech have made these sensors practical and effective for use in a wide range of imaging applications found in autonomous systems, machine vision and learning, high-end scientific cameras, and more. HiTemp ET Series thermoelectric modules deliver spot cooling capacity of more than 300 W to ensure optimum CMOS sensor performance. Fifty-three models offer a variety of heat-pumping capacities, geometric form factors, and input voltages.
Learn more.
---
Mini LVDTs offer position feedback for UAVs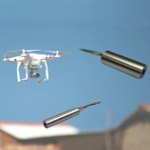 Unmanned drones require a variety of sensors to monitor different critical measurements to control flight and maintain aircraft stability. Miniature Linear Position Sensors from NewTek Sensor Solutions provide reliable position feedback for monitoring the fin/rudder position and rotor angle of unmanned aerial vehicles (UAVs) with quick response times, so drones can make adjustments to accurately control flight.
Learn more.
---
Cobham introduces spacecraft, satellite electronics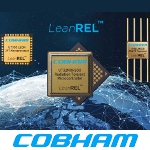 Cobham Advanced Electronic Solutions, a leading provider of electronics technology and services for space and other high-reliability applications, recently released the new LeanREL product family designed to meet the needs of small satellite and non-traditional spacecraft manufacturers. The LeanREL product family, comprised of microprocessors, microcontrollers, as well as memory and interface integrated circuits (ICs), leverages Cobham's 30+ years of radiation-hardened, QML-level reliability, and innovative space systems design expertise and offers an unmatched combination of user benefits.
Find out more.
---
Touch panels require 50 percent less input force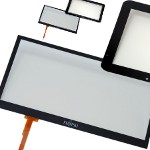 Fujitsu Components America has just released a series of customizable, flush-surface, resistive touch panels with less than half the input force of conventional resistive panels, nearly identical to that of projected capacitive panels. The new series (FID-1300 4-wire and FID-1520 5-wire) offers OEMs a cost-efficient alternative to projected capacitive touch panels with a comparable user experience, while maintaining resistive technology's reliable input capability and unlimited choice of input sources. Target applications include industrial automation and HMI machine control, medical equipment, and vehicle navigation systems.
Learn more.
---
Automatic vision system with max throughput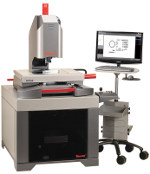 The new AV450 Automatic Vision System from L.S. Starrett Company is a versatile, accurate, fast, and American-made 3-axis vision system that allows users to achieve high throughput in their inspection process cost effectively. This heavy-duty CNC video-based measurement system is ideal for both repetitive, larger part-run applications and routine quality assurance in inspection labs, manufacturing, assembly, and research facilities.
Learn more.
---
New battery-free 'rectenna' converts Wi-Fi signals to electricity using 2D materials
A device made from flexible, inexpensive materials could power large-area electronics, wearables, medical devices, and more.
By Rob Matheson, MIT
Imagine a world where smartphones, laptops, wearables, and other electronics are powered without batteries. Researchers from MIT and elsewhere have taken a step in that direction, with the first fully flexible device that can convert energy from Wi-Fi signals into electricity that could power electronics.
Devices that convert AC electromagnetic waves into DC electricity are known as "rectennas." The researchers demonstrate a new kind of rectenna, described in a study appearing in Nature Jan. 28, 2019, that uses a flexible radio-frequency (RF) antenna that captures electromagnetic waves -- including those carrying Wi-Fi -- as AC waveforms.
The antenna is then connected to a novel device made out of a two-dimensional semiconductor just a few atoms thick. The AC signal travels into the semiconductor, which converts it into a DC voltage that could be used to power electronic circuits or recharge batteries.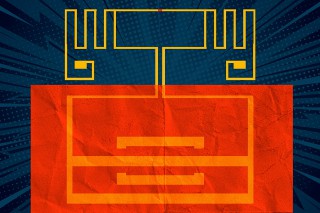 Researchers from MIT and elsewhere have designed the first fully flexible, battery-free "rectenna" -- a device that converts energy from Wi-Fi signals into electricity. [Image: Christine Daniloff]
In this way, the battery-free device passively captures and transforms ubiquitous Wi-Fi signals into useful DC power. Moreover, the device is flexible and can be fabricated in a roll-to-roll process to cover very large areas.
"What if we could develop electronic systems that we wrap around a bridge or cover an entire highway, or the walls of our office and bring electronic intelligence to everything around us? How do you provide energy for those electronics?" says paper co-author Tomás Palacios, a professor in the Department of Electrical Engineering and Computer Science and director of the MIT/MTL Center for Graphene Devices and 2D Systems in the Microsystems Technology Laboratories. "We have come up with a new way to power the electronics systems of the future -- by harvesting Wi-Fi energy in a way that's easily integrated in large areas -- to bring intelligence to every object around us."
Promising early applications for the proposed rectenna include powering flexible and wearable electronics, medical devices, and sensors for the Internet of Things. Flexible smartphones, for instance, are a hot new market for major tech firms. In experiments, the researchers' device can produce about 40 microwatts of power when exposed to the typical power levels of Wi-Fi signals (around 150 microwatts). That's more than enough power to light up an LED or drive silicon chips.
Another possible application is powering the data communications of implantable medical devices, says co-author Jesús Grajal, a researcher at the Technical University of Madrid. For example, researchers are beginning to develop pills that can be swallowed by patients and stream health data back to a computer for diagnostics.
"Ideally you don't want to use batteries to power these systems, because if they leak lithium, the patient could die," Grajal says. "It is much better to harvest energy from the environment to power up these small labs inside the body and communicate data to external computers."
All rectennas rely on a component known as a "rectifier," which converts the AC input signal into DC power. Traditional rectennas use either silicon or gallium arsenide for the rectifier. These materials can cover the Wi-Fi band, but they are rigid. And, although using these materials to fabricate small devices is relatively inexpensive, using them to cover vast areas, such as the surfaces of buildings and walls, would be cost-prohibitive. Researchers have been trying to fix these problems for a long time. But the few flexible rectennas reported so far operate at low frequencies and can't capture and convert signals in gigahertz frequencies, where most of the relevant cell phone and Wi-Fi signals are.
To build their rectifier, the researchers used a novel 2D material called molybdenum disulfide (MoS2), which at three atoms thick is one of the thinnest semiconductors in the world. In doing so, the team leveraged a singular behavior of MoS2: When exposed to certain chemicals, the material's atoms rearrange in a way that acts like a switch, forcing a phase transition from a semiconductor to a metallic material. The resulting structure is known as a Schottky diode, which is the junction of a semiconductor with a metal.
"By engineering MoS2 into a 2D semiconducting-metallic phase junction, we built an atomically thin, ultrafast Schottky diode that simultaneously minimizes the series resistance and parasitic capacitance," says first author and EECS postdoc Xu Zhang, who will soon join Carnegie Mellon University as an assistant professor.
Parasitic capacitance is an unavoidable situation in electronics where certain materials store a little electrical charge, which slows down the circuit. Lower capacitance, therefore, means increased rectifier speeds and higher operating frequencies. The parasitic capacitance of the researchers' Schottky diode is an order of magnitude smaller than today's state-of-the-art flexible rectifiers, so it is much faster at signal conversion and allows it to capture and convert up to 10 gigahertz of wireless signals.
"Such a design has allowed a fully flexible device that is fast enough to cover most of the radio-frequency bands used by our daily electronics, including Wi-Fi, Bluetooth, cellular LTE, and many others," Zhang says.
The reported work provides blueprints for other flexible Wi-Fi-to-electricity devices with substantial output and efficiency. The maximum output efficiency for the current device stands at 40 percent, depending on the input power of the Wi-Fi input. At the typical Wi-Fi power level, the power efficiency of the MoS2 rectifier is about 30 percent. For reference, today's rectennas made from rigid, more expensive silicon or gallium arsenide achieve around 50 to 60 percent.
"This very nice teamwork from MIT demonstrates the first real application [of] atomically thin semiconductors for a flexible rectenna for energy harvesting," says Philip Kim, a professor of physics and applied physics at Harvard University whose research focuses on 2D materials. "I am amazed by the innovate approach that the team has set up to utilize the waste energy from RF power around us."
There are 15 other paper co-authors from MIT, Technical University of Madrid, the Army Research Laboratory, Charles III University of Madrid, Boston University, and the University of Southern California.
The team is now planning to build more complex systems and improve efficiency. The work was made possible, in part, by a collaboration with the Technical University of Madrid through the MIT International Science and Technology Initiatives (MISTI). It was also partially supported by the Institute for Soldier Nanotechnologies, the Army Research Laboratory, the National Science Foundation's Center for Integrated Quantum Materials, and the Air Force Office of Scientific Research.
Published February 2019
Rate this article