Top Tech Tip: Self-locking retaining rings from Smalley

Smalley self-locking rings allow the ring to operate at high speeds, withstand vibration, function under rapid acceleration and absorb a degree of impact loading. The self-locking feature utilizes a small tab on the inside turn "locking" into a slot on the outside turn. The self-locking option can be incorporated for both external and internal rings.
Learn more.
---
Fiber sizings improve performance of carbon fiber composites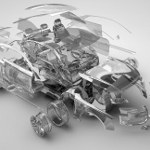 Michelman fiber sizings are available for a variety of application types to dramatically improve fiber-polymer interface adhesion. This technology helps industries such as automotive, transportation, construction, aerospace, energy, and sport improve the quality and performance of composites. New offerings include Hydrosize Carbon 200 Series (an APE-, solvent-, and VOC-free solution perfect for fiber-reinforced nylon composites where greater thermal stability is required, like coolant pumps) and Hydrosize Carbon 400 Series (for extreme processing temps that many high-temp thermoplastics require, such as PEEK, PPS, PEI, and others used to produce various composite engine components).
Learn more.
---
New vacuum soft gripper for delicate objects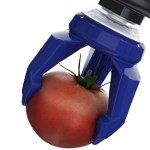 A new, vacuum-based soft gripping tool called piSOFTGRIP has been developed by Piab with food industry automation in mind. This three-fingered unit will grip sensitive and lightweight objects of odd geometries and/or an unusual surface. Bin picking of small, irregularly shaped objects, such as toys, is another potential application. The cost-effective soft gripper can handle objects with a diameter up to 50 mm (1.97 in.), but larger units are in the works. Combined with Piab's end-of-arm vacuum tool piCOBOT, the piSOFTGRIP offers a powerful and flexible plug-and-play extension for collaborative robots. As both piCOBOT and piSOFTGRIP offer compressed air-saving functionality, virtually no energy is needed to perform a grip and release.
Learn more.
---
New Modular Mounting Systems from Ruland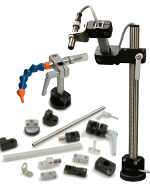 Ruland Manufacturing now supplies a large selection of modular mounting components that designers can combine to make complete systems for positioning sensors, scanners, reflectors, cameras, coolant pipes, air nozzles and more. The diversity of component sizes and materials allows them to be used in many different industrial, food processing, and packaging environments. Parts that make up modular mounting systems include mounting brackets, bracket clamps, tubes, rods, tube end caps, mini-clamp tube connectors, swivel clamp tube connectors, mounting bases, portable magnet bases, clamping lever kits, and adjustable spring joints. The wide range of modular mounting components enables designers to customize systems to whatever the application requires.
Learn more.
---
Great Resources: Unit Conversion Tool

Convert popular spring units such as force or retaining ring thrust capacities into metric units with Smalley's engineering tools. Convert units such as mass and weight, angular measurements, velocities, temperatures, pressures and densities, and more.
Click here to learn more. You should bookmark this one.
---
Innovative rod seals enhance hydraulic and electromechanical aviation actuator performance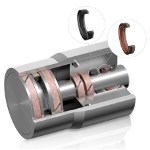 Rod seals for cylinders and actuators seal the applied system pressure toward the atmospheric side. They perform a critical function in preventing external leakage that may contaminate the immediate environment. The rod seals LB and LS from Parker Hannifin have been specially developed for the safety-critical applications in aviation and offer high reliability and wear resistance due to their seal geometry and material selection.
Read this informative Parker blog.
---
Right-sizing valve manifolds linked to smart machine design
Valves are generally sized by cylinder bore, actuation speed, and required pressure. In the past, the entire valve manifold would be sized based on the largest force/speed requirements of the pneumatic system, or by splitting between two manifolds (low and high pressure/flow). However, this methodology results in waste, both in terms of compressed air and the expense and size of the manifold, not to mention the labor needed to install two manifolds.
Read this informative Parker Hannifin blog.
---
Two-component adhesives revolutionized with light fixation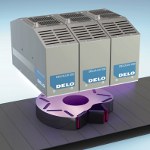 DELO has developed light fixation two-component epoxy resins that provide unprecedented process speed -- only 5 sec irradiation time! Thanks to the hybrid chemistry of DELO-DUOPOX DB8989, users will realize faster, less complex production processes and simplified logistics. Reliable final curing, including shadowed areas, is done the same way as regular two-component products, either at room temperature or at a faster speed by using heat curing at 80 C for 60 min. The adhesive is able to achieve a tensile shear strength of 28 MPa on aluminum. Applications include structural bonding of rare earth magnets in electric motors. It is also suitable for opto-electronic applications in cameras for automated driving due to low outgassing and shrinkage.
Learn more.
---
How to store epoxy adhesives properly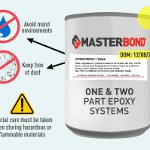 Check out this tech tip by Master Bond's experts on the proper techniques and methods for storing epoxy adhesive systems. Learn some of the specific requirements for one-component, two-component, and premixed and frozen systems in order to maximize shelf life and optimize performance.
Read the Master Bond tips.
---
Stratasys introduces 3X-faster industrial-grade FDM 3D printer for office
The new F120 Fused Deposition Modeling (FDM) machine from Stratasys brings industrial 3D printing to the masses, featuring simple controls, remote self-monitoring, exclusive 3D-printing hardware, and extremely high levels of reliability and repeatability. The F120 makes it simple even for the novice to get started.
Read the full article.
---
Mike Likes: Small diameter retaining rings and wave springs from Smalley

From medical devices to electronics, the world around us is getting smaller. "How small can you go?" This is a question a Smalley engineer hears all the time ... but a better question is how small do you need? As The Engineer's Choice™ for Wave Springs and Spirolox® Retaining Rings, Smalley has the answer! Smalley's manufacturing capabilities now allow them to design and manufacture Wave Springs and Retaining Rings down to 0.165", 4 mm diameters!
Learn more.
---
Optimize mechanical misalignments, get hidden benefits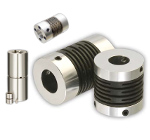 C-Flex Couplings combine the best qualities of disc, beam, and bellows couplings in a unique and economical new design. Made to couple two rotating shafts together, these couplings can accommodate large misalignments while transmitting high-torque loads with zero backlash. Benefits include lower energy usage and less-frequent bearing failure, since less stress is placed upon bearings. Constructed using high-strength hardened stainless steel or glass impregnated polyamide flexures, these couplings require no maintenance and provide years of trouble-free life, even in contaminated environments. Flexible Pivot Bearings and Super Plastic Torsional Damping Couplings also available.
Click here to learn more.
Watch C-Flex Couplings in action handling misalignments.
---
Metal injection molding limits secondary operations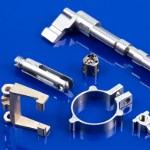 Smith Metal Products specializes in metal injection molding (MIM) of soft metal alloys and an array of other metals for small electronic and electrical components. Ideal for the fast-changing needs of the telecom and electronic markets, MIM uses the latest tech built around an automated production process. Parts begin when metal powder is suspended in a binder or feed stock that is then injection molded into a tool. Then the part goes through a debinding and sintering process to form a full, dense metal part. The resulting parts are very precise, net-shaped, and can be produced faster than machining -- and usually with no secondary operations. Parts most suitable include those made from a full range of alloy materials, including soft metal, stainless steels, and Titanium.
Learn more.
---
25% more speed: Proven high-speed machining unit gets even faster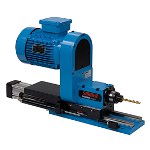 Specifically for metals with high cutting speed rates or small-diameter hole-drilling applications, the SUHNER SPINDLEmaster has been proven in thousands of installations. Now the BEX15 unit provides new speed options -- reliably up to the maximum speed limit. With an increase of 25 percent up to a permissible maximum spindle speed of 23,000 rpm, operations requiring higher spindle speeds can be accomplished more easily. This improvement is the result of a complete redesign of drive and spindle bearing components.
Learn more.
---
New lead screw configurator allows for quick design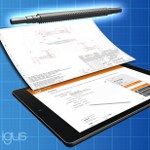 igus has developed a new lead screw configurator that allows customers to design their own lead screw and associated drawing in minutes without in-depth technical knowledge and CAD software. The new tool even directly checks the plausibility of the configuration. Trapezoidal, high helix, or metric thread lead screws in combination with nuts made of iglide high-performance polymers ensure lubrication-free adjustment for long-lasting and smooth-running applications. The company runs its North American operations out of Providence, RI.
Learn more.
---
Research raises awareness of indoor air quality risk from 3D printers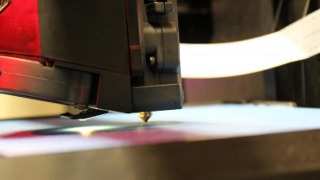 The nozzle of a consumer-oriented 3D printer. [Credit: UL Chemical Safety]
Consumer-oriented 3D printers showed up on many holiday wish lists last year, but purchasers should be aware of research conducted at Georgia Institute of Technology that highlights how the popular low-cost devices could pose a health risk by harming indoor air quality.
A recently completed multi-year research project, sponsored by UL Chemical Safety, was aimed at characterizing particle emissions by the printers in a controlled environment.
The researchers found that the printers generate a range of different-sized particles, including ultrafine particles (UFPs), which have the potential to be inhaled deep into the human pulmonary system and impact respiratory health.
"These printers tend to produce particles that are very small, especially at the beginning of the print process, and in an environment without good ventilation, they could significantly reduce indoor air quality," said Rodney Weber, a professor in Georgia Tech's School of Earth & Atmospheric Sciences who led the research.
Many of the findings were published in 2018 and 2017 in Aerosol Science and Technology, and other studies are forthcoming.
The research endeavor revealed that more than 200 different volatile organic compounds (VOCs), many of which are known or suspected irritants and carcinogens, are released while 3D printers are in operation.
Several factors (including nozzle temperature, filament type, filament and printer brand, and filament color) affected emissions. Meanwhile, extrusion temperature, filament material, and filament brand were found to have the greatest impact on emission levels.
"We found that one of the overriding principles is the temperature of the filament," Weber said. "If you use a filament that requires a higher temperature to melt, such as ABS plastic, you produce more particles than PLA plastic filaments, which require lower temperatures."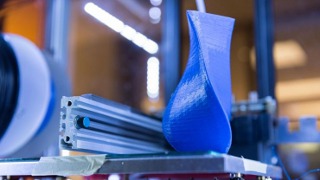 3D-printed object. (Credit: Rob Felt)
As a result of the research, UL is advocating for a complete risk assessment of all 3D printers, taking into account dose and personal sensitivity considerations as well as the publication of more marketplace information about each printer to help consumers choose safer options.
"Following our series of studies -- the most extensive to date on 3D-printer emissions -- we are recommending additional investments in scientific research, product advancement to minimize emissions, and increased user awareness so that safety measures can be taken," said Marilyn Black, vice president and senior technical advisor at UL.
In the meantime, some measures can be taken by operators of 3D printers to lessen their impact on air quality:
Operating 3D printers only in well-ventilated areas;
Setting the nozzle temperature at the lower end of the suggested temperature range for filament materials;
Standing away from operating machines; and
Using machines and filaments that have been tested and verified to have low emissions.
Based on the scientific research conducted with Georgia Tech and further collaboration with other stakeholders, UL developed an ANSI consensus standard for testing and evaluating 3D-printer emissions to set emissions targets for 3D-printer manufacturers. UL/ANSI 2904 is in the final stages of completion and should be available in the coming weeks.
This story was adapted from content provided by UL Chemical Safety.
Source: Georgia Tech
Published February 2019
Rate this article