How to convert from hydraulic to electric high-force linear actuators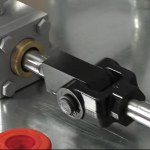 Machine designers are converting existing linear motion systems from hydraulic to electric due to the technology's many benefits, but the process involves considering the actual force output of the cylinder, the duty cycle, and the motion profile. Specialists at Tolomatic tackle these points. Includes a very informative video.
Read the Tolomatic blog.
---
Gain more torque with a cooler-running motor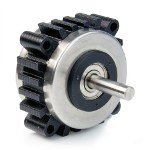 The slim-design G3718V whisper torque motor from Lin Engineering incorporates a heat-sink design within the stator laminations to allow for passive cooling. When your motor operates cooler, you can increase power to gain more torque without overheating, or you can save energy and still perform at optimal performance. At only 22.8 mm long, this motor produces 25 oz-in. of torque.
Click here to learn more.
---
Quiet 3-to-1 speed reducers use traction drive technology for 98% efficiency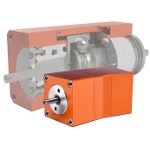 Rolling Motion Industries (RMI) has released two new traction drive speed reducers. With only six moving parts, they typically outlast conventional gearboxes and speed reducers by a factor of three. The MAR17-1-3.1 Speed Reducer is designed for input speeds up to 3,600 rpm with 10 to 20 in.-lb of torque, and the MAR-23-1-3.1 Speed Reducer is rated for the same speeds but with an input of 20 to 30 in.-lb of torque. As the output speed is reduced by a factor of three, the output torque increases by a factor of three. These high-efficiency speed reducers generate up to 72 percent less heat because they use a special engineered fluid that cools and lubricates the traction drive.
Learn more.
---
Smart Sensor checks condition of bearings
ABB has launched the ABB Ability Smart Sensor for Dodge mounted bearings, part of the ABB Ability Digital Powertrain, that enables "health checks" for bearings. The smart sensor technology provides an early indicator of any potential problems by assessing the condition of bearings from vibration and temperature information. Eighty percent of bearing failures are lubrication related, and a bearing "running hot" can indicate that proper lubrication procedures are not in place. Monitoring a bearing's vibration can also indicate potential system problems. Prevent downtime on applications such as bulk material-handling conveyors as well as applications in the food-and-beverage and air-handling sectors.
Learn more.
---
New industrial-grade optical encoder from Quantum Devices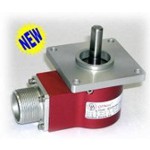 The Model QDH20 encoder provides an improved feedback solution in applications typically using a standard size 20 package. It features superb mechanical and environmental protection. Outputs consist of a quadrature A & B with reference pulse Z as a standard feature. The output can be configured with either the industrial standard 5- to 26-V OL7272 line driver or open collector outputs. Two heavy-duty bearing sets hold the output shaft, and two more bearings (along with an integral flexible spring mount) isolate the working pieces of the encoder from mechanical stresses. Features include 500-kHz fundamental frequency response, high operating temp option (100 C), and resolutions up to 5,000 lines per revolution direct read. Available through Servo2Go.
Learn more.
---
Single-cylinder engines for combustion research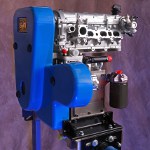 Southwest Research Institute (SwRI) has designed and manufactured two advanced single-cylinder engines for combustion research and friction analysis, as well as alternative fuel, wear, optical, crank offset, and bore-to-stroke relationship studies. The engines, one for light- and medium-duty applications and one for heavy-duty applications, can accommodate either multi-cylinder or single-cylinder heads through a custom cylinder barrel and head support shelf. They include several unique patent-pending innovations, including mechanisms that adjust compression ratios and crankshaft offsets without the need for disassembling the engine. Optical access, dynamic cam phasing, secondary balancers, and floating liner devices can be added to the standard configurations. Specs available in online "Single-Cylinder Research Engine" flyer.
Click here to learn more.
---
Hybrid gantry stage provides precision XY/XYZ motion with linear motors, air bearings, and ball bearings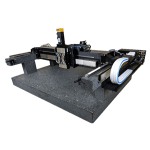 PI's new A-341 hybrid gantry XY/XYZ positioning stage provides the framework for controlled precise overhead motion that is often sought after for 3D printing, assembly, pick-and-place, alignment, inspection, and industrial automation applications. The A-341 HGS hybrid gantry is designed to combine maximum throughput with smooth and highly accurate motion in a compact envelope. It features a unique hybrid bearing design. The cross axis utilizes a frictionless air bearing guiding system, which allows for excellent velocity control, repeatability, straightness, and cleanliness. The lower dual-motor axis uses precision mechanical linear bearings for rigidity and reduced size. This combo offers an overhead gantry motion platform optimized for step and scan applications in the smallest possible form factor.
Learn more.
---
Micro-brakes for precise motion control applications
The ultra-compact 112 Model Electromag-netic Micro-Brakes from Miki Pulley ensure fast response in high-torque, demanding applications. The simple design features a stator with integrated mounting flange, proprietary composite friction liner, and armature complete with ring plate spring and hub. These brakes halt rotation mechanically by utilizing an electromagnetic field to create mechanical friction. With fast response, the brake's armature engages the stator when the coil is energized. A constant-force plate spring transfers torque to the rotating brake body, halting all motion.
Learn more.
---
Electric high-force linear actuator choices: Ball vs. roller screw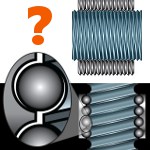 Many applications require high-force linear actuators -- from moving equipment in a foundry to powering a press in metal forming to guiding heavy logs in a sawmill. Whatever the application, a machine designer is faced with a choice: whether to specify a ball or roller screw in the electric high-force linear actuator. Learn how to make the best decision for your application.
Read the Tolomatic blog.
---
Using SmartMotor data to diagnose linear actuator performance problems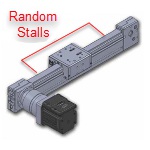 Effective troubleshooting of a motion control system problem can be a daunting and time-consuming process, even for seasoned automation professionals. However, the Moog Animatics SmartMotor fully integrated servo, with built-in controller and firmware, is constantly monitoring a variety of operating parameters. This case study investigates how that data can be used to quickly and effectively troubleshoot and resolve a motion control system problem.
Read the Moog Animatics article.
---
Advantages of electroformed metal bellows

Servometer metal bellows manufactured using our patented electro-deposition process create flexibility, protection, motion, and balance for systems requiring precise, repeatable results. This exclusive manufacturing technology produces electroformed bellows that offer unique characteristics such as high-strength but lightweight construction and custom engineered geometries. Learn more by viewing our "Electroforming Basics of Miniature and Specialized Components" white paper.
Read the white paper (no registration required).
---
Top 5 challenges of motion control design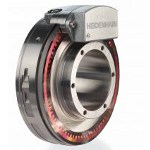 As motion control solutions -- from angle encoders to direct drive motors -- become even more ubiquitous in industrial situations, engineers face evolving demands and opportunities. From lowering the cost of advanced technologies to improving functional safety in automated environments, here are the top five challenges and opportunities in today's motion control design industry as seen by engineers from HEIDENHAIN.
Read the full article.
---
Two-way traction drives reduce motor torque ripple
Rolling Motion Industries (RMI) has released two new, highly efficient two-way gearless traction drives. The MAR-17-2-2.1 and MAR-23-2-2.1 permanently lubricated drives have only six moving parts and typically last three times longer than conventional gearboxes. The drives have demonstrated up to an 84 percent reduction in motor torque ripple. The MAR17-2-2.1 Traction Drive is designed for speeds to 3,600 rpm with 10 to 20 in./lb of torque, and the MAR-23-2-2.1 Traction Drive is rated for 3,600 rpm with 20 to 30 in./lb of torque.
Learn more.
---
High-precision multi-axis motion with hexapod 6-axis systems -- New 130-pg PI catalog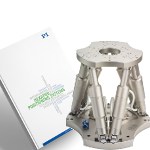 Multi-axis motion and positioning systems are often used for precision automation and alignment applications in fields including optics, photonics, aerospace, medical engineering, and laser technology. Hexapod parallel-kinematic motion and positioning systems provide a novel approach to multi-axis motion, combining precision and compactness with versatility. PI's new 130-page catalog provides background information and features a variety of hexapod (Stewart-Platform) motion and positioning systems with 6 degrees of freedom and high resolution and repeatability in the sub-micrometer and even nanometer range.
Get the new catalog today (no registration required).
---
World's most compact 3,000-W integrated servo motor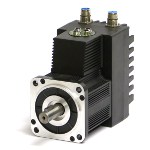 JVL's newest addition to its motor portfolio is a complete, high-capacity MAC motor with a rating of 3,000 W. MAC motors are complete servo systems that include a high-dynamic AC servo motor, hall sensors, encoder, power supply, driver, and positioning controller and Nano-PLC, as well as options for incorporating various control modules such as Bluetooth, WLAN, ZigBee, EtherCAT, EtherNet/IP, CANopen, DeviceNet, Profibus, Profinet, Nano PLC, and more. With a length of only 311.8 mm and a torque of 9.55/28.6 Nm at 3,000 rpm, this MAC motor matches the size of traditional servo motors without built-in controllers. Many more features.
Learn more.
---
If self-driving cars cruise to avoid paying to park, then autonomous vehicles 'have every incentive to create havoc,' transportation planner says
By Jennifer McNulty, UC Santa Cruz
If you think traffic in city centers is bad now, just wait until self-driving cars emerge on the scene, cruising around to avoid paying hefty downtown parking fees.
Even worse, because cruising is less costly at lower speeds, self-driving cars will slow to a crawl as they "kill time," says transportation planner Adam Millard-Ball, an associate professor of environmental studies at the University of California, Santa Cruz.
"Parking prices are what get people out of their cars and on to public transit, but autonomous vehicles have no need to park at all. They can get around paying for parking by cruising," he said. "They will have every incentive to create havoc."
Millard-Ball analyzes "The Autonomous Vehicle Parking Problem" in the current issue of Transport Policy.
That scenario of robot-fueled gridlock is right around the corner, according to Millard-Ball, who says autonomous, or self-driving, vehicles are likely to become commonplace in the next five to 20 years. Millard-Ball is the first researcher to analyze the combined impact of parking costs and self-driving cars on city centers, where the cost and availability of parking is the only tool that effectively restricts car travel.
Under the best-case scenario, the presence of as few as 2,000 self-driving cars in downtown San Francisco will slow traffic to less than 2 mph, according to Millard-Ball, who uses game theory and a traffic micro-simulation model to generate his predictions.
"It just takes a minority to gum things up," he said, recalling the congestion caused at airports by motorists cruising the arrivals area to avoid paying for parking. "Drivers would go as slowly as possibly so they wouldn't have to drive around again." Free cell-phone parking areas, coupled with strict enforcement in loading areas, relieved the airport snarls, but cities will be hard-pressed to provide remote parking areas for self-driving cars at rates lower than the cost of cruising -- which Millard-Ball estimates at 50 cents per hour.
"Even when you factor in electricity, depreciation, wear and tear, and maintenance, cruising costs about 50 cents an hour -- that's cheaper than parking even in a small town," says Millard-Ball. "Unless it's free or cheaper than cruising, why would anyone use a remote lot?"
Regulation also falls short because, as Millard-Ball puts it, "It's difficult to regulate intent. You can pass a law saying it's illegal to drive more than 10 minutes without a passenger, but what if the car is picking up a parcel?"
The solution: congestion pricing, which can take different forms but essentially amounts to a user fee. In London, motorists pay a flat fee of £11.50 (about $15) to enter the city center. Singapore and Stockholm employ similar models. More sophisticated models could charge by miles driven, or assign different fees to particular streets.
Economists and environmentalists agree that congestion pricing effectively reduces congestion and pollution, but it's a politically fraught strategy because it raises the ire of commuters -- which is where Millard-Ball sees opportunity.
"As a policy, congestion pricing is difficult to implement. The public never wants to pay for something they've historically gotten for free," he said. "But no one owns an autonomous vehicle now, so there's no constituency organized to oppose charging for the use of public streets. This is the time to establish the principle and use it to avoid the nightmarish scenario of total gridlock."
Moreover, he noted, self-driving cars could be outfitted with devices that would give policymakers options for levying fees based on location, speed, time of day -- even which lane the vehicle occupies.
"The fees could raise money for cities to improve transportation," he said. "The idea is to do it now before autonomous vehicles become widespread."
Published February 2019
Rate this article