Top Roller conveyor for mobile industrial robots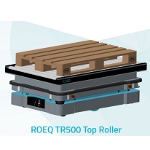 Real efficiency in logistics automation is achieved when the entire workflow is handled by robotics solutions that communicate smoothly with each other. That's the vision behind ROEQ's new TR500 Top Roller unit that automates load and unload operations of the MiR500, the largest and most powerful autonomous mobile robot from Mobile Industrial Robots (MiR). Danish company ROEQ is launching the Top Roller at the Automate 2019 show in Chicago this week, along with a host of other add-ons for MiR. The TR500 accommodates U.S. pallets and can be delivered with a fully automated lifter functionality for pick-up and delivery of goods.
Learn more.
---
Top Tech Tip: Specifying self-lubricating bearings for linear motion systems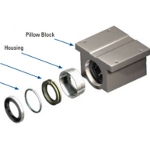 Self-lubricating ball bushing bearings have experienced an increase in use among motion system designers thanks to their ability to significantly reduce cost of ownership, improve performance, and deliver virtually maintenance-free operation. However, these bearings may not reach their full potential without being properly specified, installed, and evaluated for compatibility with their intended environment. Learn how to specify them for long-lasting use in your motion system applications.
Read this informative Thomson article.
---
New long-travel linear motor stage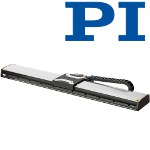 The new V-417.336025E1 linear translation stage from PI is engineered for industrial applications with high demands on dynamics, precision, smooth scan motion, short settling times, and low tracking error. It provides 32 in. of travel (813 mm). The stage achieves high velocities to 79 in./sec (2 m/sec) based on a direct-drive ironless linear servo motor. High accuracy, repeatability, and functionality are guaranteed by an integrated absolute-measuring linear position encoder featuring 1-nm sensor resolution. Applications include: pick and place, optics, semiconductor test and inspection, bio-tech, DNA sequencing, 3D printing, and laser processing and machining.
Learn more.
---
More stopping power for servo motors -- using less space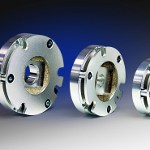 Miki Pulley's BXR-LE spring-applied Electro-Magnetic brake series safely holds a static position, without the need for external power. When the stator is energized, the brake is disengaged allowing free rotation. When no current is applied, compression springs halt the brake rotor, thereby stopping the input shaft rotation. This is an ideal feature to prevent rotation during power failure events. There are six total size configurations in the BXR-LE series to choose from. Of particular importance: These brakes have a slim design and high holding torque in a very compact package. Great for robotics.
Learn more.
---
Variable frequency drives benefit constant speed applications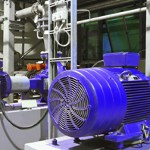 Using a variable frequency drive (VFD) can be beneficial in many constant speed applications driven by electric motors, such as those that require controlled starting and have been historically served by a reduced-voltage soft-starter (RVSS). While an RVSS and a VFD can both provide a controlled start, let's examine the benefits of each technology and when it makes sense to use one over the other.
Read this informative Parker Hannifin blog.
---
How a Seventh Axis adaptation aims to move cobot technology into more factories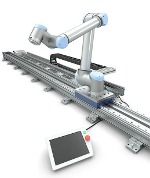 Advances in technology and software are expanding the scope of potential cobot work environments to include small and mid-size operations. That's why Rollon Corporation has created a Seventh Axis system for collaborative industrial robots from Universal Robots (UR). This shuttle system is designed to extend the operating area of UR's cobots to enhance their performance in automated processes for various industries without sacrificing their simplicity.
Read the Rollon article.
---
New 200-W high-torque brushless servo motor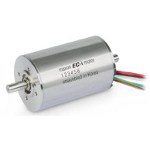 The new EC-i 52XL 200W Brushless Servo Motor from maxon is a powerhouse. When space is limited but high torque and dynamics are required, the maxon EC-i 52XL motor is the ideal motor choice. With its extended length (80 mm to 110 mm), this motor with flux collector rotor provides outstanding torque performance compared to the existing EC-i 52 180W High Torque that is often needed, especially on the industrial automation front. Its extra power can be even more significant at relatively low speed, which makes it a solid fit for a variety of industrial applications including material handling and transport systems.
Learn more.
---
ABB launches IEC food-safe motors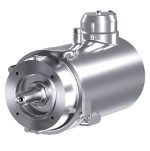 ABB has launched a full range of IEC Food Safe motors designed for applications in the food and beverage industry that need frequent sanitation. The new IEC Food Safe motors are part of ABB's Food Safe family that includes stainless steel NEMA motors, mounted ball bearings, and gearing. Motors are available in the power range 0.18 to 7.5 kW, in 2- to 6-pole versions for 230- to 690-V at 50 or 60 hertz. They feature IE3 premium efficiency to reduce energy consumption and emissions. Flexible mounting arrangements ensure they will fit almost any application. Frame sizes are 71 to 132.
Learn more.
---
New Sinamics G120X drive series specializes in infrastructure pump, fan, and compressor applications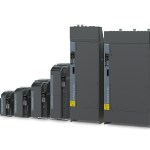 Siemens has introduced the new Sinamics G120X drive, a simple, seamless, and easy-to-use drive designed for use in pump, fan, and compressor applications in industries such as water/wastewater, HVAC/R, irrigation/agriculture, and in industrial environments. Sinamics G120X has a power range of 1 to 700 hp (0.75 to 630 kW) and can operate in temps from -4 to 140 F (-20 to 60 C) with any standard motor, including synchronous reluctance motors (SRM). It has an integral DC choke that improves harmonics and EMC performance. Sinamics G120X meets all the latest and upcoming UL, NEMA, and EN/IEC standards for 2019 and beyond and offers up to 100-kA short-circuit current rating (SCCR), ensuring enhanced product safety and energy efficiency.
Learn more.
---
High-speed, high-precision mechanical gantry system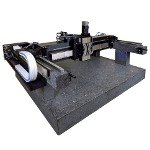 PI has added to its family of precision automation sub-systems with the A-351 MGS, a compact mechanical gantry system engineered to deliver maximum throughput for applications that require controlled precise overhead motion. The gantry is driven by linear motors, and each axis is equipped with preloaded linear bearings. Applications include high-precision 3D printers, assembly, pick-and-place, alignment, inspection, and other industrial automation applications. The A-351 MGS gantry system is designed for high load capacity of 20 kg, twice the amount of its A-341 air-bearing-based sibling. Absolute-measuring linear encoders with nanometer resolution are optional.
Learn more.
See PI automation platforms in action.
---
New inductive-technology position sensors
Novotechnik's TF1 Series touchless linear position sensors overcome issues with legacy magnetostrictive technology. They are unaffected by strong magnetic fields and metal flakes or filings present in a user's environment. The TF1 Series consists of an inductively coupled position marker attached to a moving rod/piece of the user's application that requires a position measurement and the sensor with operational and programming status LEDs. While operating, LEDs indicate whether the sensor is operating and the marker within measuring range or out of range, as well as indicating results of internal diagnostics for valid output from the sensor. Can also measure speed and temperature.
Learn more.
---
High-traction robot goes underground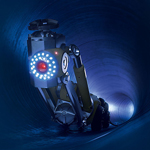 Recent developments in motion control and engineering make it possible to inspect and perform maintenance in compact sewers from the inside. The underground sewer robot is equipped with a swiveling camera and an air-powered milling machine driven by FAULHABER miniature DC motors from MICROMO.
Read the full article.
---
How to convert from hydraulic to electric high-force linear actuators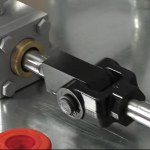 Machine designers are converting existing linear motion systems from hydraulic to electric due to the technology's many benefits, but the process involves considering the actual force output of the cylinder, the duty cycle, and the motion profile. Specialists at Tolomatic tackle these points. Includes a very informative video.
Read the Tolomatic blog.
---
Gain more torque with a cooler-running motor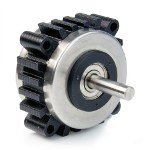 The slim-design G3718V whisper torque motor from Lin Engineering incorporates a heat-sink design within the stator laminations to allow for passive cooling. When your motor operates cooler, you can increase power to gain more torque without overheating, or you can save energy and still perform at optimal performance. At only 22.8 mm long, this motor produces 25 oz-in. of torque.
Click here to learn more.
---
Quiet 3-to-1 speed reducers use traction drive technology for 98% efficiency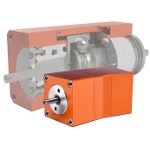 Rolling Motion Industries (RMI) has released two new traction drive speed reducers. With only six moving parts, they typically outlast conventional gearboxes and speed reducers by a factor of three. The MAR17-1-3.1 Speed Reducer is designed for input speeds up to 3,600 rpm with 10 to 20 in.-lb of torque, and the MAR-23-1-3.1 Speed Reducer is rated for the same speeds but with an input of 20 to 30 in.-lb of torque. As the output speed is reduced by a factor of three, the output torque increases by a factor of three. These high-efficiency speed reducers generate up to 72 percent less heat because they use a special engineered fluid that cools and lubricates the traction drive.
Learn more.
---
If self-driving cars cruise to avoid paying to park, then autonomous vehicles 'have every incentive to create havoc,' transportation planner says
By Jennifer McNulty, UC Santa Cruz
If you think traffic in city centers is bad now, just wait until self-driving cars emerge on the scene, cruising around to avoid paying hefty downtown parking fees.
Even worse, because cruising is less costly at lower speeds, self-driving cars will slow to a crawl as they "kill time," says transportation planner Adam Millard-Ball, an associate professor of environmental studies at the University of California, Santa Cruz.
"Parking prices are what get people out of their cars and on to public transit, but autonomous vehicles have no need to park at all. They can get around paying for parking by cruising," he said. "They will have every incentive to create havoc."
Millard-Ball analyzes "The Autonomous Vehicle Parking Problem" in the current issue of Transport Policy.
That scenario of robot-fueled gridlock is right around the corner, according to Millard-Ball, who says autonomous, or self-driving, vehicles are likely to become commonplace in the next five to 20 years. Millard-Ball is the first researcher to analyze the combined impact of parking costs and self-driving cars on city centers, where the cost and availability of parking is the only tool that effectively restricts car travel.
Under the best-case scenario, the presence of as few as 2,000 self-driving cars in downtown San Francisco will slow traffic to less than 2 mph, according to Millard-Ball, who uses game theory and a traffic micro-simulation model to generate his predictions.
"It just takes a minority to gum things up," he said, recalling the congestion caused at airports by motorists cruising the arrivals area to avoid paying for parking. "Drivers would go as slowly as possibly so they wouldn't have to drive around again." Free cell-phone parking areas, coupled with strict enforcement in loading areas, relieved the airport snarls, but cities will be hard-pressed to provide remote parking areas for self-driving cars at rates lower than the cost of cruising -- which Millard-Ball estimates at 50 cents per hour.
"Even when you factor in electricity, depreciation, wear and tear, and maintenance, cruising costs about 50 cents an hour -- that's cheaper than parking even in a small town," says Millard-Ball. "Unless it's free or cheaper than cruising, why would anyone use a remote lot?"
Regulation also falls short because, as Millard-Ball puts it, "It's difficult to regulate intent. You can pass a law saying it's illegal to drive more than 10 minutes without a passenger, but what if the car is picking up a parcel?"
The solution: congestion pricing, which can take different forms but essentially amounts to a user fee. In London, motorists pay a flat fee of £11.50 (about $15) to enter the city center. Singapore and Stockholm employ similar models. More sophisticated models could charge by miles driven, or assign different fees to particular streets.
Economists and environmentalists agree that congestion pricing effectively reduces congestion and pollution, but it's a politically fraught strategy because it raises the ire of commuters -- which is where Millard-Ball sees opportunity.
"As a policy, congestion pricing is difficult to implement. The public never wants to pay for something they've historically gotten for free," he said. "But no one owns an autonomous vehicle now, so there's no constituency organized to oppose charging for the use of public streets. This is the time to establish the principle and use it to avoid the nightmarish scenario of total gridlock."
Moreover, he noted, self-driving cars could be outfitted with devices that would give policymakers options for levying fees based on location, speed, time of day -- even which lane the vehicle occupies.
"The fees could raise money for cities to improve transportation," he said. "The idea is to do it now before autonomous vehicles become widespread."
Published February 2019
Rate this article