New polyamide 6 (PA6) compounds for metal replacement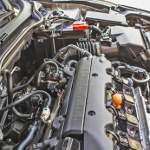 New Creamid P Series polyamide 6 (PA 6) compounds from Teknor Apex absorb nearly one-third less water at saturation than standard grades, provide 15 to 25 percent improved tensile properties in the conditioned state, and exhibit higher flow and excellent surface characteristics, even in highly glass-filled formulations. The Creamid P series is the newest product family of higher performance specialty polyamide compounds for structural components in metal replacement applications. The compounds are based on advanced formulation technology that can be applied to lower the moisture uptake of a broad range of polyamide 6- and 6/66-based compounds. These include grades with various types and loadings of reinforcements or fillers, as well as impact-modified, toughened grades and other specialty compounds. These compounds can also employ an advanced heat-stabilization system that extends continuous-use temperature.
Learn more.
---
Liquid sealant can be applied in any geometric shape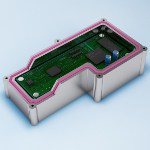 DELO now offers a silicone-free liquid sealant that is fast curing and protects assemblies from dust, air, and water. DELO PHOTOBOND SL4165 is ideal for use in the automotive, electronics, and white goods industries. This new solvent-free, flow-resistant, highly viscous sealant can be applied in any geometric shape. DELO PHOTOBOND SL4165 cures by UV light or visible light in a matter of seconds without thermal influence, enabling the cured-in-place gasket (CIPG) process. This means that the sealant cures so quickly in the manufacturing process that it can be immediately assembled and compressed.
Learn more.
---
Mounting clamps for all needs
JW Winco has expanded its mounting clamps selection with new elements that ensure simpler, more optimal, and more flexible clamping of system-specific components. Since many users have utilized the twistable two-way mounting clamps GN 475 to arrange attachment rods in parallel, JW Winco was inspired to create the GN 474.1 mounting clamps with two parallel clamping holes. The new stainless steel retaining rods GN 480.3 and GN 480.5 also help make the system easier to use as their offset or angled shape eliminates the need to combine multiple straight elements. Other offerings include T-clamp, base plate, and simple swivel mounting clamps that can be assembled into a freely configurable articulated mounting solution using the clamping kit GN 511.1. A retaining magnet GN 51.6 can make mounting holes entirely obsolete.
Learn more. There are many more clamping options.
---
Overmolding vs. insert molding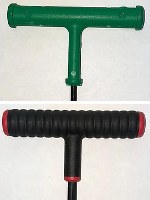 Is there a difference between insert molding and overmolding? Some argue that insert molding is a completely different process from overmolding, while others say it is the same or similar. The molding specialists over at Aberdeen Technologies have posted a blog to set the record straight. Why? Because using the terminology improperly could cause confusion for your project. A very useful topic!
Read the blog.
---
Get a linear shafting sample on the house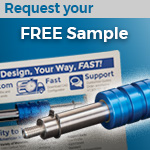 Lee Linear has produced world-class, linear motion components and linear shafting for over 40 years. With the ability to manufacture custom shafting -- threading, diameter reduction, keyways, flats, plating, and more -- to required standards in a short amount of time, Lee Linear is able to fulfill orders on time, eliminating downtime and increasing profits for its customers.
Request your sample.
---
Stainless steel mounted bearings for food applications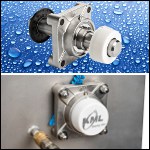 KML Bearing USA has just introduced a superior, hygienic design of its Stainless-Steel Stand-Out Mounted Bearings that incorporates the company's Poly-Guard IP69K Sealing System. This new design provides food-processing equipment manufacturers with a cost-effective and sanitary bearing solution. These bearings meet the criteria for clean-in-place and eradicate bacteria-harboring sites by eliminating edge seams and crevices at the bearing mounting location. A stand-out mounting configuration eliminates the need for the fabrication and welding of clearance spacers, saving time and money.
Learn more.
---
Top Tech Tip: Seal it, protect it!

A Smalley Laminar Seal Retaining Ring is a metallic labyrinth seal consisting of multiple rings in a groove. To seal an assembly from contamination while withstanding high temperatures and corrosive environments, Laminar rings are produced from metal, not rubber, neoprene, or other non-metallic materials. The arrangement of the rings and the specific orientation of the rings are dictated by the application and the severity of the environment. Numerous configurations are available.
Learn more.
---
Redi-Rail -- a great alternative to profile rail!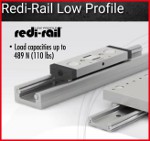 Redi-Rail from PBC Linear is a great alternative to profile rail, where high speeds, precision, and moderate load applications are required. It offers strength, ease of installation, and corrosion resistance -- making it the perfect linear motion solution across a broad range of applications such as automation, machine transfer, and material handling. Aluminum rails are integrated with hardened steel races for a strong, yet lightweight design. Carriages are sealed against contamination and engineered with double-row bearing rollers that glide over particulates along the rail. Available in commercial-grade inch or in higher precision metric systems that are equipped with wipers and patented side pre-load adjustment.
Learn more.
---
Standard air wipe dries, cools, cleans small diameters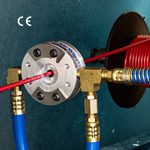 EXAIR's new 3/8-in. Standard Air Wipe produces a 360-degree airstream that can blow off, dry, clean, or cool the material passing through it. The split design can be clamped around continuously moving material such as wire, cable, pipe, hose, and extruded shapes. It ejects a small amount of compressed air through a thin slotted nozzle that pulls in high volumes of surrounding room air. The airflow is uniformly ejected. Air velocity can be varied with a pressure regulator, and instant on/off control provides precision blowoff. Applications include wiping wire, drying inks, cooling hot extruded shapes, and blowoff of water, plating, coatings, and dust.
Learn more.
---
Low-outgassing epoxy adhesives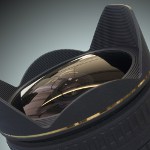 Epoxies, Etc. has published a new bulletin featuring its Low-Outgassing Epoxy Adhesives and Potting Compounds, which are sometimes required in aerospace, optical, and electro-optical applications. NASA has set the standard for testing when it comes to outgassing requirements. The two measurements that are used to screen materials are the Total Mass Loss (TML) and Collected Volatile Condensable Materials (CVCM) of the epoxy adhesive. Learn about six products from Epoxies, Etc. that are NASA Low-Outgassing Compliant.
Learn more.
---
5 most important factors to consider for hydraulic fittings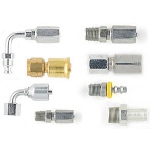 OEMs and fitting manufacturers are constantly finding new ways to stump us with different threads and new ways to seal them. Generally, however, when making hydraulic fitting connection choices today, there are several features to research and understand for your application. Kyri McDonough from the Hose Products Division at Parker Hannifin runs through the connections, attachment styles, and the five most important factors you need to consider for hydraulic fittings.
Read the Parker blog.
---
Comparison guide for plastic material performance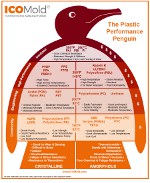 When you're choosing the best plastic material for your injection molding project, you have literally thousands of materials to choose from and lots of factors to consider, such as cost, strength, and temperature range. Wouldn't it be nice if there were a chart that compared the most common plastic materials? ICOMold has made one and put it in the shape of penguin, because they're clever and, well, it's fun. Their Plastic Performance Penguin is very useful too. Save this one for future reference.
Read the full article.
---
Cool Tools: METHOD X -- Real ABS 3D printing for the desktop

Powered by Stratasys, METHOD X from MakerBot is a new manufacturing workstation that can deliver exceptional dimensional accuracy and precision for complex, durable parts -- at a fraction of industrial 3D-printing costs. METHOD X can print real ABS that can withstand up to 15°C higher temperatures, is up to 26 percent more rigid, and up to 12 percent stronger than modified ABS formulations used on desktop 3D-printer competitors. Real ABS parts printed on METHOD X have no warping or cracking that typically occurs when printing modified ABS on desktop platforms without heated chambers. The price is pretty attractive too.
Learn more.
---
Formatter of advanced composites materials expands operations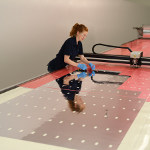 Web Industries, a precision formatter of advanced composites materials for aerospace, space, and medical applications, is implementing a major expansion of its Denton, TX, manufacturing facility. The expansion will increase the plant's productive capacity, smooth the flow of manufacturing activities, and help support larger customer programs. The $1.5-million project will add 20,000 sq ft of manufacturing space to the facility, nearly doubling its size, and create new multi-layer insulation (MLI) and composite ply cutting production cells. The completed expansion will transform Web Denton into one of the company's Centers of Excellence, joining other Web manufacturing hubs such as Atlanta, GA, and Montpelier, VT.
Learn more about Web Industries' capabilities.
---
High-speed couplings handle 24,000 RPM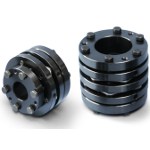 Miki Pulley has just introduced its SFM coupling line for direct sale to OEMs in North America. SFM couplings are designed for high-speed power transmission applications up to 24,000 rpm where high torque and precision alignment are critical, such as main spindle applications in machining centers and similar machinery, automation systems including assembly systems, and high-speed servo motor applications. Available in 10 sizes, SFM couplings transmit torque by connecting two shafts while damping system vibrations and accommodating misalignment. The couplings have a disk spring design that provides high torsional rigidity and axial flexibility. The high response, zero-backlash design features a high torque-to-weight ratio.
Learn more.
---
Fireproof, self-powered sensor can track firefighters in burning buildings
McMaster University researchers in Ontario, Canada, working with partners at other universities, have created a motion-powered, fireproof sensor that can track the movements of firefighters, steelworkers, miners, and others who work in high-risk environments where they cannot always be seen.
The low-cost sensor is about the size of a button-cell watch battery and can easily be incorporated into the sole of a boot or under the arm of a jacket -- wherever motion creates a pattern of constant contact and release to generate the power the sensor needs to operate.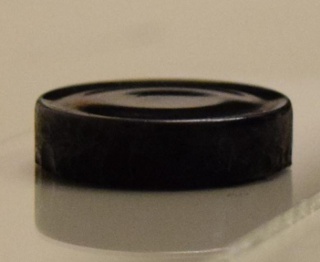 The fireproof sensor can track the movements of firefighters and others who work beyond the line of sight in high-risk environments. [Credit: McMaster University]
The sensor uses triboelectric, or friction-generated, charging, harvesting electricity from movement in much the same way that a person in socks picks up static electricity walking across a carpet.
The sensor can track the movement and location of a person in a burning building, a mineshaft, or other hazardous environment, alerting someone outside if the movement ceases.
The key material in the sensor, a new carbon aerogel nanocomposite, is fireproof, and the device never needs charging from a power source.
"If somebody is unconscious and you are unable to find them, this could be very useful," says Ravi Selvaganapathy, the professor of mechanical engineering who oversaw the project. "The nice thing is that because it is self-powered, you don't have to do anything. It scavenges power from the environment."
The research team -- from McMaster, UCLA, and University of Chemistry and Technology Prague -- describes the new sensor in a paper published March 1, 2019, in the journal Nano Energy.
The researchers explain that previously developed self-powered sensors have allowed similar tracking, but their materials break down at high temperatures, rendering them useless,
A self-powered sensor is necessary in extreme heat because most batteries also break down in high temperatures. The researchers have successfully tested the new technology at temperatures up to 300 C -- the temperature where most types of wood start to burn -- without any loss of function.
"It's exciting to develop something that could save someone's life in the future," says co-author Islam Hassan, a McMaster PhD student in mechanical engineering. "If firefighters use our technology and we can save someone's life, that would be great."
The researchers hope to work with a commercial partner to get the technology to market.
Source: McMaster University
Published March 2019
Rate this article