Custom gearmotor lifts up to 10,000-lb boat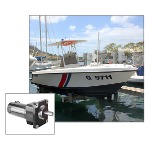 A boat lift manufacturer contacted the engineering team at Bodine Electric Co. to assist in the development of a new high load-capacity vertical boat lift. The application demanded that the gearmotor be suitable for long-term use in a harsh waterfront environment, deliver high starting and running torque, positive locking capability when not running, and be powered by the 24-VDC battery/solar cell systems included on the lifts. The gearmotor efficiency also had to be high to permit many lift cycles from the charged batteries.
Read the Bodine application blog.
---
High-force voice coil motor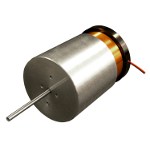 Moticont has added a new high-force voice coil motor to its GVCM family of voice coil motors with an internal shaft and bearing. The GVCM-095-089-03 Linear Voice Coil Motor (also known as linear DC motor) features a continuous force of 63.9 lb (284.1 N) and 202.0 lb (898.4 N) of peak force at a 10 percent duty cycle. Guided by a long-life plain bearing that can allow side loads up to 3 lb (13.5 N), the precision-ground 0.236-in. (6-mm) diameter shaft with an internal thread has a stroke length of 0.5 in. (12.7 mm). Motion is quiet, efficient, smooth, and cog-free. Ideal for clamping, work holding, sorting equipment, assembly, medical devices, antenna positioning, slide actuators, shutters, doors, valve actuation, wafer handling, and optical focusing.
Learn more.
---
High-precision vertical elevator stage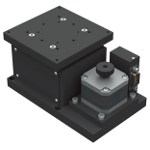 Optimal Engineering Systems (OES) has released two new high-precision Z-Axis Elevator Stages. The AZV9010 and the AZV9020 Motorized Z-Axis Linear Positioning Stages have vertical travels of 10 mm and 20 mm, respectively. The vertical motion of each Z-Axis Stage is driven by an 8-mm-diameter ball screw with a 1-mm lead, and guided by cross roller bearings. Very high resolutions of 0.1 micron or 0.05 microns with 10/20 micro-steps per step motor drive, and repeatability of +/- 0.5 microns, make these two Z-Axis Stages ideal for microscopy, inspection, metrology, positioning, photonics, sampling, and laser drilling and machining.
Learn more.
---
Ideal choice for running two linear motion systems in parallel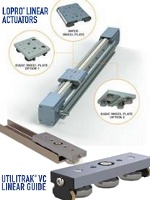 Bishop-Wisecarver invented the DualVee guide wheel over 50 years ago in four sizes of carbon steel as a component-based problem solver for harsh, debris-laden environments. Now it's 2019, and they offer product options that include UtiliTrak linear guides and LoPro linear actuators to complete actuated system solutions. LoPro Linear Actuators excel in high-speed, long-length, and dirty environments. UtiliTrak is constructed with DualVee Motion Technology in vee and vee/crown designs, and using MadeWell Crown Rollers it is perfect for commercial applications in need of a compact, easy-to-install, and low-maintenance solution. Both are available as part of the Bishop-Wisecarver QuickShip Program (ships from the facility within 3 business days).
Learn more.
---
Compact stepper motor with high torque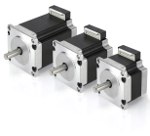 With the SCA5618, Nanotec now offers a stepper motor with 15 to 30 percent more torque than comparable motors with a 56-mm flange (NEMA 23). Thanks to an improved stator geometry and optimized magnetic materials, the rotor inertia is no higher than that of the predecessor model. The SCA5618 is available in three lengths and with two different windings. Depending on length, the holding torque of this stepper motor is 0.6 to 2.3 Ncm; it has a resolution of 1.8 deg. For a higher resolution, the SCA5618 can also be combined with an optical or magnetic encoder. The integrated connector makes it easy to connect customized cables or replace an existing motor.
Learn more.
---
Cobots load and unload Haas CNC machines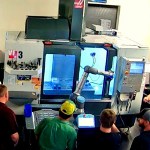 Loading and unloading CNC machines is becoming one of the most popular applications for collaborative robots as manufacturers face significant difficulties in staffing this tedious task. A new distributor agreement between Universal Robots and Phillips Corp. aims to further the rapid deployment of cobots with Haas CNC machines, offering machine shops a safe, user-friendly solution to optimize spindle uptime. Haas provides the best-selling CNC machines in the Western Hemisphere, and Phillips is the world's largest Haas Factory Outlet. "Having an expensive machine sit idle and missing out on orders due to lack of staffing is every manufacturer's nightmare," says Stu Shepherd, regional sales director for the Americas division of Universal Robots, which has already sold more than 1,000 UR cobots for tending Haas CNC machines.
Watch cobots tending CNC machines and learn more about this partnership.
---
New Orbex brushless servo motors enhance efficiency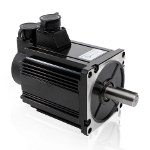 The Orbex Group, known for high-performance slip rings, now offers brushless servo motors that combine high torque, low inertia, and various customizable options to improve efficiency in dynamic servo-driven applications. Available in a range of frame sizes (60 to 176 mm), NdFeB-based brushless servo motors include incremental encoders for position feedback and electrical commutation -- enhancing motor efficiency, minimizing maintenance requirements, and increasing throughput. Customizable features include windings, brakes, additional feedback options, connectors, and custom mounting options. Frameless configurations are also available. The motors offer smooth, low-cogging motion and IP65-level protection. Typical applications include communications, security and AGVs, defense, packaging, robotics, and more.
Learn more.
---
New pan-tilt stages ideal for positioning, inspection, assembly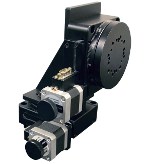 A pair of high-resolution, motorized pan-tilt stages has been added to the extensive line of OES (Optimal Engineering Systems) motion control products. The PT60-1 Pan-Tilt Stage is a combination of two 60-mm (2.362-in.) rotary stages, and the PT100-1 is a combination of two 100-mm (3.937-in.) rotary stages, set at a 90° angle to each other. The rotary stage of each pan-tilt unit features a high repeatability of 0.005° (18 arc-sec), a positional accuracy of 0.005° (18 arc-sec), and a resolution of 0.001° = 3.6" (10 micro-steps per step motor driver in use). They are ideal for scanning, testing, inspection, assembly, positioning, laser and micro machining, pointing optics and cameras, and other applications.
Learn more.
---
Replacing hydraulics with electric actuators -- avoid pitfalls, gain the benefits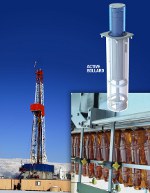 Electric actuators continue to find new and exciting places within automation processes from the mundane to some of the most extreme operating environments on the planet. Every day, machine designers seek alternative electric solutions to hydraulic cylinders for the very first time. However, there are many common pitfalls to properly sizing an electric equivalent. When sized correctly, replacement with high-force electric linear actuators can provide tremendous benefit in processes, quality, and reducing your total cost of ownership.
Read this informative Tolomatic blog.
---
Precision motion for X-ray optics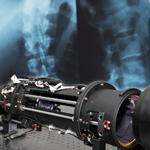 Despite their potential danger, X-rays are one of the most powerful instruments and resources utilized in medical diagnostics to help medical professionals restore health by identifying the correct prognosis. When it comes to achieving the best imaging with the lowest X-ray exposure, lenses made by Optec are almost inevitably involved. Their aperture, focus, filters, and zoom are precisely moved by FAULHABER DC motors.
Read the full article.
---
Important Qs about linear motor actuators that design engineers should ask

Many design engineers overestimate how accurate traditional motors and actuators stay over long travel runs, mistakenly believing that if the solution works well for short runs, it will work equally well on long ones. Do you know what type of actuator you should use for your application? Patrick Lehr, Product Manager, Precision Mechanics at Parker Hannifin, has some really good tips for you.
Read the full article.
---
Small DC motors for spectrophotometry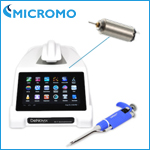 The DeNovix team needed a motion solution for their spectrophoto-meter application which called for intermittent short, quick motions with micron-level accuracy. After research and testing, they chose a FAULHABER small DC motor configured with a MICROMO encoder and an all-plastic planetary gearhead to successfully bring their product to market.
Read the full article.
---
Integrated brushless servo motor and controller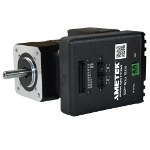 Save money and space by utilizing the EC042B 42-mm IDEA Motor's integrated package of motor, drive, and feedback connections in a compact and programmable unit. A single motor/drive unit reduces motion system components by up to 75 percent per axis and simplifies machine troubleshooting -- all while providing excellent precision. Further reductions can be achieved by wiring sensor inputs and control outputs directly to the IDEA Motor, rather than through a control cabinet. Available in three motor lengths with continuous torque up to 0.15 Nm from Haydon Kerk Pittman. Applications include lab automation, medical devices, communications equipment, aerospace systems, and more.
Learn more.
---
Extreme-force electric actuator for press and punch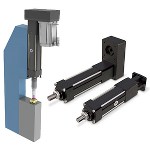 Tolomatic's RSX extreme force electric actuator family has been expanded -- this time with more options capable of replacing hydraulic cylinders. The new RSX096P Press Model is designed for pressing, punching, clinching, joining, and other applications requiring extreme force. This hydraulic-class actuator is capable of forces up to 40,000 lbf (178 kN). It features Tolomatic planetary roller screw technology for long life and consistent performance.
Learn more.
---
New optical joysticks for medical and military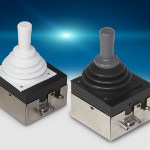 CTI Electronics (an affiliate of Electro Switch Corp.) has launched a new line of optical joystick motion controllers and mouse pointing devices. Made in the USA, LightStick Series controllers exceed medical and military performance standards for electromagnetic and RF disturbance in applications to 200 V/m -- without additional shielding. The LightStick's patented noncontact optical sensor technology ensures highly repeatable operator feedback for the life of the controller -- up to 10 million cycles and a MTBF greater than 10 years of operation.
Learn more.
---
Computer vision challenger: RFID tags provide new way for robots to track moving objects with unprecedented precision
By Rob Matheson, MIT
A novel system developed at MIT uses RFID tags to help robots home in on moving objects with unprecedented speed and accuracy. The system could enable greater collaboration and precision by robots working on packaging and assembly, and by swarms of drones carrying out search-and-rescue missions.
In a paper presented at the USENIX Symposium on Networked Systems Design and Implementation in February 2019, the researchers show that robots using the system can locate tagged objects within 7.5 msec, on average, and with an error of less than a centimeter.
In the system, called TurboTrack, an RFID (radio-frequency identification) tag can be applied to any object. A reader sends a wireless signal that reflects off the RFID tag and other nearby objects, and rebounds to the reader. An algorithm sifts through all the reflected signals to find the RFID tag's response. Final computations then leverage the RFID tag's movement -- even though this usually decreases precision -- to improve its localization accuracy.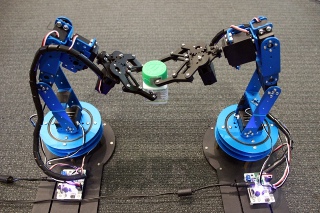 MIT Media Lab researchers are using RFID tags to help robots home in on moving objects with unprecedented speed and accuracy, potentially enabling greater collaboration in robotic packaging and assembly and among swarms of drones. [Photo courtesy of the researchers]
The researchers say the system could replace computer vision for some robotic tasks. As with its human counterpart, computer vision is limited by what it can see, and it can fail to notice objects in cluttered environments. Radio frequency signals have no such restrictions: They can identify targets without visualization, within clutter, and through walls.
To validate the system, the researchers attached one RFID tag to a cap and another to a bottle. A robotic arm located the cap and placed it onto the bottle, held by another robotic arm. In another demonstration, the researchers tracked RFID-equipped nanodrones during docking, maneuvering, and flying. In both tasks, the system was as accurate and fast as traditional computer-vision systems, while working in scenarios where computer vision fails, the researchers report.
"If you use RF signals for tasks typically done using computer vision, not only do you enable robots to do human things, but you can also enable them to do superhuman things," says Fadel Adib, an assistant professor and principal investigator in the MIT Media Lab, and founding director of the Signal Kinetics Research Group. "And you can do it in a scalable way, because these RFID tags are only 3 cents each."
In manufacturing, the system could enable robot arms to be more precise and versatile in, say, picking up, assembling, and packaging items along an assembly line. Another promising application is using handheld "nanodrones" for search-and-rescue missions. Nanodrones currently use computer vision and methods to stitch together captured images for localization purposes. These drones often get confused in chaotic areas, lose each other behind walls, and can't uniquely identify each other. This all limits their ability to, say, spread out over an area and collaborate to search for a missing person. Using the researchers' system, nanodrones in swarms could better locate each other, for greater control and collaboration.
"You could enable a swarm of nanodrones to form in certain ways, fly into cluttered environments and even environments hidden from sight, with great precision," says first author Zhihong Luo, a graduate student in the Signal Kinetics Research Group.
The other Media Lab co-authors on the paper are visiting student Qiping Zhang, postdoc Yunfei Ma, and Research Assistant Manish Singh.
Super resolution
Adib's group has been working for years on using radio signals for tracking and identification purposes, such as detecting contamination in bottled foods, communicating with devices inside the body, and managing warehouse inventory.
Similar systems have attempted to use RFID tags for localization tasks. But these come with tradeoffs in either accuracy or speed. To be accurate, it may take them several seconds to find a moving object; to increase speed, they lose accuracy.
The challenge was achieving both speed and accuracy simultaneously. To do so, the researchers drew inspiration from an imaging technique called "super-resolution imaging." These systems stitch together images from multiple angles to achieve a finer-resolution image.
"The idea was to apply these super-resolution systems to radio signals," Adib says. "As something moves, you get more perspectives in tracking it, so you can exploit the movement for accuracy."
The system combines a standard RFID reader with a "helper" component that's used to localize radio frequency signals. The helper shoots out a wideband signal comprising multiple frequencies, building on a modulation scheme used in wireless communication, called orthogonal frequency-division multiplexing.
The system captures all the signals rebounding off objects in the environment, including the RFID tag. One of those signals carries a signal that's specific to the specific RFID tag, because RFID signals reflect and absorb an incoming signal in a certain pattern, corresponding to bits of 0s and 1s, that the system can recognize.
Because these signals travel at the speed of light, the system can compute a "time of flight" -- measuring distance by calculating the time it takes a signal to travel between a transmitter and receiver -- to gauge the location of the tag, as well as the other objects in the environment. But this provides only a ballpark localization figure, not subcentimeter precision.
Leveraging movement
To zoom in on the tag's location, the researchers developed what they call a "space-time super-resolution" algorithm.
The algorithm combines the location estimations for all rebounding signals, including the RFID signal, which it determined using time of flight. Using some probability calculations, it narrows down that group to a handful of potential locations for the RFID tag.
As the tag moves, its signal angle slightly alters -- a change that also corresponds to a certain location. The algorithm then can use that angle change to track the tag's distance as it moves. By constantly comparing that changing distance measurement to all other distance measurements from other signals, it can find the tag in a three-dimensional space. This all happens in a fraction of a second.
"The high-level idea is that, by combining these measurements over time and over space, you get a better reconstruction of the tag's position," Adib says.
"The work reports sub-centimeter accuracy, which is very impressive for RFID," says Lili Qiu, a professor of computer science at the University of Texas at Austin whose research focuses on wireless networking and communications. "The paper proposes an interesting idea that lets a 'helper' transmit a wideband signal compatible with RFID protocol to achieve high tracking accuracy [and] develops a ... framework for RF localization that fuses measurements across time and across multiple antennas. The system has potential to support [the researchers'] target applications, such as robotic assembly and nanodrones. ... It would be very interesting to see the field test results in the future."
The work was sponsored, in part, by the National Science Foundation.
Published March 2019
Rate this article