Automatic vision system with max throughput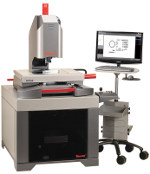 The new AV450 Automatic Vision System from L.S. Starrett Company is a versatile, accurate, fast, and American-made 3-axis vision system that allows users to achieve high throughput in their inspection process cost effectively. This heavy-duty CNC video-based measurement system is ideal for both repetitive, larger part-run applications and routine quality assurance in inspection labs, manufacturing, assembly, and research facilities.
Learn more.
---
Application Note:
Quadcopter propeller torque/thrust testing

The quadcopter's four propellers are designed to work in conjunction with each other to ensure that there are no torque imbalances that could send the vehicle spinning out of control. But just how would a professional developer or hobbyist perform accurate propeller torque and thrust testing? Advanced sensor specialist FUTEK has the answer.
Read the full article.
---
Engineer's Toolbox: How to choose the right relay

Relays come in a variety of form factors, styles, and technologies. Depending on your application, only one relay type may be suitable. In other cases, multiple relay types may be appropriate. By understanding the strengths and weaknesses of the different relays, you should be able to pick the one that is best suited for the job at hand. National Instruments lays out the options.
Read the full article.
---
Cool Tools: New Raspberry Pi 3 Model A+

Fans of the extremely popular credit card-sized computer called Raspberry Pi have something new to celebrate. The line of highly customizable base units has expanded with the third-gen A+ board, which brings the latest features and capabilities to a more compact form factor and lower price point -- only 25 bucks (and we have seen this on sale for under 20)!
Read the full article.
---
Vandal-resistant sealed switches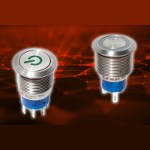 C&K has just launched its ATP19 and ATP22 series anti-vandal sealed pushbutton switches. The new high-strength, lightweight switches are IP67/IK10 rated, ensuring their suitability for operation in harsh conditions and ability to withstand potential malicious damage. The switches are also corrosion resistant and offer the industry-standard ring-illuminated version in 19-mm and 22-mm diameters.
Learn more.
---
New inductive-technology position sensors
Novotechnik's TF1 Series touchless linear position sensors overcome issues with legacy magnetostrictive technology. They are unaffected by strong magnetic fields and metal flakes or filings present in a user's environment. The TF1 Series consists of an inductively coupled position marker attached to a moving rod/piece of the user's application that requires a position measurement and the sensor with operational and programming status LEDs. While operating, LEDs indicate whether the sensor is operating and the marker within measuring range or out of range, as well as indicating results of internal diagnostics for valid output from the sensor. Can also measure speed and temperature.
Learn more.
---
Sensor development kit for power-optimized IoT applications
The RSL10 Sensor Development Kit from ON Semiconductor is designed to provide engineering teams with a comprehensive platform for developing IoT applications with cutting-edge smart sensor technology, enabled by the industry's lowest power Bluetooth Low Energy radio. The kit brings together the highly integrated RSL10 System-in-Package (RSL10 SIP) with a range of advanced low-power sensors from Bosch Sensortec. The development platform provides nine degrees of freedom (DoF) detection and environmental monitoring, including ambient light, volatile organic compounds (VOC), pressure, relative humidity, and temperature. An ultra-low noise digital microphone is also included, along with a user-programmable RGB LED, three programmable push-button switches, and 64 kb of EEPROM. Using the RSL10 Sense and Control mobile application, developers can connect to the RSL10 Sensor Development Kit to monitor sensors and to evaluate the kit's features. The app also supports multiple commercial cloud platforms for uploading sensor data.
Learn more.
---
EC fans offer spark-proof IP68-ATEX protection for harsh AC applications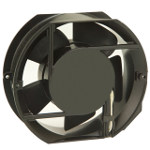 Orion Fans has expanded its family of Electronically Commutated (EC) fans to include spark-proof IP68-ATEX-rated versions for applications involving explosive atmospheres or flammable gases. Implementing IP68-ATEX fans into a design decreases the possibility of an explosion or fire. Available in a range of sizes including 60 mm, 120 mm, and 172 mm, the EC IP68-ATEX fans are ideal for a broad range of applications including appliances, commercial and process control, refrigeration, HVAC, electronic enclosures, and cabinets. By maintaining the same interface between the fan and equipment, EC fans can be used as drop-in replacements for equivalent-sized AC fans. The AC input fans utilize a brushless DC motor and incorporate voltage transformation within the motor for significantly lower power consumption. This equates to power savings of up to 50 percent.
Learn more.
---
Cable assemblies for demanding microwave and RF applications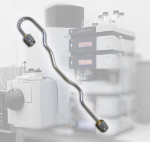 Intelliconnect has expanded its cable assembly offering for high-frequency and mission-critical applications. Comprised of high-quality cables, connectors, and terminations, the highly reliable RF cable assembly product offering now includes Low Loss, Semi-Rigid, Semi-Flex, and Conformable versions. The microwave and RF cable assembly line is designed for a wide range of applications including marine, medical, mil/aero, microwave communications, oil and gas, rail traction, test and measurement, and more. Available in a variety of sizes and performance specs, these assemblies operate up to 70 GHz and beyond and can be armored internally or externally. Phase matching is also available. Assemblies can be specified as matched sets or built to a specified phase length.
Learn more.
---
How electronic flow sensors help spread road salt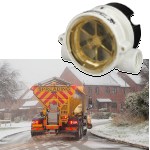 Salt spreading trucks use a pre-wetting system when ice needs to be removed from roads and the temperatures are too low for direct salt spreading to work. The system sprays salt water onto the road salt as it is being spread to "jump start" the melting process. But how do you monitor the amount of pre-wet salt used?
Read this short, informative blog from Gems Sensors & Controls.
---
Bend the rules of lighting design: Cut and form LED sheets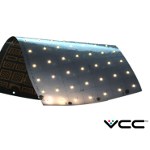 VCC is bending the rules of lighting design with its new VentoFlex tiles. The VentoFlex modular lighting system opens up countless ways for architects and lighting designers to make an impact. Available in 12-in. x 12-in. sheets, these innovative LED tiles can be cut and formed around any design element, including rounded corners and tight spaces, without taking up much room at all -- just 0.15 in. (3.81 mm). A pair of scissors is the only tool required to cut VentoFlex tiles to the size and shape you desire. Ten or 15 tiles can be linked together to one driver and dimmer to create thousands of square inches of versatile lighting power!
Learn more about this new and exciting lighting technology.
---
Slip rings improve Ethernet transmission
The Kuebler Group offers contact and contactless slip rings for reliable Ethernet transmission, achieving higher data rates and greater cycle synchronicity in demanding industrial environments. Application examples include industrial automation, bottling plants, labeling machines, rotary tables, and other processes requiring high transmission rates. The standard Slip Ring SR120 features an innovative three-chamber system and shield to enable parallel, interference-free Ethernet transmission up to 100 Mbps. It boasts a long service life up to 500 million revolutions and a rugged, modular structure that can be expanded up to 20 channels. Another model, the Slip Ring SR160 with integrated Sendix Encoder, provides position information in addition to contactless Ethernet transmission -- either two channels at 100 Mbps multiplexed or one channel at 1 Gbps.
Learn more.
---
How to convert from hydraulic to electric high-force linear actuators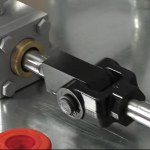 Machine designers are converting existing linear motion systems from hydraulic to electric due to the technology's many benefits, but the process involves considering the actual force output of the cylinder, the duty cycle, and the motion profile. Specialists at Tolomatic tackle these points. Includes a very informative video.
Read the Tolomatic blog.
---
Integrate Alexa and more into your product or project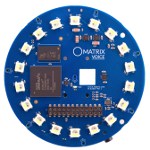 The MATRIX Voice Development Kit from MATRIX Labs aims to lower the barriers to entry for the creation and deployment of Internet of Things (IoT) voice applications. This platform enables users to develop voice recognition and detection projects that utilize Google Assistant or Amazon Alexa -- or any other voice recognition API. This open-source platform for the Raspberry Pi consists of a 3.14-in.-diameter development board, a radial array of 7 MEMS microphones, a Xilinx Spartan6 FPGA with 64 Mbit SDRAM, 18 RGBW LEDs, and 64 GPIO pins. It can also be used as a standalone device with the ESP32. Available from Newark element14.
Learn more from MATRIX Labs.
See purchase options from Newark element14.
---
Cool Tools: New Raspberry Pi Compute Module 3+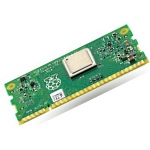 Newark element14 is now shipping the new Raspberry Pi Compute Module 3+ for same-day dispatch. Raspberry Pi Compute Module 3+ delivers the enhanced thermal performance and ease of use of Raspberry Pi 3 Model B+ in a smaller form factor, with a choice of memory variants suitable for a broad range of embedded applications including IoT devices and industrial automation, monitoring, and control systems. Compute Module 3+ simplifies the design process engineers need to undertake when developing a System on Module (SoM) solution into their final product. Engineers do not need to concern themselves with the complexities of interfacing with the BCM2837B0 processer directly and instead can concentrate on designing the interfaces to their own IO board and their application software -- simplicity that fosters rapid development.
Learn more.
---
Photons trained for optical fiber obstacle course will deliver stronger cyber security
Researchers from the NUS-Singtel Cyber Security Research & Development Laboratory in Singapore demonstrate a way to improve quantum key distribution over fiber networks.
Beneath many cities are complex networks of optical fibers that carry data, encoded in pulses of light, to offices and homes. Researchers from the National University of Singapore (NUS) and Singtel, Asia's leading communications technology group, have demonstrated a technique that will help pairs of light particles smoothly navigate these networks, a breakthrough that will enable stronger cyber security.
The demonstration was performed over 10 km of Singtel's fiber network. This project, conducted in Singapore, is driven by the NUS-Singtel Cyber Security Research & Development Laboratory, a public-private partnership supported by the National Research Foundation, Prime Minister's Office, Singapore. It relies on the expertise from the Center for Quantum Technologies (CQT) at NUS.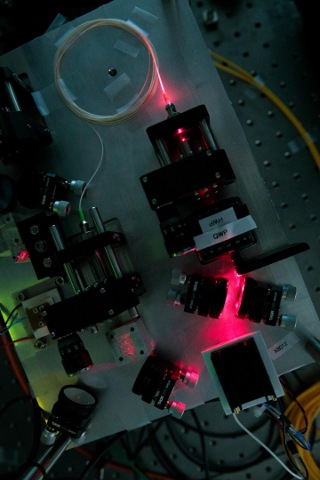 This device developed in the NUS-Singtel Cyber Security R&D Lab creates particles of light, known as photons, that are connected by the quantum property of entanglement. [Credit: National University of Singapore]
This new approach supports the deployment of a technology known as quantum key distribution (QKD). Transmitted over fiber networks, it uses signals sent in particles of light known as photons. Detection of individual photons creates encryption keys for secure communication. Data encrypted with such keys is resistant to all computational hacks.
QKD trials are being conducted worldwide as governments and companies recognize the need to strengthen their cyber security. The QKD trials carried out by the NUS-Singtel team use pairs of photons that are connected by the quantum property of entanglement. Most QKD schemes require that the sender and receiver of a secret message exchange photons directly or trust the source of their keys. With this alternative approach, it is possible to check the security of a key provided by a third-party supplier.
It works like this: The supplier would create a pair of photons, then split them up, sending one each to the two parties who want to communicate securely. The entanglement means that when the parties measure their photons, they get matching results, either a 0 or 1. Doing this for many photons leaves each party with identical patterns of 0s and 1s, giving them a key to lock and unlock a message.
Typically, each photon encounters a different obstacle course of spliced fiber segments and junction boxes. On their paths, the photons also suffer dispersion, where they effectively spread out. This affects the operators' ability to track the photons.
The new trick, published on April 4 in the scientific journal Applied Physics Letters, keeps the entangled photons in sync as they travel different paths through the network. This is important because they are identified by the gap between their arrival times at the detector. "Timing information is what allows us to link pairs of detection events together. Preserving this correlation will help us to create encryption keys faster," says James Grieve, a researcher on the team.
The technique works by carefully designing the photon source to create pairs of light particles with colors either side of a known feature of optical fiber called the "zero-dispersion wavelength." Normally, in optical fibers bluer light would arrive faster than redder light, spreading out the photons' arrival times. Working around the zero-dispersion point makes it possible to match the speeds through the photons' time-energy entanglement. Then the timing is preserved.
Associate Professor Alexander Ling, a principal investigator at CQT, led this work for the NUS-Singtel lab. He said, "Before these results, it was not known if the multi-segment nature of deployed fiber would enable high-precision dispersion cancellation, because the segments don't generally have identical zero-dispersion wavelengths."
In showing it can work, the team boosts expectations for QKD over commercial fiber. The entangled photons could find other applications, too. For example, the photons in each pair are created within femtoseconds of each other. Their coordinated arrival times might synchronize clocks for time-critical operations such as financial trading.
Source: National University of Singapore (NUS)
Published April 2019
Rate this article