Mini LVDTs offer position feedback for UAVs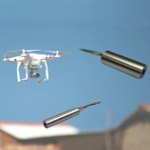 Unmanned drones require a variety of sensors to monitor different critical measurements to control flight and maintain aircraft stability. Miniature Linear Position Sensors from NewTek Sensor Solutions provide reliable position feedback for monitoring the fin/rudder position and rotor angle of unmanned aerial vehicles (UAVs) with quick response times, so drones can make adjustments to accurately control flight.
Learn more.
---
Cobham introduces spacecraft, satellite electronics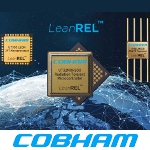 Cobham Advanced Electronic Solutions, a leading provider of electronics technology and services for space and other high-reliability applications, recently released the new LeanREL product family designed to meet the needs of small satellite and non-traditional spacecraft manufacturers. The LeanREL product family, comprised of microprocessors, microcontrollers, as well as memory and interface integrated circuits (ICs), leverages Cobham's 30+ years of radiation-hardened, QML-level reliability, and innovative space systems design expertise and offers an unmatched combination of user benefits.
Find out more.
---
Touch panels require 50 percent less input force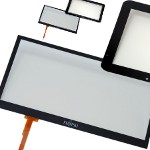 Fujitsu Components America has just released a series of customizable, flush-surface, resistive touch panels with less than half the input force of conventional resistive panels, nearly identical to that of projected capacitive panels. The new series (FID-1300 4-wire and FID-1520 5-wire) offers OEMs a cost-efficient alternative to projected capacitive touch panels with a comparable user experience, while maintaining resistive technology's reliable input capability and unlimited choice of input sources. Target applications include industrial automation and HMI machine control, medical equipment, and vehicle navigation systems.
Learn more.
---
Automatic vision system with max throughput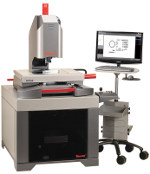 The new AV450 Automatic Vision System from L.S. Starrett Company is a versatile, accurate, fast, and American-made 3-axis vision system that allows users to achieve high throughput in their inspection process cost effectively. This heavy-duty CNC video-based measurement system is ideal for both repetitive, larger part-run applications and routine quality assurance in inspection labs, manufacturing, assembly, and research facilities.
Learn more.
---
Application Note:
Quadcopter propeller torque/thrust testing

The quadcopter's four propellers are designed to work in conjunction with each other to ensure that there are no torque imbalances that could send the vehicle spinning out of control. But just how would a professional developer or hobbyist perform accurate propeller torque and thrust testing? Advanced sensor specialist FUTEK has the answer.
Read the full article.
---
Engineer's Toolbox: How to choose the right relay

Relays come in a variety of form factors, styles, and technologies. Depending on your application, only one relay type may be suitable. In other cases, multiple relay types may be appropriate. By understanding the strengths and weaknesses of the different relays, you should be able to pick the one that is best suited for the job at hand. National Instruments lays out the options.
Read the full article.
---
Cool Tools: New Raspberry Pi 3 Model A+

Fans of the extremely popular credit card-sized computer called Raspberry Pi have something new to celebrate. The line of highly customizable base units has expanded with the third-gen A+ board, which brings the latest features and capabilities to a more compact form factor and lower price point -- only 25 bucks (and we have seen this on sale for under 20)!
Read the full article.
---
Vandal-resistant sealed switches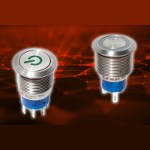 C&K has just launched its ATP19 and ATP22 series anti-vandal sealed pushbutton switches. The new high-strength, lightweight switches are IP67/IK10 rated, ensuring their suitability for operation in harsh conditions and ability to withstand potential malicious damage. The switches are also corrosion resistant and offer the industry-standard ring-illuminated version in 19-mm and 22-mm diameters.
Learn more.
---
New inductive-technology position sensors
Novotechnik's TF1 Series touchless linear position sensors overcome issues with legacy magnetostrictive technology. They are unaffected by strong magnetic fields and metal flakes or filings present in a user's environment. The TF1 Series consists of an inductively coupled position marker attached to a moving rod/piece of the user's application that requires a position measurement and the sensor with operational and programming status LEDs. While operating, LEDs indicate whether the sensor is operating and the marker within measuring range or out of range, as well as indicating results of internal diagnostics for valid output from the sensor. Can also measure speed and temperature.
Learn more.
---
Sensor development kit for power-optimized IoT applications
The RSL10 Sensor Development Kit from ON Semiconductor is designed to provide engineering teams with a comprehensive platform for developing IoT applications with cutting-edge smart sensor technology, enabled by the industry's lowest power Bluetooth Low Energy radio. The kit brings together the highly integrated RSL10 System-in-Package (RSL10 SIP) with a range of advanced low-power sensors from Bosch Sensortec. The development platform provides nine degrees of freedom (DoF) detection and environmental monitoring, including ambient light, volatile organic compounds (VOC), pressure, relative humidity, and temperature. An ultra-low noise digital microphone is also included, along with a user-programmable RGB LED, three programmable push-button switches, and 64 kb of EEPROM. Using the RSL10 Sense and Control mobile application, developers can connect to the RSL10 Sensor Development Kit to monitor sensors and to evaluate the kit's features. The app also supports multiple commercial cloud platforms for uploading sensor data.
Learn more.
---
EC fans offer spark-proof IP68-ATEX protection for harsh AC applications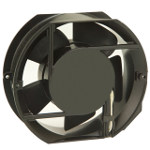 Orion Fans has expanded its family of Electronically Commutated (EC) fans to include spark-proof IP68-ATEX-rated versions for applications involving explosive atmospheres or flammable gases. Implementing IP68-ATEX fans into a design decreases the possibility of an explosion or fire. Available in a range of sizes including 60 mm, 120 mm, and 172 mm, the EC IP68-ATEX fans are ideal for a broad range of applications including appliances, commercial and process control, refrigeration, HVAC, electronic enclosures, and cabinets. By maintaining the same interface between the fan and equipment, EC fans can be used as drop-in replacements for equivalent-sized AC fans. The AC input fans utilize a brushless DC motor and incorporate voltage transformation within the motor for significantly lower power consumption. This equates to power savings of up to 50 percent.
Learn more.
---
Cable assemblies for demanding microwave and RF applications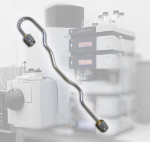 Intelliconnect has expanded its cable assembly offering for high-frequency and mission-critical applications. Comprised of high-quality cables, connectors, and terminations, the highly reliable RF cable assembly product offering now includes Low Loss, Semi-Rigid, Semi-Flex, and Conformable versions. The microwave and RF cable assembly line is designed for a wide range of applications including marine, medical, mil/aero, microwave communications, oil and gas, rail traction, test and measurement, and more. Available in a variety of sizes and performance specs, these assemblies operate up to 70 GHz and beyond and can be armored internally or externally. Phase matching is also available. Assemblies can be specified as matched sets or built to a specified phase length.
Learn more.
---
How electronic flow sensors help spread road salt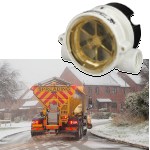 Salt spreading trucks use a pre-wetting system when ice needs to be removed from roads and the temperatures are too low for direct salt spreading to work. The system sprays salt water onto the road salt as it is being spread to "jump start" the melting process. But how do you monitor the amount of pre-wet salt used?
Read this short, informative blog from Gems Sensors & Controls.
---
Bend the rules of lighting design: Cut and form LED sheets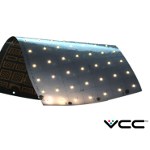 VCC is bending the rules of lighting design with its new VentoFlex tiles. The VentoFlex modular lighting system opens up countless ways for architects and lighting designers to make an impact. Available in 12-in. x 12-in. sheets, these innovative LED tiles can be cut and formed around any design element, including rounded corners and tight spaces, without taking up much room at all -- just 0.15 in. (3.81 mm). A pair of scissors is the only tool required to cut VentoFlex tiles to the size and shape you desire. Ten or 15 tiles can be linked together to one driver and dimmer to create thousands of square inches of versatile lighting power!
Learn more about this new and exciting lighting technology.
---
Slip rings improve Ethernet transmission
The Kuebler Group offers contact and contactless slip rings for reliable Ethernet transmission, achieving higher data rates and greater cycle synchronicity in demanding industrial environments. Application examples include industrial automation, bottling plants, labeling machines, rotary tables, and other processes requiring high transmission rates. The standard Slip Ring SR120 features an innovative three-chamber system and shield to enable parallel, interference-free Ethernet transmission up to 100 Mbps. It boasts a long service life up to 500 million revolutions and a rugged, modular structure that can be expanded up to 20 channels. Another model, the Slip Ring SR160 with integrated Sendix Encoder, provides position information in addition to contactless Ethernet transmission -- either two channels at 100 Mbps multiplexed or one channel at 1 Gbps.
Learn more.
---
Harvard researchers build first laser radio transmitter
By Leah Burrows
You've never heard Dean Martin like this.
This recording of Martin's classic "Volare" was transmitted wirelessly via a semiconductor laser -- the first time a laser has been used as a radio frequency transmitter.
In a recent paper published in the Proceedings of the National Academy of Sciences, researchers from the Harvard John A. Paulson School of Engineering and Applied Sciences (SEAS) demonstrated a laser that can emit microwaves wirelessly, modulate them, and receive external radio frequency signals.
"The research opens the door to new types of hybrid electronic-photonic devices and is the first step toward ultra-high-speed Wi-Fi," said Federico Capasso, the Robert L. Wallace Professor of Applied Physics and Vinton Hayes Senior Research Fellow in Electrical Engineering at SEAS and senior author of the study.
This research builds off previous work from the Capasso Lab. In 2017, the researchers discovered that an infrared frequency comb in a quantum cascade laser could be used to generate terahertz frequencies, the submillimeter wavelengths of the electromagnetic spectrum that could move data hundreds of times faster than today's wireless. In 2018, the team found that quantum cascade laser frequency combs could also act as integrated transmitters or receivers to efficiently encode information.
Now, the researchers have figured out a way to extract and transmit wireless signals from laser frequency combs.
Unlike conventional lasers, which emit a single frequency of light, laser frequency combs emit multiple frequencies simultaneously, evenly spaced to resemble the teeth of a comb. In 2018, the researchers discovered that inside the laser, the different frequencies of light beat together to generate microwave radiation. The light inside the cavity of the laser caused electrons to oscillate at microwave frequencies -- which are within the communications spectrum.
"If you want to use this device for Wi-Fi, you need to be able to put useful information in the microwave signals and extract that information from the device," said Marco Piccardo, a postdoctoral fellow at SEAS and first author of the paper.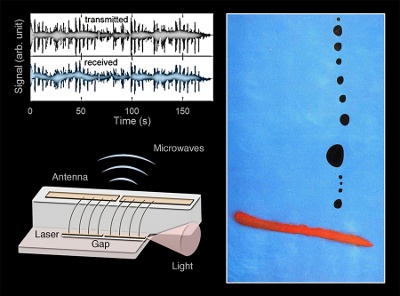 This device uses a frequency comb laser to emit and modulate microwaves wirelessly. The laser uses different frequencies of light beating together to generate microwave radiation. The "beats" emitted from the laser are reminiscent of a painting (right) by Spanish artist Joan Miro' named "Bleu II." The researchers used this phenomenon to send a song wirelessly to a receiver. (Image courtesy: Marco Piccardo/Harvard SEAS).
The first thing the new device needed to transmit microwave signals was an antenna. So, the researchers etched a gap into the top electrode of the device, creating a dipole antenna (like the rabbit ears on the top of an old TV). Next, they modulated the frequency comb to encode information on the microwave radiation created by the beating light of the comb. Then, using the antenna, the microwaves are radiated out from the device, containing the encoded information. The radio signal is received by a horn antenna, filtered and sent to a computer.
The researchers also demonstrated that the laser radio could receive signals. The team was able to remote control the behavior of the laser using microwave signals from another device.
"This all-in-one, integrated device holds great promise for wireless communication," said Piccardo. "While the dream of terahertz wireless communication is still a ways away, this research provides a clear roadmap showing how to get there."
The Harvard Office of Technology Development has protected the intellectual property relating to this project and is exploring commercialization opportunities.
This research was co-authored by Michele Tamagnone, Benedikt Schwarz, Paul Chevalier, Noah A. Rubin, Yongrui Wang, Christine A. Wang, Michael K. Connors, Daniel McNulty, and Alexey Belyanin. It was supported in part by the National Science Foundation.
Source: Harvard John A. Paulson School of Engineering and Applied Sciences (SEAS)
Published May 2019
Rate this article