Wheels History:
One-armin' the '52 Fetzenflieger with Porsche factory racing engine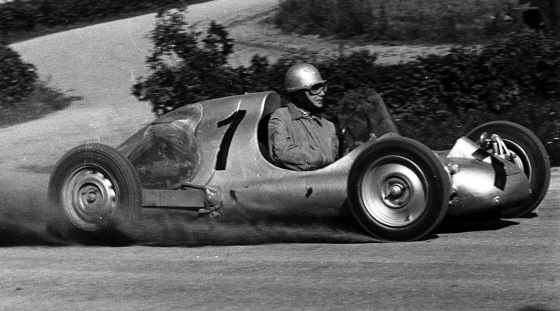 Otto Mathé in the cockpit of the 1952 Fetzenflieger, which was primarily used in sand track and ice races. [All images courtesy: Porsche AG]
There have been a lot of racing legends throughout the history of motor sport, but none can quite compare to Austrian driver (and mechanical engineer) Otto Mathé, who, despite having only one functional arm, not only drove to victory in each of the 20 races he entered in 1952, but also built his own cars that exclusively featured Porsche engines.
A motorcycle accident during a race in September 1934 resulted in his right arm being paralyzed below the elbow. But that did not stop Mathé from actively participating in racing. Instead, it pushed him in the opposite direction -- taking a "double or nothing" approach and switching to four wheels. Mathé also decided that his passion for cars would be wholly dedicated to Porsche.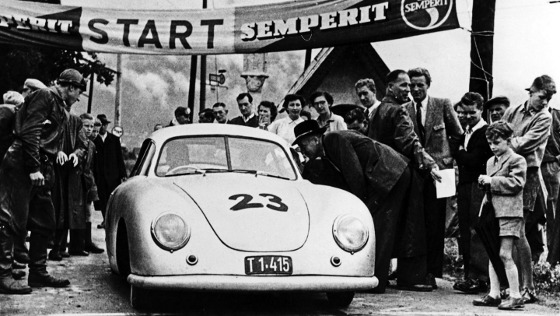 Porsche was one of Mathé's great passions. In addition to the Fetzenflieger, he also piloted sports cars such as the 356 shown here. He won his first race in Innsbruck on Aug. 3, 1952.
In the mid-1950s, he became increasingly well known for arriving at his favorite racetracks with a rather unusual vehicle dubbed the "Fetzenflieger." Although combining Volkswagen components with Porsche engine performance technically made the single-seater (or monoposto) a Formula 2 car, Mathé always kept available a set of bolt-on mudguards, lighting, a second seat, and a spare wheel, so in next to no time his contraption could be made ready to compete in other racing series as needed.
Having the gear lever installed on the left (the side of his still-functional hand) meant that Mathé could lean against the steering wheel to change gears. This posture made the Austrian world famous. And in spite of his physical disability, Mathè regularly outclassed the competition, leaving even the keenest drivers in his dust.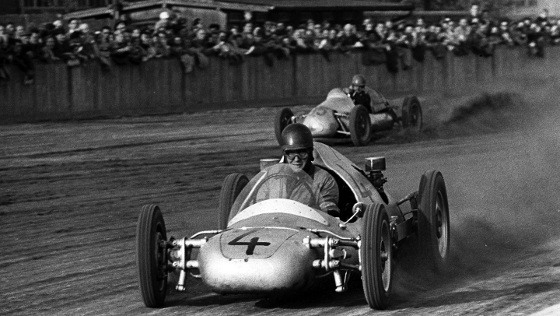 A screw-on fender and a second seat made the Fetzenflieger monoposto a real all-rounder.
This peculiar Porsche turbocharged Otto Mathé's career. The self-built racing car, with hand-crafted aluminum skin accommodating a 1.5-liter factory racing engine (Spyder), and later a 130-hp Fuhrmann engine from the 356 A Carrera GT, is arguably one of the most unusual Porsche racing cars ever. Its extremely low center of gravity, short wheelbase, and engine installed in front of the rear axle resulted in extraordinary driving characteristics, while a curb weight of just 870 lb (395 kg) and 130 PS enabled acceleration to more than 200 km/h.
But none of these qualities were responsible for spawning the car's unusual nickname of Fetzenflieger, which translates roughly to "tatters flyer" or "sparks flyer." No, that was something even more strange -- and a little dramatic.

MUST-SEE VIDEO: The story of Otto Mathé and his "Fetzenflieger."
On this vehicle, Mathé left the side paneling open in order to make changing the spark plugs faster when needed. The only things that protected the carburetors from incoming dirt were two overlapping fabric tarpaulins, which also functioned as air filters. Occasionally, misfires ignited the fabric, and the speeding vehicle left flaming fragments on the track behind it. What a sight for competitors and fans alike!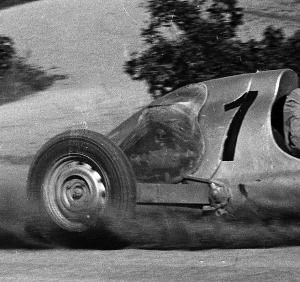 The fabric disguising the air intakes sometimes ripped and sometimes caught fire, which led to the car's nickname of "shreds flyer."
The Fetzenflieger was primarily used in sand track racing and ice races. An example of the latter is the legendary race commemorating Dr. h.c. Ferdinand Porsche in Zell am See, Austria. Mathé set a record time there in 1956, completing the 4-km icy course in just 157 seconds -- leaving both racers Huschke von Hanstein (also the Porsche PR boss) and Richard von Frankenberg trailing. On that day, around 3,000 motorsport fans were captivated by the Fetzenflieger at the foot of the Großglockner, the highest mountain in Austria.
According to Automuseum PROTOTYP in Hamburg, where some of Mathé's creations now reside, Mathé also created and marketed an effective additive to engine oil, developed the one-hand ski buckle shoes still in use today (after his motorcycle accident), and "opened the first cylinder and crankshaft grinding shop in Tyrol/Austria, where he himself carried out the main work."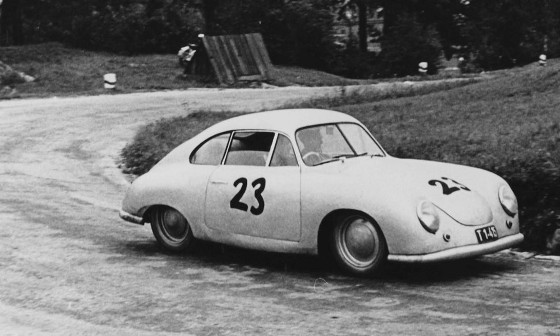 With the 356 and a trailer, Mathé often pulled his Fetzenflieger to the race tracks of his choice himself. If the race car was not ready, he gave the 356 a go.
The German auto museum also says, "Otto Mathé had already been working on the idea of a Wankel engine since his apprenticeship. In the early post-war period -- a few years before the Wankel engine became known -- he built it himself."
Born in 1907, Mathé passed away in 1995. What a life!
Sources: Porsche AG, Porsche 9:11 Magazine, Automuseum PROTOTYP
Published May 2019
Rate this article