Extreme-force electric actuator for press and punch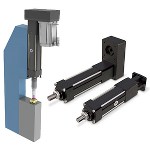 Tolomatic's RSX extreme force electric actuator family has been expanded -- this time with more options capable of replacing hydraulic cylinders. The new RSX096P Press Model is designed for pressing, punching, clinching, joining, and other applications requiring extreme force. This hydraulic-class actuator is capable of forces up to 40,000 lbf (178 kN). It features Tolomatic planetary roller screw technology for long life and consistent performance.
Learn more.
---
New optical joysticks for medical and military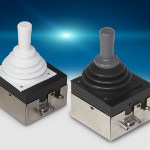 CTI Electronics (an affiliate of Electro Switch Corp.) has launched a new line of optical joystick motion controllers and mouse pointing devices. Made in the USA, LightStick Series controllers exceed medical and military performance standards for electromagnetic and RF disturbance in applications to 200 V/m -- without additional shielding. The LightStick's patented noncontact optical sensor technology ensures highly repeatable operator feedback for the life of the controller -- up to 10 million cycles and a MTBF greater than 10 years of operation.
Learn more.
---
UV-protected and waterproof panel mount indicators
Visual Communi-cations Company (VCC) recently announced the addition of its new PML50 Series Waterproof LED panel mount indicator (PMI). The new semi-dome indicator offers the same great features as the other PMIs in the PML50 family, with the added bonus of UV protection. This PMI has a white diffused lens for optimal side distance viewing and UV-resistant lens for superior performance in outdoor harsh environments -- and it will not discolor or fade. It achieves full brightness in microseconds, even in daylight viewing conditions. Ideal for a range of industries where outdoor status indication is crucial, including maritime, oil, gas, transportation, and industrial.
Learn more.
---
Dual-mode automotive image sensor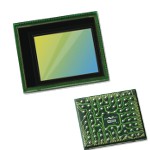 The OV2312 automotive image sensor from OmniVision Technologies enables multiple functions in one camera, reducing the total system cost, space, and power budget for driver state monitoring (DSM) and viewing applications like video conferencing. The ability to capture both RGB and IR images with one global shutter (GS) sensor reduces the number of cameras needed. It provides dual-mode cameras with motion-artifact-free images at high resolutions of 1,600 x 1,300 at 60 fps and 1,280 x 720 at 90 fps. Because this is the smallest 2MP GS sensor in its class, cameras can be placed out of sight from drivers and passengers.
Learn more.
---
High-deflection thermal gap filler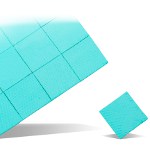 Laird Performance Materials has developed Tflex HD80000, a high-deflection thermal gap filler combining 6 W/mK thermal conductivity with superior pressure versus deflection characteristics. The combination allows minimal stress on sensitive components while also yielding low thermal resistance. As a result, less mechanical and thermal stresses are experienced in devices designed for telecom, information technology, consumer, industrial, aerospace, and military markets. Gap fillers bridge the interface between hot components and a chassis or heat sink assembly to increase the overall heat transfer from the system.
Learn more.
---
Why convert hydraulics to electric high-force linear actuators?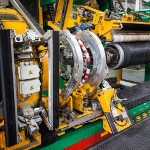 Got a high-force linear motion application? If you do, chances are the first product solution to come to mind is hydraulic cylinders. They're relatively inexpensive (if you already have a hydraulic power unit in place), compact (if the HPU is somewhere else), and power-dense. But what about the disadvantages -- leaks, operation and maintenance costs, and more? It's possible to convert an application from hydraulic to electric linear motion easily, and Tolomatic even gives you step-by-step instructions.
Read the Tolomatic blog. Really useful!
---
Cool heat-sensitive CMOS sensors with thermoelectric modules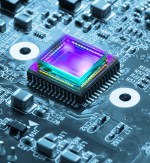 Laird Thermal Systems has expanded its Peltier thermoelectric module product family with the HiTemp ET Series, designed to protect critical electronic devices like CMOS sensors in high-temp applications. Recent advances in CMOS sensor tech have made these sensors practical and effective for use in a wide range of imaging applications found in autonomous systems, machine vision and learning, high-end scientific cameras, and more. HiTemp ET Series thermoelectric modules deliver spot cooling capacity of more than 300 W to ensure optimum CMOS sensor performance. Fifty-three models offer a variety of heat-pumping capacities, geometric form factors, and input voltages.
Learn more.
---
Mini LVDTs offer position feedback for UAVs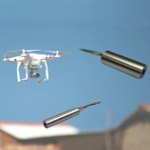 Unmanned drones require a variety of sensors to monitor different critical measurements to control flight and maintain aircraft stability. Miniature Linear Position Sensors from NewTek Sensor Solutions provide reliable position feedback for monitoring the fin/rudder position and rotor angle of unmanned aerial vehicles (UAVs) with quick response times, so drones can make adjustments to accurately control flight.
Learn more.
---
Cobham introduces spacecraft, satellite electronics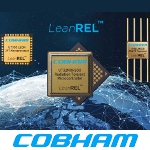 Cobham Advanced Electronic Solutions, a leading provider of electronics technology and services for space and other high-reliability applications, recently released the new LeanREL product family designed to meet the needs of small satellite and non-traditional spacecraft manufacturers. The LeanREL product family, comprised of microprocessors, microcontrollers, as well as memory and interface integrated circuits (ICs), leverages Cobham's 30+ years of radiation-hardened, QML-level reliability, and innovative space systems design expertise and offers an unmatched combination of user benefits.
Find out more.
---
Touch panels require 50 percent less input force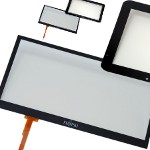 Fujitsu Components America has just released a series of customizable, flush-surface, resistive touch panels with less than half the input force of conventional resistive panels, nearly identical to that of projected capacitive panels. The new series (FID-1300 4-wire and FID-1520 5-wire) offers OEMs a cost-efficient alternative to projected capacitive touch panels with a comparable user experience, while maintaining resistive technology's reliable input capability and unlimited choice of input sources. Target applications include industrial automation and HMI machine control, medical equipment, and vehicle navigation systems.
Learn more.
---
Automatic vision system with max throughput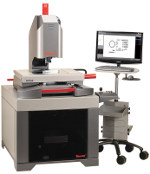 The new AV450 Automatic Vision System from L.S. Starrett Company is a versatile, accurate, fast, and American-made 3-axis vision system that allows users to achieve high throughput in their inspection process cost effectively. This heavy-duty CNC video-based measurement system is ideal for both repetitive, larger part-run applications and routine quality assurance in inspection labs, manufacturing, assembly, and research facilities.
Learn more.
---
Application Note:
Quadcopter propeller torque/thrust testing

The quadcopter's four propellers are designed to work in conjunction with each other to ensure that there are no torque imbalances that could send the vehicle spinning out of control. But just how would a professional developer or hobbyist perform accurate propeller torque and thrust testing? Advanced sensor specialist FUTEK has the answer.
Read the full article.
---
Engineer's Toolbox: How to choose the right relay

Relays come in a variety of form factors, styles, and technologies. Depending on your application, only one relay type may be suitable. In other cases, multiple relay types may be appropriate. By understanding the strengths and weaknesses of the different relays, you should be able to pick the one that is best suited for the job at hand. National Instruments lays out the options.
Read the full article.
---
Cool Tools: New Raspberry Pi 3 Model A+

Fans of the extremely popular credit card-sized computer called Raspberry Pi have something new to celebrate. The line of highly customizable base units has expanded with the third-gen A+ board, which brings the latest features and capabilities to a more compact form factor and lower price point -- only 25 bucks (and we have seen this on sale for under 20)!
Read the full article.
---
Vandal-resistant sealed switches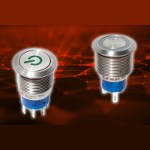 C&K has just launched its ATP19 and ATP22 series anti-vandal sealed pushbutton switches. The new high-strength, lightweight switches are IP67/IK10 rated, ensuring their suitability for operation in harsh conditions and ability to withstand potential malicious damage. The switches are also corrosion resistant and offer the industry-standard ring-illuminated version in 19-mm and 22-mm diameters.
Learn more.
---
Turning waste heat into electrical power: New 3D-printed thermoelectric device sets record for efficiency
A new 3D-printed thermoelectric device, which converts heat into electric power with an efficiency factor over 50 percent higher than the previous best for printed materials, and is cheap to produce in bulk, has been manufactured by researchers at Swansea University's SPECIFIC Innovation and Knowledge Centre in the UK.
Around one-sixth of all the energy used by industry in the UK currently ends up as waste heat, emitted into the atmosphere. Harnessing this to create electricity could be a huge step forward in helping industry cut its energy bills and reduce its carbon footprint.

VIDEO: A video outling a new 3D-printed thermoelectric device, which converts heat into electric power. [Credit: Swansea University]
Thermoelectric materials turn differences in temperature into electric power, or vice versa. They are used in fridges, power plants, and even some smart watches that are powered by body heat.
Previous research has shown that a material called tin selenide (SnSe), a compound made up of tin (Sn) and selenium (Se), has high potential as a thermoelectric material. The problem is that the methods used to manufacture it require lots of energy -- and are therefore expensive.
This is where the Swansea researchers' work comes in. The technique they have developed is potentially very low cost for industry because it enables SnSe thermoelectric generators to be produced quickly and easily in large quantities.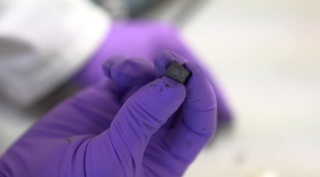 New 3D-printed technique for thermoelectrics developed by the SPECIFIC research team. [Credit: Swansea University]
The team formulated tin selenide into a type of ink that they could print to test its properties. The next step was to develop a type of 3D-printing technique to produce a small thermoelectric generator made out of the ink.
The team's experiments showed that the material gave record scores for efficiency in performance, which is measured by the "Figure of Merit" (ZT).
The Swansea team's element achieved a ZT value (a measure of the thermoelectric generator's efficiency) of up to 1.7.
The previous best ZT score for a printed thermoelectric material was 1.0.
This means an efficiency rate for turning heat into electricity for the Swansea team's element of around 9.5 percent, compared with 4.5 percent for the previous best.
The breakthrough could be of particular benefit to industries where high temperatures are involved in the manufacturing process. One example is steelmaking, which generates vast amounts of heat and requires immense electrical power. Recycling the heat into power therefore has the potential to boost energy efficiency significantly. Tata Steel are due to support a PhD researcher on the team to explore the industrial application of the technology.
The research team are from SPECIFIC Innovation and Knowledge Centre, a Swansea University-led project that develops technologies for reducing carbon emissions and demonstrates how they can be applied to buildings and industry.
"Turning waste heat into electrical power can boost energy efficiency significantly, cutting bills and reducing carbon emissions," said Dr. Matt Carnie of Swansea University, who was lead researcher for this work. "Our findings show that printed thermoelectric materials using tin selenide are a very promising way forward."
"The device we developed is the best-performing printed thermoelectric material recorded to date, with the efficiency factor improved by over 50 percent compared to the previous record," said Carnie. "It is also cheap to produce in bulk compared with established manufacturing methods. More work is needed, but already our work shows that this technique, combining efficiency and economy, could be very attractive to energy-intensive industries."
Published June 2019
Rate this article