How to choose the best online CNC machine shop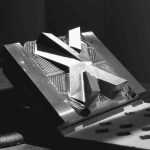 Sourcing professionals, engineers, and designers alike need to have parts produced through technologies like CNC machining, turning, and milling. In development, the requirements may be loose to get a product validated. And in production, the expectation is that parts are made consistently, on time, and to specifications. But it is sometimes difficult to navigate through all the Internet searches and buzzwords to determine the best fit for your needs. Greg Paulsen from Xometry provides a useful guide on what to look for when selecting a machine shop.
Read the Xometry blog.
---
Hinge Selection Guide online app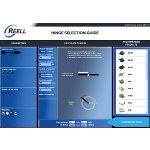 The super-helpful Hinge Selection Guide online app from Reell Precision Manufacturing introduces a user-friendly resource to pinpoint ideal hinge and torque insert product solutions matching application requirements. This easily accessible tool opens an interactive window to designate an application's parameters, calculate the torque and rotational angle required for the hinge or torque insert, and ultimately identify the Reell products best suited for the job. The tool also enables users to access Reell's standard catalog products.
Click here to learn more.
---
How to choose an anti-backlash lead screw nut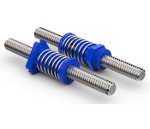 Lead screws are the norm for today's linear motion applications, but despite their advantages over competing technologies (i.e., affordability, precision, the ability to design with freedom, reduced maintenance, etc.), lead screw systems do have a certain amount of "play." An important design consideration for utilizing a lead screw is the amount of backlash your system can tolerate and still achieve its goal. The big question is: Which lead screw nut will help you in the battle against backlash? By Christopher Nook, Helix Linear Technologies
Read this informative blog.
---
First semi-transparent polyamide good for car interior lighting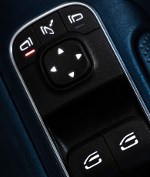 The BASF product Ultramid Vision has been used in a car interior for the first time. The semi-crystalline polyamide is employed in the window regulator module of a German automobile manufacturer. Compared to opaque standard polyamides, Ultramid Vision displays very high light transmission with low light scattering, which makes it a perfect choice for use with the illuminated symbols on the window regulators and for setting the exterior mirrors. The requirement was to allow as much light to pass through as possible, with high color fidelity.
Learn more.
---
Spinning flare nuts eliminate loose fasteners in thin metal sheet applications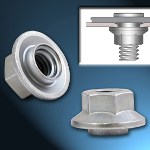 PEM SFN spinning flare nuts from Penn-Engineering become permanently captivated upon installation in thin metal sheets and, when paired with a self-clinching stud or other fixed externally threaded hardware, can eliminate all loose fasteners (including flange nuts) in attachment applications. These one-piece, flanged hex nuts additionally will spin freely in a sheet enabling quick attachment to mating hardware. Their use ultimately promotes savings in assembly time and costs.
Learn more.
---
New 3M metal bonding adhesive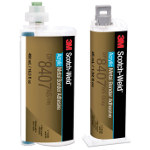 3M Scotch-Weld Metal Bonder Acrylic Adhesive DP8407NS delivers strength, corrosion resistance, and reliable performance for bonding metal without extensive surface prep. This high-strength, fast-curing structural adhesive offers high peel and durability, and maintains its strength at temps as low as -40 F. With the ability to bond active metals like steel, copper, brass, and bronze, 3M's Metal Bonder is ideal for a wide range of assemblies in metal fabrication, transportation, specialty vehicle, architectural panels, appliances, and office furniture. It bonds plastics and composites for multi-material bonding and is also well suited for bonding metals prior to powder coating and paint processes.
Click here to learn more.
---
Using CAD-CAM-CNC to produce aerospace parts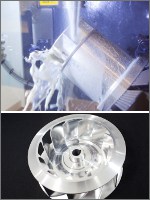 DMG MORI manufactures a wide variety of conventional chip-cutting and ultrasonic machining centers for OEMs and production job shops serving the aerospace industry. On two recent applications, DMG MORI turned to long-time business partner Siemens for assistance. By offering a total package of CAD-CAM-CNC hardware, software, and engineering services, Siemens was able to help this machine builder substantially improve every aspect of part production for a reverse thrust component for a jet engine and an aerospace impeller fan.
Read the full article.
---
SOLIDWORKS 2020 is here! TriMech recaps launch and runs through best new features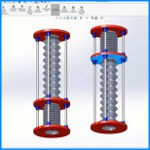 SOLIDWORKS hosted a live streaming event Sept. 18 to introduce the world to SOLIDWORKS 2020. Even if you missed it, you're in luck. The incredibly knowledgeable people over at SOLIDWORKS specialist TriMech have put together a comprehensive rundown of what the new product offers, including a video highlights reel, "Top 10 New Features" infographics, and a prep guide to learn about licensing and such. Learn about all the new "almost magic" tools and enhancements.
Read the TriMech recap blog.
---
Springs made of high-performance, engineered plastic provide tons of options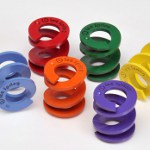 Lee Spring's LeeP plastic composite compression springs molded from Ultem resins provide critical advantages over traditional metal alloy springs. They feature high strength-to-weight ratio, no magnetic interference, high corrosion resistance, and dielectric insulation for non-conductive applications. They are stocked in a variety of standard sizes, each available in a "rainbow" of strengths formulated from different Ultem resins. They were designed to meet a wide range of spring applications where non-corroding, non-metallic, inert materials are preferred including medical, aerospace, marine, food prep, pharmaceutical, communications, and more.
Learn more.
---
Etched and formed micro metal parts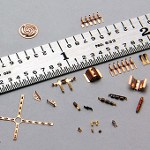 Tech-Etch combines photochemical etching with precision metal bending to create extremely small formed features in thin metal parts. State-of-the-art techniques are used to form features down to .003" in a wide variety of metals. Parts range in thickness from .0005" and up. The result is that engineers get the freedom to design features in thin metal parts with few limitations. While providing quick turnaround and low tooling costs, photo etching produces burr-free parts with intricate and complex shapes. Prototypes can be delivered in five days.
Learn more.
---
Injection Molding: 9 tips for designing multipart assemblies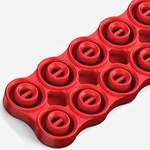 Finding creative solutions to multipart assemblies can be tricky, but fortunately there are many different ways to approach product designs that involve multiple components. To keep things cost effective and efficient, simplify your design, don't make what you can buy off the shelf, explore all of your manufacturing options, and understand the rules of each part of the process. But like most design challenges, it's not as easy as it sounds. Great info from Protolabs.
Read the full article.
---
igus ball transfer units ease move of high loads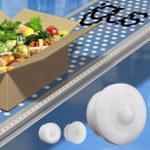 igus has introduced new ball transfer units that allow lubrication-free and smooth transport with a dramatic increase in load-bearing capacity. Ball tables are used if delicate or heavy goods are to be transported in different directions. The ball transfer units from igus are manufactured with the high-performance plastic xirodur B180, which absorbs loads up to 500 N (112 lb). The ball transfer units are lubrication and maintenance free. They also include stainless steel balls inside the roller to allow for smooth running. Based in Germany, igus runs its North American operations out of Providence, RI.
Learn more.
---
Replace traditional fasteners: 50+ retaining ring applications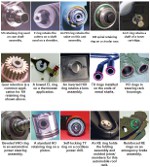 The benefits of a Rotor Clip Retaining Ring are simple: The ring is made from less material than traditional fasteners, eliminating machined shoulders, threads, cover plates, and heat-formed studs -- so you save. Using a retaining ring to fasten your assembly instead of a traditional fastener not only reduces your costs, but also saves the environment. Fewer parts and less material means cost savings for you and less waste for the planet. This quality part offers lot traceability. Want to know what you can do with a Rotor Clip Retaining Ring?
View more than 50 application examples.
---
Onshape includes PennEngineering PEM hardware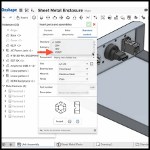 Onshape, a next-gen cloud CAD and data management platform that speeds up product development, has partnered with PennEngineering, a global leader in the fastening industry, to include PEM hardware as a built-in standard for its 3D CAD models. Onshape will initially include PEM brand self-clinching nuts and self-clinching standoffs, and plans to add additional PennEngineering products to its Standard Content library in the future. PEM fasteners are typically used when a component must be readily replaced and where loose nuts and hardware aren't accessible during the final assembly process. By embedding a threaded nut into a piece of metal mechanically, it saves time and reduces post-manufacturing assembly processes. This efficiency is especially important when producing large quantities of parts.
Learn more.
---
Problem-Solving Tips: Screw tightening control methods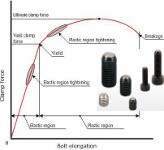 Although the main role of screws (bolts) is fastening objects using the axial force generated from tightening in actual work, there are many people who control the torque by tightening with a torque wrench, because it is difficult to directly monitor the axial force, and so guarantee the axial force that way. However, there are other methods of control for tightening screws (bolts), such as using "elastic region tightening" and "plastic region tightening."
Read this NBK technical blog.
---
The big squeeze: Scientists develop new type of refrigeration via force-driven liquid gas transition
A Japanese research team of Tohoku University, Nissan Motor Co., Shinshu University, and Okayama University made a groundbreaking discovery in the quest to replace hydrofluorocarbons in refrigeration systems with natural refrigerants such as water and alcohol. Their study involved carrying out a liquid-to-gas phase transition via a nanosponge -- a soft, elastic material equipped with small nanopores less than 10 nanometers. Their findings could lead to more efficient refrigerants with a smaller carbon footprint.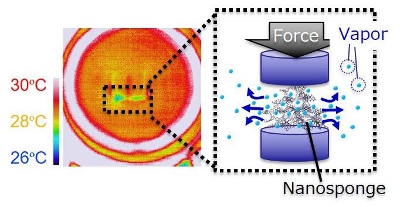 The cooling effect involves squeezing a special sandwiched nanosponge. [Credit: Hirotomo Nishihara]
Refrigeration systems are widely used in air conditioners and refrigerators. Conventional systems use hydrofluorocarbons as a refrigerant. However, hydrofluorocarbons are super pollutants. Their Global Warming Potential is about 1,300 times higher than that of CO2.
The team of researchers successfully carried out a force-driven liquid-to-gas phase transition using a nanosponge. When a normal, wet sponge is squeezed, naturally, water is expected to come out. However, when using a nanosponge with a pore size of under 10 nanometers, a different phenomenon occurs. Even under low pressure, the sponge retains its liquid.
When applying force, however, the expelled liquid immediately evaporates into gas. Furthermore, as the sponge returns to its natural shape, it adsorbs the gas as a liquid into the nanopores again.
Until now, researchers have not carried out the squeezing process of nanoporous materials because conventional materials are too hard to be deformed. Nevertheless, the team circumvented this by creating their own soft, elastic, nanoporous materials, consisting of a single-layer of graphene walls. They measured their results using home-made equipment designed to monitor liquid-gas phase transition when mechanical force is applied.
[Editor's Note: There is a temperature change using this method just like in traditional liquid-to-gas phase transition technologies, although it does not seem to be as great (using water) as current methods. Perhaps other liquids could result in larger temperature changes.]
The team thought about the squeezing method after developing soft nanoporous materials. But even they could not anticipate their prediction becoming reality at the first attempt.
To date, there have been only two methods of converting trapped liquid into gas: 1. heating, or 2. decreasing the gas-phase pressure. The squeezing method provides a third way, generating a new theme in the field of physical chemistry and paving the path for more environmentally friendly refrigeration systems.
The researchers published their findings in Nature, June 2019. See "Force-driven reversible liquid-gas phase transition mediated by elastic nanosponges."
Source: Tohoku University
Published June 2019
Rate this article