Spark-proof EC fans use 50% less energy
Orion Fans has extended its electronically commutated (EC) fan product offering to include a 254-mm IP68-ATEX-rated version for waterproof and harsh environment applications. The low-power OA254EC-ATEX Series EC fan combines energy conservation with maximum protection for power-hungry applications involving explosive atmospheres or flammable gases. It delivers air flows of 500 to 830 CFM. EC fans can be used in most any AC fan application with the added benefit of power savings of up to 50 percent. EC fans often enable customers to meet energy-consumption requirements from agencies like ENERGY STAR. Ideal as a drop-in replacement for AC fans, the larger OA254 IP68-ATEX Series EC fans are suited for oil & gas applications including oil rig and oil refining equipment. The fans are also used in walk-in refrigeration systems, commercial display coolers, EV and charging systems, servers, food services equipment, and other applications.
Learn more.
---
Protect vulnerable electronics from voltage transients and lightning events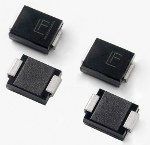 Littelfuse has released a new series of higher surge TVS Diode products in a DO-214AB package. The 8.0SMDJ series is optimized to protect sensitive electronic equipment from transient voltage induced by lightning and other voltage events. Because it combines up to 8,000 W of peak pulse power dissipation in a compact DO-214AB SMC package, the 8.0SMDJ series offers circuit designers a high-surge, space-saving circuit protection solution that can simplify printed circuit board design and improve reliability significantly. Typical markets and applications include: home appliances, consumer electronics, industrial, data centers, AC and DC protection, and PoE protection.
Learn more.
---
No-wear flat magnetic angle sensors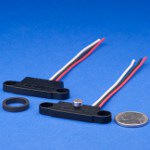 Novotechnik U.S. has just introduced the Vert-X 05E Series of magnetic rotary position sensors with compact, flat housing. Interfaces include analog, SPI, and incremental. The series is available in single and redundant versions. The sensors are touchless magnetic angle sensors with a permanent magnet that can be secured to an application's rotating shaft, so there is no direct mechanical linkage between the shaft and the measuring system -- and therefore no wear. Key specifications for Vert-X 05E include 5-mm profile, 0 to 360° measurement range, repeatability of 0.1° or better, and maximum hysteresis of 0.1°. Sample rate is up to 5 kHz, and its active measurement region extends to within 6 mm from edge of housing.
Learn more.
---
High-speed image sensor for AI, drones, robotics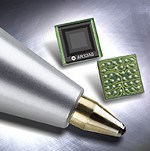 ON Semiconductor has introduced the ARX3A0 digital image sensor with 0.3 Mega-Pixel (MP) resolution in a 1:1 aspect ratio. With up to 360 frames per second (fps) capture rate, it can perform like a global shutter in many conditions but with the size, performance, and responsivity benefits of being a Back-Side Illuminated (BSI) rolling shutter sensor. With its small size, square format, ultra-low-power requirement, and high frame rate, the ARX3A0 is particularly suitable for emerging Machine Vision, Artificial Intelligence, IOT, drones, robotics, and AR/VR applications, as well as small supplemental security cameras.
Learn more.
---
Can electrical resistance be used to predict shielding effectiveness?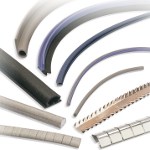 Conductive elastomer EMI shielding gaskets use metallic particles to create a conductive path and shield enclosures from electromagnetic radiation. Gaskets with silver particles, which are very conductive, often outperform gaskets with graphite particles. However, this is not always the case. A common misconception is that a measurement of DC resistivity can directly predict shielding effectiveness. Ben Nudelman, market development engineer at Parker, explains why.
Read this informative Parker Hannifin blog.
---
Standard and custom process heaters -- fast delivery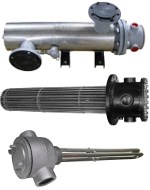 Durex builds standard as well as custom heaters for a host of applications and industries, including power plants, oil and gas, chemical and petrochemical, pharmaceutical, plastics, packaging, heat treating, cleaning and plating, aerospace, semiconductor processing, and food service equipment. The Cary, IL, company now offers screw plug, flange immersion, and circulation heaters with fast-turn shipping capabilities. Durex uses product platforms to provide standard "catalog" type designs as well as customized designs in the same fast turnaround window. Plug heaters ship in 3 to 5 days. Flange heaters ship in 5 to 7 days. Circulation heaters in 9 to 12 days. No upcharge for customized units or "non-standard" configurations.
Learn more.
---
Cool Tools: Fluke revamps industrial thermal camera line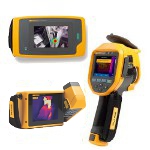 Fluke has retooled its entire line of industrial thermal cameras with more premium features packed into every model, providing higher value for the customer and allowing the company to reduce the number of cameras it offers to simplify the buying process. From an industrial pocket thermal imager to a line-up of 640 x 480 resolution infrared cameras, these tools take professional inspections to the next level.
Read the full article.
---
Cool Tools: World's first 1-ms IPS gaming monitor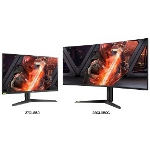 LG recently unveiled its UltraGear Nano IPS NVIDIA G-SYNC gaming monitor, the world's first 1-millisecond IPS display. Could you manage to get a little work done on it too? The Nano IPS tech aims to achieve phenomenal color reproduction, ultra-fast response time, and a refresh rate of 144 Hz, overclockable to 175 Hz. Who doesn't want blazing speed and stunning picture quality? Just made available to buy in the 27-in. (model 27GL850) for under 500 smackers. The 38-in. unit (model 38GL950G) will be available soon.
Learn more.
---
Customized anti‐vandal switches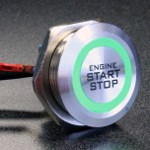 CIT Relay & Switch offers a broad line of sealed, illuminated Anti‐Vandal switches. Ranging from 10 mm up to 40 mm, the styles offer dot and ring illumination with CUSTOM laser printing available. With body and actuator finish options including stainless steel, nickel, and anodized aluminum in black, red, yellow, green, or blue (and bi‐color illumination available), these splash‐proof and vandal-resistant switches offer endless combinations for any design need. Contact CIT today to CUSTOMIZE your anti‐vandal switch.
Learn more.
---
Quick-ship program for standard and custom-designed process heaters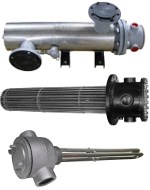 Durex Industries, a leading manufacturer of electric industrial heaters, sensors, and systems, now offers screw plug, flange immersion, and circulation heaters with fast-turn shipping capabilities. Durex uses product platforms to provide standard "catalog-type" designs as well as customized designs in the same fast-turnaround window. Plug heaters ship in 3 to 5 days, flange heaters ship in 5 to 7, and circulation heaters in 9 to 12 days -- regardless if standard or custom configured. In addition, there is no upcharge for customized units or "non-standard" configurations.
Learn more.
---
How many mils is your coating?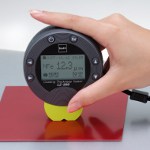 Although portable coating thickness gauges are not new, most fail to provide the accuracy, speed, or simplicity required for anyone to conduct quick checks as needed on the production line or in the field. Well all that has changed. A new solution from Kett enables simple, one-hand non-destructive testing -- even on curved and complex surfaces -- on painting, plating, anodizing, and organic coatings.
Read the full article.
---
Flexible circuit design guide

Tech-Etch uses advanced techniques to manufacture flex and rigid-flex circuits to exacting customer specifications. Special processes include selective plating a single circuit with two different finishes, contoured circuits with variable metal thickness, semi-additive and subtractive techniques, open window or cantilevered contact leads, plus SMT for component assembly. Tech-Etch specializes in flexible circuits for medical device, medical implant, diagnostic ultrasound, and patient monitoring applications, in addition to telecommunications, aerospace, semiconductor, and other high-reliability electronic applications.
Learn about flex circuits and download the guide (no registration required).
---
Cybersecurity for embedded military applications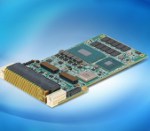 Designed to secure critical data within embedded military and defense applications, Aitech Group's C875 uses the new 8th generation Intel Xeon E processor to provide advanced cybersecurity as well as exceptional processing performance. As the risk of tamper attacks and theft of data continues to increase at all levels of embedded computing, the new 3U VPX SBC incorporates Aitech's proprietary AiSecure architecture to help protect against data breaches that may occur at the system site itself. The board features an Intel Xeon E-2176 M 6-core (12-thread) architecture with 12 MB of integrated Smartcache, delivering an impressive 2.7 GHz of performance that increases up to 4.4 GHz when Turbo Mode is enabled.
Learn more.
---
Get an IOT security development kit -- on the house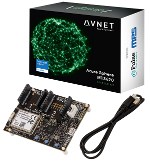 Security has become the biggest challenge for IoT (Internet of Things) development, with eight out of 10 developers identifying it as their biggest hurdle. To help developers create highly secure, end-to-end IoT solutions, leading global technology solutions provider Avnet is providing 20,000 Azure Sphere starter kits -- gratis. Additionally, developers will have access to a series of resources including webinars, lectures, road tests, and design contests hosted by Avnet as part of Avnet's ongoing relationship with Microsoft's Azure Sphere Ecosystem. The Avnet Azure Sphere MT3620 Starter Kit is a fast and easy way to equip IoT endpoint devices to be highly secure. By uniting hardware, software, and cloud in one secure solution, Azure Sphere secures the seven critical properties of an IoT device: hardware root of trust, defense in depth, small trusted computing base, dynamic compartments, certificate-based authentication, failure reporting, and renewable security.
Learn more.
---
Replacing hydraulics with electric actuators -- avoid pitfalls, gain the benefits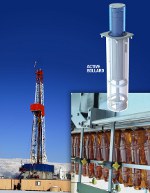 Electric actuators continue to find new and exciting places within automation processes from the mundane to some of the most extreme operating environments on the planet. Every day, machine designers seek alternative electric solutions to hydraulic cylinders for the very first time. However, there are many common pitfalls to properly sizing an electric equivalent. When sized correctly, replacement with high-force electric linear actuators can provide tremendous benefit in processes, quality, and reducing your total cost of ownership.
Read this informative Tolomatic blog.
---
Harvard researchers build first laser radio transmitter -- step toward ultra-high-speed Wi-Fi
By Leah Burrows
You've never heard Dean Martin like this.
This recording of Martin's classic "Volare" was transmitted wirelessly via a semiconductor laser -- the first time a laser has been used as a radio frequency transmitter.
In a recent paper published in the Proceedings of the National Academy of Sciences, researchers from the Harvard John A. Paulson School of Engineering and Applied Sciences (SEAS) demonstrated a laser that can emit microwaves wirelessly, modulate them, and receive external radio frequency signals.
"The research opens the door to new types of hybrid electronic-photonic devices and is the first step toward ultra-high-speed Wi-Fi," said Federico Capasso, the Robert L. Wallace Professor of Applied Physics and Vinton Hayes Senior Research Fellow in Electrical Engineering at SEAS and senior author of the study.
This research builds off previous work from the Capasso Lab. In 2017, the researchers discovered that an infrared frequency comb in a quantum cascade laser could be used to generate terahertz frequencies, the submillimeter wavelengths of the electromagnetic spectrum that could move data hundreds of times faster than today's wireless. In 2018, the team found that quantum cascade laser frequency combs could also act as integrated transmitters or receivers to efficiently encode information.
Now, the researchers have figured out a way to extract and transmit wireless signals from laser frequency combs.
Unlike conventional lasers, which emit a single frequency of light, laser frequency combs emit multiple frequencies simultaneously, evenly spaced to resemble the teeth of a comb. In 2018, the researchers discovered that inside the laser, the different frequencies of light beat together to generate microwave radiation. The light inside the cavity of the laser caused electrons to oscillate at microwave frequencies -- which are within the communications spectrum.
"If you want to use this device for Wi-Fi, you need to be able to put useful information in the microwave signals and extract that information from the device," said Marco Piccardo, a postdoctoral fellow at SEAS and first author of the paper.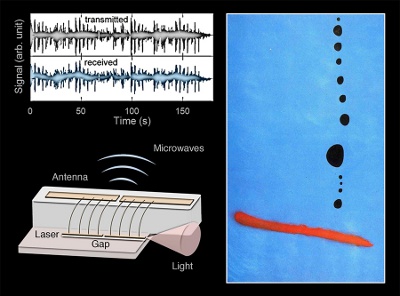 This device uses a frequency comb laser to emit and modulate microwaves wirelessly. The laser uses different frequencies of light beating together to generate microwave radiation. The "beats" emitted from the laser are reminiscent of a painting (right) by Spanish artist Joan Miro' named "Bleu II." The researchers used this phenomenon to send a song wirelessly to a receiver. (Image courtesy: Marco Piccardo/Harvard SEAS).
The first thing the new device needed to transmit microwave signals was an antenna. So, the researchers etched a gap into the top electrode of the device, creating a dipole antenna (like the rabbit ears on the top of an old TV). Next, they modulated the frequency comb to encode information on the microwave radiation created by the beating light of the comb. Then, using the antenna, the microwaves are radiated out from the device, containing the encoded information. The radio signal is received by a horn antenna, filtered and sent to a computer.
The researchers also demonstrated that the laser radio could receive signals. The team was able to remote control the behavior of the laser using microwave signals from another device.
"This all-in-one, integrated device holds great promise for wireless communication," said Piccardo. "While the dream of terahertz wireless communication is still a ways away, this research provides a clear roadmap showing how to get there."
The Harvard Office of Technology Development has protected the intellectual property relating to this project and is exploring commercialization opportunities.
This research was co-authored by Michele Tamagnone, Benedikt Schwarz, Paul Chevalier, Noah A. Rubin, Yongrui Wang, Christine A. Wang, Michael K. Connors, Daniel McNulty, and Alexey Belyanin. It was supported in part by the National Science Foundation.
Source: Harvard John A. Paulson School of Engineering and Applied Sciences (SEAS)
Published May 2019
Rate this article