Compound coaxial attack helicopter design for U.S. Army unveiled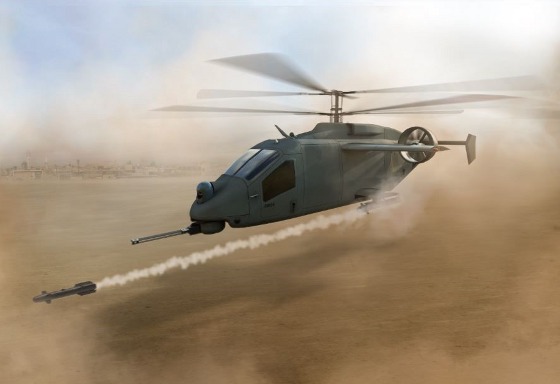 It's always neat to see helicopter design and tech evolve, and AVX Aircraft and L3 Technologies do not disappoint. The companies have partnered to compete for Phase 1 of the U.S. Army Future Attack Reconnaissance Aircraft (FARA) Competitive Prototype (CP) program competition.
Scheduled for production in 2024, the FARA aircraft will be an advanced, lethal solution with high growth potential. The Army has named the FARA as a top modernization priority supported under the service's new Futures Command structure.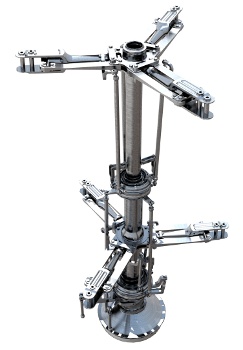 AVX rotor system. [Credit: AVX Aircraft]
The compound coaxial helicopter (CCH) design aims to exceed the reconnaissance and light-attack mission of FARA with a "high-performing and survivable platform." AVX says its coaxial rotor requires 15 to 18 percent less power to hover than the traditional single-rotor and tail-rotor configuration. It also provides increased cruise speed, range, and endurance.
The AVX/L3 solution combines AVX Aircraft's history of developing coaxial rotor platforms and propulsion systems with L3's proven products and systems engineering -- weapons, sensor and communications systems integration, and full-rate production capabilities -- to provide the Army with an advanced, modular armed reconnaissance and light attack platform.
AVX-L3 says its CCH will meet 100 percent of mandatory requirements and exceed 70 percent of them, and, "combined with rigorous engineering and production processes and certifications, will deliver a safe, performance-driven, affordable aircraft capable of operating in highly contested airspace and degraded environments for extended periods."
The companies' next-generation single-engine design, paired with a wing for lift during high-speed forward flight, provides next-gen capabilities in a faster, lighter, and more lethal aircraft that requires less maintenance through its life cycle. Features include:
A fly-by-wire, side-by-side cockpit optimized for pilot efficiency,
Two ducted fans that provide forward and reverse thrust for both high-speed operation and agility,
State-of-the-art modern open systems architecture (MOSA) digital backbone and avionics systems,
A small form factor that meets C-17 loading and Navy DDG shipboard size limits through manually folding blades and wings, and
Modularity that provides for component reuse and a high degree of systems commonality across all of the U.S. Army capability sets.

VIDEO: AVX Aircraft and L3 Technologies reveal Compound Coaxial Helicopter design.
According to a U.S. Army March 27, 2019, article, "The Army's Future Vertical Lift Cross-Functional Team looks to award two vendors in March 2020."
"The Army has long needed a new reconnaissance aircraft," said Brig. Gen. Walter Rugen, the FVL Cross-Functional Team director, in the article. The article explains, "Back in 2012, the Army reassigned a portion of its AH-64 Apache fleet to support heavy attack reconnaissance squadrons, as a replacement for the OH-58 Kiowa."
According to the article, Rugen said, "This was a suboptimal solution. The Apache is an attack helicopter; it is not an armed reconnaissance helicopter. [At the time,] we did it for budget considerations."
The article also said that "after FARA is fielded, the Army plans to replace about 50 percent of its aging AH-64 fleet."
Airbus, Sikorsky, and Bell are also rumored to be putting together FARA concepts.
Headquartered in Fort Worth, TX, AVX Aircraft is most known for developing and patenting a unique compound helicopter configuration with coaxial rotors and dual ducted fans that combine proven technologies to achieve greater aerodynamic efficiency, speed, range, fuel efficiency, HOGE (Hover Out Of Ground Effect), and utility than conventional helicopters. They also focus on commercial designs.
AVX has also worked as part of the Northrop Grumman team on the Tern unmanned systems program for The Defense Advanced Research Projects Agency (DARPA) and the Office of Naval Research. The Tern project is aimed at developing an autonomous, unmanned, long-range (global) surveillance/reconnaissance and strike system that can launch from and land back on small-deck naval vessels. The innovative design integrates vertical takeoff and landing, transitioning to an efficient flying wing for cruise.
Sources: L3 Technologies, AVX Aircraft, Northrop Grumman
Published April 2019
Rate this article