Important Qs about linear motor actuators that design engineers should ask

Many design engineers overestimate how accurate traditional motors and actuators stay over long travel runs, mistakenly believing that if the solution works well for short runs, it will work equally well on long ones. Do you know what type of actuator you should use for your application? Patrick Lehr, Product Manager, Precision Mechanics at Parker Hannifin, has some really good tips for you.
Read the full article.
---
Small DC motors for spectrophotometry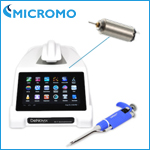 The DeNovix team needed a motion solution for their spectrophoto-meter application which called for intermittent short, quick motions with micron-level accuracy. After research and testing, they chose a FAULHABER small DC motor configured with a MICROMO encoder and an all-plastic planetary gearhead to successfully bring their product to market.
Read the full article.
---
Integrated brushless servo motor and controller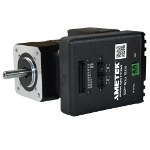 Save money and space by utilizing the EC042B 42-mm IDEA Motor's integrated package of motor, drive, and feedback connections in a compact and programmable unit. A single motor/drive unit reduces motion system components by up to 75 percent per axis and simplifies machine troubleshooting -- all while providing excellent precision. Further reductions can be achieved by wiring sensor inputs and control outputs directly to the IDEA Motor, rather than through a control cabinet. Available in three motor lengths with continuous torque up to 0.15 Nm from Haydon Kerk Pittman. Applications include lab automation, medical devices, communications equipment, aerospace systems, and more.
Learn more.
---
Extreme-force electric actuator for press and punch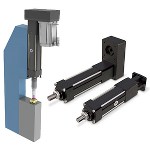 Tolomatic's RSX extreme force electric actuator family has been expanded -- this time with more options capable of replacing hydraulic cylinders. The new RSX096P Press Model is designed for pressing, punching, clinching, joining, and other applications requiring extreme force. This hydraulic-class actuator is capable of forces up to 40,000 lbf (178 kN). It features Tolomatic planetary roller screw technology for long life and consistent performance.
Learn more.
---
New optical joysticks for medical and military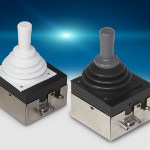 CTI Electronics (an affiliate of Electro Switch Corp.) has launched a new line of optical joystick motion controllers and mouse pointing devices. Made in the USA, LightStick Series controllers exceed medical and military performance standards for electromagnetic and RF disturbance in applications to 200 V/m -- without additional shielding. The LightStick's patented noncontact optical sensor technology ensures highly repeatable operator feedback for the life of the controller -- up to 10 million cycles and a MTBF greater than 10 years of operation.
Learn more.
---
Just out! THK introduces TRK Robot Hand assembly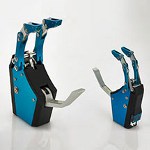 THK America is known for being a leader in linear motion guides, but now they're stretching their reach into the end-effector market. The Schaumburg, IL-based company has just added the Type TRX Robot Hand to its quality lineup.
Learn more.
---
Why convert hydraulics to electric high-force linear actuators?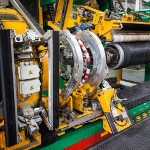 Got a high-force linear motion application? If you do, chances are the first product solution to come to mind is hydraulic cylinders. They're relatively inexpensive (if you already have a hydraulic power unit in place), compact (if the HPU is somewhere else), and power-dense. But what about the disadvantages -- leaks, operation and maintenance costs, and more? It's possible to convert an application from hydraulic to electric linear motion easily, and Tolomatic even gives you step-by-step instructions.
Read the Tolomatic blog. Really useful!
---
Cobot is 'golden arm' for new pipe welding system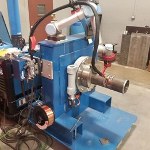 ARC Specialties has solved the challenge of creating repeatable, full-penetration pipe welds by combining artificial intelligence (AI), advanced sensors, and the UR5 collaborative robot from Universal Robots. The unique Artificial Intelligence Pipe Welding System debuted at the Offshore Technology Conference in Houston at the beginning of May.
Read the full article.
---
Piezo motor technology: Questions answered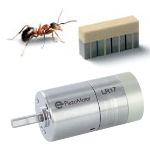 There's a new kind of piezo motor in town, and it's got legs. The Piezo LEGS rotational motor is a direct-friction drive that provides precise motion without any mechanical play or backlash. There are no gears or transmission, so changing the direction of the motion will introduce no error. The simple Piezo LEGS motor is also extremely stiff. Find out the answers to frequently asked questions about this exciting motor technology available from the FAULHABER Group.
Read the full article.
---
Get a linear shafting sample on the house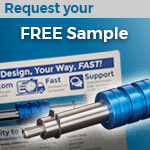 Lee Linear has produced world-class, linear motion components and linear shafting for over 40 years. With the ability to manufacture custom shafting -- threading, diameter reduction, keyways, flats, plating, and more -- to required standards in a short amount of time, Lee Linear is able to fulfill orders on time, eliminating downtime and increasing profits for its customers.
Request your sample.
---
Real-World Application: Actuator linkage for diverter valve in hybrid vehicles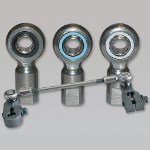 Cablecraft Motion Controls was contacted by a large exhaust gas management system supplier to develop a special actuator linkage to control a diverter valve in the exhaust gas stream of hybrid passenger vehicles. The application presented quite a number of challenges, including meeting cost, temperature, and PPAP timing requirements.
Read the full article.
---
Next-gen permanent magnet AC motor with integrated encoder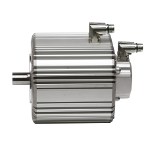 Designed for today's demanding machine drive applications, the new VFsync synchronous AC motors from Bison Gear and Engineering run at high efficiency with advanced variable frequency drives. These IP66/IP54 platform motors were optimized with FEA software and then tooled with highly efficient internal permanent magnet-style rotors. VFsync provides a compact footprint that is 56 percent smaller and 63 percent lighter than common 3-phase induction motors. Power range is .25 to 1.5 hp. They are supplied with swivel connectors and shielded cables to make installation trouble-free. Popular frame sizes available. The product line includes the new motors, quick-connect cables, and a programmable and networked VFD.
Learn more.
---
Largest autonomous mobile robot can lift 1 metric ton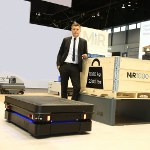 At the Automate 2019 Show and Conference, Mobile Industrial Robots launched the MiR1000, the company's largest autonomous mobile robot (AMR). This mobile platform can automatically pick up, transport, and deliver pallets and other heavy loads up to 1,000 kg (2,200 lb) through dynamic environments. Like the MiR500 introduced in 2018, the MiR1000 is a collaborative, safe, and flexible alternative to potentially dangerous and expensive forklifts on the factory floor. MiR also released another industry first -- artificial intelligence (AI) capabilities across all of its AMRs for improved navigation.
Learn more.
---
Top Roller conveyor for mobile industrial robots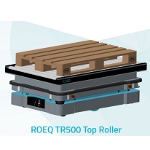 Real efficiency in logistics automation is achieved when the entire workflow is handled by robotics solutions that communicate smoothly with each other. That's the vision behind ROEQ's new TR500 Top Roller unit that automates load and unload operations of the MiR500, the largest and most powerful autonomous mobile robot from Mobile Industrial Robots (MiR). Danish company ROEQ is launching the Top Roller at the Automate 2019 show in Chicago this week, along with a host of other add-ons for MiR. The TR500 accommodates U.S. pallets and can be delivered with a fully automated lifter functionality for pick-up and delivery of goods.
Learn more.
---
Top Tech Tip: Specifying self-lubricating bearings for linear motion systems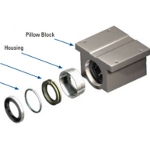 Self-lubricating ball bushing bearings have experienced an increase in use among motion system designers thanks to their ability to significantly reduce cost of ownership, improve performance, and deliver virtually maintenance-free operation. However, these bearings may not reach their full potential without being properly specified, installed, and evaluated for compatibility with their intended environment. Learn how to specify them for long-lasting use in your motion system applications.
Read this informative Thomson article.
---
Scary! SwRI engineers come up with ways to trick vehicle object detection systems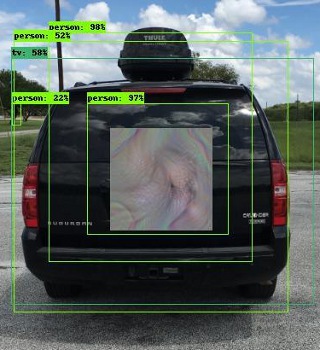 Many of today's vehicles use object detection systems to help avoid collisions. SwRI engineers developed unique patterns that can trick these systems. In this photo, the object detection system sees a person rather than a vehicle. This research will allow engineers to thoroughly test object detection systems and improve the security of the deep-learning algorithms they use. [Credit: Southwest Research Institute]
New adversarial techniques developed by engineers at Southwest Research Institute can make objects "invisible" to image detection systems that use deep-learning algorithms. These techniques can also trick systems into thinking they see another object or can change the location of objects. The technique mitigates the risk for compromise in automated image-processing systems.
"Deep-learning neural networks are highly effective at many tasks," says Research Engineer Abe Garza of the SwRI Intelligent Systems Division. "However, deep learning was adopted so quickly that the security implications of these algorithms weren't fully considered."
Deep-learning algorithms excel at using shapes and color to recognize the differences between humans and animals or cars and trucks, for example. These systems reliably detect objects under an array of conditions and, as such, are used in myriad applications and industries, often for safety-critical uses. The automotive industry uses deep-learning object detection systems on roadways for lane-assist, lane-departure and collision-avoidance technologies. These vehicles rely on cameras to detect potentially hazardous objects around them. While the image processing systems are vital for protecting lives and property, the algorithms can be deceived by parties intent on causing harm.
Security researchers working in "adversarial learning" are finding and documenting vulnerabilities in deep- and other machine-learning algorithms. Using SwRI internal research funds, Garza and Senior Research Engineer David Chambers developed what look like futuristic, Bohemian-style patterns. When worn by a person or mounted on a vehicle, the patterns trick object detection cameras into thinking the objects aren't there, that they're something else or that they're in another location. Malicious parties could place these patterns near roadways, potentially creating chaos for vehicles equipped with object detectors.
"These patterns cause the algorithms in the camera to either misclassify or mislocate objects, creating a vulnerability," said Garza. "We call these patterns 'perception invariant' adversarial examples because they don't need to cover the entire object or be parallel to the camera to trick the algorithm. The algorithms can misclassify the object as long as they sense some part of the pattern."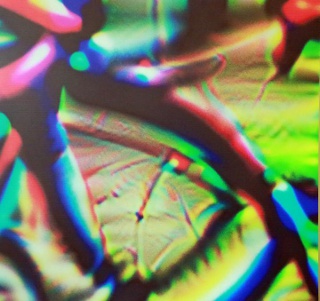 What looks like a colorful pattern to the human eye looks like a bicycle to an object detection system. While deep-learning algorithms used in these systems are reliable, they can be deceived with special imagery. SwRI researchers are developing techniques to mitigate the risk of compromise in these systems. [Credit: Southwest Research Institute]
While they might look like unique and colorful displays of art to the human eye, these patterns are designed in such a way that object-detection camera systems see them very specifically. A pattern disguised as an advertisement on the back of a stopped bus could make a collision-avoidance system think it sees a harmless shopping bag instead of the bus. If the vehicle's camera fails to detect the true object, it could continue moving forward and hit the bus, causing a potentially serious collision.
"The first step to resolving these exploits is to test the deep-learning algorithms," said Garza. The team has created a framework capable of repeatedly testing these attacks against a variety of deep-learning detection programs, which will be extremely useful for testing solutions.

VIDEO: Adversarial Learning: SwRI engineers developed unique patterns that can trick these systems into seeing something else, seeing the objects in another location, or not seeing the objects at all.
SwRI researchers continue to evaluate how much, or how little, of the pattern is needed to misclassify or mislocate an object. Working with clients, this research will allow the team to test object detection systems and ultimately improve the security of deep-learning algorithms.
Source: SwRI
Published April 2019
Rate this article