Quick-ship program for standard and custom-designed process heaters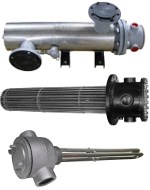 Durex Industries, a leading manufacturer of electric industrial heaters, sensors, and systems, now offers screw plug, flange immersion, and circulation heaters with fast-turn shipping capabilities. Durex uses product platforms to provide standard "catalog-type" designs as well as customized designs in the same fast-turnaround window. Plug heaters ship in 3 to 5 days, flange heaters ship in 5 to 7, and circulation heaters in 9 to 12 days -- regardless if standard or custom configured. In addition, there is no upcharge for customized units or "non-standard" configurations.
Learn more.
---
How many mils is your coating?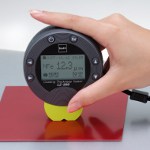 Although portable coating thickness gauges are not new, most fail to provide the accuracy, speed, or simplicity required for anyone to conduct quick checks as needed on the production line or in the field. Well all that has changed. A new solution from Kett enables simple, one-hand non-destructive testing -- even on curved and complex surfaces -- on painting, plating, anodizing, and organic coatings.
Read the full article.
---
Flexible circuit design guide

Tech-Etch uses advanced techniques to manufacture flex and rigid-flex circuits to exacting customer specifications. Special processes include selective plating a single circuit with two different finishes, contoured circuits with variable metal thickness, semi-additive and subtractive techniques, open window or cantilevered contact leads, plus SMT for component assembly. Tech-Etch specializes in flexible circuits for medical device, medical implant, diagnostic ultrasound, and patient monitoring applications, in addition to telecommunications, aerospace, semiconductor, and other high-reliability electronic applications.
Learn about flex circuits and download the guide (no registration required).
---
Cybersecurity for embedded military applications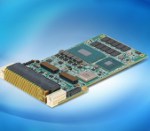 Designed to secure critical data within embedded military and defense applications, Aitech Group's C875 uses the new 8th generation Intel Xeon E processor to provide advanced cybersecurity as well as exceptional processing performance. As the risk of tamper attacks and theft of data continues to increase at all levels of embedded computing, the new 3U VPX SBC incorporates Aitech's proprietary AiSecure architecture to help protect against data breaches that may occur at the system site itself. The board features an Intel Xeon E-2176 M 6-core (12-thread) architecture with 12 MB of integrated Smartcache, delivering an impressive 2.7 GHz of performance that increases up to 4.4 GHz when Turbo Mode is enabled.
Learn more.
---
Get an IOT security development kit -- on the house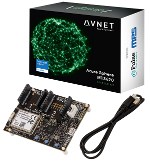 Security has become the biggest challenge for IoT (Internet of Things) development, with eight out of 10 developers identifying it as their biggest hurdle. To help developers create highly secure, end-to-end IoT solutions, leading global technology solutions provider Avnet is providing 20,000 Azure Sphere starter kits -- gratis. Additionally, developers will have access to a series of resources including webinars, lectures, road tests, and design contests hosted by Avnet as part of Avnet's ongoing relationship with Microsoft's Azure Sphere Ecosystem. The Avnet Azure Sphere MT3620 Starter Kit is a fast and easy way to equip IoT endpoint devices to be highly secure. By uniting hardware, software, and cloud in one secure solution, Azure Sphere secures the seven critical properties of an IoT device: hardware root of trust, defense in depth, small trusted computing base, dynamic compartments, certificate-based authentication, failure reporting, and renewable security.
Learn more.
---
Replacing hydraulics with electric actuators -- avoid pitfalls, gain the benefits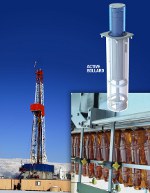 Electric actuators continue to find new and exciting places within automation processes from the mundane to some of the most extreme operating environments on the planet. Every day, machine designers seek alternative electric solutions to hydraulic cylinders for the very first time. However, there are many common pitfalls to properly sizing an electric equivalent. When sized correctly, replacement with high-force electric linear actuators can provide tremendous benefit in processes, quality, and reducing your total cost of ownership.
Read this informative Tolomatic blog.
---
New Hot Tap Digital Flowmeters simplify installation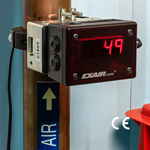 EXAIR's new Hot Tap Digital Flowmeters allow installation when compressed air piping is under pressure. By eliminating the need to isolate and remove pressure from the pipe, these compressed air flowmeters reduce installation time while maintaining safety. Hot Tap Digital Flowmeters incorporate two valves that the measuring probes pass through. A sound muffler that also collects chips from the drilling process eliminates installation debris from entering the airstream and minimizes noise exposure. Measuring compressed air is the first step toward identifying high compressed air use areas, compressed air leaks and optimizing air use.
Learn more.
---
Just out! Most powerful Raspberry Pi ever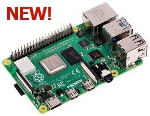 The new Raspberry Pi 4 Model B Computer is the most powerful Raspberry Pi model ever. It offers significant enhancements in processor speed, multimedia performance, memory, and connectivity that will make it attractive to general desktop computer users, hobbyist and makers, and professional developers working with compute-intensive embedded applications such as computer vision and Artificial Intelligence (AI). Available in 1-GB, 2-GB, and 4-GB models.
Read the full article.
---
Angle sensors retain position -- even without power!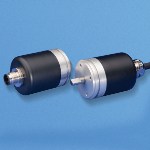 The RSB 3600 Series of absolute single-turn angle sensors from Novotechnik U.S. are EGMR (enhanced giant magnetic resistance) devices that retain their angular position even when power is removed. The sensors retain that angle information for years without power, so there is no need for batteries. Operating speed is up to 12,000 RPM. These non-contact sensors feature a galvanized steel housing and stainless steel shaft with up to 100 N working shaft load for the HD version. They are sealed up to IP 69K, depending on version. They count to 16 turns, angular position 0 to 360 deg. MTTF of more than 105 years.
Learn more.
---
Overvoltage protection for motors, white goods, more
The RV from Stackpole is a radial leaded metal oxide varistor available in a wide range of disk sizes (5 mm to 20 mm) and working voltages (from 14 VDC to 1,465 VDC) designed for general-purpose overvoltage protection. Peak current ratings up to 18,000 amps. Applications include low-voltage board-level circuitry, data and voice communications, network equipment, distribution panels, AC line protection for white goods, entertainment electronics, lighting ballasts, power supplies, electric motors and motor controls, and surge protection devices.
Learn more.
---
Extreme-force electric actuator for press and punch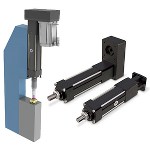 Tolomatic's RSX extreme force electric actuator family has been expanded -- this time with more options capable of replacing hydraulic cylinders. The new RSX096P Press Model is designed for pressing, punching, clinching, joining, and other applications requiring extreme force. This hydraulic-class actuator is capable of forces up to 40,000 lbf (178 kN). It features Tolomatic planetary roller screw technology for long life and consistent performance.
Learn more.
---
New optical joysticks for medical and military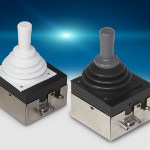 CTI Electronics (an affiliate of Electro Switch Corp.) has launched a new line of optical joystick motion controllers and mouse pointing devices. Made in the USA, LightStick Series controllers exceed medical and military performance standards for electromagnetic and RF disturbance in applications to 200 V/m -- without additional shielding. The LightStick's patented noncontact optical sensor technology ensures highly repeatable operator feedback for the life of the controller -- up to 10 million cycles and a MTBF greater than 10 years of operation.
Learn more.
---
UV-protected and waterproof panel mount indicators
Visual Communi-cations Company (VCC) recently announced the addition of its new PML50 Series Waterproof LED panel mount indicator (PMI). The new semi-dome indicator offers the same great features as the other PMIs in the PML50 family, with the added bonus of UV protection. This PMI has a white diffused lens for optimal side distance viewing and UV-resistant lens for superior performance in outdoor harsh environments -- and it will not discolor or fade. It achieves full brightness in microseconds, even in daylight viewing conditions. Ideal for a range of industries where outdoor status indication is crucial, including maritime, oil, gas, transportation, and industrial.
Learn more.
---
Dual-mode automotive image sensor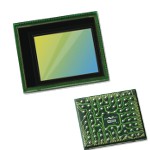 The OV2312 automotive image sensor from OmniVision Technologies enables multiple functions in one camera, reducing the total system cost, space, and power budget for driver state monitoring (DSM) and viewing applications like video conferencing. The ability to capture both RGB and IR images with one global shutter (GS) sensor reduces the number of cameras needed. It provides dual-mode cameras with motion-artifact-free images at high resolutions of 1,600 x 1,300 at 60 fps and 1,280 x 720 at 90 fps. Because this is the smallest 2MP GS sensor in its class, cameras can be placed out of sight from drivers and passengers.
Learn more.
---
High-deflection thermal gap filler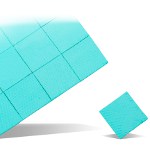 Laird Performance Materials has developed Tflex HD80000, a high-deflection thermal gap filler combining 6 W/mK thermal conductivity with superior pressure versus deflection characteristics. The combination allows minimal stress on sensitive components while also yielding low thermal resistance. As a result, less mechanical and thermal stresses are experienced in devices designed for telecom, information technology, consumer, industrial, aerospace, and military markets. Gap fillers bridge the interface between hot components and a chassis or heat sink assembly to increase the overall heat transfer from the system.
Learn more.
---
New low-cost thermoelectric material works at room temperature
By Jeannie Kever, University of Houston
Has your steering wheel been too hot to touch this summer? A new thermoelectric material reported in the journal Science could offer relief.
The widespread adoption of thermoelectric devices that can directly convert electricity into thermal energy for cooling and heating has been hindered, in part, by the lack of materials that are both inexpensive and highly efficient at room temperature.
Now researchers from the University of Houston and the Massachusetts Institute of Technology have reported the discovery of a new material that works efficiently at room temperature while requiring almost no costly tellurium, a major component of the current state-of-the-art material.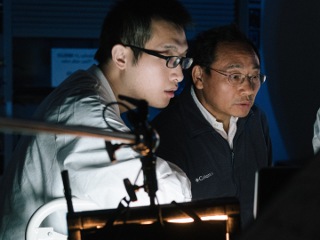 Texas Center for Superconductivity at UH Director Zhifeng Ren, right, and post-doctoral researcher Jun Mao say a new thermoelectric cooling material is inexpensive to produce and works efficiently at room temperature.
The work, described in a paper published online by Science, July 18, has potential applications for keeping electronic devices, vehicles, and other components from overheating, said Zhifeng Ren, corresponding author on the work and director of the Texas Center for Superconductivity at UH, where he is also M.D. Anderson Professor of Physics.
"We have produced a new material, which is inexpensive but still performs almost as well as the traditional, more expensive material," Ren said. The researchers say future work could close the slight performance gap between their new material and the traditional material, a bismuth-tellurium-based alloy.
Thermoelectric materials work by exploiting the flow of heat current from a warmer area to a cooler area, and thermoelectric cooling modules operate according to the Peltier effect, which describes the transfer of heat between two electrical junctions.
Thermoelectric materials can also be used to turn waste heat -- from power plants, automobile tailpipes, and other sources -- into electricity, and a number of new materials have been reported for that application, which requires materials to perform at far higher temperatures.
Thermoelectric cooling modules have posed a great challenge because they have to work at cooler temperatures, where the thermoelectric figure-of-merit, or ZT, is low because it is dependent on temperature. The figure-of-merit is a metric used to determine how efficiently a thermoelectric material works.
Despite the challenge, thermoelectric cooling modules also, at least for now, offer more commercial potential, in part because they can operate for a long lifespan at cooler temperatures; thermoelectric power generation is complicated by issues related to the high temperatures at which it operates, including oxidation and thermal instability.
The market for thermoelectric cooling is growing. "The global thermoelectric module market was worth ~0.6 billion U.S. dollars in 2018 and it is anticipated to reach ~1.7 billion U.S. dollars by 2027," the researchers wrote.
Bismuth-tellurium alloys have been considered the best-performing material for thermal cooling for decades, but the researchers said the high cost of tellurium has limited widespread use. Jun Mao, a post-doctoral researcher at UH and first author on the paper, said the cost has recently dropped but remains about $50/kilogram. That compares to about $6/kilogram for magnesium, a primary component of the new material.
In addition to Ren and Mao, additional authors on the paper include Hangtian Zhu, Zihang Liu, and Geethal Amila Gamage, all of the UH Department of Physics and TcSUH, and Zhiwei Ding and Gang Chen of the Department of Mechanical Engineering at the Massachusetts Institute of Technology.
They reported that the new material, comprised of magnesium and bismuth and created in a form carrying a negative charge, known as n-type, was almost as efficient as the traditional bismuth-tellurium material. That, combined with the lower cost, should expand the use of thermoelectric modules for cooling, they said.
To produce a thermoelectric module using the new material, researchers combined it with a positive-charge-carrying, or p-type, version of the traditional bismuth-tellurium alloy. Mao said that allowed them to use just half as much tellurium as most current modules.
Because the cost of materials accounts for about one-third of the cost of the device, that savings adds up, he said.
The new material also more successfully maintains electrical contact than most nanostructured materials, the researchers reported.
Published August 2019
Rate this article