Cobots load and unload Haas CNC machines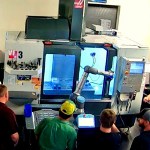 Loading and unloading CNC machines is becoming one of the most popular applications for collaborative robots as manufacturers face significant difficulties in staffing this tedious task. A new distributor agreement between Universal Robots and Phillips Corp. aims to further the rapid deployment of cobots with Haas CNC machines, offering machine shops a safe, user-friendly solution to optimize spindle uptime. Haas provides the best-selling CNC machines in the Western Hemisphere, and Phillips is the world's largest Haas Factory Outlet. "Having an expensive machine sit idle and missing out on orders due to lack of staffing is every manufacturer's nightmare," says Stu Shepherd, regional sales director for the Americas division of Universal Robots, which has already sold more than 1,000 UR cobots for tending Haas CNC machines.
Watch cobots tending CNC machines and learn more about this partnership.
---
New Orbex brushless servo motors enhance efficiency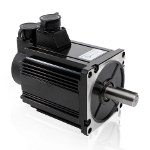 The Orbex Group, known for high-performance slip rings, now offers brushless servo motors that combine high torque, low inertia, and various customizable options to improve efficiency in dynamic servo-driven applications. Available in a range of frame sizes (60 to 176 mm), NdFeB-based brushless servo motors include incremental encoders for position feedback and electrical commutation -- enhancing motor efficiency, minimizing maintenance requirements, and increasing throughput. Customizable features include windings, brakes, additional feedback options, connectors, and custom mounting options. Frameless configurations are also available. The motors offer smooth, low-cogging motion and IP65-level protection. Typical applications include communications, security and AGVs, defense, packaging, robotics, and more.
Learn more.
---
New pan-tilt stages ideal for positioning, inspection, assembly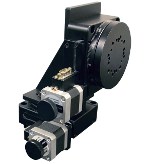 A pair of high-resolution, motorized pan-tilt stages has been added to the extensive line of OES (Optimal Engineering Systems) motion control products. The PT60-1 Pan-Tilt Stage is a combination of two 60-mm (2.362-in.) rotary stages, and the PT100-1 is a combination of two 100-mm (3.937-in.) rotary stages, set at a 90° angle to each other. The rotary stage of each pan-tilt unit features a high repeatability of 0.005° (18 arc-sec), a positional accuracy of 0.005° (18 arc-sec), and a resolution of 0.001° = 3.6" (10 micro-steps per step motor driver in use). They are ideal for scanning, testing, inspection, assembly, positioning, laser and micro machining, pointing optics and cameras, and other applications.
Learn more.
---
Replacing hydraulics with electric actuators -- avoid pitfalls, gain the benefits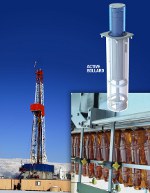 Electric actuators continue to find new and exciting places within automation processes from the mundane to some of the most extreme operating environments on the planet. Every day, machine designers seek alternative electric solutions to hydraulic cylinders for the very first time. However, there are many common pitfalls to properly sizing an electric equivalent. When sized correctly, replacement with high-force electric linear actuators can provide tremendous benefit in processes, quality, and reducing your total cost of ownership.
Read this informative Tolomatic blog.
---
Precision motion for X-ray optics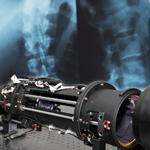 Despite their potential danger, X-rays are one of the most powerful instruments and resources utilized in medical diagnostics to help medical professionals restore health by identifying the correct prognosis. When it comes to achieving the best imaging with the lowest X-ray exposure, lenses made by Optec are almost inevitably involved. Their aperture, focus, filters, and zoom are precisely moved by FAULHABER DC motors.
Read the full article.
---
Important Qs about linear motor actuators that design engineers should ask

Many design engineers overestimate how accurate traditional motors and actuators stay over long travel runs, mistakenly believing that if the solution works well for short runs, it will work equally well on long ones. Do you know what type of actuator you should use for your application? Patrick Lehr, Product Manager, Precision Mechanics at Parker Hannifin, has some really good tips for you.
Read the full article.
---
Small DC motors for spectrophotometry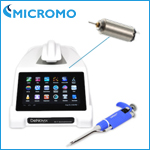 The DeNovix team needed a motion solution for their spectrophoto-meter application which called for intermittent short, quick motions with micron-level accuracy. After research and testing, they chose a FAULHABER small DC motor configured with a MICROMO encoder and an all-plastic planetary gearhead to successfully bring their product to market.
Read the full article.
---
Integrated brushless servo motor and controller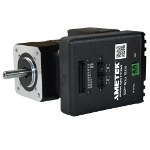 Save money and space by utilizing the EC042B 42-mm IDEA Motor's integrated package of motor, drive, and feedback connections in a compact and programmable unit. A single motor/drive unit reduces motion system components by up to 75 percent per axis and simplifies machine troubleshooting -- all while providing excellent precision. Further reductions can be achieved by wiring sensor inputs and control outputs directly to the IDEA Motor, rather than through a control cabinet. Available in three motor lengths with continuous torque up to 0.15 Nm from Haydon Kerk Pittman. Applications include lab automation, medical devices, communications equipment, aerospace systems, and more.
Learn more.
---
Extreme-force electric actuator for press and punch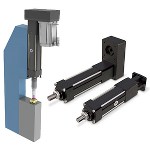 Tolomatic's RSX extreme force electric actuator family has been expanded -- this time with more options capable of replacing hydraulic cylinders. The new RSX096P Press Model is designed for pressing, punching, clinching, joining, and other applications requiring extreme force. This hydraulic-class actuator is capable of forces up to 40,000 lbf (178 kN). It features Tolomatic planetary roller screw technology for long life and consistent performance.
Learn more.
---
New optical joysticks for medical and military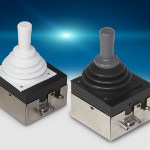 CTI Electronics (an affiliate of Electro Switch Corp.) has launched a new line of optical joystick motion controllers and mouse pointing devices. Made in the USA, LightStick Series controllers exceed medical and military performance standards for electromagnetic and RF disturbance in applications to 200 V/m -- without additional shielding. The LightStick's patented noncontact optical sensor technology ensures highly repeatable operator feedback for the life of the controller -- up to 10 million cycles and a MTBF greater than 10 years of operation.
Learn more.
---
Just out! THK introduces TRK Robot Hand assembly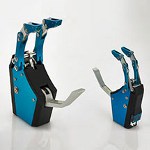 THK America is known for being a leader in linear motion guides, but now they're stretching their reach into the end-effector market. The Schaumburg, IL-based company has just added the Type TRX Robot Hand to its quality lineup.
Learn more.
---
Why convert hydraulics to electric high-force linear actuators?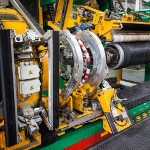 Got a high-force linear motion application? If you do, chances are the first product solution to come to mind is hydraulic cylinders. They're relatively inexpensive (if you already have a hydraulic power unit in place), compact (if the HPU is somewhere else), and power-dense. But what about the disadvantages -- leaks, operation and maintenance costs, and more? It's possible to convert an application from hydraulic to electric linear motion easily, and Tolomatic even gives you step-by-step instructions.
Read the Tolomatic blog. Really useful!
---
Cobot is 'golden arm' for new pipe welding system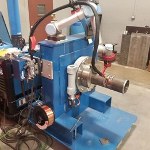 ARC Specialties has solved the challenge of creating repeatable, full-penetration pipe welds by combining artificial intelligence (AI), advanced sensors, and the UR5 collaborative robot from Universal Robots. The unique Artificial Intelligence Pipe Welding System debuted at the Offshore Technology Conference in Houston at the beginning of May.
Read the full article.
---
Piezo motor technology: Questions answered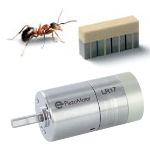 There's a new kind of piezo motor in town, and it's got legs. The Piezo LEGS rotational motor is a direct-friction drive that provides precise motion without any mechanical play or backlash. There are no gears or transmission, so changing the direction of the motion will introduce no error. The simple Piezo LEGS motor is also extremely stiff. Find out the answers to frequently asked questions about this exciting motor technology available from the FAULHABER Group.
Read the full article.
---
Get a linear shafting sample on the house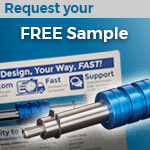 Lee Linear has produced world-class, linear motion components and linear shafting for over 40 years. With the ability to manufacture custom shafting -- threading, diameter reduction, keyways, flats, plating, and more -- to required standards in a short amount of time, Lee Linear is able to fulfill orders on time, eliminating downtime and increasing profits for its customers.
Request your sample.
---
Small but mighty: Mini plasma-powered satellite may launch new era in space exploration
By John Greenwald, Princeton Plasma Physics Laboratory
A tiny satellite under construction at the U.S. Department of Energy's (DOE) Princeton Plasma Physics Laboratory (PPPL) could open new horizons in space exploration. Princeton University students are building the device, called a cubic satellite, or CubeSat, as a testbed for a miniaturized rocket thruster with unique capabilities being developed at PPPL.
The thruster, whose development is led by PPPL physicist Yevgeny Raitses, holds the promise of increased flexibility for the mission of CubeSats, more than 1,000 of which have been launched by universities, research centers, and commercial interests around the world. The proposed propulsion device -- powered by plasma -- could raise and lower the orbits of CubeSats circling the Earth, a capability not broadly available to small spacecraft today, and would hold the potential for exploration of deep space. "Essentially, we will be able to use these miniature thrusters for many missions," Raitses said.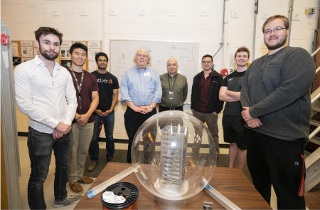 Princeton graduate and undergraduate students gather with advisors around a model of the CubeSat chassis inside a sphere. From left: Jacob Simmonds; Jerry Xiang; Nirbhav Chopra; Daniel Marlow, Evans Crawford 1911 Professor of Physics at Princeton; Yevgeny Raitses, PPPL physicist; Seth Freeman; Matthew Bledsoe; Daniel Piatek (Seton Hall student). [Photo by Elle Starkman/Office of Communications]
Hundreds of micropowered CubeSats
One example: Hundreds of such micropowered CubeSats are envisioned by physicist Masaaki Yamada, principal investigator of the PPPL Magnetic Reconnection Experiment (MRX), which studies magnetic reconnection -- the separation and explosive snapping together of magnetic field lines in plasma that triggers auroras, solar flares, and geomagnetic storms that can disrupt cell phone service and power grids on Earth. Such CubeSat fleets could capture in fine detail the reconnection process in the magnetosphere, the magnetic field that surrounds the Earth, Yamada said.
The miniaturized engine scales down a cylindrical thruster with a high volume-to-surface geometry developed at the PPPL Hall Thruster Experiment (HTX), which Raitses leads and launched with PPPL physicist Nat Fisch in 1999. The experiment investigates the use of plasma -- the state of matter composed of free-floating electrons and atomic nuclei, or ions -- for space propulsion.
Key advantage
A key advantage of the miniaturized cylindrical Hall thruster will be its ability to produce a higher density of rocket thrust than existing plasma thrusters used for most CubeSats now orbiting Earth. The miniaturized thruster can achieve both increased density and a high specific impulse -- the technical term for how efficiently a rocket burns fuel -- that will be many times greater than that produced by chemical rockets and cold-gas thrusters typically used on small satellites.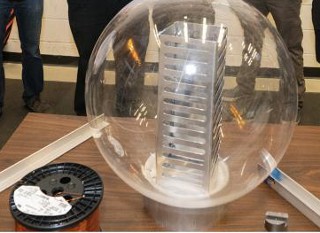 High specific-impulse thrusters use much less fuel and can lengthen satellite missions, making them more cost effective. Equally important is the fact that a high specific impulse can produce a large enough increase in a satellite's momentum to enable the spacecraft to change orbits -- a feature not available on currently orbiting CubeSats. Finally, high thrust density will enable satellites to accomplish complex fuel-optimized orbits in a reasonable time.
These capabilities provide many benefits. For example, a CubeSat might descend to lower orbit to track hurricanes or monitor shoreline changes and return to a higher orbit where the drag force on a satellite is weaker, requiring less fuel for propulsion.
The roughly foot-long CubeSat, which Princeton has dubbed a "TigerSat," consists of three nearly 4-in. aluminum cubes stacked vertically together. Sensors, batteries, radio equipment, and other instruments will fill the CubeSat, with a miniaturized thruster roughly equal in diameter to two U.S. quarters housed at either end. A thruster will fire to change orbits when the satellite passes the Earth's equator.
Mechanical and aerospace engineering students
Building the CubeSat are some 10 Princeton graduate and undergraduate students in the Department of Mechanical and Aerospace Engineering, with Daniel Marlow, the Evans Crawford 1911 Professor of Physics, serving as faculty advisor. Undergraduates include Andrew Redd, who leads design and construction of the CubeSat, and Seth Freeman, who is working full time on the project over the summer. Working on thruster development is Jacob Simmonds, a third-year graduate engineering student, whose thesis advisors are Raitses and Yamada. "This project began as a prototype of Yamada's CubeSat and has evolved into its own project as a testbed for the plasma thruster," Simmonds said.
Also under construction at PPPL is a test facility designed to simulate key aspects of the CubeSat's operation. Undergraduates working on their own time are building the satellite and this facility. "To the extent that students and their advisors have identified well-defined questions associated with the TigerSat project, they can get independent work credit," Marlow said. "Also, some problem sets in the introductory physics course for undergraduates that I teach have questions related to the TigerSat flight plan."
Simmonds, while working on the thruster, is drafting a proposal for NASA's Cubic Satellite Launch Initiative (CSLI) that is due in November. Projects selected by the initiative, which promotes public-private technology partnerships and low-cost technology development, have launch costs covered on commercial and NASA vehicles. Plans call for a TigerSat launch in the fall of 2021.
Value of collaboration
For Raitses, this project demonstrates the value of Princeton engineering students collaborating with PPPL and of University faculty cooperating with the Laboratory. "This is something that is mutually beneficial," he said, "and something that we want to encourage."
Support for the thruster work comes from Laboratory Directed Research and Development (LDRD) funds made available through the DOE Office of Science (FES). Basic science aspects of the novel thruster based on low-temperature magnetized plasma is supported by the Air Force Office of Scientific Research. Princeton University supports construction of the CubeSat and the test facility.
PPPL, on Princeton University's Forrestal Campus in Plainsboro, N.J., is devoted to creating new knowledge about the physics of plasmas -- ultra-hot, charged gases -- and to developing practical solutions for the creation of fusion energy. The Laboratory is managed by the University for the U.S. Department of Energy's Office of Science, which is the single largest supporter of basic research in the physical sciences in the United States and is working to address some of the most pressing challenges of our time.
Published August 2019
Rate this article