EV automotive fuse safely interrupts up to 1000 VDC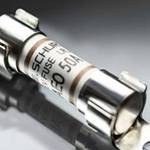 High voltages and high currents occur in electric vehicles in numerous places. Their battery packs with several thousand rechargeable cells store enormous amounts of energy in order to provide for the demands of drive performance and distance, with the shortest possible charging times. Such applications require highly reliable fuses to safeguard this power. SCHURTER has just launched its AEO 10.3 x 38 mm mini-fuse series, particularly suited for battery protection in electric vehicles. The AEO series safely interrupts short-circuits up to 20 kA at 1000/800 VDC, with a current rating range of 10 to 50 A. SCHURTER's new, patented contact welding process guarantees the highest reliability and overcomes inherent weaknesses in solder joints.
Learn more.
---
World's smallest image sensor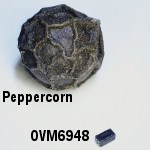 The OV6948 from OmniVision Technologies is the new winner of the Guinness World Record for "The Smallest Image Sensor Commercially Available" at a diminutive 0.575 x 0.575 mm. The company developed the tiny sensor to address the market demand for decreased invasiveness and deeper anatomical access in medical devices. OmniVision also offers the companion OVM6948 CameraCubeChip, a fully packaged, wafer-level color camera module measuring 0.65 x 0.65 mm, with a z-height of just 1.158 mm -- shown here next to a single peppercorn. The OVM6948 is the only ultra-small "chip on tip" camera with backside illumination, which provides excellent image quality and better low-light performance.
Learn more.
---
Most advanced LIDAR sensor on the market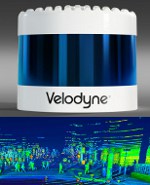 Velodyne's new Alpha Prime LIDAR sensor has a unique combination of breakthrough innovations that allows vehicles to navigate in unfamiliar and dynamic settings. It uses patented surround-view technology to deliver the combined highest performance specifications for the autonomous mobility industry in one sensor -- with reflectivity returns from over 4.8 million points per sec. Velodyne says this sensor is an unmatched solution in perception, field-of-view, and range for autonomous markets such as transportation, trucking, and robotics. It also offers a new level of power efficiency. Available now for orders and delivery.
Learn more.
---
Voice capture at 4x the distance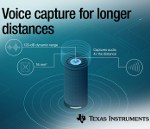 Texas Instruments has just introduced a new audio analog-to-digital converter (ADC) capable of capturing clear audio up to four times farther away than competing devices. The TLV320ADC5140 is the industry's smallest quad-channel audio ADC with this level of performance. The device is part of a new family of three TI Burr-Brown audio ADCs that enable low-distortion audio recordings in loud environments, along with far-field, high-fidelity recordings in any environment. Applications include high-end smart speakers, sound bars, wireless speakers, high-def TVs, IP network cameras, teleconferencing systems, and smart appliances.
Learn more.
---
Powerful LED curing lamp for tight work spaces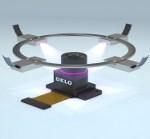 DELO now offers a compact LED curing lamp for use in industrial applications with limited work space. The powerful DELOLUX 503 is designed to bond small surfaces, like cameras used in autonomous cars, within seconds on serial production lines. The new lamp directs light diagonally downward so that it does not need to be installed at level with the components that need to be bonded. This gives more moving space to axes or grippers and helps to integrate complex systems. The UV lamp ensures high process reliability through continuous intensity control, internal control, and monitoring of important parameters like LED temperature. Up to four LED heads can be controlled by DELO controllers or by an external PLC, allowing the adhesive to be evenly exposed from several angles.
Learn more.
---
Cool Tools: Videoscopes with tons of options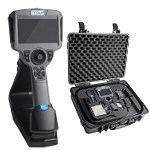 A new line of industrial videoscopes from Titian Tool Supply features inter-changeable video probes that allow for the use of different insertion tube lengths and diameters with one video unit. There are 5 different models with 3 diameter sizes and 3 lengths available. TVG-PRO Series videoscopes feature a 5-in. LCD monitor and have either 180° or full 360° articulation. They are designed for on-site inspections and maintenance on a wide range of transportation equipment, including aviation, locomotive, and gas and diesel engines; machinery, manufacturing, and metalworking, including inspections of castings and cavities; pipeline and container manufacturing; as well as power generation.
Learn more.
---
Bend the rules of lighting design: Cut and form LED sheets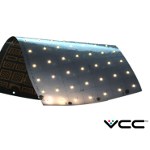 VCC is bending the rules of lighting design with its new VentoFlex tiles. The VentoFlex modular lighting system opens up countless ways for architects and lighting designers to make an impact. Available in 12-in. x 12-in. sheets, these innovative LED tiles can be cut and formed around any design element, including rounded corners and tight spaces, without taking up much room at all -- just 0.15 in. (3.81 mm). A pair of scissors is the only tool required to cut VentoFlex tiles to the size and shape you desire. Ten or 15 tiles can be linked together to one driver and dimmer to create thousands of square inches of versatile lighting power! This product is in the running for the 2019 Elektra Awards LED Product of the Year in Europe.
Learn more about this new and exciting lighting technology.
---
Compact hydraulic/pneumatic position sensors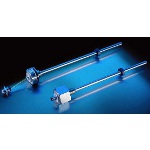 Novotechnik's TM1 Series of position sensors are designed for use in hydraulic and pneumatic cylinders -- especially in tight-space applications. They are based on magnetostrictive technology and are available in screw flange or plug-in flange models. A ring-shaped magnetic marker moves up and down the sensor's shaft for touchless operation. Specs include stroke lengths from 50 to 2,000 mm (1.9 to 78.7 in.) and accuracy to +/-0.04 percent.
Learn more.
---
Spark-proof EC fans use 50% less energy
Orion Fans has extended its electronically commutated (EC) fan product offering to include a 254-mm IP68-ATEX-rated version for waterproof and harsh environment applications. The low-power OA254EC-ATEX Series EC fan combines energy conservation with maximum protection for power-hungry applications involving explosive atmospheres or flammable gases. It delivers air flows of 500 to 830 CFM. EC fans can be used in most any AC fan application with the added benefit of power savings of up to 50 percent. EC fans often enable customers to meet energy-consumption requirements from agencies like ENERGY STAR. Ideal as a drop-in replacement for AC fans, the larger OA254 IP68-ATEX Series EC fans are suited for oil & gas applications including oil rig and oil refining equipment. The fans are also used in walk-in refrigeration systems, commercial display coolers, EV and charging systems, servers, food services equipment, and other applications.
Learn more.
---
Protect vulnerable electronics from voltage transients and lightning events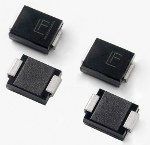 Littelfuse has released a new series of higher surge TVS Diode products in a DO-214AB package. The 8.0SMDJ series is optimized to protect sensitive electronic equipment from transient voltage induced by lightning and other voltage events. Because it combines up to 8,000 W of peak pulse power dissipation in a compact DO-214AB SMC package, the 8.0SMDJ series offers circuit designers a high-surge, space-saving circuit protection solution that can simplify printed circuit board design and improve reliability significantly. Typical markets and applications include: home appliances, consumer electronics, industrial, data centers, AC and DC protection, and PoE protection.
Learn more.
---
No-wear flat magnetic angle sensors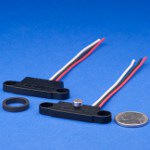 Novotechnik U.S. has just introduced the Vert-X 05E Series of magnetic rotary position sensors with compact, flat housing. Interfaces include analog, SPI, and incremental. The series is available in single and redundant versions. The sensors are touchless magnetic angle sensors with a permanent magnet that can be secured to an application's rotating shaft, so there is no direct mechanical linkage between the shaft and the measuring system -- and therefore no wear. Key specifications for Vert-X 05E include 5-mm profile, 0 to 360° measurement range, repeatability of 0.1° or better, and maximum hysteresis of 0.1°. Sample rate is up to 5 kHz, and its active measurement region extends to within 6 mm from edge of housing.
Learn more.
---
High-speed image sensor for AI, drones, robotics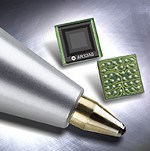 ON Semiconductor has introduced the ARX3A0 digital image sensor with 0.3 Mega-Pixel (MP) resolution in a 1:1 aspect ratio. With up to 360 frames per second (fps) capture rate, it can perform like a global shutter in many conditions but with the size, performance, and responsivity benefits of being a Back-Side Illuminated (BSI) rolling shutter sensor. With its small size, square format, ultra-low-power requirement, and high frame rate, the ARX3A0 is particularly suitable for emerging Machine Vision, Artificial Intelligence, IOT, drones, robotics, and AR/VR applications, as well as small supplemental security cameras.
Learn more.
---
Can electrical resistance be used to predict shielding effectiveness?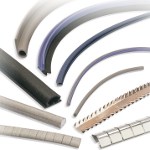 Conductive elastomer EMI shielding gaskets use metallic particles to create a conductive path and shield enclosures from electromagnetic radiation. Gaskets with silver particles, which are very conductive, often outperform gaskets with graphite particles. However, this is not always the case. A common misconception is that a measurement of DC resistivity can directly predict shielding effectiveness. Ben Nudelman, market development engineer at Parker, explains why.
Read this informative Parker Hannifin blog.
---
Standard and custom process heaters -- fast delivery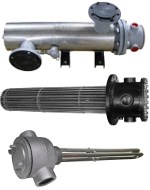 Durex builds standard as well as custom heaters for a host of applications and industries, including power plants, oil and gas, chemical and petrochemical, pharmaceutical, plastics, packaging, heat treating, cleaning and plating, aerospace, semiconductor processing, and food service equipment. The Cary, IL, company now offers screw plug, flange immersion, and circulation heaters with fast-turn shipping capabilities. Durex uses product platforms to provide standard "catalog" type designs as well as customized designs in the same fast turnaround window. Plug heaters ship in 3 to 5 days. Flange heaters ship in 5 to 7 days. Circulation heaters in 9 to 12 days. No upcharge for customized units or "non-standard" configurations.
Learn more.
---
Cool Tools: Fluke revamps industrial thermal camera line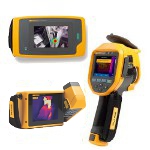 Fluke has retooled its entire line of industrial thermal cameras with more premium features packed into every model, providing higher value for the customer and allowing the company to reduce the number of cameras it offers to simplify the buying process. From an industrial pocket thermal imager to a line-up of 640 x 480 resolution infrared cameras, these tools take professional inspections to the next level.
Read the full article.
---
New way to make micro sensors and control MEMS may lead to better, cheaper microphones, gyroscopes, pressure sensors
Researchers at Binghamton University, State University of New York have found a way to improve the performance of tiny sensors that could have wide-reaching implications for the electronic devices we use every day.
Their study found a more reliable way to use actuators that control MEMS (microelectromechanical systems), which are microscopic devices with moving parts that are often produced in the same way as electronics.
The Binghamton team found that combining two methods for electrostatic actuation -- parallel-plate and levitation actuators -- led to a predictable linearity that neither of those systems offered on its own.
Their investigation is funded by a $480,958 grant from the National Science Foundation, mainly conducted by PhD student Mark Pallay under the supervision of principal investigator Shahrzad (Sherry) Towfighian and co-principal investigator Ronald N. Miles, associate professor and distinguished professor of mechanical engineering.
The team's findings could be revolutionary for microphone manufacturing, because with this design the signal can be boosted high enough that the background noise from the electronics is no longer an issue. More than 2 billion microphones are made around the world each year, and that number is growing as more devices feature vocal interaction.
"The electronic noise is really hard to get rid of," Miles said. "You hear this hiss in the background. When you make really small microphones -- which is what we want to do -- the noise is a bigger and bigger issue. It's more and more of a challenge. This is one path toward avoiding that and getting the noise down."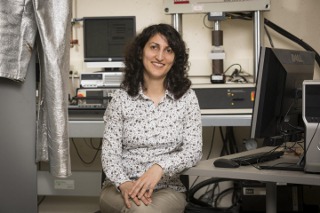 Shahrzad Towfighian is an associate professor of mechanical engineering at Binghamton University. [Credit: Binghamton University, State University of New York]
Towfighian, who has studied MEMS extensively, explained that actuators in the micro devices are normally just two plates with a gap between. Those plates close, and the device activates when it receives a certain voltage.
It is difficult to fine-tune that kind of actuator, but adding two electrodes on the sides of the plates creates a levitation effect that simultaneously pushes them apart and allows better control over the device.
"Combining the two systems, we can get rid of nonlinearity," she said. "If you give it some voltage, it stands at some distance and maintains that over a large range of motion."
Miles said that predictability is crucial when building actuators for microphones, which have been the focus of his recent research.
"In a sensor, life is much easier if it moves one unit and the output voltage increases in one unit, or something in proportion as you go," he said. "In an actuator, you're trying to push things, so if you're giving it twice as much voltage, you want it to go twice as far and not four times as far.
"It's like if you had a ruler where the inches varied in length as you moved up. With capacitive sensors, you have these strange variations with sensitivity and output as you move up the scale. That's a massive headache."
When the Binghamton researchers began their study, they didn't know that combining the two ideas would provide as desirable an outcome as it has.
"The magic -- the dumb luck -- is that the nonlinearities cancel each other out," Miles said. "They tend to be in opposite directions. We're able to show that over a significant range, they're linear.
"By having both of these electrode configurations, it gives you more knobs to turn and more adjustments you can make with applying voltages to different electrodes. With a simple parallel plate, you have one voltage across them and you don't have much design freedom. With this, there are more electrodes and you get much more control over the design."
In addition to the possibilities for microphone manufacture -- making them smaller, better, and cheaper -- Towfighian sees how the new actuator design can be used in her line of study, which includes gyroscopes, accelerometers, pressure sensors, and other kinds of switches.
"We showed this concept at a basic level, but it has wide applications," she said. "It can improve the function of many devices, so the impact could be huge."
The study, titled "Merging parallel-plate and levitation actuators to enable linearity and tunability in electrostatic MEMS," was published in The Journal of Applied Physics.
Source: Binghamton University, State University of New York
Published September 2019
Rate this article