How to select gearmotors for conveyor applications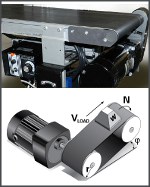 If you need to find a gearmotor for your belt-driven conveyor application, Bodine Electric has you covered. This informative and thorough post provides step-by-step instructions for sizing and selection -- complete with examples. Learn about reflected acceleration torque, reflected breakaway torque, and a whole lot more. Also learn the basic set of questions to answer to determine what type of motor will work best.
Read the Bodine blog.
---
Marathon stainless steel and jet pump motors from AutomationDirect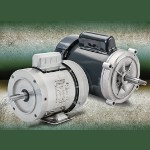 New Marathon Powerwash SXT washdown duty motors are designed for use in food and beverage processing and other washdown environments. The all stainless steel, totally enclosed motors are available in single and three-phase. C-face with rigid base (footed) and C-face footless mounting options are available. Jet pump motors are commonly used in commercial and industrial water treatment and processing applications to power centrifugal and hydraulic pumps. Marathon jet pump motors are available in single and three-phase, and in TEFC and Open Drip Proof (ODP) designs. The ODP design allows air to circulate through the motor windings for cooling, but prevents drops of liquid from falling into the motor. The increased air flow means lower operating temperatures and increased efficiency when compared to TEFC or TENV motors.
Learn more.
---
Emergency braking in power outages, long holding power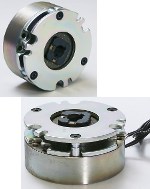 Miki Pulley's BXW Spring Actuated Electromag-netic Brakes utilize internal compression springs to provide power-off, fail-safe braking. The primary moving part in this robust but simple brake design is the armature plate. When actuated, the brake compression springs push the armature plate into the friction disc when power is disengaged. This feature provides fail-safe braking and allows the brake to maintain position over long periods of time, thus preventing machinery from "coasting" when powered off. Brakes are ideal for small and large applications, including use with servo motors. Additional features: quiet operation, high holding torque, space savings, long service life, stable and reliable braking power, and manual release mechanisms.
Learn more.
---
First subsea actuator to have advantages of both electro-mechanical and electro-hydraulic systems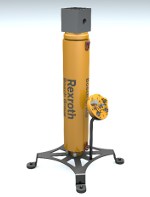 The Subsea Valve Actuator (SVA) from Rexroth is an electro-mechanical actuator with hydrostatic drive designed to complete the range of traditional hydraulic and all-electric subsea actuators for subsea control and production systems. It achieves the same safety performance as hydraulic actuators, but with much better reliability. It also provides a simple electric interface similar to those in all-electric actuators (without umbilicals for hydraulic fluid power). The SVA is compatible with Industry 4.0 technology and includes integrated sensors for monitoring position, pressure, temperature, and more. Operates up to a depth of 3,000 m.
Learn more.
---
Engineer's Toolbox:
Microstepping's myths and realities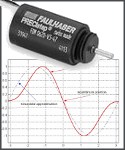 There are compelling reasons other than high resolution for microstepping, but there are also real tradeoffs to consider. Engineers at FAULHABER MICROMO discuss the drawbacks and benefits of microstepping technologies -- and how to make the most of them for your given application.
Read the full article.
---
Next-gen angle encoder for motion feedback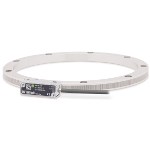 RSF Elektronik is now offering a next-generation kit angle encoder for motion feedback best suited for applications in robotics, semiconductor, medical, and machine tool. Offered through parent company Heidenhain in North America, this new encoder is available in both absolute (MCR 15) and incremental (MSR 15) versions. Both models consist of an optical scanning unit and a separate full circle drum with the graduation on the outer diameter. The new encoders are available in several sizes of drums that come with accuracies starting at 20 arc sec with up to 10 arc sec, depending upon diameter. Resolutions are also diameter-based and range from 22 to 25 bits for the absolute versions. The resolutions of the incremental versions start at 4,740 lines per 360 degrees all the way up to 27,540 for the largest diameter.
Learn more.
---
New Orbex brushless servo motors enhance efficiency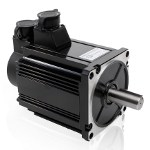 The Orbex Group, a leading manufacturer of high-performance electric motors and slip rings, now offers brushless servo motors that combine high torque, low inertia, and various customizable options to improve efficiency in dynamic servo-driven applications. Available in a range of frame sizes (60 to 176 mm), NdFeB-based brushless servo motors include incremental encoders for position feedback and electrical commutation -- enhancing motor efficiency, minimizing maintenance requirements, and increasing throughput. Customizable windings make it easy to meet your technical requirements, while integrated gear reducers reduce package size and lower overall costs. Other customizable features include brakes, additional feedback options, connectors, and custom mounting options.
Learn more.
---
New OnRobot converter kit unifies cobot tool connections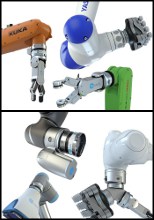 In a bid to make robotic applications faster and easier to implement, OnRobot has created a unified mechanical and electrical interface for any OnRobot end-of-arm tooling (EoAT). The innovation dramatically simplifies automation. The Digital I/O Converter Kit allows OnRobot end-of-arm tools to work with a full range of leading collaborative and light industrial robot brands including Universal Robots, KUKA, FANUC, Doosan, Techman, Yaskawa, Mitsubishi, Kawasaki, and Nachi. Use one tool easily on two different cobots, or even use two tools in one cycle.
Read the full article.
---
Low-profile rotary positioner with high-force torque motor is mountable on 6-axis hexapod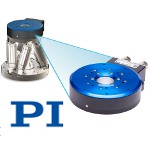 Nanoposition-ing leader PI has expanded its PIMag series of high-dynamics linear and rotary positioning systems with a new high-performance rotation stage. The low-profile (1.1-in.) V-610 is equipped with a high-force 3-phase torque motor with direct incremental encoder for position feedback and closed-loop operation. Direct drive torque motors do not require gears and mechanical components, eliminating friction in the drive train. Despite its compact size, the ironless motor provides a peak torque of 1.2 Nm (10.6 in.-lbf). Ironless motors provide smoother running with better velocity control due to the lack of cogging effects caused by permanent magnets. Can be combined with PI's H-811 hexapod 6DOF parallel positioner, adding unlimited rotation to this compact 6-axis alignment system.
Learn more.
---
Custom gearmotor lifts up to 10,000-lb boat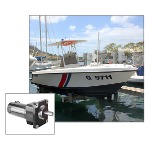 A boat lift manufacturer contacted the engineering team at Bodine Electric Co. to assist in the development of a new high load-capacity vertical boat lift. The application demanded that the gearmotor be suitable for long-term use in a harsh waterfront environment, deliver high starting and running torque, positive locking capability when not running, and be powered by the 24-VDC battery/solar cell systems included on the lifts. The gearmotor efficiency also had to be high to permit many lift cycles from the charged batteries.
Read the Bodine application blog.
---
High-force voice coil motor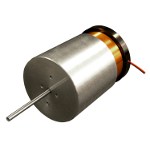 Moticont has added a new high-force voice coil motor to its GVCM family of voice coil motors with an internal shaft and bearing. The GVCM-095-089-03 Linear Voice Coil Motor (also known as linear DC motor) features a continuous force of 63.9 lb (284.1 N) and 202.0 lb (898.4 N) of peak force at a 10 percent duty cycle. Guided by a long-life plain bearing that can allow side loads up to 3 lb (13.5 N), the precision-ground 0.236-in. (6-mm) diameter shaft with an internal thread has a stroke length of 0.5 in. (12.7 mm). Motion is quiet, efficient, smooth, and cog-free. Ideal for clamping, work holding, sorting equipment, assembly, medical devices, antenna positioning, slide actuators, shutters, doors, valve actuation, wafer handling, and optical focusing.
Learn more.
---
High-precision vertical elevator stage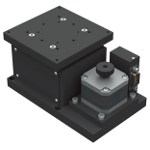 Optimal Engineering Systems (OES) has released two new high-precision Z-Axis Elevator Stages. The AZV9010 and the AZV9020 Motorized Z-Axis Linear Positioning Stages have vertical travels of 10 mm and 20 mm, respectively. The vertical motion of each Z-Axis Stage is driven by an 8-mm-diameter ball screw with a 1-mm lead, and guided by cross roller bearings. Very high resolutions of 0.1 micron or 0.05 microns with 10/20 micro-steps per step motor drive, and repeatability of +/- 0.5 microns, make these two Z-Axis Stages ideal for microscopy, inspection, metrology, positioning, photonics, sampling, and laser drilling and machining.
Learn more.
---
Ideal choice for running two linear motion systems in parallel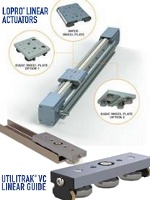 Bishop-Wisecarver invented the DualVee guide wheel over 50 years ago in four sizes of carbon steel as a component-based problem solver for harsh, debris-laden environments. Now it's 2019, and they offer product options that include UtiliTrak linear guides and LoPro linear actuators to complete actuated system solutions. LoPro Linear Actuators excel in high-speed, long-length, and dirty environments. UtiliTrak is constructed with DualVee Motion Technology in vee and vee/crown designs, and using MadeWell Crown Rollers it is perfect for commercial applications in need of a compact, easy-to-install, and low-maintenance solution. Both are available as part of the Bishop-Wisecarver QuickShip Program (ships from the facility within 3 business days).
Learn more.
---
Compact stepper motor with high torque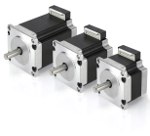 With the SCA5618, Nanotec now offers a stepper motor with 15 to 30 percent more torque than comparable motors with a 56-mm flange (NEMA 23). Thanks to an improved stator geometry and optimized magnetic materials, the rotor inertia is no higher than that of the predecessor model. The SCA5618 is available in three lengths and with two different windings. Depending on length, the holding torque of this stepper motor is 0.6 to 2.3 Ncm; it has a resolution of 1.8 deg. For a higher resolution, the SCA5618 can also be combined with an optical or magnetic encoder. The integrated connector makes it easy to connect customized cables or replace an existing motor.
Learn more.
---
Cobots load and unload Haas CNC machines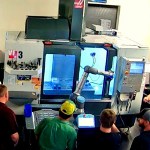 Loading and unloading CNC machines is becoming one of the most popular applications for collaborative robots as manufacturers face significant difficulties in staffing this tedious task. A new distributor agreement between Universal Robots and Phillips Corp. aims to further the rapid deployment of cobots with Haas CNC machines, offering machine shops a safe, user-friendly solution to optimize spindle uptime. Haas provides the best-selling CNC machines in the Western Hemisphere, and Phillips is the world's largest Haas Factory Outlet. "Having an expensive machine sit idle and missing out on orders due to lack of staffing is every manufacturer's nightmare," says Stu Shepherd, regional sales director for the Americas division of Universal Robots, which has already sold more than 1,000 UR cobots for tending Haas CNC machines.
Watch cobots tending CNC machines and learn more about this partnership.
---
Remote-controlled unmanned surface vehicle helps U.S. Navy search Bahamas after Hurricane Dorian
In the first week of September, a day after Hurricane Dorian finished lashing Abaco Island in the Bahamas, a chaotic scene greeted the first disaster responders arriving at the island's Marsh Harbor.
On land, homes sat in ruins, palm trees lay uprooted, and yachts and sailboats were strewn about like toys. In the harbor itself, vessels were capsized or sunk. Telephone poles, cars, house roofs, and other underwater debris blocked the disaster-relief ship from sailing to the main pier.
But the responders had a tool to get ashore so they could provide medical care and supplies to stricken islanders. It was EMILY the robotic lifeguard -- officially known as the Emergency Integrated Lifesaving Lanyard -- a remote-controlled unmanned surface vehicle that has proven its mettle saving imperiled swimmers during natural disasters and humanitarian crises.
Equipped with high-definition sonar and sophisticated sensors, EMILY revealed underwater debris that posed navigational hazards. It also used specialized software to enable disaster responders to map a safe passage through Marsh Harbor. Within two hours, the relief ship was ashore distributing much-needed supplies. Throughout the following week, EMILY mapped more channels in other storm-ravaged areas of the Bahamas.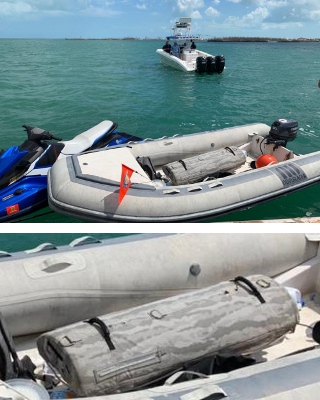 Meet EMILY -- officially known as the Emergency Integrated Lifesaving Lanyard (pictured in the RIB Boat). This remote-controlled unmanned surface vehicle was recently used in the Bahamas after Hurricane Dorian to help disaster responders deliver medicine and other needed supplies. [Photo courtesy: Hydronalix]
EMILY's inventor is Tony Mulligan, CEO and president of Hydronalix (check this company out, it's neat), a maritime robotics company. The vehicle is the successful culmination of a collaboration among Mulligan, the Office of Naval Research (ONR), and the Navy's Small Business Innovation Research (SBIR) and Small Business Technology Transfer (STTR) programs. SBIR provides the Navy with innovative advances in technology created by small firms, while STTR transitions products developed by both small businesses and research institutions to the Navy and Marine Corps.
The technology in EMILY took a long road to maturity -- over 18 years -- advancing from marine mammal research to unmanned aerial vehicles (UAVs) in Iraq to life-saving rescue innovation.
"EMILY's 18-year progression is inspiring," said SBIR Director Bob Smith. "From whale-monitoring efforts, to supporting warfighters in harm's way, to impacting global humanitarian efforts, EMILY is a classic 'overnight success story' years in the making."
EMILY's roots stretch back to 2001, when Mulligan received ONR and SBIR-STTR funding to develop a computer- and sensor-operated UAV to monitor whale movements during Navy sonar testing. However, when the wars in Afghanistan and Iraq erupted, Mulligan improved and transformed his vehicles into Silver Fox UAVs in 2003, which helped U.S. troops conduct aerial surveillance and reconnaissance missions.
In 2011, Mulligan received Navy funding to disassemble existing Silver Foxes and use their components -- such as motor parts and navigation computers -- to build unmanned surface vehicles for hurricane tracking, tsunami response, and search-and-rescue missions. This technology was used to develop EMILY.
Mulligan and his business partner, Robert Lautrup (executive vice president of Hydronalix and EMILY co-inventor), still work with ONR and SBIR-STTR to develop components to improve EMILY and design spinoffs focusing on search and rescue, law enforcement, water sampling, and Navy mine counter-measure missions.
Mulligan has provided more than 400 EMILY vehicles to navies, coast guards, and search-and-rescue units in the United States and other countries including Thailand, South Korea, Indonesia, Singapore, the United Kingdom, France, Mongolia, Brazil, Mexico, and Greece.
EMILY is one of many successful partnerships involving small businesses, ONR, and Navy SBIR-STTR. To solicit additional small business partners, SBIR recently announced an expanded funding opportunity in a Broad Agency Announcement (BAA), which is a request for scientific or research proposals in areas of naval interest. Learn more at www.navysbir.com/.
Source: Office of Naval Research
Published October 2019
Rate this article