New electrically conductive flame-retardant plastic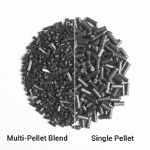 Electrically conductive plastics continue to provide reliable EMI shielding in a wide variety of applications. Thermoplastics provide a good alternative to bulky metal enclosures due to their superior weight, EMI shielding capabilities, and simpler manufacturing process. However, before purchasing any thermoplastic, it is important to consider performance capabilities. Paige Ludl from the Chomerics Division at Parker runs through the basics of what you need to know about these materials.
Read this informative Parker blog.
---
Speed up design of bearing arrangements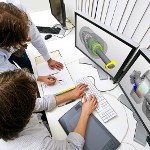 Designers can now design complex bearing arrangements more quickly and easily, thanks to simplified software called SimPro Quick. This in-house software from SKF has the same core as more advanced products such as SimPro Expert and SimPro Spindle -- and retains many of their advanced features -- but is far easier to use. SimPro Quick is a single-shaft bearing simulation tool that was developed to quickly evaluate the design of bearing arrangements and their field performance based on relevant application requirements and conditions. This software also ties in with SKF's new online Roller Bearing Catalog, which is a live database of products.
Learn more.
---
Specialty hinges expand design possibilities for opening and closing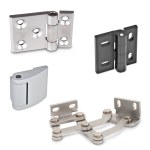 You might think that when it comes to opening and closing, all the possibilities of hinges have already been exhausted. Not even close. From the simplest designs to multi-joint hinges with complex kinematics, the Winco selection has everything needed for superior door and flap solutions -- including extra functions. Examples include hinges with 180° range of motion for heavy-duty applications, multiple-joint hinges, hinges with variable friction, locking and adjustable hinges, and units with an integrated spring that ensures independent return of the hinge. Huge selection available.
Learn more.
---
A new way to tie one on

The 4ZERO Cuff is the most advanced flexible polymer hand-cuff on the market and is used by select police and law enforcement agencies that demand the strongest and most durable product available. Now, the same material used to manufacture the 4ZERO Cuff is available from Micro Plastics in the line of extremely durable 4ZERO Cable Ties. The ties are designed to perform and hold their strength in extremely dry environments and in temp extremes from -30 to 400 F -- conditions that can leave normal nylon cable ties brittle and broken. Available sizes include: 8 in. (50 lb), 14 1/2 in. (50 lb), and 11 in. (120 lb).
Learn more.
---
Smalley industries served

From aerospace to automotive, medical, off-highway, oil & gas to industrial, Smalley has built a reputation for unsurpassed quality and an expert, collaborative engineering team. They carry solutions for all industries, from small to large diameters, light to heavy-duty parts, and exotic materials. Their retaining rings and wave springs provide performance and quality for any industry.
Learn more.
---
How to choose the best online CNC machine shop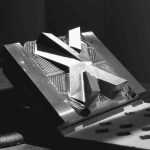 Sourcing professionals, engineers, and designers alike need to have parts produced through technologies like CNC machining, turning, and milling. In development, the requirements may be loose to get a product validated. And in production, the expectation is that parts are made consistently, on time, and to specifications. But it is sometimes difficult to navigate through all the Internet searches and buzzwords to determine the best fit for your needs. Greg Paulsen from Xometry provides a useful guide on what to look for when selecting a machine shop.
Read the Xometry blog.
---
Hinge Selection Guide online app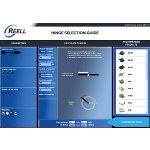 The super-helpful Hinge Selection Guide online app from Reell Precision Manufacturing introduces a user-friendly resource to pinpoint ideal hinge and torque insert product solutions matching application requirements. This easily accessible tool opens an interactive window to designate an application's parameters, calculate the torque and rotational angle required for the hinge or torque insert, and ultimately identify the Reell products best suited for the job. The tool also enables users to access Reell's standard catalog products.
Click here to learn more.
---
How to choose an anti-backlash lead screw nut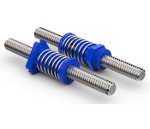 Lead screws are the norm for today's linear motion applications, but despite their advantages over competing technologies (i.e., affordability, precision, the ability to design with freedom, reduced maintenance, etc.), lead screw systems do have a certain amount of "play." An important design consideration for utilizing a lead screw is the amount of backlash your system can tolerate and still achieve its goal. The big question is: Which lead screw nut will help you in the battle against backlash? By Christopher Nook, Helix Linear Technologies
Read this informative blog.
---
First semi-transparent polyamide good for car interior lighting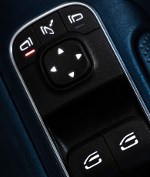 The BASF product Ultramid Vision has been used in a car interior for the first time. The semi-crystalline polyamide is employed in the window regulator module of a German automobile manufacturer. Compared to opaque standard polyamides, Ultramid Vision displays very high light transmission with low light scattering, which makes it a perfect choice for use with the illuminated symbols on the window regulators and for setting the exterior mirrors. The requirement was to allow as much light to pass through as possible, with high color fidelity.
Learn more.
---
Spinning flare nuts eliminate loose fasteners in thin metal sheet applications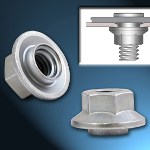 PEM SFN spinning flare nuts from Penn-Engineering become permanently captivated upon installation in thin metal sheets and, when paired with a self-clinching stud or other fixed externally threaded hardware, can eliminate all loose fasteners (including flange nuts) in attachment applications. These one-piece, flanged hex nuts additionally will spin freely in a sheet enabling quick attachment to mating hardware. Their use ultimately promotes savings in assembly time and costs.
Learn more.
---
New 3M metal bonding adhesive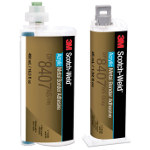 3M Scotch-Weld Metal Bonder Acrylic Adhesive DP8407NS delivers strength, corrosion resistance, and reliable performance for bonding metal without extensive surface prep. This high-strength, fast-curing structural adhesive offers high peel and durability, and maintains its strength at temps as low as -40 F. With the ability to bond active metals like steel, copper, brass, and bronze, 3M's Metal Bonder is ideal for a wide range of assemblies in metal fabrication, transportation, specialty vehicle, architectural panels, appliances, and office furniture. It bonds plastics and composites for multi-material bonding and is also well suited for bonding metals prior to powder coating and paint processes.
Click here to learn more.
---
Using CAD-CAM-CNC to produce aerospace parts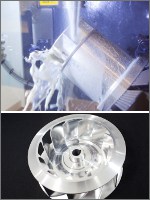 DMG MORI manufactures a wide variety of conventional chip-cutting and ultrasonic machining centers for OEMs and production job shops serving the aerospace industry. On two recent applications, DMG MORI turned to long-time business partner Siemens for assistance. By offering a total package of CAD-CAM-CNC hardware, software, and engineering services, Siemens was able to help this machine builder substantially improve every aspect of part production for a reverse thrust component for a jet engine and an aerospace impeller fan.
Read the full article.
---
SOLIDWORKS 2020 is here! TriMech recaps launch and runs through best new features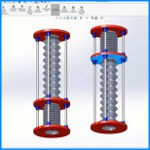 SOLIDWORKS hosted a live streaming event Sept. 18 to introduce the world to SOLIDWORKS 2020. Even if you missed it, you're in luck. The incredibly knowledgeable people over at SOLIDWORKS specialist TriMech have put together a comprehensive rundown of what the new product offers, including a video highlights reel, "Top 10 New Features" infographics, and a prep guide to learn about licensing and such. Learn about all the new "almost magic" tools and enhancements.
Read the TriMech recap blog.
---
Springs made of high-performance, engineered plastic provide tons of options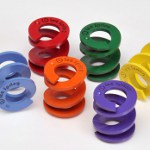 Lee Spring's LeeP plastic composite compression springs molded from Ultem resins provide critical advantages over traditional metal alloy springs. They feature high strength-to-weight ratio, no magnetic interference, high corrosion resistance, and dielectric insulation for non-conductive applications. They are stocked in a variety of standard sizes, each available in a "rainbow" of strengths formulated from different Ultem resins. They were designed to meet a wide range of spring applications where non-corroding, non-metallic, inert materials are preferred including medical, aerospace, marine, food prep, pharmaceutical, communications, and more.
Learn more.
---
Etched and formed micro metal parts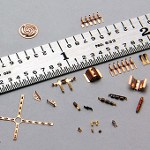 Tech-Etch combines photochemical etching with precision metal bending to create extremely small formed features in thin metal parts. State-of-the-art techniques are used to form features down to .003" in a wide variety of metals. Parts range in thickness from .0005" and up. The result is that engineers get the freedom to design features in thin metal parts with few limitations. While providing quick turnaround and low tooling costs, photo etching produces burr-free parts with intricate and complex shapes. Prototypes can be delivered in five days.
Learn more.
---
New test using microfluidics can diagnose Lyme disease in 15 minutes -- right in the doctor's office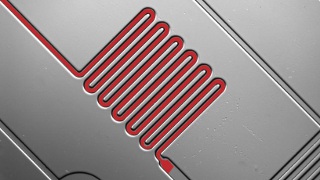 Zoomed photo of fluid moving through a small channel in the microfluidic chip.
Some 300,000 people in the U.S. are diagnosed with Lyme disease every year. Caused by Borrelia burgdorferi and transmitted by the bite of infected Ixodes ticks, the disease if left untreated can cause serious neurologic, cardiac, and/or rheumatologic complications.
Current testing for Lyme disease, called the standard two-tiered approach or the STT, involves running two complex assays (ELISA and western blot) to detect antibodies against the bacterium, requires experienced personnel in a lab, and takes a few hours to carry out and interpret. A team led by Sam Sia, professor of biomedical engineering at Columbia Engineering, has developed a rapid microfluidic test that can detect Lyme disease with similar performance as the STT in a much shorter time: 15 minutes.
"Our findings are the first to demonstrate that Lyme disease diagnosis can be carried out in a microfluidic format that can provide rapid quantitative results," says Sia, whose lab is focused on using microfluidics to build low-cost, integrated devices for performing sophisticated medical tests, together with developing new treatment modalities based on cell therapy and implantable devices. "This means that our test could easily be used directly in a doctor's office, obviating having to send the samples out to a laboratory that needs at least a couple of hours, if not days, to get test results."
Sia's group worked in collaboration with Maria Gomes-Solecki from Immuno Technologies, which found a combination of three proteins that identified antibodies specific to the B. burgdorferi bacterium in the serum, and OPKO Health, which provided microfluidic cassettes. Their findings were published Oct. 11 in the Journal of Clinical Microbiology.
VIDEO: Robotically assisted preparation of a microfluidic diagnostic chip.
The researchers evaluated 142 samples, including patients with early Lyme disease, healthy individuals from areas where Lyme disease is endemic, and those with Lyme arthritis. They first screened a set of known diagnostic Lyme disease biomarkers for their ability to detect Lyme disease infection. They then tested the top three biomarkers using a standard enzyme immunoassay, and then mChip-LD, an advanced microfluidic platform developed by Sam Sia, to test the samples.
When tested against additional samples of serum from people with Lyme disease, the multiplexed set of biomarkers was more sensitive than standard Lyme disease tests, while also exhibiting high specificity. The team found that it was better at picking up signs of Lyme disease infection in early-stage samples -- possibly because it was able to detect antibodies that peak in the first weeks after someone is infected with Lyme disease.
When the test was run on Sia's mChip-LD platform, it worked very well, showing strong potential for the development of a point-of-care test for Lyme disease. "While the assay will require more refinement and testing before it can be approved for widespread use as a test for Lyme disease, our results are very exciting," says one of the study's lead authors, Siddarth Arumugam, who is a PhD student in Sia's lab. "It will help so many people if we can develop a single, rapid, multiplexed diagnostic test to identify Lyme disease stage that can be used in doctors' offices."
Sia is the co-founder of Claros Diagnostics, whose underlying microfluidics technology is now being commercialized by OPKO Health and was recently approved by the FDA for testing for prostate cancer. He and Gomes-Solecki are now planning a more thorough clinical validation study to see whether the performance of the Lyme microfluidic platform holds up.
Source: Columbia Engineering
Published November 2019
Rate this article