Motor sizing basics: Balancing torque, speed, and inertia for optimal application performance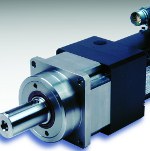 Optimizing motor selection for motion control applications can have significant performance, cost, and maintenance benefits. Select too large a motor, and you could overwhelm your actuators and incur unnecessary equipment and energy costs. Select too small a motor, and you may not achieve the torque and speed you need for effective performance. Andrew Skidmore, senior project engineer at Thomson Industries, covers what you need to know to make the proper selection for your application.
Read the Thompson article.
---
Slip rings for demanding environments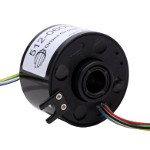 The Orbex Group now offers IP65-rated slip rings for reliable use in demanding industrial or outdoor applications. Constructed from stainless steel, the rugged 200 series resists shock, vibration, and corrosion in salty or washdown environments. It features a wide temp range (-40 to 80 C) and the longest service life of any Orbex slip rings -- up to 80 million revolutions. Units incorporate proprietary channeled brush technology, which creates multiple contact points and reduces contact forces to minimize wear in food processing, packaging, wind turbines, marine cable reels, downhole inspection equipment, and other demanding applications. Mini (300 series) and through-bore (series 500) slip rings also available.
Learn more.
---
Multi-axis gimbal system for defense
Cobham Advanced Electronic Solutions has just introduced a new multi-axis gimbal system for military applications such as counter unmanned aerial vehicles (UAV) and air defense operations that offers a great combination of reliability, precision, and affordability. The SPS-1000 is a next-gen sensor positioning system (SPS) that accurately acquires, tracks, and points a variety of sensor payloads in harsh land, sea, and airborne environments. Two key benefits of the modular design approach are integral field-replaceable control electronics (which eliminates all external cables without any sacrifice in performance) and a reconfigurable design allowing for utmost payload flexibility.
Learn more.
---
Linear motion guide with built-in encoder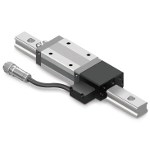 New from THK, the Type SHS-LE integrates the global standard THK Type SHS LM Guide with a THK linear encoder (linear position sensor). This combined model allows for compact machine designs that require less assembly time. THK's Type SHS Caged Ball LM Guide performs with high speed and precision. Each row of balls is arranged at a contact angle of 45°, enabling the SHS to be used in all directions. Its patented THK Caged Technology employs a synthetic resin cage with a patented curvature that cradles each ball and separates it from the next. The spaces between the rolling elements retain grease and act as a lubrication system for long-term, maintenance-free operation. Other benefits include increased speed and accuracy, decreased noise levels, low dust generation, and long life.
Learn more.
---
Compact hydraulic/pneumatic position sensors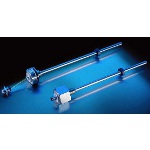 Novotechnik's TM1 Series of position sensors are designed for use in hydraulic and pneumatic cylinders -- especially in tight-space applications. They are based on magnetostrictive technology and are available in screw flange or plug-in flange models. A ring-shaped magnetic marker moves up and down the sensor's shaft for touchless operation. Specs include stroke lengths from 50 to 2,000 mm (1.9 to 78.7 in.) and accuracy to +/-0.04 percent.
Learn more.
---
6 latest trends in direct drive motor technology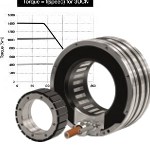 Direct drive motors have always been seen as a technological step up from standard transmission devices, with torque and linear motors being seen as the higher end alternative to gearboxes and ball screws. Although the base design has been around for a long time, motor makers are still working on fine-tuning different aspects to increase the overall performance and quality of the product. Here are six advancements that direct drive motor builders are taking to ensure the customer gets the most out of their capabilities. By Brian Zlotorzycki, Business Development Specialist, ETEL Motors
Read the full article.
---
Small DC motors for lab spectrophotometry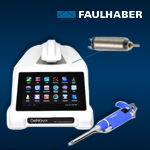 The DeNovix team needed a motion solution for their spectro-photometer application which called for intermittent short, quick motions with micron-level accuracy. After research and testing, they chose FAULHABER small DC motors configured with a high-resolution encoder and an all-plastic planetary gearhead to successfully bring their product to market.
Learn more.
---
How to select gearmotors for conveyor applications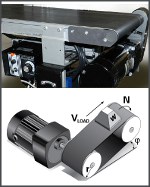 If you need to find a gearmotor for your belt-driven conveyor application, Bodine Electric has you covered. This informative and thorough post provides step-by-step instructions for sizing and selection -- complete with examples. Learn about reflected acceleration torque, reflected breakaway torque, and a whole lot more. Also learn the basic set of questions to answer to determine what type of motor will work best.
Read the Bodine blog.
---
Marathon stainless steel and jet pump motors from AutomationDirect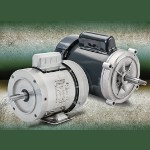 New Marathon Powerwash SXT washdown duty motors are designed for use in food and beverage processing and other washdown environments. The all stainless steel, totally enclosed motors are available in single and three-phase. C-face with rigid base (footed) and C-face footless mounting options are available. Jet pump motors are commonly used in commercial and industrial water treatment and processing applications to power centrifugal and hydraulic pumps. Marathon jet pump motors are available in single and three-phase, and in TEFC and Open Drip Proof (ODP) designs. The ODP design allows air to circulate through the motor windings for cooling, but prevents drops of liquid from falling into the motor. The increased air flow means lower operating temperatures and increased efficiency when compared to TEFC or TENV motors.
Learn more.
---
Emergency braking in power outages, long holding power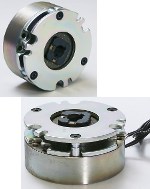 Miki Pulley's BXW Spring Actuated Electromag-netic Brakes utilize internal compression springs to provide power-off, fail-safe braking. The primary moving part in this robust but simple brake design is the armature plate. When actuated, the brake compression springs push the armature plate into the friction disc when power is disengaged. This feature provides fail-safe braking and allows the brake to maintain position over long periods of time, thus preventing machinery from "coasting" when powered off. Brakes are ideal for small and large applications, including use with servo motors. Additional features: quiet operation, high holding torque, space savings, long service life, stable and reliable braking power, and manual release mechanisms.
Learn more.
---
First subsea actuator to have advantages of both electro-mechanical and electro-hydraulic systems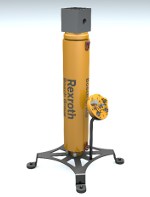 The Subsea Valve Actuator (SVA) from Rexroth is an electro-mechanical actuator with hydrostatic drive designed to complete the range of traditional hydraulic and all-electric subsea actuators for subsea control and production systems. It achieves the same safety performance as hydraulic actuators, but with much better reliability. It also provides a simple electric interface similar to those in all-electric actuators (without umbilicals for hydraulic fluid power). The SVA is compatible with Industry 4.0 technology and includes integrated sensors for monitoring position, pressure, temperature, and more. Operates up to a depth of 3,000 m.
Learn more.
---
Engineer's Toolbox:
Microstepping's myths and realities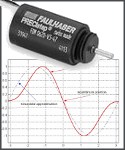 There are compelling reasons other than high resolution for microstepping, but there are also real tradeoffs to consider. Engineers at FAULHABER MICROMO discuss the drawbacks and benefits of microstepping technologies -- and how to make the most of them for your given application.
Read the full article.
---
Next-gen angle encoder for motion feedback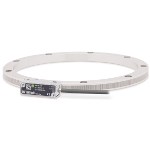 RSF Elektronik is now offering a next-generation kit angle encoder for motion feedback best suited for applications in robotics, semiconductor, medical, and machine tool. Offered through parent company Heidenhain in North America, this new encoder is available in both absolute (MCR 15) and incremental (MSR 15) versions. Both models consist of an optical scanning unit and a separate full circle drum with the graduation on the outer diameter. The new encoders are available in several sizes of drums that come with accuracies starting at 20 arc sec with up to 10 arc sec, depending upon diameter. Resolutions are also diameter-based and range from 22 to 25 bits for the absolute versions. The resolutions of the incremental versions start at 4,740 lines per 360 degrees all the way up to 27,540 for the largest diameter.
Learn more.
---
New Orbex brushless servo motors enhance efficiency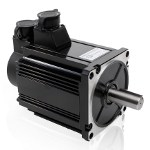 The Orbex Group, a leading manufacturer of high-performance electric motors and slip rings, now offers brushless servo motors that combine high torque, low inertia, and various customizable options to improve efficiency in dynamic servo-driven applications. Available in a range of frame sizes (60 to 176 mm), NdFeB-based brushless servo motors include incremental encoders for position feedback and electrical commutation -- enhancing motor efficiency, minimizing maintenance requirements, and increasing throughput. Customizable windings make it easy to meet your technical requirements, while integrated gear reducers reduce package size and lower overall costs. Other customizable features include brakes, additional feedback options, connectors, and custom mounting options.
Learn more.
---
New OnRobot converter kit unifies cobot tool connections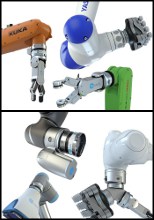 In a bid to make robotic applications faster and easier to implement, OnRobot has created a unified mechanical and electrical interface for any OnRobot end-of-arm tooling (EoAT). The innovation dramatically simplifies automation. The Digital I/O Converter Kit allows OnRobot end-of-arm tools to work with a full range of leading collaborative and light industrial robot brands including Universal Robots, KUKA, FANUC, Doosan, Techman, Yaskawa, Mitsubishi, Kawasaki, and Nachi. Use one tool easily on two different cobots, or even use two tools in one cycle.
Read the full article.
---
Will robots bring a job apocalypse? MIT report examines how to make technology work for society -- big changes ahead
By Peter Dizikes, MIT
Automation is not likely to eliminate millions of jobs any time soon -- but the U.S. still needs vastly improved policies if Americans are to build better careers and share prosperity as technological changes occur, according to a new MIT report about the workplace.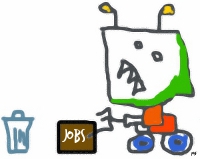 The report, which represents the initial findings of MIT's Task Force on the Work of the Future, punctures some conventional wisdom and builds a nuanced picture of the evolution of technology and jobs, the subject of much fraught public discussion.
The likelihood of robots, automation, and artificial intelligence (AI) wiping out huge sectors of the workforce in the near future is exaggerated, the task force concludes -- but there is reason for concern about the impact of new technology on the labor market. In recent decades, technology has contributed to the polarization of employment, disproportionately helping high-skilled professionals while reducing opportunities for many other workers, and new technologies could exacerbate this trend.
Moreover, the report emphasizes, at a time of historic income inequality, a critical challenge is not necessarily a lack of jobs, but the low quality of many jobs and the resulting lack of viable careers for many people, particularly workers without college degrees. With this in mind, the work of the future can be shaped beneficially by new policies, renewed support for labor, and reformed institutions, not just new technologies. Broadly, the task force concludes, capitalism in the U.S. must address the interests of workers as well as shareholders.
"At MIT, we are inspired by the idea that technology can be a force for good. But if as a nation we want to make sure that today's new technologies evolve in ways that help build a healthier, more equitable society, we need to move quickly to develop and implement strong, enlightened policy responses," says MIT President L. Rafael Reif, who called for the creation of the Task Force on the Work of the Future in 2017.
"Fortunately, the harsh societal consequences that concern us all are not inevitable," Reif adds. "Technologies embody the values of those who make them, and the policies we build around them can profoundly shape their impact. Whether the outcome is inclusive or exclusive, fair or laissez-faire, is therefore up to all of us. I am deeply grateful to the task force members for their latest findings and their ongoing efforts to pave an upward path."
"There is a lot of alarmist rhetoric about how the robots are coming," adds Elisabeth Beck Reynolds, executive director of the task force, as well as executive director of the MIT Industrial Performance Center. "MIT's job is to cut through some of this hype and bring some perspective to this discussion."
Reynolds also calls the task force's interest in new policy directions "classically American in its willingness to consider innovation and experimentation."
Anxiety and inequality
The core of the task force consists of a group of MIT scholars. Its research has drawn upon new data, expert knowledge of many technology sectors, and a close analysis of both technology-centered firms and economic data spanning the postwar era.
The report addresses several workplace complexities. Unemployment in the U.S. is low, yet workers have considerable anxiety, from multiple sources. One is technology: A 2018 survey by the Pew Research Center found that 65 to 90 percent of respondents in industrialized countries think computers and robots will take over many jobs done by humans, while less than a third think better-paying jobs will result from these technologies.
Another concern for workers is income stagnation: Adjusted for inflation, 92 percent of Americans born in 1940 earned more money than their parents, but only about half of people born in 1980 can say that.
"The persistent growth in the quantity of jobs has not been matched by an equivalent growth in job quality," the task force report states.
Applications of technology have fed inequality in recent decades. High-tech innovations have displaced "middle-skilled" workers who perform routine tasks, from office assistants to assembly-line workers, but these innovations have complemented the activities of many white-collar workers in medicine, science and engineering, finance, and other fields. Technology has also not displaced lower-skilled service workers, leading to a polarized workforce. Higher-skill and lower-skill jobs have grown, middle-skill jobs have shrunk, and increased earnings have been concentrated among white-collar workers.
"Technological advances did deliver productivity growth over the last four decades," the report states. "But productivity growth did not translate into shared prosperity."
Indeed, says David Autor, who is the Ford Professor of Economics at MIT, associate head of MIT's Department of Economics, and a co-chair of the task force, "We think people are pessimistic because they're on to something. Although there's no shortage of jobs, the gains have been so unequally distributed that most people have not benefited much. If the next four decades of automation are going to look like the last four decades, people have reason to worry."
Productive innovations versus "so-so technology"
A big question, then, is what the next decades of automation have in store. As the report explains, some technological innovations are broadly productive, while others are merely "so-so technologies" -- a term coined by economists Daron Acemoglu of MIT and Pascual Restrepo of Boston University to describe technologies that replace workers without markedly improving services or increasing productivity.
For instance, electricity and light bulbs were broadly productive, allowing the expansion of other types of work. But automated technology allowing for self-check-out at pharmacies or supermarkets merely replaces workers without notably increasing efficiency for the customer or productivity.
"That's a strong labor-displacing technology, but it has very modest productivity value," Autor says of these automated systems. "That's a 'so-so technology.' The digital era has had fabulous technologies for skill complementarity [for white-collar workers], but so-so technologies for everybody else. Not all innovations that raise productivity displace workers, and not all innovations that displace workers do much for productivity."
Several forces have contributed to this skew, according to the report. "Computers and the internet enabled a digitalization of work that made highly educated workers more productive and made less-educated workers easier to replace with machinery," the authors write.
Given the mixed record of the last four decades, does the advent of robotics and AI herald a brighter future, or a darker one? The task force suggests the answer depends on how humans shape that future. New and emerging technologies will raise aggregate economic output and boost wealth, and offer people the potential for higher living standards, better working conditions, greater economic security, and improved health and longevity. But whether society realizes this potential, the report notes, depends critically on the institutions that transform aggregate wealth into greater shared prosperity instead of rising inequality.
One thing the task force does not foresee is a future where human expertise, judgment, and creativity are less essential than they are today.
"Recent history shows that key advances in workplace robotics -- those that radically increase productivity -- depend on breakthroughs in work design that often take years or even decades to achieve," the report states.
As robots gain flexibility and situational adaptability, they will certainly take over a larger set of tasks in warehouses, hospitals, and retail stores -- such as lifting, stocking, transporting, cleaning, as well as awkward physical tasks that require picking, harvesting, stooping, or crouching.
The task force members believe such advances in robotics will displace relatively low-paid human tasks and boost the productivity of workers, whose attention will be freed to focus on higher value-added work. The pace at which these tasks are delegated to machines will be hastened by slowing growth, tight labor markets, and the rapid aging of workforces in most industrialized countries, including the U.S.
And while machine learning -- image classification, real-time analytics, data forecasting, and more -- has improved, it may just alter jobs, not eliminate them: Radiologists do much more than interpret X-rays, for instance. The task force also observes that developers of autonomous vehicles, another hot media topic, have been "ratcheting back" their timelines and ambitions over the last year.
"The recent reset of expectations on driverless cars is a leading indicator for other types of AI-enabled systems as well," says David A. Mindell, co-chair of the task force, professor of aeronautics and astronautics, and the Dibner Professor of the History of Engineering and Manufacturing at MIT. "These technologies hold great promise, but it takes time to understand the optimal combination of people and machines. And the timing of adoption is crucial for understanding the impact on workers."
Policy proposals for the future
Still, if the worst-case scenario of a "job apocalypse" is unlikely, the continued deployment of so-so technologies could make the future of work worse for many people.
If people are worried that technologies could limit opportunity, social mobility, and shared prosperity, the report states, "Economic history confirms that this sentiment is neither ill-informed nor misguided. There is ample reason for concern about whether technological advances will improve or erode employment and earnings prospects for the bulk of the workforce."
At the same time, the task force report finds reason for "tempered optimism," asserting that better policies can significantly improve tomorrow's work.
"Technology is a human product," Mindell says. "We shape technological change through our choices of investments, incentives, cultural values, and political objectives."
To this end, the task force focuses on a few key policy areas. One is renewed investment in postsecondary workforce education outside of the four-year college system -- and not just in the STEM skills (science, technology, engineering, math) but reading, writing, and the "social skills" of teamwork and judgment.
Community colleges are the biggest training providers in the country, with 12 million for-credit and non-credit students, and are a natural location for bolstering workforce education. A wide range of new models for gaining educational credentials is also emerging, the task force notes. The report also emphasizes the value of multiple types of on-the-job training programs for workers.
However, the report cautions, investments in education may be necessary but not sufficient for workers: "Hoping that 'if we skill them, jobs will come,' is an inadequate foundation for constructing a more productive and economically secure labor market."
More broadly, therefore, the report argues that the interests of capital and labor need to be rebalanced. The U.S., it notes, "is unique among market economies in venerating pure shareholder capitalism," even though workers and communities are business stakeholders too.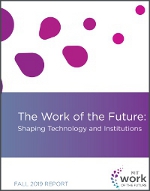 Click on the image above to view the full report.

"Within this paradigm [of pure shareholder capitalism], the personal, social, and public costs of layoffs and plant closings should not play a critical role in firm decision-making," the report states.

The task force recommends greater recognition of workers as stakeholders in corporate decision-making. Redressing the decades-long erosion of worker bargaining power will require new institutions that bend the arc of innovation toward making workers more productive rather than less necessary. The report holds that the adversarial system of collective bargaining, enshrined in U.S. labor law adopted during the Great Depression, is overdue for reform.

The U.S. tax code can be altered to help workers as well. Right now, it favors investments in capital rather than labor -- for instance, capital depreciation can be written off, and R&D investment receives a tax credit, whereas investments in workers produce no such equivalent benefits. The task force recommends new tax policy that would also incentivize investments in human capital, through training programs, for instance.

Additionally, the task force recommends restoring support for R&D to past levels and rebuilding U.S. leadership in the development of new AI-related technologies, "not merely to win but to lead innovation in directions that will benefit the nation: complementing workers, boosting productivity, and strengthening the economic foundation for shared prosperity."

Ultimately, the task force's goal is to encourage investment in technologies that improve productivity, and to ensure that workers share in the prosperity that could result.

"There's no question technological progress that raises productivity creates opportunity," Autor says. "It expands the set of possibilities that you can realize. But it doesn't guarantee that you will make good choices."

Reynolds adds, "The question for firms going forward is: How are they going to improve their productivity in ways that can lead to greater quality and efficiency, and aren't just about cutting costs and bringing in marginally better technology?"

Further research and analyses
In addition to Reynolds, Autor, and Mindell, the central group within MIT's Task Force on the Work of the Future consists of 18 MIT professors representing all five Institute schools. Additionally, the project has a 22-person advisory board drawn from the ranks of industry leaders, former government officials, and academia; a 14-person research board of scholars; and eight graduate students. The task force also counsulted with business executives, labor leaders, and community college leaders, among others.

The task force follows other influential MIT projects such as the Commission on Industrial Productivity, an intensive multiyear study of U.S. industry in the 1980s. That effort resulted in the widely read book, "Made in America," as well as the creation of MIT's Industrial Performance Center.

The current task force taps into MIT's depth of knowledge across a full range of technologies, as well as its strengths in the social sciences.

"MIT is engaged in developing frontier technology," Reynolds says. "Not necessarily what will be introduced tomorrow, but five, 10, or 25 years from now. We do see what's on the horizon, and our researchers want to bring realism and context to the public discourse."

The current report is an interim finding from the task force; the group plans to conduct additional research over the next year, and then will issue a final version of the report.

"What we're trying to do with this work," Reynolds concludes, "is to provide a holistic perspective, which is not just about the labor market and not just about technology, but brings it all together, for a more rational and productive discussion in the public sphere."

Published November 2019
Rate this article