DoD: China sets sights on high-tech product dominance
By David Vergun, U.S. Army
China aims to transition from producing inexpensive items to high-tech products, the director of the Defense Innovation Unit (DIU) said.
During a panel discussion Oct. 29 at the Center for Strategic and International Studies in Washington titled, "Managing the Risk of Tech Transfer to China," Michael Brown said China's plan has implications for U.S. defense because national security and economic security are inextricably linked. He noted that DIU's mission is to get commercial technology into the hands of the military to maintain overmatch on the battlefield.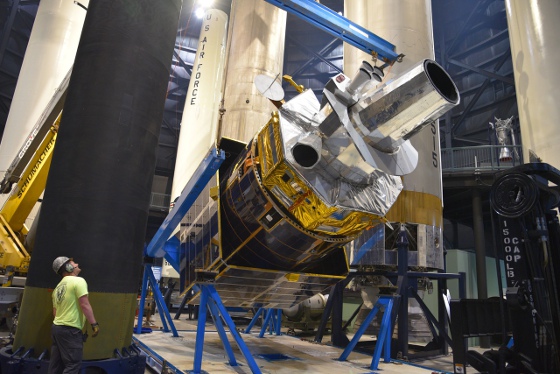 Workers move the Defense Support Program Satellite out of the missile gallery at the National Museum of the U.S. Air Force in Dayton, OH, Sept. 19, 2019. [Photo: Ken LaRock, Air Force]
Since World War II, the United States has set world technological standards in computing, biotechnology, aircraft design, networking, and software, Brown said.
"Imagine what the world would look like if China were setting standards in game-changing technologies like hypersonics, quantum sciences, autonomy, artificial intelligence, 5G, genetic engineering, and space," he said, noting that except for hypersonics, they're all also important for economic prosperity, not just military overmatch.
Brown cited a past U.S. success in developing the 4G network. He said Recon Analytics issued an April 2018 report estimating that the introduction of 4G contributed to 70 percent growth in the U.S. wireless industry between 2011 and 2014 and bolstered jobs in the wireless industry by 80 percent.
"By leading the charge, the U.S. was able to build a global ecosystem of network providers, device manufacturers, and app developers that shaped the future of 4G," he said.
China's goal is to be the technology leader in all areas by 2049, Brown said. It is already competitive with or ahead of the U.S. in areas such as hypersonics and space, launching more satellites than the U.S. last year; as well as in 5G technology and artificial intelligence, particularly in the area of facial recognition. In addition, China is ahead of or at pace with the United States in quantum sciences, launching its first quantum communications satellite in 2016, he said.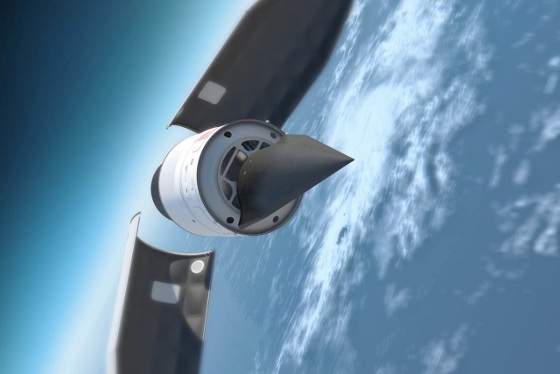 The Defense Advanced Research Products Agency's Falcon Hypersonic Test Vehicle emerges from its rocket nose cone and prepares to re-enter the Earth's atmosphere. [DOD illustration]
In genetic engineering, the United States uses Chinese-made equipment for genome sequencing, Brown noted. China has more data on the genetic sequencing of the U.S. population than the United States has on its own population, he said.
Brown offered some suggestions for the United States maintaining its technology lead.
The federal government should invest more in research and technology, he said. The United States invests just 0.7 percent of its gross domestic product on research and development, and half of that goes into health, not military, applications. In the 1960s, total research and development spending was 2 percent of the nation's GDP.
Export control reform and cooperation with allies are also necessary to ensure technology isn't transferred to nations such as China, Brown said.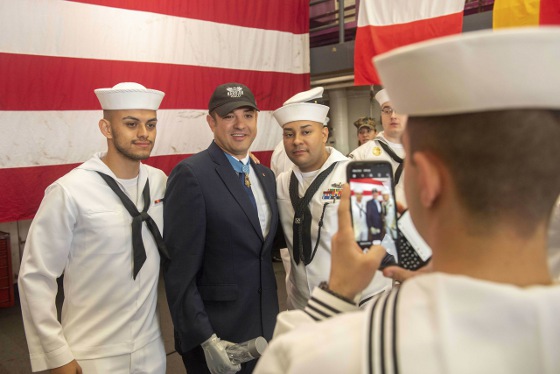 A sailor uses a phone to take a photo of Retired Army Master Sgt. Leroy A. Petry, recipient of the Medal of Honor, during Fleet Week New York, May 23, 2019. China is trying to take the global lead in 5G networks. [Photo: Navy Petty Officer 3rd Class Roland John]
In the commercial sector, research and development investment tax credits and other incentives should be applied so manufacturing doesn't migrate overseas, he said.
The number of science, technology, engineering, and math graduates in the United States is declining, Brown said, while China has 10 times the number of engineering graduates, so more needs to be done to attract STEM graduates.
About 25 percent of STEM graduates in U.S. universities are Chinese foreign nationals, Brown said. Policy should encourage these students to stay in the United States while increasing counterintelligence to help ensure that some of those students aren't here solely to transfer their technical knowledge back to China, he said.
SIDEBAR: How losing technology to competitors threatens U.S. military force lethality
By C. Todd Lopez, U.S. Army
The loss of technology to strategic competitors has a direct effect on the joint force's lethality, said Air Force Maj. Gen. Thomas E. Murphy, the director of the Defense Department's Protecting Critical Technology Task Force, during an Association of the U.S. Army forum on Russia and China on Oct. 31. And while those technology transfers -- some legal and some not quite -- are almost always unwanted, they've certainly been enabled by a lack of U.S. attention on stopping them, he added.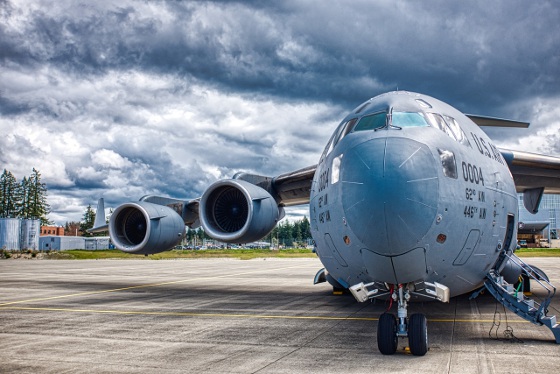 A C-17 Globemaster III based out of McChord Air Force Base, WA, sits under cloudy skies at Gray Army Airfield after accomplishing a training sortie over eastern Washington state, April 12, 2019. [Photo: Air Force Capt. Amit Patel]
"We are in a competition," Murphy said. "China and the others are stealing our stuff, and it is causing the erosion of the lethality of the joint force."
China, in particular, is employing a comprehensive national strategy to acquire critical U.S. technologies through both licit and illicit methods, the general said.
"They are pretty good about it," he added. "They are unrelenting in hacking our businesses, both big and small. It's no wonder why their stuff looks remarkably like ours. Look at their airlifter and their newest fighter. It looks just like a C-17 and an F-35. That's not a coincidence. We've unwittingly become the [research and development] base for adversary capabilities and for our strategic competitors."
Murphy's task force, stood up about a year ago, has been tasked with stopping the exfiltration of critical U.S. technology to adversaries. A big part of that, he said, starts with identifying what that critical technology is. "If you protect everything as if it's critical, we protect nothing very well," he noted.
The task force now has a list that lays out critical programs and technologies, he said, and it is ensuring those technologies are prioritized and tiered and that protections for that technology are based on the level of criticality.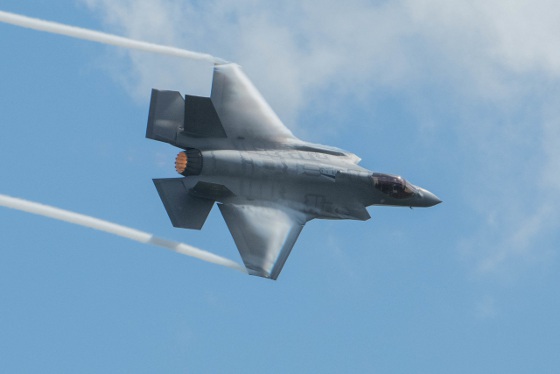 An F-35 Lightning II performs during the Wings Over Houston Airshow in Houston, Oct. 20, 2019. [Photo: Air Force Senior Airman James Kennedy]
If, for example, artificial intelligence technology is considered a "Tier 1" technology -- the most critical level -- he is "going to mandate a lot of things for you to do to protect it cyber-wise, personnel security, operational security, physical security, and the whole nine yards," he said.
For those that develop and handle defense technology, he said, the systems that process information related to that technology must be secure enough to withstand intrusion from adversaries.
A recent audit shows many companies don't have even the most basic of cyber security controls in place, the general said. The Defense Department is working on cybersecurity maturity model certification, or CMMC, for potential technology partners that would rate their readiness to safely process and store important technology information, he added.
This will have five levels, he explained. To get contracts to do technology work for the DOD, he said, industry or academia would need to achieve the CMMC level commensurate with the nature of the work.
"So up your game, and get your cybersecurity in order," he said.
Security will also need to be built into the acquisition process from the onset, he said. Program managers tend to focus on cost, schedule, and performance when it comes to contracts, he noted, not the company's ability to keep the technology it will be developing secure.
"I don't believe today that we sufficiently consider security when determining with which companies to do business," Murphy said. As a result, he added, there is limited financial incentive for companies to get more secure.
"We're changing that as well," he said. "We're going to work through a series of initiatives to elevate the importance of security to ensure that it's as important as cost, schedule, and performance."
The department must ensure industry and academia do a better job of knowing who is working with critical defense technology -- where their allegiance lies and who they really work for, Murphy said.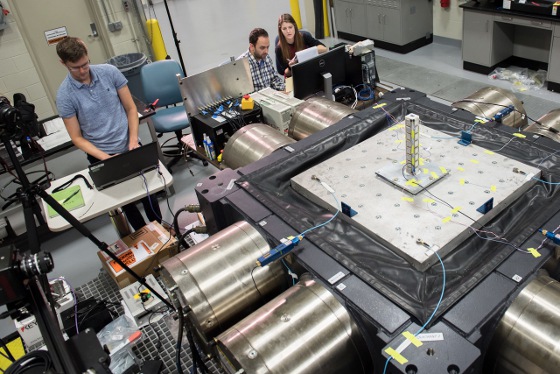 The U.S. Army Research Laboratory uses the "Shaker" to conduct experiments in multiaxial vibrations and develop technology to mitigate the danger it could cause to vehicles and structures, Sept. 26, 2019. [Photo: David McNally, U.S. Army]
"China devotes significant resources at a national level to infiltrate our universities and our labs," he said. "And they are doing it for a reason. They've even coined the phrase ... 'Picking flowers in the U.S. to make honey in China,' which I would say perfectly illustrates their deliberate plan to steal R&D, knowhow, and technology to advance their military capability. They are not even hiding it."
Researchers shouldn't be getting paid both by the U.S. government and a foreign government at the same time, Murphy said, and competitors shouldn't be allowed into labs where new technology has been developed.
"We can't let our competitors into a lab where a breakthrough advance is discovered only to have them take it back to their country to advance their military capabilities," the general said. "We must know if you are a member of a foreign talent program. If we don't ask the questions, we're never going to know."
A completely legal way adversaries get U.S. technology is to simply buy it, Murphy said. "This is why we are working to strengthen our ability to stop the unwanted transfer of defense-related technology," he said. "We need to do a better job of closing the export control loopholes, and getting ahead of these business mergers and acquisitions."
Doing nothing, Murphy said, might mean "the lethality of the joint force is diminished to a point that is irreparable."
Source: U.S. Army
Published November 2019
Rate this article