U.S.-based Shape Corp. wins Swedish Steel Prize 2019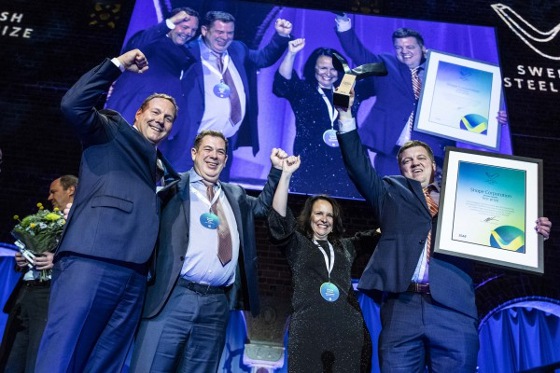 Members of the Shape Corp. team celebrate winning the Swedish Steel Prize at the awards event in Stockholm on Nov. 14.
Shape Corp. of Grand Haven, MI, a full-service supplier of lightweight steel, aluminum, plastic, composites, and hybrid solutions primarily for the automotive sector, was named the winner of the 20th international Swedish Steel Prize in Stockholm, Sweden, on Nov. 14.
Sponsored by steel company SSAB, the prize recognizes "good engineering, cooperation, and steel innovations that lead to a better and more sustainable world." Shape won for its groundbreaking use of martensitic steel in a 3D-formed tube for automotive roof rail applications.
"With great skill, Shape Corp. has shown the way forward and has succeeded in efficiently utilizing a modern material with the highest possible strength level," said Eva Petursson, chair of the Swedish Steel Prize jury and head of SSAB's research and innovation. "This shows a major opportunity in challenging other lightweight materials with a steel solution that allows for circular material flows."
Shape was nominated for its 3D roof rail tube, a new innovation that represents a first in the automotive industry and will result in both cost savings for OEMs and safer cars for the general public.
"In the mid-2000s, we developed bending technology that could bend in one direction in the same plane, in line with our roll forming process," said Brian Oxley, product manager at Shape. "We called it 1D bending, and over the next few years this technology progressed to handling bending in two directions on the same plane, and then three directions. We call it 3D bending."
Shape's cost-effective manufacturing process for 3D-shaped tubes made it possible to use the cold-forming martensitic steel Docol 1700M, from SSAB, for a unique lightweight solution for A-pillar and roof rail tubes, with a minimal profile size. Shape approached Ford with the profile concept in 2011. The components have been incorporated into a number of new Ford vehicles, including the 2020 Ford Explorer and 2020 Ford Escape.
Traditionally, these types of automotive applications are hydroformed, however, doing so can mean limitations in terms of material strength and production efficiency. Instead, the tube is three-dimensionally bent after roll forming and remote laser welded into sub-assembly for integration into the A pillar and roof rail area in the vehicle safety cage for impact protection.
Thanks to 3D forming (instead of hydroforming), Shape succeeded in creating smaller profiles than traditional solutions, allowing for better driver visibility, more interior space, and better packaging of airbags. The 3D-formed A pillars also have an improved strength-to-weight ratio of more than 50 percent, which has led to an overall mass reduction of 2.8 to 4.5 kg per vehicle. Overall, the achievement represents a major leap forward in both car safety and automotive design.
"We have taken the highest strength steel on the market and combined it with the perfect application -- a bit like pairing wine with food," said Oxley. "The results are very tangible in terms of mass savings, but it also shows the industry what is possible with these advanced grades, and that steel will have a place in automotive for a long time to come."
The winner of the Swedish Steel Prize receives a certificate, a statuette by the sculptor Jörg Jeschke, and world-wide media exposure. SSAB will also make a SEK 100,000 (around $10,400) donation to UNICEF in support of their efforts to provide quality education and learning opportunities to children and adolescents worldwide.
There were three other finalists for this year's Swedish Steel Prize:
Austin Engineering, Australia: Two-piece mining excavator bucket
Austin Engineering was nominated for its two-piece mining excavator bucket, a design that uses a defined joint configuration between the upper and lower assemblies of a bucket and allows for quick and efficient change-out during maintenance intervals. The two-piece bucket also has a modular design with inserts that can be customized to suit specific operations, and then easily removed and replaced if required.
"To minimize wear and increase a bucket's lifetime, some people weld liners to the inside of a bucket," said David Pichanick, global manager, Market Development & Innovation at Austin Engineering. "A few years ago, a customer approached us after an accident on a mine site, where there was a fatality due to spring-back while replacing a bucket liner. The tragedy sent shockwaves through the mining industry, and the customer challenged us to find a safer, liner-less bucket solution."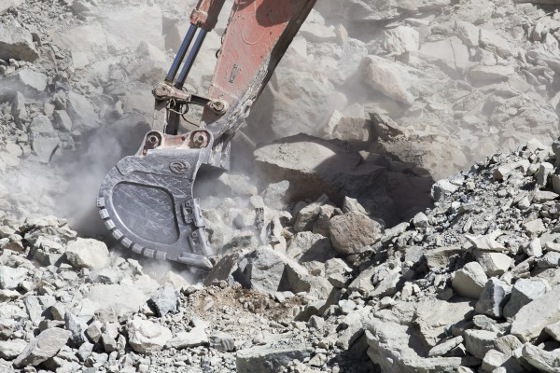 Austin Engineering's innovation department decided to make the upper structure for the two-piece bucket from Strenx® 700 steel because it is tough, easy to weld, and has high strength. The lower bucket assembly is made from Hardox® steel, which was chosen for its ability to withstand hard wear and tear. Hardox® steel also meets the toughness and weldability criteria for the material needed in lightweight buckets operating in abrasive environments.
The two-piece bucket can be adapted to any current OEM excavator model, and upper to lower bucket assembly installation time can be achieved in less than 4 minutes and be ready for final weld out within 3 hours. This means that mine-site downtime can be minimized, because spare lower assemblies can be kept in stock for direct replacement.
The total weight of the two-piece bucket was also reduced using this solution, and costs are saved because only the lower section needs to be changed out or refurbished. This accounts for a reduction in total cost of ownership by 25 to 30 percent.
Roofit.solar, Estonia: Metal solar roof
Roofit.solar makes metal solar roofs that produce electricity. The Roofit 2-in-1 product successfully combines an effective solar panel solution with an architecturally attractive, environmentally friendly steel roof. It enables both new structures and historical building restorations to benefit from technological advancements. Using a color coating based on rapeseed oil, the company has been able to push production technology limits, and the result shows excellent, robust adhesion between the layers of the solar roof panel.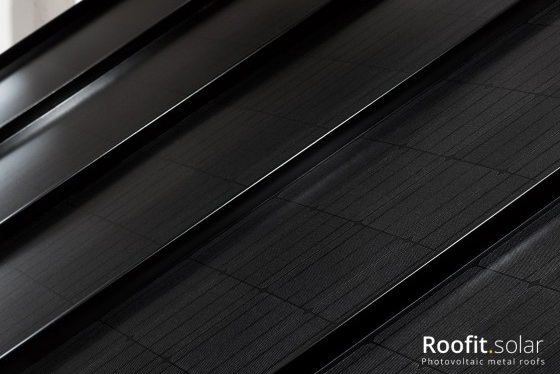 "Roofit.solar is a company that is only three years old, and was founded by Andri Jagomägi, who has 15 years of experience researching photovoltaic technology," said Helen Anijalg, the company's marketing and export manager. "When planning his own house, he wanted to use a metal roof, but also solar panels. He realized there was no single, combined solution, so he started to experiment and figured out how to combine the materials."
For the manufacturing of the 2-in-1 solution, Roofit.solar uses sustainable GreenCoat® color coated steel. During the smoothing process, GreenCoat Pural BT is combined with highly efficient photovoltaic modules in a way that prevents delamination. The solution looks just like a normal steel roof and allows both new and old buildings to produce their own electricity to be used, stored in a battery, or contributed back into the electrical grid.
The Roofit 2-in-1 steel solution is highly efficient and produces 150 W of energy for every square meter, which is significantly more than the closest competing solution.
Kampag, Brazil: New feeding modulus for axial harvesters
Kampag has managed to increase soya (soybean) yields by focusing its harvester design on the gentler handling of the crop. A unique feeding modulus unit results in less damage to the harvested beans and also increases machine availability in conditions with high humidity. Additional productivity and sustainability benefits have been realized when upgrading to high-strength and wear-resistant steel, including increased service life, reduced weight, and more lean production, as well as maintenance processes with energy savings.
"In traditional feeders, we noticed that the components responsible for moving the soybeans between the entry of the machine and the axial rotor had a design that would obstruct the natural and continuous flow," said Vanderlei Kamphorst, Kampag's managing director. "They generated interruptions, which would damage the beans. So, we tried to create the new design of the modulus, changing the shape of the blades that are responsible for feeding the machine."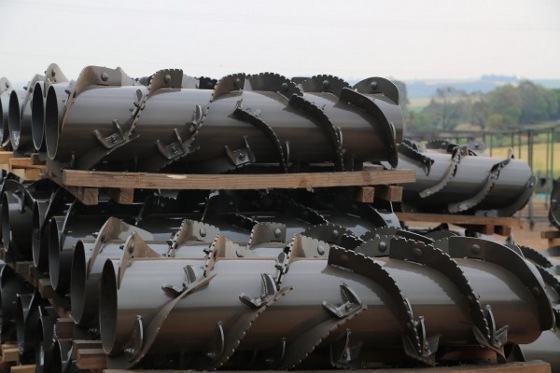 In the machine, material flow occurs at the axial rotor. The new feeder modulus uses blades made from the abrasion-resistant steel Hardox® 500 with an optimized shape in a spiral-like orientation that cuts and collects soybeans, as well as other cultures like rice, maize, wheat, and beans, in a continuous flow.
"After beginning to use Hardox 500, we managed to guarantee a very stable process and good reliability, thereby increasing the durability of the blades compared with the previous solution," said Kamphorst. "Additionally, the wear resistance is much higher, so it is easy to see that Hardox made a huge difference for us."
The new high-performance feeder modulus means that harvesters can operate two hours longer per day due to the ability to operate in moist conditions. The unique design and use of Hardox® 500 steel means that weight has also been drastically reduced from previous solutions, and the result is a reduction in fuel consumption of up to 15 percent when harvesting.
The high-performance feeder modulus is also gentler on the crop during harvest, which accounts for an increase in production of usable soybeans by 3 percent. To put this into perspective, at today's harvesting levels, the increase attributed to the high-performance feeder modulus alone would satisfy Sweden's entire demand for soybeans for two years.
SSAB is a Nordic and U.S.-based steel company with employees in over 50 countries.
Source: SSAB
Published November 2019
Rate this article