ClampDisk micro fastener is new alternative for automotive and consumer electronics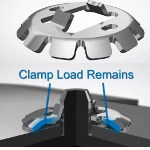 Designed as a unique alternative in assemblies for the automotive and consumer electronics markets, the ClampDisk Press-on Fastener is a new offering from PennEngineering that delivers a fast, simple way to achieve sheet-to-sheet clamped attachment while replacing the use of standard screws, nuts, and adhesives. The most common challenges that can be eliminated or reduced by using ClampDisk include over installation, cross threading, stripped screw heads, broken screws, and damaged product. This fastener can be removed easily with a sharp-edged tool.
Learn more and see ClampDisk in action.
---
Specialty hinges expand design possibilities for opening and closing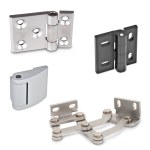 From the simplest of hinges to multi-joint hinges with complex kinematics, the JW Winco selection has everything needed for superior door and flap solutions -- including extra functions. Popular choices include the heavy-duty stainless steel GN 237.3 with 180-degree range of motion and the GN 235, which can be mounted with socket head cap screws and -- thanks to its offset axis -- still swivels 180 degrees without collision. Additional functionality is offered by hinges with variable friction, and in another Winco-Norm part, an integrated spring ensures independent return of the hinge. This special product range, which also includes integrated damping, indexing, and locking functions, is being continually expanded by Winco. One kinematic highlight is already available from Winco: the multiple-joint hinge with either a 4x, 7x, or 10x joint mechanism, which opens flaps and shifts their position at the same time, while still offering 180 degrees of travel. Many more options.
See the full range of JW Winco hinges.
---
New advanced materials for production-grade 3D printing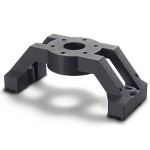 Stratasys recently unveiled several new durable temperature- and chemical-resistant FDM thermoplastics aimed at addressing the growing demands of engineers and designers to deliver production-grade, custom 3D-printed tooling and parts. Suited for aerospace and industrial applications, the new Antero 840CN03 PEKK-based polymer with ESD properties can create strong yet lightweight parts used in frames, panels, and components. Built for highly durable tooling applications, Diran is a new nylon-based FDM thermoplastic that provides manufacturers with extreme toughness and low friction, combined with resistance to hydrocarbon-based chemicals and a smooth surface to offer low sliding resistance. Diran's toughness is able to withstand the rough handling of tools often common in a manufacturing setting.
Learn more.
---
Need help coupling two parallel shafts?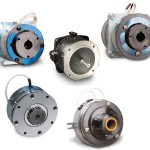 Electromate offers a full family of power-on clutches from Inertia Dynamics for most applications. Power-on clutches are used to couple two parallel shafts. The armature hub assembly is mounted to the same shaft as the rotor assembly. The armature hub accommodates a pulley, gear, sprocket, etc., to transmit torque to the second shaft. The field assembly is mounted on the shaft and retained by a loose-fitting pin or bracket through the anti-rotation tab. Typical applications include: packaging machinery, medical equipment, conveyors, postal sorters/readers, document feeders, textile equipment, and copiers/printers.
Learn more.
---
A proportional isolation valve like no other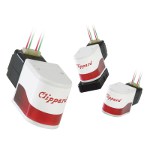 Clippard's new patented ceramic technology is the first to provide precise proportional control combined with isolation valve attributes to meet the needs of the most stringent analytical and industrial process control applications. This valve is ideal in critical applications for liquid and gas delivery, medical, analytical, and industrial automation requiring ultra-fine resolution and excellent repeatability. In addition, the unique design allows for custom flow profiles.
Learn more.
---
New ball screw for machine tools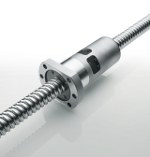 Featuring high-speed performance and load capacities that exceed existing full ball standards, THK's new Type BSM Ball Screw is ideal for use in machine tools. The Type BSM uses a newly developed circulation structure and a large lead to meet high-speed performance demands. The DN value is 170,000, contrasted with 130,000 in conventional products. The unique groove design and double groove structure improve load capacity. The Slim Nut Type BSM-B conserves space with a nut diameter up to 14 percent more compact than THK conventional ball screws. An extended overall length and increased number of loaded circuits ensure optimum rigidity.
Learn more.
---
How to calculate plastic injection molding shrinkage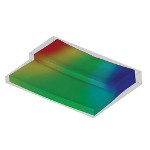 Do you know how to calculate the shrinkage of your part ahead of time? Plastic injection molding shrinkage is the contraction of a plastic molded part as it cools after injection. Most of the part shrinkage occurs in the mold while cooling, but a small amount of shrinkage occurs after ejection, as the part continues to cool (especially for Delrin or POM). After that, the part may continue to shrink very slightly for several hours or even days until the temperature and moisture contents stabilize.
Read the ICOMold blog.
---
New anti-static air knife with 30% better performance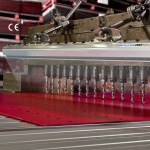 EXAIR's new Gen4 Standard Ion Air Knife eliminates static electricity 30 percent better at low inlet pressures, which saves compressed air and money. Production speeds, product quality, and surface cleanliness can improve dramatically. It eliminates static on plastics, webs, sheet stock, and other product surfaces where tearing, jamming, or hazardous shocks are a problem. The unique amplified airflow carries the ions to the target, making it possible to eliminate static charges in less than a half second. Air volume and velocity are infinitely controllable from a breeze to a blast to gently wipe or forcefully blow away debris.
Learn more.
---
Helical bevel gearboxes with cast-iron frames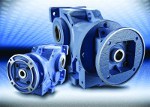 The new IronHorse HBR series of helical bevel gearboxes combines the helical gearset with a bevel gearset to create an output that is perpendicular to the input. All HBR series gearboxes are hollow shaft output and accept double or single shafts. Dual and single output shaft kits are available. Helical gears offer a smoother, quieter operation than most other gear types. The universally interchangeable compact design ensures easy OEM replacement and provides flexible installation with C-face and TC-face inputs, perpendicular output, and six mounting positions. Five gearbox sizes support 56C up to 254/6TC NEMA motor frames, and 6 ratios are available from 10:1 to 120:1. The helical bevel gearboxes are sized to handle from 1- to 24-hp motors.
Learn more from AutomationDirect.
---
Cool Tools: Understanding portable measurement arms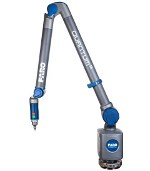 Coordinate measuring machines (CMMs) were introduced in the 1960s to capture those complex geometries with a much higher rate of accuracy using a measurement bed, a probe, a computer, and software to operate the probe. The technology has progressed markedly since then, and portability has made these precise systems even more powerful and flexible. FARO Technologies runs through the basics of its portable CMM offerings like its FaroArm and ScanArm products, and provides a nice selection of supporting videos and articles for those newly interested in portable articulated CMM tech.
Read the FARO article.
---
Allite Super Magnesium is now award winner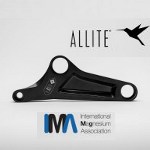 Weighing 33 percent less than aluminum, while also being stiffer and stronger pound for pound, the new Allite Super Magnesium alloy has shown its mettle in classified defense and aerospace applications. Now it's available for wider use. Less expensive than carbon fiber, its applications include home improvement, sporting goods, aerospace, automotive, biking, and more. Three alloy variants are available to suit welding, forming/forging, or casting. These alloys feature excellent shock-absorption properties, good electromagnetic shielding performance, good heat dissipation, and recyclability. Allite received the Award of Excellence under the Process category by the International Magnesium Association in May 2019.
Learn more.
---
New electrically conductive flame-retardant plastic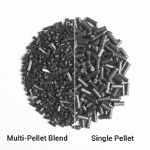 Electrically conductive plastics continue to provide reliable EMI shielding in a wide variety of applications. Thermoplastics provide a good alternative to bulky metal enclosures due to their superior weight, EMI shielding capabilities, and simpler manufacturing process. However, before purchasing any thermoplastic, it is important to consider performance capabilities. Paige Ludl from the Chomerics Division at Parker runs through the basics of what you need to know about these materials.
Read this informative Parker blog.
---
Speed up design of bearing arrangements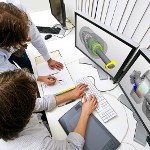 Designers can now design complex bearing arrangements more quickly and easily, thanks to simplified software called SimPro Quick. This in-house software from SKF has the same core as more advanced products such as SimPro Expert and SimPro Spindle -- and retains many of their advanced features -- but is far easier to use. SimPro Quick is a single-shaft bearing simulation tool that was developed to quickly evaluate the design of bearing arrangements and their field performance based on relevant application requirements and conditions. This software also ties in with SKF's new online Roller Bearing Catalog, which is a live database of products.
Learn more.
---
Specialty hinges expand design possibilities for opening and closing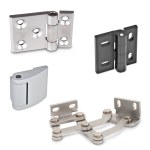 You might think that when it comes to opening and closing, all the possibilities of hinges have already been exhausted. Not even close. From the simplest designs to multi-joint hinges with complex kinematics, the Winco selection has everything needed for superior door and flap solutions -- including extra functions. Examples include hinges with 180° range of motion for heavy-duty applications, multiple-joint hinges, hinges with variable friction, locking and adjustable hinges, and units with an integrated spring that ensures independent return of the hinge. Huge selection available.
Learn more.
---
A new way to tie one on

The 4ZERO Cuff is the most advanced flexible polymer hand-cuff on the market and is used by select police and law enforcement agencies that demand the strongest and most durable product available. Now, the same material used to manufacture the 4ZERO Cuff is available from Micro Plastics in the line of extremely durable 4ZERO Cable Ties. The ties are designed to perform and hold their strength in extremely dry environments and in temp extremes from -30 to 400 F -- conditions that can leave normal nylon cable ties brittle and broken. Available sizes include: 8 in. (50 lb), 14 1/2 in. (50 lb), and 11 in. (120 lb).
Learn more.
---
New slippery toilet coating aims to provide cleaner flushing and reduce toilet water consumption by half
By Erin Cassidy Hendrick, Penn State
Every day, more than 141 billion liters of water are used solely to flush toilets. With millions of global citizens experiencing water scarcity, what if that amount could be reduced by 50 percent?
The possibility may exist through research conducted at Penn State, which was featured in Nature Sustainability on Nov. 18.
"Our team has developed a robust bio-inspired, liquid, sludge- and bacteria-repellent coating that can essentially make a toilet self-cleaning," said Tak-Sing Wong, Wormley Early Career Professor of Engineering and associate professor of mechanical engineering and biomedical engineering.
In the Wong Laboratory for Nature Inspired Engineering, housed within the Department of Mechanical Engineering and the Materials Research Institute, researchers have developed a method that dramatically reduces the amount of water needed to flush a conventional toilet, which usually requires 6 liters.
Co-developed by Jing Wang, a doctoral graduate from Wong's lab, the liquid-entrenched smooth surface (LESS) coating is a two-step spray that, among other applications, can be applied to a ceramic toilet bowl. The first spray, created from molecularly grafted polymers, is the initial step in building an extremely smooth and liquid-repellent foundation.
"When it dries, the first spray grows molecules that look like little hairs, with a diameter of about 1,000,000 times thinner than a human's," Wang said.

VIDEO: Every day, more than 141 billion liters of water are used solely to flush toilets. With millions of global citizens experiencing water scarcity, what if that amount could be reduced by 50 percent? [Wong Lab, Penn State]
While this first application creates an extremely smooth surface as is, the second spray infuses a thin layer of lubricant around those nanoscopic "hairs" to create a super-slippery surface.
"When we put that coating on a toilet in the lab and dump synthetic fecal matter on it, it (the synthetic fecal matter) just completely slides down and nothing sticks to it (the toilet)," Wang said.
With this novel slippery surface, the toilets can effectively clean residue from inside the bowl and dispose of the waste with only a fraction of the water previously needed. The researchers also predict the coating could last for about 500 flushes in a conventional toilet before a reapplication of the lubricant layer is needed.
While other liquid-infused slippery surfaces can take hours to cure, the LESS two-step coating takes less than 5 minutes. The researchers' experiments also found the surface effectively repelled bacteria, particularly ones that spread infectious diseases and unpleasant odors.
If it were widely adopted in the United States, it could direct critical resources toward other important activities, to drought-stricken areas or to regions experiencing chronic water scarcity, said the researchers.
Driven by these humanitarian solutions, the researchers also hope their work can make an impact in the developing world. The technology could be used within waterless toilets, which are used extensively around the world.
"Poop sticking to the toilet is not only unpleasant to users, but it also presents serious health concerns," Wong said.
However, if a waterless toilet or urinal used the LESS coating, the team predicts these types of fixtures would be more appealing and safer for widespread use.
To address these issues in both the United States and around the world, Wong and his collaborators, Wang, Birgitt Boschitsch, and Nan Sun, all mechanical engineering alumni, began a start-up venture.
With support from the Ben Franklin Technology Partners' TechCelerator, the National Science Foundation, the Department of Energy, the Office of Naval Research, the Rice Business Plan Competition and Y-Combinator, their company, spotLESS Materials, is already bringing the LESS coating to market.
"Our goal is to bring impactful technology to the market so everyone can benefit," Wong said. "To maximize the impact of our coating technology, we need to get it out of the lab."
Looking forward, the team hopes spotLESS Materials will play a role in sustaining the world's water resources.
Published November 2019
Rate this article