What are form-in-place gaskets, what are their benefits and limits?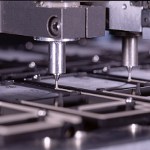 A form-in-place EMI gasket, also known as an FIP EMI gasket, is a robotically dispensed electromag-netic interference (EMI) shielding solution that is ideal for modern densely populated electronics packaging. It is meant to reduce "noise" between cavities on a printed circuit board (PCB) or in an electronics enclosure. Learn the tech's top benefits and limitations in this informative Parker blog.
Read the full article.
---
World's smallest high-resolution LiDAR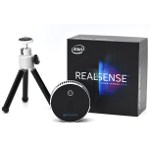 Intel has just introduced the RealSense LiDAR camera L515, the world's smallest and most power-efficient hi-res unit. Designed for indoor use, the palm-sized solid-state camera creates entirely new ways to incorporate LiDAR into smart devices to perceive the world in 3D. It provides high-quality performance and millimeter accuracy to products that require vision capabilities, such as inventory management automation, 3D scanning, healthcare, retail, robotics, and more. This device can generate 23 million accurate depth points per second.
Learn more.
---
New compact, tough angle sensors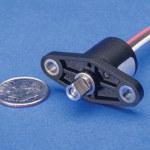 Novotechnik has just introduced the Vert-X 1600 Series of angular position sensors, which are ideal for industrial, medical, off-highway vehicle, and other applications. They convert rotational angle into an analog or digital output, with a measurement range of 0 to 360°, 14-bit resolution, and repeatability of 0.1°. Available analog outputs are 10 to 90 percent of supply voltage and 5 to 95 percent of supply voltage. Digital interface options include SPI and PWM. The sensors are sealed to IP 65, life is ≥ 50 million movements, and MTTF is 668 years. Operating temp range is -40 to 125°C. Will operate with up to 10 N axial or radial shaft load.
Learn more.
---
HVACR Tech Tip: How to correctly size solenoid valves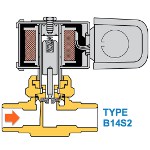 Obtaining reliable performance with solenoid valves on refrigeration or air conditioning systems demands careful consideration of application requirements during the selection process. There has always been a tendency in the industry to select solenoid valves based on line size. However, due to the pressure drop required for proper operation, this policy is risky and not recommended. What should you do?
Read this informative Parker Hannifin, Sporlan Division, blog.
---
EV automotive fuse safely interrupts up to 1000 VDC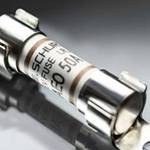 High voltages and high currents occur in electric vehicles in numerous places. Their battery packs with several thousand rechargeable cells store enormous amounts of energy in order to provide for the demands of drive performance and distance, with the shortest possible charging times. Such applications require highly reliable fuses to safeguard this power. SCHURTER has just launched its AEO 10.3 x 38 mm mini-fuse series, particularly suited for battery protection in electric vehicles. The AEO series safely interrupts short-circuits up to 20 kA at 1000/800 VDC, with a current rating range of 10 to 50 A. SCHURTER's new, patented contact welding process guarantees the highest reliability and overcomes inherent weaknesses in solder joints.
Learn more.
---
World's smallest image sensor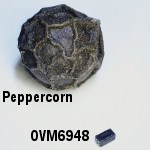 The OV6948 from OmniVision Technologies is the new winner of the Guinness World Record for "The Smallest Image Sensor Commercially Available" at a diminutive 0.575 x 0.575 mm. The company developed the tiny sensor to address the market demand for decreased invasiveness and deeper anatomical access in medical devices. OmniVision also offers the companion OVM6948 CameraCubeChip, a fully packaged, wafer-level color camera module measuring 0.65 x 0.65 mm, with a z-height of just 1.158 mm -- shown here next to a single peppercorn. The OVM6948 is the only ultra-small "chip on tip" camera with backside illumination, which provides excellent image quality and better low-light performance.
Learn more.
---
Most advanced LIDAR sensor on the market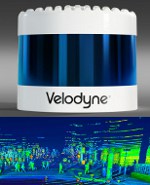 Velodyne's new Alpha Prime LIDAR sensor has a unique combination of breakthrough innovations that allows vehicles to navigate in unfamiliar and dynamic settings. It uses patented surround-view technology to deliver the combined highest performance specifications for the autonomous mobility industry in one sensor -- with reflectivity returns from over 4.8 million points per sec. Velodyne says this sensor is an unmatched solution in perception, field-of-view, and range for autonomous markets such as transportation, trucking, and robotics. It also offers a new level of power efficiency. Available now for orders and delivery.
Learn more.
---
Voice capture at 4x the distance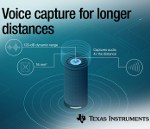 Texas Instruments has just introduced a new audio analog-to-digital converter (ADC) capable of capturing clear audio up to four times farther away than competing devices. The TLV320ADC5140 is the industry's smallest quad-channel audio ADC with this level of performance. The device is part of a new family of three TI Burr-Brown audio ADCs that enable low-distortion audio recordings in loud environments, along with far-field, high-fidelity recordings in any environment. Applications include high-end smart speakers, sound bars, wireless speakers, high-def TVs, IP network cameras, teleconferencing systems, and smart appliances.
Learn more.
---
Powerful LED curing lamp for tight work spaces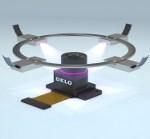 DELO now offers a compact LED curing lamp for use in industrial applications with limited work space. The powerful DELOLUX 503 is designed to bond small surfaces, like cameras used in autonomous cars, within seconds on serial production lines. The new lamp directs light diagonally downward so that it does not need to be installed at level with the components that need to be bonded. This gives more moving space to axes or grippers and helps to integrate complex systems. The UV lamp ensures high process reliability through continuous intensity control, internal control, and monitoring of important parameters like LED temperature. Up to four LED heads can be controlled by DELO controllers or by an external PLC, allowing the adhesive to be evenly exposed from several angles.
Learn more.
---
Cool Tools: Videoscopes with tons of options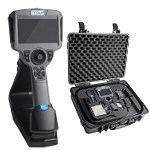 A new line of industrial videoscopes from Titian Tool Supply features inter-changeable video probes that allow for the use of different insertion tube lengths and diameters with one video unit. There are 5 different models with 3 diameter sizes and 3 lengths available. TVG-PRO Series videoscopes feature a 5-in. LCD monitor and have either 180° or full 360° articulation. They are designed for on-site inspections and maintenance on a wide range of transportation equipment, including aviation, locomotive, and gas and diesel engines; machinery, manufacturing, and metalworking, including inspections of castings and cavities; pipeline and container manufacturing; as well as power generation.
Learn more.
---
Bend the rules of lighting design: Cut and form LED sheets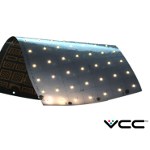 VCC is bending the rules of lighting design with its new VentoFlex tiles. The VentoFlex modular lighting system opens up countless ways for architects and lighting designers to make an impact. Available in 12-in. x 12-in. sheets, these innovative LED tiles can be cut and formed around any design element, including rounded corners and tight spaces, without taking up much room at all -- just 0.15 in. (3.81 mm). A pair of scissors is the only tool required to cut VentoFlex tiles to the size and shape you desire. Ten or 15 tiles can be linked together to one driver and dimmer to create thousands of square inches of versatile lighting power! This product is in the running for the 2019 Elektra Awards LED Product of the Year in Europe.
Learn more about this new and exciting lighting technology.
---
Compact hydraulic/pneumatic position sensors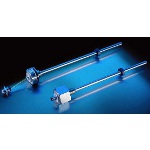 Novotechnik's TM1 Series of position sensors are designed for use in hydraulic and pneumatic cylinders -- especially in tight-space applications. They are based on magnetostrictive technology and are available in screw flange or plug-in flange models. A ring-shaped magnetic marker moves up and down the sensor's shaft for touchless operation. Specs include stroke lengths from 50 to 2,000 mm (1.9 to 78.7 in.) and accuracy to +/-0.04 percent.
Learn more.
---
Spark-proof EC fans use 50% less energy
Orion Fans has extended its electronically commutated (EC) fan product offering to include a 254-mm IP68-ATEX-rated version for waterproof and harsh environment applications. The low-power OA254EC-ATEX Series EC fan combines energy conservation with maximum protection for power-hungry applications involving explosive atmospheres or flammable gases. It delivers air flows of 500 to 830 CFM. EC fans can be used in most any AC fan application with the added benefit of power savings of up to 50 percent. EC fans often enable customers to meet energy-consumption requirements from agencies like ENERGY STAR. Ideal as a drop-in replacement for AC fans, the larger OA254 IP68-ATEX Series EC fans are suited for oil & gas applications including oil rig and oil refining equipment. The fans are also used in walk-in refrigeration systems, commercial display coolers, EV and charging systems, servers, food services equipment, and other applications.
Learn more.
---
Protect vulnerable electronics from voltage transients and lightning events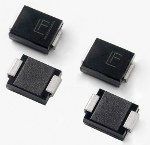 Littelfuse has released a new series of higher surge TVS Diode products in a DO-214AB package. The 8.0SMDJ series is optimized to protect sensitive electronic equipment from transient voltage induced by lightning and other voltage events. Because it combines up to 8,000 W of peak pulse power dissipation in a compact DO-214AB SMC package, the 8.0SMDJ series offers circuit designers a high-surge, space-saving circuit protection solution that can simplify printed circuit board design and improve reliability significantly. Typical markets and applications include: home appliances, consumer electronics, industrial, data centers, AC and DC protection, and PoE protection.
Learn more.
---
No-wear flat magnetic angle sensors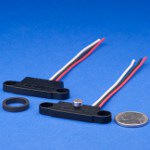 Novotechnik U.S. has just introduced the Vert-X 05E Series of magnetic rotary position sensors with compact, flat housing. Interfaces include analog, SPI, and incremental. The series is available in single and redundant versions. The sensors are touchless magnetic angle sensors with a permanent magnet that can be secured to an application's rotating shaft, so there is no direct mechanical linkage between the shaft and the measuring system -- and therefore no wear. Key specifications for Vert-X 05E include 5-mm profile, 0 to 360° measurement range, repeatability of 0.1° or better, and maximum hysteresis of 0.1°. Sample rate is up to 5 kHz, and its active measurement region extends to within 6 mm from edge of housing.
Learn more.
---
Solar cell generates hydrogen fuel and electricity at the same time
In the quest for abundant, renewable alternatives to fossil fuels, scientists have sought to harvest the sun's energy through "water splitting," an artificial photosynthesis technique that uses sunlight to generate hydrogen fuel from water. But water-splitting devices have yet to live up to their potential because there still isn't a design for materials with the right mix of optical, electronic, and chemical properties needed for them to work efficiently.
Now researchers at the U.S. Department of Energy's Lawrence Berkeley National Laboratory (Berkeley Lab) and the Joint Center for Artificial Photosynthesis (JCAP), a DOE Energy Innovation Hub, have come up with a new recipe for renewable fuels that could bypass the limitations in current materials: an artificial photosynthesis device called a "hybrid photoelectrochemical and voltaic (HPEV) cell" that turns sunlight and water into not just one, but two types of energy -- hydrogen fuel and electricity. The paper describing this work was published on Oct. 29, 2018, in Nature Materials.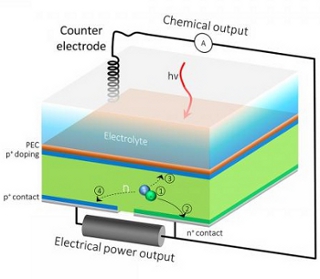 The HPEV cell's extra back outlet allows the current to be split into two, so that one part of the current contributes to solar fuels generation and the rest can be extracted as electrical power. [Credit: Berkeley Lab, JCAP]
Finding a way out for electrons
Most water-splitting devices are made of a stack of light-absorbing materials. Depending on its makeup, each layer absorbs different parts or "wavelengths" of the solar spectrum, ranging from less energetic wavelengths of infrared light to more energetic wavelengths of visible or ultraviolet light.
When each layer absorbs light, it builds an electrical voltage. These individual voltages combine into one voltage large enough to split water into oxygen and hydrogen fuel. But according to Gideon Segev, a postdoctoral researcher at JCAP in Berkeley Lab's Chemical Sciences Division and the study's lead author, the problem with this configuration is that even though silicon solar cells can generate electricity very close to their limit, their high-performance potential is compromised when they are part of a water-splitting device.
The current passing through the device is limited by other materials in the stack that don't perform as well as silicon, and as a result, the system produces much less current than it could -- and the less current it generates, the less solar fuel it can produce.
"It's like always running a car in first gear," said Segev. "This is energy that you could harvest, but because silicon isn't acting at its maximum power point, most of the excited electrons in the silicon have nowhere to go, so they lose their energy before they are utilized to do useful work."
Getting out of first gear
So Segev and his co-authors -- Jeffrey W. Beeman, a JCAP researcher in Berkeley Lab's Chemical Sciences Division, and former Berkeley Lab and JCAP researchers Jeffery Greenblatt, who now heads the Bay Area-based technology consultancy Emerging Futures LLC, and Ian Sharp, now a professor of experimental semiconductor physics at the Technical University of Munich in Germany -- proposed a surprisingly simple solution to a complex problem.
"We thought, 'What if we just let the electrons out?'" said Segev.
In water-splitting devices, the front surface is usually dedicated to solar fuels production, and the back surface serves as an electrical outlet. To work around the conventional system's limitations, they added an additional electrical contact to the silicon component's back surface, resulting in an HPEV device with two contacts in the back instead of just one. The extra back outlet would allow the current to be split into two, so that one part of the current contributes to solar fuels generation, and the rest can be extracted as electrical power.
When what you see is what you get
After running a simulation to predict whether the HPEC would function as designed, they made a prototype to test their theory. "And to our surprise, it worked!" Segev said. "In science, you're never really sure if everything's going to work -- even if your computer simulations say they will. But that's also what makes it fun. It was great to see our experiments validate our simulations' predictions."
According to their calculations, a conventional solar hydrogen generator based on a combination of silicon and bismuth vanadate, a material that is widely studied for solar water splitting, would generate hydrogen at a solar-to-hydrogen efficiency of 6.8 percent. In other words, out of all of the incident solar energy striking the surface of a cell, 6.8 percent will be stored in the form of hydrogen fuel, and all the rest is lost.
In contrast, the HPEV cells harvest leftover electrons that do not contribute to fuel generation. These residual electrons are instead used to generate electrical power, resulting in a dramatic increase in the overall solar energy conversion efficiency, said Segev. For example, according to the same calculations, the same 6.8 percent of the solar energy can be stored as hydrogen fuel in an HPEV cell made of bismuth vanadate and silicon, and another 13.4 percent of the solar energy can be converted to electricity. This enables a combined efficiency of 20.2 percent, three times better than conventional solar hydrogen cells.
The researchers plan to continue their collaboration so they can look into using the HPEV concept for other applications such as reducing carbon dioxide emissions. "This was truly a group effort where people with a lot of experience were able to contribute," added Segev. "After a year and a half of working together on a pretty tedious process, it was great to see our experiments finally come together."
Source: DOE/Lawrence Berkeley National Laboratory
Published September 2019
Rate this article