Ford Bronco R race prototype is sneak peek at new production model -- but everyone still guessing on real details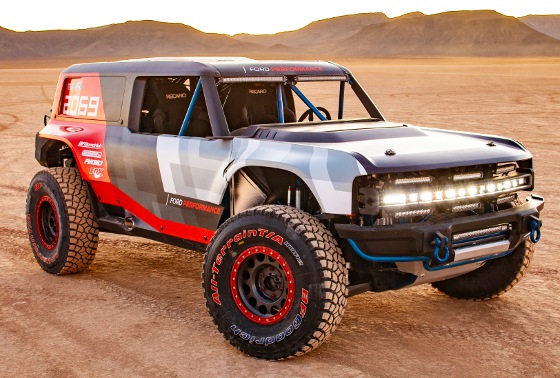 The Bronco is set to be reborn in 2020, and Ford gave us a sneak peek (although a cryptic one) of what it may look like recently when it entered a special Bronco R race prototype in the punishing Baja 1000 off-road race at the tail end of November.
Developed by Ford Performance in collaboration with builder Geiser Bros Design, the heritage-inspired design gave a hint of the new vehicle's boxy proportions and was built using the upcoming production model's body-on-frame architecture. The Bronco ceased production in 1996.
The race prototype was built on a modified Ford T6 architecture that will provide the base for the production model. Totally beefed up for Baja, Bronco R features an independent front suspension with 14 in. of travel and a production-based five-link rear chassis design with up to 18 in. of travel, plus custom Fox shocks, 17-in. beadlock-capable aluminum wheels, and 37-in. BFGoodrich tires.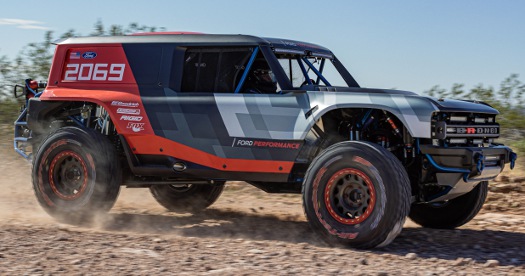 "Like the original Bronco, we kept Bronco R's design authentic and simple, with a roll cage on a production-style frame and a five-piece lightweight body on top," said Brian Novak, Ford Performance off-road racing supervisor. "For the endurance needs of Baja's 1,000 grueling miles, we built in a limited number of race-focused parts. But even the twin turbos of the EcoBoost engine are representative of what the production Bronco will offer."
The Bronco R was built as a tribute vehicle to the first-generation Bronco that Rod Hall and Larry Minor drove to an overall win 50 years ago at the 1969 Baja 1000 (a victory that no other 4x4 has replicated), sporting a race livery of red, white, and black inspired by Hall's winning vehicle.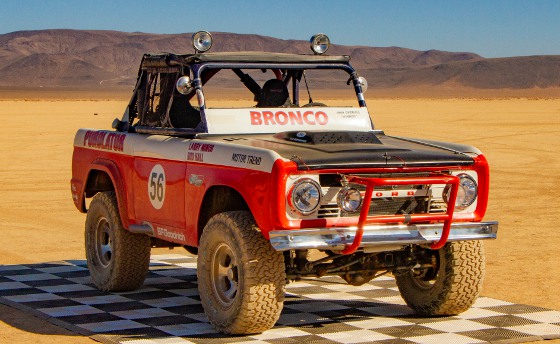 Ford brought the winner of the 1969 Baja 1000, the first-generation Bronco, to the 2019 race.
With its compressed body height and long-travel suspension, Bronco R features an ultra-wide stance -- something lacking in the current SUV market. It also wears a variety of specialized aero components for racing. The prototype's lightweight composite body includes a clamshell hood and roof, as well as clean body panels that harken back to the first-generation Bronco models (1966 to 1977). A cut-roof design allows rear-seat passengers to use a second-row hatch for access.
The exterior incorporates 15 LED lightbars from Rigid, including a grille sequence framing the new BRONCO brand lettering boldly. Washers inscribed with the Bronco name are visible at various points around the exterior and secure the composite skin to the roll cage beneath it.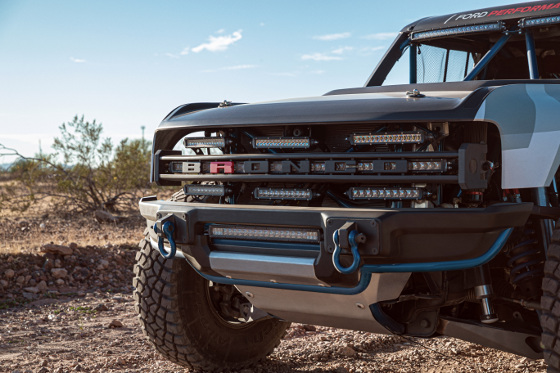 A unique race-focused interior features lightweight off-road racing shells from Recaro for all three seating positions. Simple surfaces of the instrument panel nod to the first-generation Bronco, and the integration of a MoTeC data acquisition system enables real-time monitoring and measurement of the prototype's performance attributes.
But the jacked-up Bronco R is a one-off build that Ford says only "hints" at the all-new Bronco to come, which is exciting for some brand fans and puzzling to others. What will the final design be? The exciting part is that it will probably not look like most new SUVs out there (at least we hope!), and most probably not like those car-in-the-front and mini-SUV-in-the-back crossovers that are so popular right now. Let's cheer for diversity!
For more answers, we have to look into the very cloudy world of online crystal-ball gazing and then wait for the dust to settle -- and the real reveal to happen, which is rumored to be mid to late 2020.
So let's take a quick trip around a few car sites to see what we can find.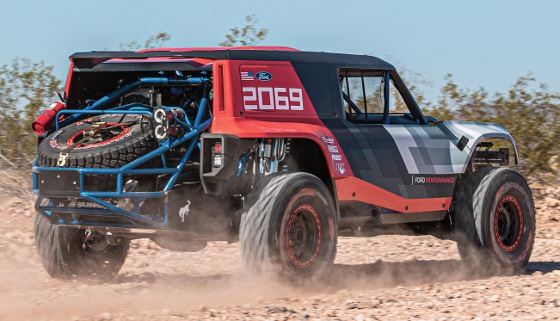 One article on the Bill Currie Ford dealership site in Tampa gives us a nice overview. It says, "According to sources at Jalopnik, the expected powertrain will likely feature a 2.7L EcoBoost V6 engine and 7-speed manual transmission, which comes as a result of a partnership between Ford and Getrag. This puts the new 2020 Ford Bronco in direct competition with the Jeep Wrangler, which is certainly a smart move by Ford. Also like the Wrangler, it should offer a choice either a 4-cylinder or 6-cylinder engine."
Many sites say the Wrangler is Ford's main target. Car and Driver has a great article filled with more predicted details gleaned from various sources. Their forecasts include that "the roof and doors will be removable" and "both two- and four-door versions will have doors that can be taken off for more open-air fun." The article also says the Bronco may eventually "spawn a pickup variant to do battle with the Jeep Gladiator."

VIDEO: RevMatchTV lays out its predictions for the new Ford Bronco's look, features, and powerplant options. Note: Renderings in this video are purely speculation. [Video credit: RevMatchTV]
Road & Track has its own take (and some spy shots of a camouflaged, possible Bronco test vehicle that sports a slightly more rounded front -- ugh). Their takeaway is that the Bronco's platform will "be based on the new Ranger." They predict the Bronco and Ranger could share an engine and transmission: "For the US market, the Ranger gets a version of Ford's 2.3-liter EcoBoost inline-four that once found a home in the Focus RS. It makes 270 horsepower and 310 lb-ft of torque in the Ranger, and it's paired with a 10-speed automatic gearbox."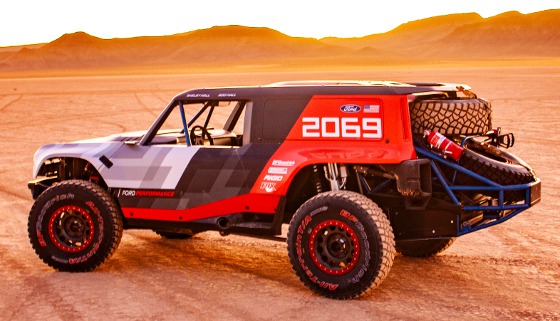 Road & Track also says, "Jalopnik reported last year that the Bronco might get a seven-speed manual transmission to be paired with Ford's 2.7-liter EcoBoost V-6. Presumably, if the Bronco does get this engine, it'll likely be paired with a 10-speed auto, too. In the Edge ST, Ford's 2.7-liter makes 335 horsepower and 380 lb-ft of torque, while it offers 325 horsepower and 400 lb-ft of torque in the F-150."
The article also says, "Automotive News also reports that the Bronco and it's 'Baby' sibling will eventually be joined by a new unibody pickup truck with some off-road capability. It's all part of Ford's plan to be a better rival to Jeep."
Part of the differentiation in engine possibilities could be explained by there being different versions of the Bronco, including a two-door, four-door, and even a truck and/or smaller "Sport" model. Part of it could be that the Internet doesn't know everything.
So all in all, not a lot to go on, but a healthy bit of hype for a much-anticipated new offering.
As for the Bronco R at this year's Baja 1000, it posted a DNF (Did Not Finish). Surely, that must have hurt.
But Ford communications manager Mike Levine told Jalopnik the pre-production parts tested on the Bronco R prototype "performed flawlessly. No engine or chassis issues." He said the DNF was primarily due to custom-part failures (broken lower control arm), "aftermarket cooling fan issues," and a damaged skid plate due to involvement in an accident where a trophy truck hit a Raptor. "That's desert racing!" he added.
Well there's always next year, which hopefully will be better, because that's when the real Bronco will come out to play.
Future updates could be posted on the Ford site at ford.com/suvs/bronco/.
Sources: Ford Motor Co., Bill Currie Ford, Car and Driver, Road & Track, Jalopnick, RevMatchTV
Published December 2019
Rate this article