End-use plastic parts without tooling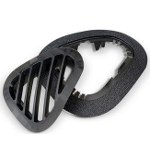 Figure 4 Production Black 10 (PRO-BLK 10), a revolutionary new production material for additive manufacturing applications from 3D Systems, enables manufacturers to directly produce end-use plastic parts without tooling. This results in parts produced the same day versus the weeks required with conventional tool-based approaches. Figure 4 PRO-BLK 10 is 3D Systems' first photopolymer for additive manufacturing that exhibits thermoplastic behaviors, providing a combination of speed, accuracy, strength, and durability previously only associated with injection molding output. In customer testing of a variety of parts, using the Figure 4 system and the new material delivered a part in hand on average up to 4X faster compared to customers' existing 3D production systems.
Learn more.
---
New advanced materials for production-grade 3D printing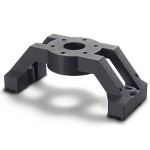 Stratasys recently unveiled several new durable temperature- and chemical-resistant FDM thermoplastics aimed at addressing the growing demands of engineers and designers to deliver production-grade, custom 3D-printed tooling and parts. Suited for aerospace and industrial applications, the new Antero 840CN03 PEKK-based polymer with ESD properties can create strong yet lightweight parts used in frames, panels, and components. Built for highly durable tooling applications, Diran is a new nylon-based FDM thermoplastic that provides manufacturers with extreme toughness and low friction, combined with resistance to hydrocarbon-based chemicals and a smooth surface to offer low sliding resistance. Diran's toughness is able to withstand the rough handling of tools often common in a manufacturing setting.
Learn more.
---
How to calculate plastic injection molding shrinkage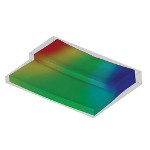 Do you know how to calculate the shrinkage of your part ahead of time? Plastic injection molding shrinkage is the contraction of a plastic molded part as it cools after injection. Most of the part shrinkage occurs in the mold while cooling, but a small amount of shrinkage occurs after ejection, as the part continues to cool (especially for Delrin or POM). After that, the part may continue to shrink very slightly for several hours or even days until the temperature and moisture contents stabilize.
Read the ICOMold blog.
---
Allite Super Magnesium is now award winner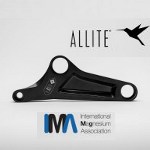 Weighing 33 percent less than aluminum, while also being stiffer and stronger pound for pound, the new Allite Super Magnesium alloy has shown its mettle in classified defense and aerospace applications. Now it's available for wider use. Less expensive than carbon fiber, its applications include home improvement, sporting goods, aerospace, automotive, biking, and more. Three alloy variants are available to suit welding, forming/forging, or casting. These alloys feature excellent shock-absorption properties, good electromagnetic shielding performance, good heat dissipation, and recyclability. Allite received the Award of Excellence under the Process category by the International Magnesium Association in May 2019.
Learn more.
---
New electrically conductive flame-retardant plastic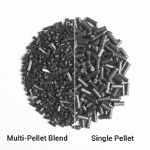 Electrically conductive plastics continue to provide reliable EMI shielding in a wide variety of applications. Thermoplastics provide a good alternative to bulky metal enclosures due to their superior weight, EMI shielding capabilities, and simpler manufacturing process. However, before purchasing any thermoplastic, it is important to consider performance capabilities. Paige Ludl from the Chomerics Division at Parker runs through the basics of what you need to know about these materials.
Read this informative Parker blog.
---
How specialized coatings make mechanical parts harder
Although bearings, gears, rollers, and other precision components are generally made of hardened steel or metal alloys, those used in high-load applications still can fail due to excessive wear, surface fatigue, pitting, galling, and corrosion. To address this problem, product engineers and component manufacturers often turn to specialized PVD (physical vapor deposition) coatings that can further harden the surface of these parts. Oerlikon Balzers provides solid solutions.
Read the full article.
---
How to choose the best online CNC machine shop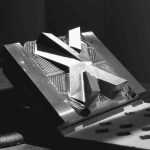 Sourcing professionals, engineers, and designers alike need to have parts produced through technologies like CNC machining, turning, and milling. In development, the requirements may be loose to get a product validated. And in production, the expectation is that parts are made consistently, on time, and to specifications. But it is sometimes difficult to navigate through all the Internet searches and buzzwords to determine the best fit for your needs. Greg Paulsen from Xometry provides a useful guide on what to look for when selecting a machine shop.
Read the Xometry blog.
---
First semi-transparent polyamide good for car interior lighting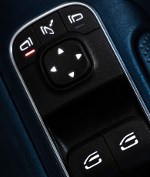 The BASF product Ultramid Vision has been used in a car interior for the first time. The semi-crystalline polyamide is employed in the window regulator module of a German automobile manufacturer. Compared to opaque standard polyamides, Ultramid Vision displays very high light transmission with low light scattering, which makes it a perfect choice for use with the illuminated symbols on the window regulators and for setting the exterior mirrors. The requirement was to allow as much light to pass through as possible, with high color fidelity.
Learn more.
---
3D Printing: Breakaway support material for complex FDM parts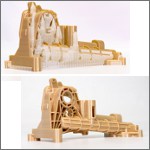 SABIC's AMS31F is a breakaway support filament for use with ULTEM AM9085F filament. The material maintains rigidity during printing and provides exceptional pliability during post processing to enable easier removal of structural supports at room temperature, which can reduce the time required to produce finished parts. Both AMS31F and ULTEM AM9085F filaments are compatible with Stratasys Fortus Classic printers and other industrial printers.
Learn more.
---
Fiber-reinforced composites for automotive design get a new spin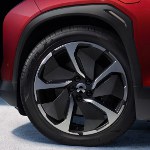 Thanks to their unidirectional carbon fiber optics and a high-quality surface offered by the polycarbonate matrix, Covestro-branded Maezio continuous fiber-reinforced thermoplastic composites bring a new tool to the automotive designer's toolbox for designing unique appearances. One case in point: pretty neat aluminum rims with carbon fiber blade inserts.
Read the full article.
---
New polyamide 6 (PA6) compounds for metal replacement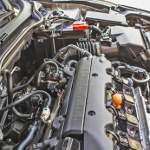 New Creamid P Series polyamide 6 (PA 6) compounds from Teknor Apex absorb nearly one-third less water at saturation than standard grades, provide 15 to 25 percent improved tensile properties in the conditioned state, and exhibit higher flow and excellent surface characteristics, even in highly glass-filled formulations. The Creamid P series is the newest product family of higher performance specialty polyamide compounds for structural components in metal replacement applications. The compounds are based on advanced formulation technology that can be applied to lower the moisture uptake of a broad range of polyamide 6- and 6/66-based compounds. These include grades with various types and loadings of reinforcements or fillers, as well as impact-modified, toughened grades and other specialty compounds. These compounds can also employ an advanced heat-stabilization system that extends continuous-use temperature.
Learn more.
---
Overmolding vs. insert molding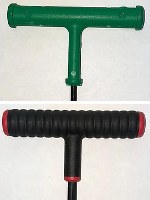 Is there a difference between insert molding and overmolding? Some argue that insert molding is a completely different process from overmolding, while others say it is the same or similar. The molding specialists over at Aberdeen Technologies have posted a blog to set the record straight. Why? Because using the terminology improperly could cause confusion for your project. A very useful topic!
Read the blog.
---
World's darkest spray paint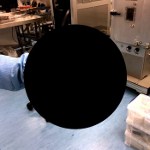 A whole range of products can now take advantage of the world's blackest coating, Vantablack, thanks to the development of a spray version called Vantablack S-VIS. It is easily applied at large scale to virtually any surface. Vantablack's carbon nanotube matrix structure absorbs virtually all (99.8 percent) incident light, enabling precision optical systems to be optimized. The material's developer, UK-based Surrey NanoSystems, has mimicked the performance of its original Vantablack with this new version that can be sprayed onto objects, rather than deposited using a chemical vapor deposition (CVD) process.
Click here to learn more.
---
How many mils is your coating?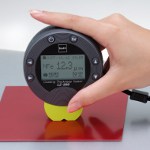 Although portable coating thickness gauges are not new, most fail to provide the accuracy, speed, or simplicity required for anyone to conduct quick checks as needed on the production line or in the field. Well all that has changed. A new solution from Kett enables simple, one-hand non-destructive testing -- even on curved and complex surfaces -- on painting, plating, anodizing, and organic coatings.
Read the full article.
---
Comparison guide for plastic material performance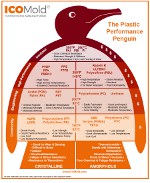 When you're choosing the best plastic material for your injection molding project, you have literally thousands of materials to choose from and lots of factors to consider, such as cost, strength, and temperature range. Wouldn't it be nice if there were a chart that compared the most common plastic materials? ICOMold has made one and put it in the shape of penguin, because they're clever and, well, it's fun. Their Plastic Performance Penguin is very useful too. Save this one for future reference.
Read the full article.
---
Diesel gets way cleaner with new injector technology
An engine innovation first conceived and tested by Sandia National Laboratories has attracted the attention of big business because of its potential to reduce emissions of soot and nitrogen oxides cost effectively, encourage the use of renewable fuels, and maintain or improve engine performance.
Ducted fuel injection, developed by Charles Mueller at Sandia's Combustion Research Facility, is able to fine-tune the fuel-air mixture in an engine to the point of eliminating between 50 to 100 percent of the soot depending on the engine's instantaneous speed and power level.
Mueller said engine manufacturers are "starting to show excitement" about ducted fuel injection. Not only does it work well with conventional diesel fuel, it is conceptually simple and can be constructed from low-cost materials.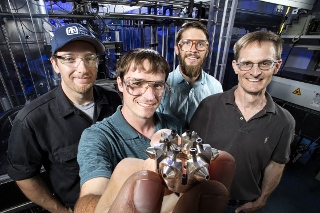 Sandia National Lab researchers, from left, Nathan Harry, Christopher Nilsen, Drummond Biles, and Charles Mueller, show off the prototype ducted fuel injection module. [Photo by Randy Wong]
"Ducted fuel injection is also conceivably retrofittable onto existing engines," Mueller said. "This is especially important for large engines, like those in ships or locomotives, where the engines can cost a million dollars or more, and full electrification is cost prohibitive. A retrofit could be relatively inexpensive and could provide substantial emissions benefits right away."
Humble beginnings: Idea for ducted fuel injection came from Bunsen burner
Ducted fuel injection was first conceived by Mueller from -- of all things -- a Bunsen burner, which can be found in almost every high school science classroom in the nation.
"If you unscrew the tube on a Bunsen burner and you light the gas jet, you get a tall, sooty orange flame," Mueller said. "Turn off the gas, screw the tube back on and re-light the burner. Now you get a nice, short blue flame right at the end of the tube. The flame is blue because there isn't any soot."
Mueller thought that concept might be adaptable to combustion engines, so he and his team -- intern Christopher Nilsen, post-doctoral appointee Drummond Biles, and technologist Nathan Harry -- began experiments that have now resulted in an assembly of four to six small tubes -- or ducts -- directing fuel mixture from the injector to the points of ignition.
Mueller says that injectors in a traditional diesel engine create local igniting mixtures that contain two to 10 times more fuel than is needed for complete combustion.
"When you have that much excess fuel at high temperature, you tend to produce a lot of soot," he said. "Installing the ducts enables us to achieve diesel combustion that forms little to no soot, because the local igniting mixtures contain less excess fuel."
Limiting the formation of a universal engine pollutant
Generations of engine designs have failed to take soot out of emissions because there was a physical limit to the chemistry of fuel combustion.
"Soot is second only to carbon dioxide as a chemical that forces climate change, and it's toxic, so its emissions should be minimized," Mueller explained. "In the past, there's always been this problem called the soot-NOx tradeoff. That is: When you do something to lower soot, emissions of nitrogen oxides -- or NOx -- go up, and vice versa."
Nitrogen oxides are also atmospheric pollutants, and the tradeoff meant that truck, car, and equipment makers couldn't meet current legislated limits without adding exhaust-gas aftertreatment systems. These systems are analogous to catalytic converters on spark-ignition engines, though significantly larger and more expensive. But remove one of those pollutants almost entirely -- like ducted fuel injection does with soot -- and Mueller said you have changed the game.
"Now that we've got soot out of the way, there's no more soot-NOx tradeoff," he said. "So, we can add dilution -- taking some of the engine exhaust and routing it back to the intake -- to get rid of NOx without soot emissions becoming a problem. It's like a two-for-one deal on reducing pollutants."
Mueller said that in engine experiments, his team has observed simultaneous, orders-of-magnitude reductions in soot and nitrogen oxides.
"This gives us a path to much lower emissions for diesel engines, solving a long-standing problem for this highly efficient technology," he said.
Reducing trucking costs with ducted fuel injection, renewable fuels
The near elimination of soot and nitrogen oxides may also open up the market for renewable fuels.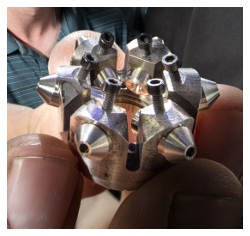 "Ducted fuel injection works great with conventional diesel fuel, but it works even better with oxygenated fuels, which have one or more oxygen atoms bonded into some or all of their molecules. Many renewable, sustainable fuels are oxygenated," Mueller said.
"Using oxygenated fuels with ducted fuel injection lowers emissions, perhaps enough to enable a less expensive engine system because less exhaust aftertreatment would be required," he said. "On a modern on-highway truck, aftertreatment amounts to about $12,000 in initial and operating costs over the life of the vehicle. Reducing even a fraction of those costs is a big deal, given the large number of these vehicles and their importance to the economy."
Technology promises vehicle, alternative-fuel market opportunities
Paul Miles, manager of the engine research program, said the potential impact of ducted fuel injection cannot be overstated.
"Breaking the tradeoff between soot and nitrogen oxides is a research area of highest priority for diesel engine development," Miles said. "This is an example of the key role of government-supported research to identify and demonstrate the potential of innovative, high-risk technologies to reshape the landscape for an industry, our transportation infrastructure and our society, and then to work alongside commercial partners to get the technology into the marketplace."
Ford and a manufacturer of off-road equipment recently signed a cooperative research and development agreement with Sandia to help advance the technology.
Mueller is excited about collaborating with industry partners to move this breakthrough from the laboratory toward production engines.
"Ducted fuel injection shows promise for giving us clearly superior engines for the future," he said. "It should preserve all of the desirable attributes of a conventional diesel engine but also significantly lower the emissions, which lowers the cost of the engine system because you don't have to use as much aftertreatment. And, it works even better with current and emerging renewable fuels."
This research was conducted as part of the Co-Optimization of Fuels and Engines program sponsored by the U.S. Department of Energy, Office of Energy Efficiency and Renewable Energy, through the Vehicle Technologies and Bioenergy Technologies offices.
Sandia National Laboratories is a multimission laboratory operated by National Technology and Engineering Solutions of Sandia LLC, a wholly owned subsidiary of Honeywell International, for the U.S. Department of Energy's National Nuclear Security Administration.
Source: Sandia
Published November 2019
Rate this article