Edge protection seal for corner profiles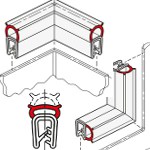 JW Winco offers a comprehensive portfolio of edge protection profiles for softening and rounding edges as well as preventing injuries on flaps, doors, access holes, and sheet metal edges of all kinds. These edge protection seals include an additional sealing profile feature that provides both protection and sealing alike. With corresponding contact pressure, they offer protection against splash water, dust, and steam, while also reducing noise emissions.
Learn more.
---
hyperMILL CAM software gets additive mfg capability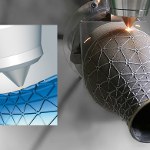 CAD/CAM software solutions developer OPEN MIND Technologies now offers an ADDITIVE Manufacturing (AM) capability option in hyperMILL CAM software to support 3D printing/additive processes. hyperMILL with AM also provides efficient hybrid processing with simultaneous additive and subtractive processing on one machine. For highly complex 5-axis simultaneous processing, hyperMILL AM enables an array of flexible options for Directed Energy Deposition processes (DED) and Wire Arc Additive Manufacturing (WAAM). Both laser-based powder nozzle machining heads and WAAM can be controlled using hyperMILL AM for selective material deposition, as well as conveniently programmed and automatically simulated for collision avoidance.
Learn more.
---
Fasteners: The aliens have landed. Lock 'em up.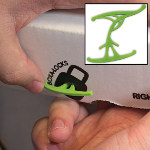 It looks "alien," but it's the ultimate in box-security fasteners. In fact, the Alien Lock from Micro Plastics is the first and only dedicated box fastener. It is a much less expensive solution than banding or taping your boxes, and it keeps them more secure too. It's easy and fast to insert, and it's incredibly strong. It cannot be pulled out without it being obvious that the box was tampered with -- it must be cut off. This is a 1-step fastener: Push Alien Lock through the lock port, and the locking process is finished.
Learn more.
---
Siphon-fed spray nozzles for non-pressurized liquids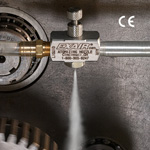 EXAIR's new 1/8 NPT siphon-fed spray nozzles atomize fluids in a range of spray patterns for a wide variety of uses. These are EXAIR's smallest air atomizing nozzles and are suitable for tight spaces. Siphon-fed atomizing nozzles require no liquid pressure and can be used with gravity-fed liquids or lift liquids from a siphon height as much as 36 in. (91 cm). They combine liquid and compressed air to create a mist of atomized liquid that can be easily adjusted to meet the needs of your application.
Learn more.
---
Top Tech Tip: Low-profile retaining rings

Smalley Hoopster® Rings fit into shallower grooves than regular snap rings or retaining rings. Where retaining rings once were not an option because of groove depth, the low profile, precision circularity, and small radial size allow Hoopsters to be unobtrusive components, ideal for thin wall tubes.
Learn more.
---
Adhesives: The importance of hardness testing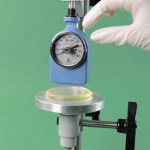 According to Master Bond, measuring hardness is a simple, yet powerful test to ensure proper curing and evaluate the performance of adhesive materials. Why? Hardness is generally a good indication of the product's overall functionality. If the mix ratio used was incorrect or if parts A and B were not mixed thoroughly or properly, the adhesive will cure "tacky" or with blotches. Hardness can also be used to determine how a material is holding up to various experiments and accelerated aging tests.
Read this informative Master Bond blog.
---
Next-gen low-friction bearing for improved lubrication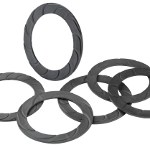 Freudenberg Sealing Technologies has developed an optimized design for its proven Levitorq axial thrust washers. Through a new "scoop" feature, the enhanced Levitorq design is able to collect and push lubrication under the washer to enable higher critical speeds and enhanced performance. A team of experts developed the scoop design based on the types and availability of lubricants used in powertrain applications. These designs help optimize the availability of lubrication at the inner diameter, thus improving lubrication across the washer. These designs are ideal for applications with limited or splash lubrication. Levitorq is part of the company's Low Emission Sealing Solutions (LESS) product portfolio.
Learn more.
---
ClampDisk micro fastener is new alternative for automotive and consumer electronics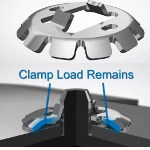 Designed as a unique alternative in assemblies for the automotive and consumer electronics markets, the ClampDisk Press-on Fastener is a new offering from PennEngineering that delivers a fast, simple way to achieve sheet-to-sheet clamped attachment while replacing the use of standard screws, nuts, and adhesives. The most common challenges that can be eliminated or reduced by using ClampDisk include over installation, cross threading, stripped screw heads, broken screws, and damaged product. This fastener can be removed easily with a sharp-edged tool.
Learn more and see ClampDisk in action.
---
Specialty hinges expand design possibilities for opening and closing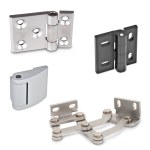 From the simplest of hinges to multi-joint hinges with complex kinematics, the JW Winco selection has everything needed for superior door and flap solutions -- including extra functions. Popular choices include the heavy-duty stainless steel GN 237.3 with 180-degree range of motion and the GN 235, which can be mounted with socket head cap screws and -- thanks to its offset axis -- still swivels 180 degrees without collision. Additional functionality is offered by hinges with variable friction, and in another Winco-Norm part, an integrated spring ensures independent return of the hinge. This special product range, which also includes integrated damping, indexing, and locking functions, is being continually expanded by Winco. One kinematic highlight is already available from Winco: the multiple-joint hinge with either a 4x, 7x, or 10x joint mechanism, which opens flaps and shifts their position at the same time, while still offering 180 degrees of travel. Many more options.
See the full range of JW Winco hinges.
---
New advanced materials for production-grade 3D printing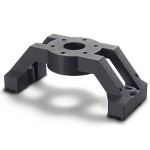 Stratasys recently unveiled several new durable temperature- and chemical-resistant FDM thermoplastics aimed at addressing the growing demands of engineers and designers to deliver production-grade, custom 3D-printed tooling and parts. Suited for aerospace and industrial applications, the new Antero 840CN03 PEKK-based polymer with ESD properties can create strong yet lightweight parts used in frames, panels, and components. Built for highly durable tooling applications, Diran is a new nylon-based FDM thermoplastic that provides manufacturers with extreme toughness and low friction, combined with resistance to hydrocarbon-based chemicals and a smooth surface to offer low sliding resistance. Diran's toughness is able to withstand the rough handling of tools often common in a manufacturing setting.
Learn more.
---
Need help coupling two parallel shafts?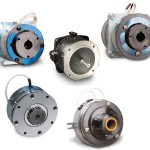 Electromate offers a full family of power-on clutches from Inertia Dynamics for most applications. Power-on clutches are used to couple two parallel shafts. The armature hub assembly is mounted to the same shaft as the rotor assembly. The armature hub accommodates a pulley, gear, sprocket, etc., to transmit torque to the second shaft. The field assembly is mounted on the shaft and retained by a loose-fitting pin or bracket through the anti-rotation tab. Typical applications include: packaging machinery, medical equipment, conveyors, postal sorters/readers, document feeders, textile equipment, and copiers/printers.
Learn more.
---
A proportional isolation valve like no other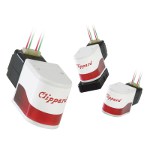 Clippard's new patented ceramic technology is the first to provide precise proportional control combined with isolation valve attributes to meet the needs of the most stringent analytical and industrial process control applications. This valve is ideal in critical applications for liquid and gas delivery, medical, analytical, and industrial automation requiring ultra-fine resolution and excellent repeatability. In addition, the unique design allows for custom flow profiles.
Learn more.
---
New ball screw for machine tools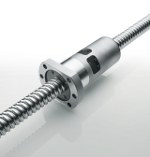 Featuring high-speed performance and load capacities that exceed existing full ball standards, THK's new Type BSM Ball Screw is ideal for use in machine tools. The Type BSM uses a newly developed circulation structure and a large lead to meet high-speed performance demands. The DN value is 170,000, contrasted with 130,000 in conventional products. The unique groove design and double groove structure improve load capacity. The Slim Nut Type BSM-B conserves space with a nut diameter up to 14 percent more compact than THK conventional ball screws. An extended overall length and increased number of loaded circuits ensure optimum rigidity.
Learn more.
---
How to calculate plastic injection molding shrinkage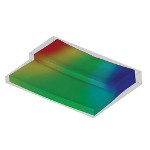 Do you know how to calculate the shrinkage of your part ahead of time? Plastic injection molding shrinkage is the contraction of a plastic molded part as it cools after injection. Most of the part shrinkage occurs in the mold while cooling, but a small amount of shrinkage occurs after ejection, as the part continues to cool (especially for Delrin or POM). After that, the part may continue to shrink very slightly for several hours or even days until the temperature and moisture contents stabilize.
Read the ICOMold blog.
---
New anti-static air knife with 30% better performance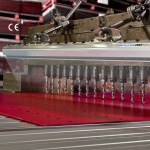 EXAIR's new Gen4 Standard Ion Air Knife eliminates static electricity 30 percent better at low inlet pressures, which saves compressed air and money. Production speeds, product quality, and surface cleanliness can improve dramatically. It eliminates static on plastics, webs, sheet stock, and other product surfaces where tearing, jamming, or hazardous shocks are a problem. The unique amplified airflow carries the ions to the target, making it possible to eliminate static charges in less than a half second. Air volume and velocity are infinitely controllable from a breeze to a blast to gently wipe or forcefully blow away debris.
Learn more.
---
'Blackest black' material ever is discovered -- by mistake!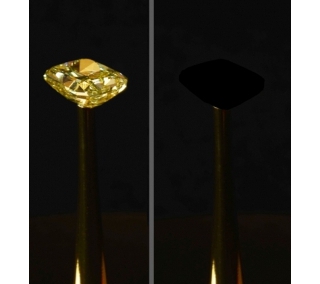 A 16.78-carat natural yellow diamond from LJ West Diamonds (left), is coated with a new carbon nanotube-based material that is the blackest material on record (the covered diamond, shown at right). The diamond is the subject of a work of art created by MIT Center for Art, Science, and Technology artist-in-residence Diemut Strebe, in collaboration with MIT engineer Brian Wardle and his lab. [Image: R. Capanna, A. Berlato, and A. Pinato] Look REALLY HARD on the right, and you can see the outline.
By Jennifer Chu, MIT
Engineers at MIT have cooked up a material that is 10 times blacker than anything that has previously been reported -- even Vantablack (from Surrey NanoSystems) that has been featured in Designfax several times.
The material is made from vertically aligned carbon nanotubes, or CNTs -- microscopic filaments of carbon, like a fuzzy forest of tiny trees, that the team grew on a surface of chlorine-etched aluminum foil. The foil captures at least 99.995 percent of any incoming light, making it the blackest material on record. (Vantablack, which is also made of carbon nanotubes and has been available commercially in several forms for several years, captures 99.96 percent of incoming light.)
The researchers published their findings Sept. 12 in the journal ACS-Applied Materials and Interfaces. They are also showcased the cloak-like material as part of a new exhibit at the New York Stock Exchange, titled "The Redemption of Vanity."
The artwork, a collaboration between Brian Wardle, professor of aeronautics and astronautics at MIT, and his group, and MIT Center for Art, Science, and Technology artist-in-residence Diemut Strebe, features a 16.78-carat natural yellow diamond from LJ West Diamonds, estimated to be worth $2 million, which the team coated with the new, ultrablack CNT material. The effect is arresting: The gem, normally brilliantly faceted, appears as a flat, black void.
Wardle says the CNT material, aside from making an artistic statement, may also be of practical use, for instance in optical blinders that reduce unwanted glare or to help space telescopes spot orbiting exoplanets.
"There are optical and space science applications for very black materials, and of course, artists have been interested in black, going back well before the Renaissance," Wardle says. "Our material is 10 times blacker than anything that's ever been reported, but I think the blackest black is a constantly moving target. Someone will find a blacker material, and eventually we'll understand all the underlying mechanisms and will be able to properly engineer the ultimate black."
Wardle's co-author on the paper is former MIT postdoc Kehang Cui, now a professor at Shanghai Jiao Tong University.
Into the void
Wardle and Cui didn't intend to engineer an ultrablack material. Instead, they were experimenting with ways to grow carbon nanotubes on electrically conducting materials such as aluminum, to boost their electrical and thermal properties.
But in attempting to grow CNTs on aluminum, Cui ran up against a barrier, literally: an ever-present layer of oxide that coats aluminum when it is exposed to air. This oxide layer acts as an insulator, blocking rather than conducting electricity and heat. As he cast about for ways to remove aluminum's oxide layer, Cui found a solution in salt, or sodium chloride.
At the time, Wardle's group was using salt and other pantry products, such as baking soda and detergent, to grow carbon nanotubes. In their tests with salt, Cui noticed that chloride ions were eating away at aluminum's surface and dissolving its oxide layer.
"This etching process is common for many metals," Cui says. "For instance, ships suffer from corrosion of chlorine-based ocean water. Now we're using this process to our advantage."
Cui found that if he soaked aluminum foil in saltwater, he could remove the oxide layer. He then transferred the foil to an oxygen-free environment to prevent reoxidation, and finally, placed the etched aluminum in an oven, where the group carried out techniques to grow carbon nanotubes via a process called chemical vapor deposition.
By removing the oxide layer, the researchers were able to grow carbon nanotubes on aluminum, at much lower temperatures than they otherwise would, by about 100 degrees Celsius. They also saw that the combination of CNTs on aluminum significantly enhanced the material's thermal and electrical properties -- a finding that they expected.
What surprised them was the material's color.
"I remember noticing how black it was before growing carbon nanotubes on it, and then after growth, it looked even darker," Cui recalls. "So I thought I should measure the optical reflectance of the sample.
"Our group does not usually focus on optical properties of materials, but this work was going on at the same time as our art-science collaborations with Diemut, so art influenced science in this case," says Wardle.
Wardle and Cui, who have applied for a patent on the technology, are making the new CNT process freely available to any artist to use for a noncommercial art project.
"Built to take abuse"
Cui measured the amount of light reflected by the material, not just from directly overhead, but also from every other possible angle. The results showed that the material absorbed at least 99.995 percent of incoming light, from every angle. In other words, it reflected 10 times less light than all other superblack materials, including Vantablack. If the material contained bumps or ridges, or features of any kind -- no matter what angle it was viewed from -- these features would be invisible, obscured in a void of black.
The researchers aren't entirely sure of the mechanism contributing to the material's opacity, but they suspect that it may have something to do with the combination of etched aluminum, which is somewhat blackened, with the carbon nanotubes. Scientists believe that forests of carbon nanotubes can trap and convert most incoming light to heat, reflecting very little of it back out as light, thereby giving CNTs a particularly black shade.
"CNT forests of different varieties are known to be extremely black, but there is a lack of mechanistic understanding as to why this material is the blackest. That needs further study," Wardle says.
The material is already gaining interest in the aerospace community. Astrophysicist and Nobel laureate John Mather, who was not involved in the research, is exploring the possibility of using Wardle's material as the basis for a star shade -- a massive black shade that would shield a space telescope from stray light.
"Optical instruments like cameras and telescopes have to get rid of unwanted glare, so you can see what you want to see," Mather says. "Would you like to see an Earth orbiting another star? We need something very black. ... And this black has to be tough to withstand a rocket launch. Old versions were fragile forests of fur, but these are more like pot scrubbers -- built to take abuse."
Published September 2019
Rate this article