Electromechanical kit for easy joining applications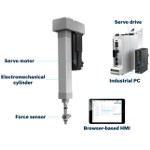 Bosch Rexroth's new, innovative Smart Press Kit is designed to meet future industrial requirements and provides a complete mechatronics package immediately ready for use across an extremely wide range of standardized pressing and joining applications -- particularly 2 to 30 kN. The modular kit, consisting of mechanical components, electrical components, and software, simplifies product selection and configuration as well as commissioning. The Smart Press Kit can be connected via open interfaces and conveniently monitored on a tablet during operations. This maximizes transparency, reduces downtime, and increases productivity. Applications include press-fitting bearings into housings, crimping cables and hoses, and inserting (for example, integration of magnets in lamination stacks).
Learn more.
---
Flat external high-speed rotor motor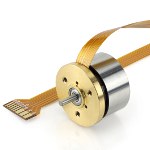 With the DF20, Nanotec now offers a flat external rotor motor with a diameter of just 20 mm. It is available with two different windings for 12 and 24 V and is equipped with digital Hall sensors for simple control. The DF20 features a rated power of 5 W and a rated speed of 5,200 rpm. The open design without rotor housing ensures optimal heat dissipation -- even at high speeds. Thanks to its compact construction with flat ribbon cable, this brushless DC motor is ideal for applications with limited space, such as robot grippers, medical pumps, or prosthetics. An adapter board is available for test purposes as an accessory.
Learn more.
---
OnRobot's One System Solution grippers receive UR+ certification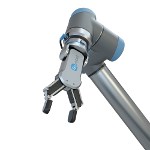 With the One System Solution launched this fall, OnRobot disrupted the end-of-arm-tooling (EoAT) industry, presenting a full line of intelligent grippers and sensors with a unified mechanical and communications interface. The innovative approach allows for quick plug-and-play tool changes and fast and easy programming across multiple production lines and applications. The One System Solution grippers are now also part of the UR+ program that tests and certifies EoAT products for seamless use with cobots from Universal Robots. Additionally, the URCap software automatically identifies the OnRobot tool that is mounted on a UR robot, so a variety of OnRobot products can be used effortlessly.
Learn more.
---
New integrated DC motor and controller package
Haydon Kerk Pittman has just announced the latest addition to its popular line of brushless DC motors. The EC042B IDEA Motor Series is now available with CANopen communication-enhancing motion control capabilities. Save money and space by utilizing the IDEA Motor's integrated package of motor, drive, and feedback connections in a compact and programmable unit. A single motor/drive unit reduces motion system components by up to 75 percent per axis and simplifies machine troubleshooting. Save time using a pre-engineered, factory-configured and tested servo system. Immediately generate complex precise motion sequences by using the available Graphical User Interface that provides an intuitive programming environment to quickly develop, save, and debug complex motion sequences.
Learn more.
---
Smart actuators deliver on the promise of Industry 4.0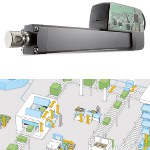 As Industry 4.0 initiatives bring more and more industrial axes of motion into the realm of automation, the need for cost-effective control across them grows as well. Consider, for example, industrial tasks such as raising or lowering a conveyor to handle cartons of various sizes. If such adjustments are needed only a few times a day, automation with conventional technology would be difficult to justify. Automating such intermittent operations with pneumatic cylinders, for instance, would require costly infrastructure and elevated maintenance costs while providing only limited control capability. Today's smart electromechanical actuators, however, enable designers to automate intermittent operations affordably by embedding functionality that has previously required an external infrastructure.
Read the Thomson article.
---
New hygienic integrated electric actuators provide modular clean-in-place solutions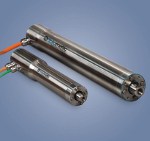 The Tolomatic IMA-S stainless-steel integrated servo actuator is designed for the most demanding food and beverage processing applications, eliminating harborage points and preventing bacterial growth. The 316 stainless-steel construction provides excellent corrosion resistance and withstands high pressure, high temperature, and caustic washdown. It meets clean-in-place requirements, allowing machine designers to achieve open machine designs and eliminate shrouding required to house standard actuators. This series offers forces up to 11.1 kN (2,500 lbf), stroke lengths up to 450 mm (18 in.), and options for planetary roller screws or ball screws. A proprietary lubrication feature helps extend service life.
Learn more.
---
Engineer's Toolbox: Three steps to mount a step motor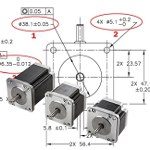 Jeff Kordik, chief technical officer, Applied Motion Products, runs through the basic steps to mount a step motor and also covers key mounting dimensions. He provides his pro tips along the way and also gives tips for determining proper step motor torque as a sidebar. Lots of good info here.
Read the full article.
---
Mini linear stages for precision automation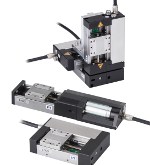 Positioning systems that not only work very precisely but are also suitable for higher loads while requiring little installation space are sought after in medical tech, biomedical engineering, or when aligning components in the laser and photonics industries; in micro assembly; and even when handling parts in industrial automation. With the L-505 series, PI (Physik Instrumente) now has compact linear stages in its portfolio that can be loaded to 30 N and are available in two space-saving dimensions: a 36-mm narrow, elongated version with direct fixed drive and a 60-mm-wide, shorter version with folded drivetrain. These compact linear stages are offered either with a DC motor or a stepper motor and with or without gearhead.
Learn more.
---
Motor sizing basics: Balancing torque, speed, and inertia for optimal application performance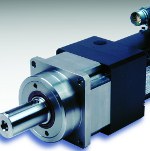 Optimizing motor selection for motion control applications can have significant performance, cost, and maintenance benefits. Select too large a motor, and you could overwhelm your actuators and incur unnecessary equipment and energy costs. Select too small a motor, and you may not achieve the torque and speed you need for effective performance. Andrew Skidmore, senior project engineer at Thomson Industries, covers what you need to know to make the proper selection for your application.
Read the Thompson article.
---
Slip rings for demanding environments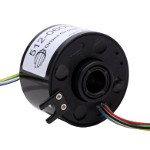 The Orbex Group now offers IP65-rated slip rings for reliable use in demanding industrial or outdoor applications. Constructed from stainless steel, the rugged 200 series resists shock, vibration, and corrosion in salty or washdown environments. It features a wide temp range (-40 to 80 C) and the longest service life of any Orbex slip rings -- up to 80 million revolutions. Units incorporate proprietary channeled brush technology, which creates multiple contact points and reduces contact forces to minimize wear in food processing, packaging, wind turbines, marine cable reels, downhole inspection equipment, and other demanding applications. Mini (300 series) and through-bore (series 500) slip rings also available.
Learn more.
---
Multi-axis gimbal system for defense
Cobham Advanced Electronic Solutions has just introduced a new multi-axis gimbal system for military applications such as counter unmanned aerial vehicles (UAV) and air defense operations that offers a great combination of reliability, precision, and affordability. The SPS-1000 is a next-gen sensor positioning system (SPS) that accurately acquires, tracks, and points a variety of sensor payloads in harsh land, sea, and airborne environments. Two key benefits of the modular design approach are integral field-replaceable control electronics (which eliminates all external cables without any sacrifice in performance) and a reconfigurable design allowing for utmost payload flexibility.
Learn more.
---
Linear motion guide with built-in encoder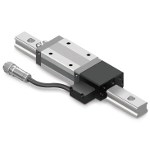 New from THK, the Type SHS-LE integrates the global standard THK Type SHS LM Guide with a THK linear encoder (linear position sensor). This combined model allows for compact machine designs that require less assembly time. THK's Type SHS Caged Ball LM Guide performs with high speed and precision. Each row of balls is arranged at a contact angle of 45°, enabling the SHS to be used in all directions. Its patented THK Caged Technology employs a synthetic resin cage with a patented curvature that cradles each ball and separates it from the next. The spaces between the rolling elements retain grease and act as a lubrication system for long-term, maintenance-free operation. Other benefits include increased speed and accuracy, decreased noise levels, low dust generation, and long life.
Learn more.
---
Compact hydraulic/pneumatic position sensors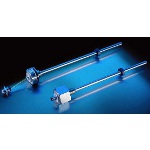 Novotechnik's TM1 Series of position sensors are designed for use in hydraulic and pneumatic cylinders -- especially in tight-space applications. They are based on magnetostrictive technology and are available in screw flange or plug-in flange models. A ring-shaped magnetic marker moves up and down the sensor's shaft for touchless operation. Specs include stroke lengths from 50 to 2,000 mm (1.9 to 78.7 in.) and accuracy to +/-0.04 percent.
Learn more.
---
6 latest trends in direct drive motor technology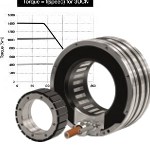 Direct drive motors have always been seen as a technological step up from standard transmission devices, with torque and linear motors being seen as the higher end alternative to gearboxes and ball screws. Although the base design has been around for a long time, motor makers are still working on fine-tuning different aspects to increase the overall performance and quality of the product. Here are six advancements that direct drive motor builders are taking to ensure the customer gets the most out of their capabilities. By Brian Zlotorzycki, Business Development Specialist, ETEL Motors
Read the full article.
---
Small DC motors for lab spectrophotometry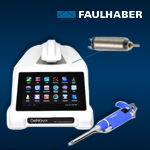 The DeNovix team needed a motion solution for their spectro-photometer application which called for intermittent short, quick motions with micron-level accuracy. After research and testing, they chose FAULHABER small DC motors configured with a high-resolution encoder and an all-plastic planetary gearhead to successfully bring their product to market.
Learn more.
---
Ford to develop electric vehicle based on Rivian's flexible skateboard platform, invests $500M in company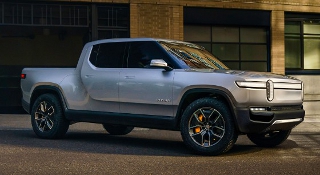 Do you remember that super-cool Rivian all-electric pickup we featured in Designfax last December? Ford Motor Co. has made a $500 million equity investment in Rivian, and the two companies have agreed to work together to develop an all-new, next-generation battery electric vehicle for Ford's growing EV portfolio using Rivian's skateboard platform.
Rivian, a new-kid-on-the-block electric vehicle manufacturer, introduced its R1T, an all-electric, five-passenger pickup at the LA Auto Show in December 2018. Featuring a tailored and restrained design, the truck boasts a range of up to 400+ miles, a wading depth of 1 m, quad-motor AWD that does 0 to 60 mph in 3 sec, and a totally unique skateboard platform with lots of storage.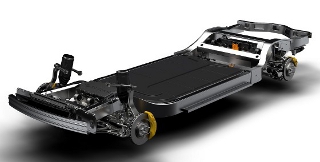 Rivian has development centers in Plymouth, MI; San Jose, CA; Irvine, CA; and the UK. The company will produce vehicles at its modern, 2.6-million-sq-ft manufacturing plant in Normal, IL. First delivery target is late 2020.
Rivian is also developing a seven-passenger SUV called the R1S.
"As we continue in our transformation of Ford with new forms of intelligent vehicles and propulsion, this partnership with Rivian brings a fresh approach to both," said Jim Hackett, Ford president and CEO. "At the same time, we believe Rivian can benefit from Ford's industrial expertise and resources."
As part of a previously announced $11 billion EV investment, Ford already has confirmed two key, fully electric vehicles: a Mustang-inspired crossover coming in 2020 and a zero-emissions version of the best-selling F-150 pickup.
Rivian will remain an independent company. The investment is subject to customary regulatory approval. Following Ford's investment, Joe Hinrichs, Ford's president of Automotive, will join Rivian's seven-member board.
Source: Ford Motor Co.
Published May 2019
Rate this article