Tiny Osram LED enables ultra-slim headlight designs
Smaller and brighter light sources are leading to more compact and versatile headlamps, and headlight designs can often be key product differentiators these days -- particularly in the premium segment. The powerful Osram Oslon Boost HM LED enables ultra-slim designs full of possibilities in next-gen vehicles.
Read the full article.
---
Thermoelectric coolers for smart DLP headlights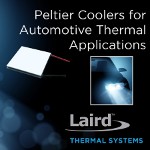 Digital light processing (DLP) technology is now used in many smart automotive headlight systems to cast sharper and brighter light in front of a vehicle. These automotive headlight systems operate in temperature environments that can reach 110 C. However, the maximum operating temperature of a DLP is only 70 C. The HiTemp ET Series of thermoelectric coolers from Laird can lower the control temperature by as much as 40 C below ambient, protecting sensitive DLP electronics and ensuring optimum performance. The HiTemp ET can also protect components in optical transceiver, LIDAR, and CMOS applications.
Learn more.
---
Fully redundant mobile angle sensors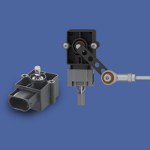 The just-released compact RSA3200 Series of Hall effect angle sensors from Novotechnik features auto-diagnostics, fully redundant versions, and ultra-EMC tolerance for use in harsh environments and high-reliability applications. The measurement angle is factory programmable for range maximum between 60 to 360 deg. An optional linkage lever that attaches to a shaft provides additional mounting options. Applications include: boom angle measurement, swash plate angle on hydraulic pumps for off-highway vehicles, rotational position of a valve, and trim senders for marine outboard powertrains.
Learn more about angle sensors from Novotechnik.
---
Cool Tools: Digital high-res PCB microscope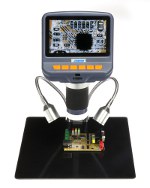 The Saelig SAE106S Digital Microscope is a versatile tool designed specifically for PCB inspection, but it is also useful in many other fields such as mechanical part examination. This unit can be used as a standalone inspection device for circuit board examination using its built-in 4.3-in. LCD screen, or it can be connected to a PC. Illumination is enhanced by an eight-LED adjustable ring light and two repositionable, dimmable side lights. This microscope offers 10X to 220X magnification for discovering the smallest blemish or trace problem. Resultant images and videos can be stored on an SD card or transferred to a Windows PC. Under 200 bucks. Wish I had this as a kid.
Learn more.
---
igus unveils first plastic-steel hybrid energy chain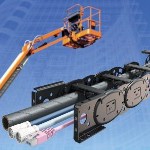 igus has developed the first plastic-steel hybrid energy chains for safe and compact vertical guidance of cables and hoses. The new energy supply system, called the YE.42, is 50 percent lighter than conventional steel chains due to the high-performance polymers manufactured by igus. The hybrid chains also provide 50 percent more unsupported length than plastic energy chains and have higher rigidity. The chains are easy to assemble and maintain due to their modular design, and operators can rely on work platforms or vertical lifts for a safe, lightweight, cost-effective, and quickly replaceable system.
Learn more.
---
Cool Tools: Measure up to 99 dimensions in seconds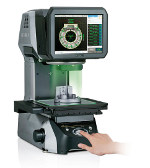 The IM-7500 Image Dimension Measurement System is Keyence's latest addition to its Instant Measurement System series. This next-generation optical comparator includes an automatic measurement function that enables all settings to be completed with one click, the ability to record all measurement results and create reports automatically, and an intuitive interface that involves simply placing the part on the measurement stage and pressing the "Measure" button. Significantly, no measurement expertise is needed to operate the IM-7500, with measurement points automatically identified, consistent values delivered through automatic focal adjustment, and different parts identified and measured without having to change profiles.
Learn more.
---
Simplified Doppler radar sensor module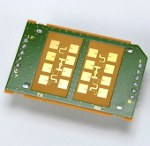 Fujitsu Components America has introduced a 3-channel, 24-GHz Doppler radar sensor with a wide speed-detection range and high interference tolerance. The module and evaluation kit can facilitate the rapid development of various non-contact movement-sensing products -- even without high-frequency RF electronics expertise. Target applications include human vital sign and fall monitoring, structural and mechanical movement detection, machine maintenance, and more for healthcare and industrial markets.
Learn more.
---
Selectable voltage power supply for static eliminators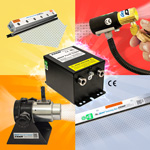 EXAIR's new Gen4 Two-Outlet Selectable Voltage Power Supply allows you to choose input voltages of 115 or 230 VAC. Two 5-kV stainless steel output connectors can energize two static eliminators. Applications using up to two Gen4 Super Ion Air Knives, Ion Air Guns, Ion Air Cannons, Ionizing Bars, or any other EXAIR Gen4 static eliminator product can be connected to one power supply. Like all EXAIR Gen4 products, these two-outlet power supplies are UL component recognized, CE and RoHS compliant.
Learn more.
---
$100 LiDAR sensor delivers small size, big safety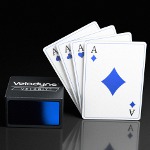 Velodyne has just released Velabit, the company's smallest 3D LiDAR sensor. The sensor delivers the same technology and performance found on Velodyne's full suite of state-of-the-art sensors and can be embedded almost anywhere within vehicles, robots, unmanned aerial vehicles (UAVs), infrastructure, and more. It has been engineered to be an optimal automotive-grade LiDAR solution for Advanced Driver Assistance Systems (ADAS) and autonomous vehicles. Highly configurable for customer application, this mid-range sensor can be combined with other Velodyne LiDAR sensors, such as the Velarray, for high-speed operation, or it can function as a standalone LiDAR solution in low-speed applications. Range is up to 100 m.
Learn more.
---
Application Note: Quadcopter propeller torque/thrust testing

The quadcopter's four propellers are designed to work in conjunction with each other to ensure that there are no torque imbalances that could send the vehicle spinning out of control. But just how would a professional developer or hobbyist perform accurate propeller torque and thrust testing? Advanced sensor expert FUTEK has the answer.
Read the full article.
---
What are form-in-place gaskets, what are their benefits and limits?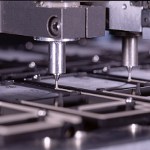 A form-in-place EMI gasket, also known as an FIP EMI gasket, is a robotically dispensed electromag-netic interference (EMI) shielding solution that is ideal for modern densely populated electronics packaging. It is meant to reduce "noise" between cavities on a printed circuit board (PCB) or in an electronics enclosure. Learn the tech's top benefits and limitations in this informative Parker blog.
Read the full article.
---
World's smallest high-resolution LiDAR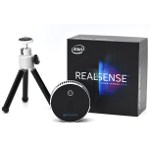 Intel has just introduced the RealSense LiDAR camera L515, the world's smallest and most power-efficient hi-res unit. Designed for indoor use, the palm-sized solid-state camera creates entirely new ways to incorporate LiDAR into smart devices to perceive the world in 3D. It provides high-quality performance and millimeter accuracy to products that require vision capabilities, such as inventory management automation, 3D scanning, healthcare, retail, robotics, and more. This device can generate 23 million accurate depth points per second.
Learn more.
---
New compact, tough angle sensors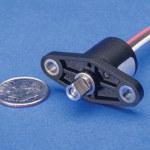 Novotechnik has just introduced the Vert-X 1600 Series of angular position sensors, which are ideal for industrial, medical, off-highway vehicle, and other applications. They convert rotational angle into an analog or digital output, with a measurement range of 0 to 360°, 14-bit resolution, and repeatability of 0.1°. Available analog outputs are 10 to 90 percent of supply voltage and 5 to 95 percent of supply voltage. Digital interface options include SPI and PWM. The sensors are sealed to IP 65, life is ≥ 50 million movements, and MTTF is 668 years. Operating temp range is -40 to 125°C. Will operate with up to 10 N axial or radial shaft load.
Learn more.
---
HVACR Tech Tip: How to correctly size solenoid valves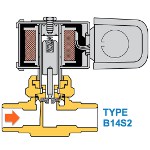 Obtaining reliable performance with solenoid valves on refrigeration or air conditioning systems demands careful consideration of application requirements during the selection process. There has always been a tendency in the industry to select solenoid valves based on line size. However, due to the pressure drop required for proper operation, this policy is risky and not recommended. What should you do?
Read this informative Parker Hannifin, Sporlan Division, blog.
---
EV automotive fuse safely interrupts up to 1000 VDC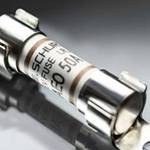 High voltages and high currents occur in electric vehicles in numerous places. Their battery packs with several thousand rechargeable cells store enormous amounts of energy in order to provide for the demands of drive performance and distance, with the shortest possible charging times. Such applications require highly reliable fuses to safeguard this power. SCHURTER has just launched its AEO 10.3 x 38 mm mini-fuse series, particularly suited for battery protection in electric vehicles. The AEO series safely interrupts short-circuits up to 20 kA at 1000/800 VDC, with a current rating range of 10 to 50 A. SCHURTER's new, patented contact welding process guarantees the highest reliability and overcomes inherent weaknesses in solder joints.
Learn more.
---
Army researchers use single laser beam to detect all types of airborne particles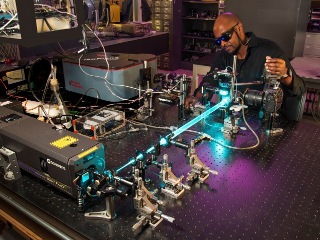 Dr. Aimable Kalume, a researcher at the U.S. Army Combat Capabilities Development Command's Army Research Laboratory, conducts experiments in the lab's aerosol research laboratory. [Photo Credit: U.S. Army photo]
Using a single laser beam, Army researchers recently developed a technique capable of detecting and characterizing any type of airborne particles whether naturally occurring or those harmful and deliberately disseminated.
Scientists from the U.S. Army Combat Capabilities Development Command's Army Research Laboratory (Aberdeen Proving Ground, MD) along with collaborators from the University of Queensland, Australia, conducted the modeling and optical simulations of the design technique.
"We developed an advanced analytical technique that is capable of detecting and characterizing any type of airborne particles; naturally occurring (dust, smoke, pollen, ash, etc.) or those harmful and deliberately disseminated such as chemical and biological warfare agents," said Dr. Yong-le Pan, CCDC ARL researcher. "In this design, a single laser beam is used to capture a single particle and immobilize it -- suspended in air."
The approach provides a contactless particle manipulation and allows a rapid and precise physico-chemical characterization. The innovative aspect in this study is the use of two small parabolic mirrors, or reflectors, to shape up a hollow laser beam and create highly efficient trapping forces -- instead of using expensive microscope objectives and a complex optical setup.
In comparison with current trapping techniques, this method offers several advantages such as low cost, simplicity in design, higher efficiency, and improved robustness, Pan said. As the particle is trapped far away from any optical surface, it minimizes instrument contamination and allows integration with other laser-based analytical techniques such as Raman, fluorescence, etc.

Army researchers demonstrate trapped particles in a laser beam. [Photo Credit: U.S. Army photo]
"The ultimate goal of this study is aligned with Soldier lethality," said Dr. Aimable Kalume, CCDC ARL researcher. "By focusing on the Soldier survivability in presence of aerosol particles, especially chemical and biological warfare agents, we proposed a new technique that can help lower false positives, increase precision, and minimize human exposure and contamination."
The researchers hope to develop an instrument that is able to capture fine airborne particles, rapidly characterize them with high precision, and monitor their temporal evolution in various environmental conditions.
"While this invention can have direct application in various areas (biology, chemistry, pharmaceutical, air monitoring, and atmospheric sciences), the DOD and Department of Homeland Security are specifically interested in early warning and real-time detection and characterization of chemical/biological agents," Kalume said. "The DOD is also interested in monitoring a wide range of aerosol particles affecting the mission (reduced visibility, communication, Soldier's exposure to smoke from burn-pits or diesel exhaust, etc.)."
The proposed approach is based on the interaction with electromagnetic radiation: a single laser beam is used to trap, hold an aerosol particle, and provide information of its chemical and physical properties.
"This study aligns well with the essential research area of discovery by tackling the problem of detecting and characterizing warfare agents from a fundamental physics principle," Pan said. "After our recent successful demonstration in a laboratory setup, the next steps will focus on engineering and developing this technique into a compact and lightweight instrument that can be deployed on the battlefield."
Researchers said earlier studies leading to this improved design were conducted in collaboration with researchers from Mississippi State University, Sandia National Laboratory, and the University of Nebraska Medical Center.
Source: U.S. Army CCDC Army Research Laboratory
Published February 2020
Rate this article