Signal-operated air pressure relay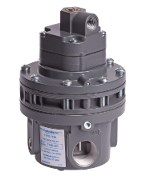 ControlAir has just introduced the Type 7150 Precision Air Relay, a high-precision, multi-stage pressure relay offering fine adjustment and maximum stability under variable operating conditions. High-resolution output control combined with very high relief capacity makes the Type 7150 the choice for pneumatic counter balance applications such as articulating arms and balancers. Other applications include volume boosting, roll loading, tension control, cylinder control, and industrial clutch and brake control.
Learn more.
---
Build your own mini synchronous drive systems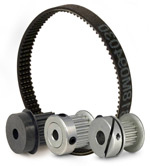 With the Miniature Synchronous Drive System from Stock Drive Products/ Sterling Instrument (SDP/SI), you can put your own 1-, 2-, or 3-mm design together in a snap. The tiny timing belts and pulleys are engineered and manufactured to give high accuracy and smooth, dependable operation in 3D printers, moving security cameras, med devices, robotic surgical equipment, self-service machines, and more. Advantages include no-slip synchronization, accurate positioning, high torque transmission with low backlash, quiet operation, and long belt life.
Learn more.
---
DENSO launches next-gen MovinCool spot coolers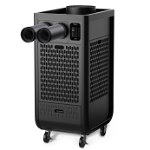 Reconfigured from the ground up, the sleek Climate Pro spot air conditioning units offer upgraded design features including a streamlined control panel, a black matte finish, reinforced bumpers, built-in power cord holder, heavy-duty casters, and state-of-the-art connectivity. The new series features 11 models: six models for office use, three models for industrial applications, and two that offer both heating and cooling. All units are covered by MovinCool's industry-leading three-year warranty.
Learn more.
---
Benefits of hybrid bearings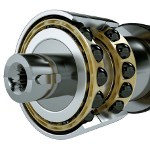 Hybrid bearings have shown good performance in poor lubrication and contaminated conditions, but the understanding of the contributing mechanisms and their effect on performance is still lacking. SKF has developed more insight into the tribology of hybrid bearings through both dedicated experiments and modeling.
Read about it here.
---
Spinning flare nuts eliminate loose fasteners in thin metal sheet applications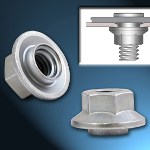 PEM SFN spinning flare nuts from Penn-Engineering become permanently captivated upon installation in thin metal sheets and, when paired with a self-clinching stud or other fixed externally threaded hardware, can eliminate all loose fasteners (including flange nuts) in attachment applications. These one-piece, flanged hex nuts additionally will spin freely in a sheet, enabling quick attachment to mating hardware. Their use ultimately promotes savings in assembly time and costs.
Learn more.
---
Edge protection seal for corner profiles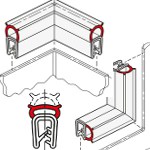 JW Winco offers a comprehensive portfolio of edge protection profiles for softening and rounding edges as well as preventing injuries on flaps, doors, access holes, and sheet metal edges of all kinds. These edge protection seals include an additional sealing profile feature that provides both protection and sealing alike. With corresponding contact pressure, they offer protection against splash water, dust, and steam, while also reducing noise emissions.
Learn more.
---
hyperMILL CAM software gets additive mfg capability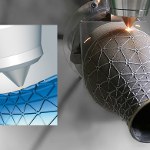 CAD/CAM software solutions developer OPEN MIND Technologies now offers an ADDITIVE Manufacturing (AM) capability option in hyperMILL CAM software to support 3D printing/additive processes. hyperMILL with AM also provides efficient hybrid processing with simultaneous additive and subtractive processing on one machine. For highly complex 5-axis simultaneous processing, hyperMILL AM enables an array of flexible options for Directed Energy Deposition processes (DED) and Wire Arc Additive Manufacturing (WAAM). Both laser-based powder nozzle machining heads and WAAM can be controlled using hyperMILL AM for selective material deposition, as well as conveniently programmed and automatically simulated for collision avoidance.
Learn more.
---
Fasteners: The aliens have landed. Lock 'em up.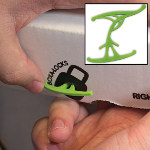 It looks "alien," but it's the ultimate in box-security fasteners. In fact, the Alien Lock from Micro Plastics is the first and only dedicated box fastener. It is a much less expensive solution than banding or taping your boxes, and it keeps them more secure too. It's easy and fast to insert, and it's incredibly strong. It cannot be pulled out without it being obvious that the box was tampered with -- it must be cut off. This is a 1-step fastener: Push Alien Lock through the lock port, and the locking process is finished.
Learn more.
---
Siphon-fed spray nozzles for non-pressurized liquids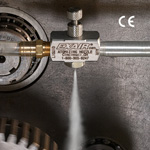 EXAIR's new 1/8 NPT siphon-fed spray nozzles atomize fluids in a range of spray patterns for a wide variety of uses. These are EXAIR's smallest air atomizing nozzles and are suitable for tight spaces. Siphon-fed atomizing nozzles require no liquid pressure and can be used with gravity-fed liquids or lift liquids from a siphon height as much as 36 in. (91 cm). They combine liquid and compressed air to create a mist of atomized liquid that can be easily adjusted to meet the needs of your application.
Learn more.
---
Top Tech Tip: Low-profile retaining rings

Smalley Hoopster® Rings fit into shallower grooves than regular snap rings or retaining rings. Where retaining rings once were not an option because of groove depth, the low profile, precision circularity, and small radial size allow Hoopsters to be unobtrusive components, ideal for thin wall tubes.
Learn more.
---
Adhesives: The importance of hardness testing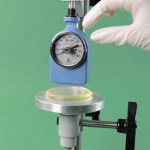 According to Master Bond, measuring hardness is a simple, yet powerful test to ensure proper curing and evaluate the performance of adhesive materials. Why? Hardness is generally a good indication of the product's overall functionality. If the mix ratio used was incorrect or if parts A and B were not mixed thoroughly or properly, the adhesive will cure "tacky" or with blotches. Hardness can also be used to determine how a material is holding up to various experiments and accelerated aging tests.
Read this informative Master Bond blog.
---
Next-gen low-friction bearing for improved lubrication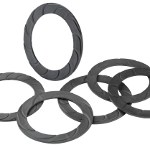 Freudenberg Sealing Technologies has developed an optimized design for its proven Levitorq axial thrust washers. Through a new "scoop" feature, the enhanced Levitorq design is able to collect and push lubrication under the washer to enable higher critical speeds and enhanced performance. A team of experts developed the scoop design based on the types and availability of lubricants used in powertrain applications. These designs help optimize the availability of lubrication at the inner diameter, thus improving lubrication across the washer. These designs are ideal for applications with limited or splash lubrication. Levitorq is part of the company's Low Emission Sealing Solutions (LESS) product portfolio.
Learn more.
---
ClampDisk micro fastener is new alternative for automotive and consumer electronics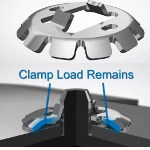 Designed as a unique alternative in assemblies for the automotive and consumer electronics markets, the ClampDisk Press-on Fastener is a new offering from PennEngineering that delivers a fast, simple way to achieve sheet-to-sheet clamped attachment while replacing the use of standard screws, nuts, and adhesives. The most common challenges that can be eliminated or reduced by using ClampDisk include over installation, cross threading, stripped screw heads, broken screws, and damaged product. This fastener can be removed easily with a sharp-edged tool.
Learn more and see ClampDisk in action.
---
Specialty hinges expand design possibilities for opening and closing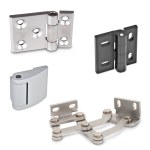 From the simplest of hinges to multi-joint hinges with complex kinematics, the JW Winco selection has everything needed for superior door and flap solutions -- including extra functions. Popular choices include the heavy-duty stainless steel GN 237.3 with 180-degree range of motion and the GN 235, which can be mounted with socket head cap screws and -- thanks to its offset axis -- still swivels 180 degrees without collision. Additional functionality is offered by hinges with variable friction, and in another Winco-Norm part, an integrated spring ensures independent return of the hinge. This special product range, which also includes integrated damping, indexing, and locking functions, is being continually expanded by Winco. One kinematic highlight is already available from Winco: the multiple-joint hinge with either a 4x, 7x, or 10x joint mechanism, which opens flaps and shifts their position at the same time, while still offering 180 degrees of travel. Many more options.
See the full range of JW Winco hinges.
---
New advanced materials for production-grade 3D printing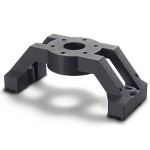 Stratasys recently unveiled several new durable temperature- and chemical-resistant FDM thermoplastics aimed at addressing the growing demands of engineers and designers to deliver production-grade, custom 3D-printed tooling and parts. Suited for aerospace and industrial applications, the new Antero 840CN03 PEKK-based polymer with ESD properties can create strong yet lightweight parts used in frames, panels, and components. Built for highly durable tooling applications, Diran is a new nylon-based FDM thermoplastic that provides manufacturers with extreme toughness and low friction, combined with resistance to hydrocarbon-based chemicals and a smooth surface to offer low sliding resistance. Diran's toughness is able to withstand the rough handling of tools often common in a manufacturing setting.
Learn more.
---
Scientists create 3D-printed parts that can kill bacteria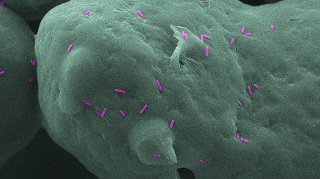 Individual bacteria on a Nylon-12 surface. The bacteria is Pseudomonas aeruginosa, which can cause disease in plants, animals, and humans.
Researchers from the University of Sheffield in the UK have, for the first time, manufactured 3D-printed parts that show resistance to common bacteria. This could stop the spread of infections such as MRSA in hospitals and care homes, saving the lives of vulnerable patients.
The study was published Jan. 21 in Scientific Reports by an interdisciplinary team of researchers from the University's Department of Mechanical Engineering and the School of Clinical Dentistry. The research combined 3D printing with a silver-based antibacterial compound in order to produce the parts.
Results from the research have shown that the anti-bacterial compound can be successfully incorporated into existing 3D-printing materials without any negative influence on processability or part strength, and that under the right conditions, the resultant parts demonstrate anti-bacterial properties without being toxic to human cells. Further work is ongoing to investigate the full extent of this capability.
The findings offer the potential for applications in a wide range of areas, including medical devices, general parts for hospitals which are subject to high levels of human contact, door handles or children's toys, oral health products (dentures) and consumer products, such as mobile phone cases. Further projects are planned in each of these areas, with an aim to work with leaders in industry and the potential to bring some of these products to market.
"Managing the spread of harmful bacteria, infection, and the increasing resistance to antibiotics is a global concern," said Dr. Candice Majewski, lead academic on the project, who works in the Center for Advanced Additive Manufacturing in the Department of Mechanical Engineering at the University of Sheffield. "Introducing antibacterial protection to products and devices at the point of manufacture could be an essential tool in this fight.
"Most current 3D-printed products don't have additional functionality. Adding antibacterial properties at the manufacturing stage will provide a step-change in our utilization of the processes' capabilities."
Products such as medical devices are often already coated with an antibacterial compound and are subject to strict and rigorous cleaning or sterilization procedures. However, while this provides a certain level of protection, they have their limitations, such as human error in cleaning or damage occurring to the coating.
Rigorous testing and imaging techniques were carried out to establish the effect of the antibacterial additive for the new project -- looking at the effect on the quality of the final part, its mechanical properties, and whether it survived the manufacturing process.
Parts with and without the antibacterial additive were submerged in various bacterial solutions to test how many bacteria remained after 24 hours. Parts containing the antibacterial additive were effective against examples of the two main groups of bacteria, Gram positive (Staphylococcus aureus) and Gram negative (Pseudomonas aeruginosa), both of which can cause many different types of infection.
An additional effect was identified in reducing the number of bacteria stuck to the part surfaces. Bacteria stuck to surfaces form "biofilms" that are often difficult to remove; in this case an anti-biofilm effect was observed, due to bacteria dying before they could stick to the parts. Parts worked less well in liquid containing lots of nutrients -- these were found to interfere with the silver before it could do its job. This will help people decide what environments to use this technology in. Finally, parts were also tested with human cells (routinely grown in the lab) and found to have no toxicity.
"Our interactions with microbes are complex and contradictory -- they're essential to our survival, and they can knock us dead," said Dr. Bob Turner from the University's Department of Computer Science. "Technology like this will be key to informed and sustainable management of this crucial relationship with nature."
The research was funded by the Engineering Physical Sciences Research Council (EPSRC).
Source: University of Sheffield
Published February 2020
Rate this article