DURANEX PBT grade for high-voltage automotive applications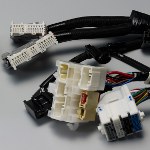 The Polyplastics Group is now offering an improved polybutylene terephthalate (PBT) grade that provides improved tracking resistance for a range of high-voltage automotive components. DURANEX PBT CG7030 is a 30 percent glass-filled material that also delivers strong dimensional stability and highly stable electrical resistance and dielectric breakdown properties. After extensive testing, Polyplastics determined that PBTs are more suitable than PA66 for use in high-voltage applications when it comes to moisture absorption, dimensional change rates, and dielectric breakdown strength in high-heat and humid environments.
Learn more.
---
New fast-cure urethane adhesive speeds assembly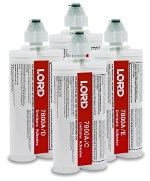 Designed for engineered thermoplastics, e-coated metals, powder painted surfaces, coated metals, composites, and SMC, the LORD 7800 family of fast-cure urethane adhesives will help manufacturers reduce bond and assembly time in the transportation sector. Traditional urethanes cure and build up strength slowly, forcing manufacturers to wait 3 to 12 hours to reach the necessary state to drill, cut, machine, and/or add other components to the assembly. In contrast, the LORD 7800 family cures quickly, reaching those usable strengths often within an hour or less -- with no odor or flammability issues like competing acrylics.
Learn more.
---
Basics of crossed roller bearings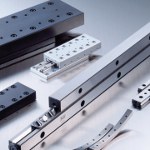 Crossed roller bearings provide more accuracy, rigidity, and weight-bearing capacity for linear motion than other commonly used friction-reducing devices such as ball bearings. And unlike ball bearings, they can support moment loads, radial forces, or tilting loads. This lets one crossed roller bearing replace more than one ball bearing, thus saving the space required by ball bearings, lowering the associated material costs.
Learn the basics in this Nippon Bearing article.
---
Cable management kit pairs with any cobot arm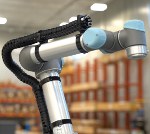 igus, a global manufacturer of engineered plastic components, has released a new collaborative robot cable management kit with universally designed hook-and-loop mounting brackets and more than 100 links of the company's innovative triflex R cable carrier. This solution offers superior cable protection compared to corrugated tubes. triflex R is a multi-axis energy chain designed for use in a wide variety of robotic applications. It's designed with ball-and-socket links that enable individual pieces of the system to be replaced if one of them is damaged.
Learn more.
---
21 metals, ceramics, and composites for 3D printing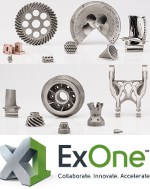 The ExOne Co. has just announced that 15 new metal, ceramic, and composite materials have been qualified by the company and its customers for 3D printing on ExOne's family of high-speed metal 3D printers. With these additions, owners of ExOne metal 3D printers can now print 21 qualified materials: 10 single-alloy metals, six ceramics, and five composite materials. More than 24 additional powders have been qualified for 3D printing in controlled R&D environments, including aluminum and Inconel 718. Newly qualified materials include M2 Tool Steel, widely used for cutting tools, and silicon carbide, a customer-qualified ceramic that is often used in aerospace.
Learn more.
---
Can bearings slide better on water instead of oil?

Bearings are usually lubricated with mineral oil-based lubricants, preventing wear on the bearing from metal-on-metal contact. But researchers in Germany say a new slide bearing design with water lubrication and galvanic coupling prevents tribo-corrosion and may be better for the environment. How could that be?
Read the full article.
---
Design Tips: Fasteners for printed circuit boards

When specifying hardware for printed circuit board applications, many designers may still turn either to loose fasteners or broaching fasteners. While both provide the necessary functionality, each carries potential risks that may impact the production process, the integrity of boards, and even disassembly if required. Leon M. Attarian of PennEngineering runs through profiles of the latest surface-mount fastener families.
Read the full article.
---
Copper is newest material available for 3D printing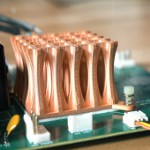 With the Markforged Metal X 3D printer, you can now easily manufacture electrically and thermally conductive complex copper parts -- and replace a conventional manufacturing process that's often difficult and expensive. From heat sinks to bus bars to custom welding arms, Markforged customers are reinventing the way they manufacture copper components.
Read the full article.
---
Plastic alternative to metal: Delrin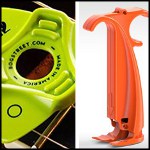 One of the more popular plastic material choices Proto Labs offers for injection molding and machining is Delrin acetal homopolymer (Polyoxymethylene POM). Delrin works as an excellent replacement for metal because of its high tensile strength, low friction and high wear resistance, creep and warp resistance, and overall durability and toughness. Ideal for industrial applications, Delrin exhibits low moisture absorption and is chemically resistant to hydrocarbons, solvents, and neutral chemicals.
Read this informative Proto Labs blog.
---
Signal-operated air pressure relay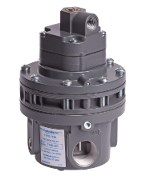 ControlAir has just introduced the Type 7150 Precision Air Relay, a high-precision, multi-stage pressure relay offering fine adjustment and maximum stability under variable operating conditions. High-resolution output control combined with very high relief capacity makes the Type 7150 the choice for pneumatic counter balance applications such as articulating arms and balancers. Other applications include volume boosting, roll loading, tension control, cylinder control, and industrial clutch and brake control.
Learn more.
---
Build your own mini synchronous drive systems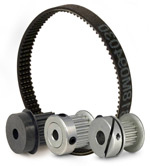 With the Miniature Synchronous Drive System from Stock Drive Products/ Sterling Instrument (SDP/SI), you can put your own 1-, 2-, or 3-mm design together in a snap. The tiny timing belts and pulleys are engineered and manufactured to give high accuracy and smooth, dependable operation in 3D printers, moving security cameras, med devices, robotic surgical equipment, self-service machines, and more. Advantages include no-slip synchronization, accurate positioning, high torque transmission with low backlash, quiet operation, and long belt life.
Learn more.
---
DENSO launches next-gen MovinCool spot coolers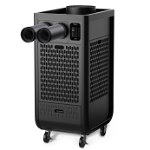 Reconfigured from the ground up, the sleek Climate Pro spot air conditioning units offer upgraded design features including a streamlined control panel, a black matte finish, reinforced bumpers, built-in power cord holder, heavy-duty casters, and state-of-the-art connectivity. The new series features 11 models: six models for office use, three models for industrial applications, and two that offer both heating and cooling. All units are covered by MovinCool's industry-leading three-year warranty.
Learn more.
---
Benefits of hybrid bearings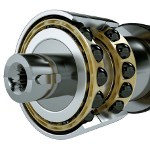 Hybrid bearings have shown good performance in poor lubrication and contaminated conditions, but the understanding of the contributing mechanisms and their effect on performance is still lacking. SKF has developed more insight into the tribology of hybrid bearings through both dedicated experiments and modeling.
Read about it here.
---
Spinning flare nuts eliminate loose fasteners in thin metal sheet applications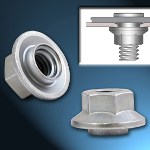 PEM SFN spinning flare nuts from Penn-Engineering become permanently captivated upon installation in thin metal sheets and, when paired with a self-clinching stud or other fixed externally threaded hardware, can eliminate all loose fasteners (including flange nuts) in attachment applications. These one-piece, flanged hex nuts additionally will spin freely in a sheet, enabling quick attachment to mating hardware. Their use ultimately promotes savings in assembly time and costs.
Learn more.
---
Edge protection seal for corner profiles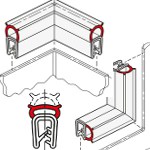 JW Winco offers a comprehensive portfolio of edge protection profiles for softening and rounding edges as well as preventing injuries on flaps, doors, access holes, and sheet metal edges of all kinds. These edge protection seals include an additional sealing profile feature that provides both protection and sealing alike. With corresponding contact pressure, they offer protection against splash water, dust, and steam, while also reducing noise emissions.
Learn more.
---
Physicists design new filter for blocking high-pitched sounds -- and the negative effects they could cause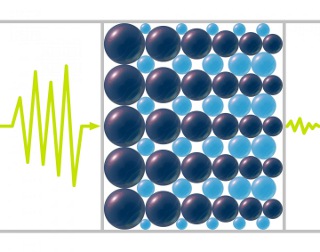 An artist's illustration of a system designed to help block high-frequency sounds of up to 20 kHz. The system comprises tapered chains of Delrin plastic beads (darker beads) alternating with tapered chains of tungsten carbide beads (lighter beads), surrounded by plastic walls. [Illustration: Robert Rivera, University at Buffalo; Luis Machado, Federal University of Pará in Brazil]
Need to reduce high-pitched noises? Science may have an answer.
In a new study, theoretical physicists report that materials made from tapered chains of spherical beads could help dampen sounds that lie at the upper range of human hearing or just beyond.
The impacts of such noises on health are uncertain, but some research suggests that effects could include nausea, headaches, dizziness, impaired hearing, or other symptoms.
"There is a fair amount of ultrasonic stuff around us, and much of it has effects that are unknown. In warmer areas, you have pest control systems that are strongly reliant on ultrasonic emissions to drive out the pests. You have ultrasonics from machinery, from drilling. Certain lamps may emit these high-frequency noises," says Surajit Sen, PhD, professor of physics in the University at Buffalo (UB) College of Arts and Sciences. "What does it do to our hearing? And in return, what does it do to our brain?
"Because of these unknowns, we thought it would be of potential value to design a system that kills off high-frequency sound."
The new research appears in the February 2020 volume of Granular Matter and was published online in the journal in November 2019.
Sen co-authored the study with Luís Paulo Silveira Machado, PhD, professor of physics at the Federal University of Pará in Brazil. Machado did part of the work as a visiting scholar at UB with the financial support of his home university, and Sen's research was partially supported by a Fulbright-Nehru Academic and Professional Excellence Fellowship.
The study used computational modeling to explore how well various materials would dampen incoming sounds with frequencies up to 20 kHz -- high enough that only some people can hear these noises.
Machado and Sen researched a number of materials, all made from spherical beads of varying sizes surrounded by plastic walls.
The best setup they found consisted of tapered chains of beads made from a metal called tungsten carbide, alternating with tapered chains of beads made from a plastic called Delrin. In computer simulations, this system effectively helped to filter high-frequency noises of varying loudness, greatly reducing these sounds.
The scientists have not yet tested the material in the laboratory, but if it works, the noise-filtering system could be used in headphones or other barriers that dampen high-frequency sound.
"An advantage of the proposed device is its simple configuration: spherical beads properly confined and positioned," Machado says. "This proposal allows a prototype of easy construction, with low cost and little maintenance. In addition, its configuration is scalable, being adaptable for small or large volumes. Our next step is to redirect the output signals, which is under study."
Source: University at Buffalo
Published March 2020
Rate this article